Here's a quick overview of some 2020 RV Blog statistics for our Live Work Dream nomadic lifestyle blog. While we weren't technically very nomadic last year, it's no surprise that our top posts for 2020 are still very "RVing" related.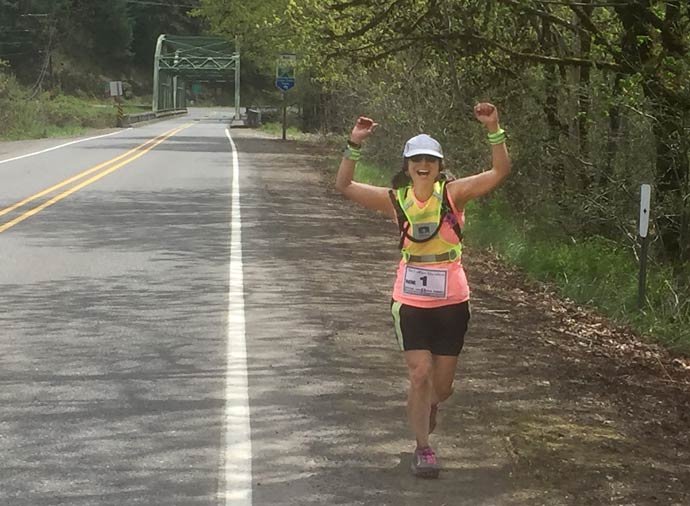 LiveWorkDream 2020 Blog Statistics
Every year, I like to review our statistics to identify what posts have been most popular among Live Work Dream Blog readers. And every year it seems some of our evergreen content still gets the most traffic. But I also always discover a few surprising points when reviewing our RV blog statistics.
It's no surprise that most of our traffic is coming from mobile devices. And the top source of traffic is via Google organic searches. It's not surprising to see Facebook as our most popular social network referral. But it is interesting that our friends at The Bayfield Bunch are driving the second greatest amount of traffic. Why such a surprise? Oh, it's been more than ten years since our paths last crossed.
Approximately 90% of you are new visitors to the site. Welcome! 🙂 That makes 10% of you returning visitors. Thank you for reading! Subscribe here to be notified of all new posts.
What Are Our RV Blog Readers Searching For?
It's always fun to see what type of searches are bringing people to our RV blog. With the increasing number of digital nomads hitting the road, I was happy to see many of them finding answers here. "RV Internet Options" was the leading search query. Those visitors found my posts comparing the best RV internet options, including our RV DataSat satellite internet posts – specifically, how satellite internet in Alaska works, (or doesn't) – and my reviews of the Skyroam mobile hotspot.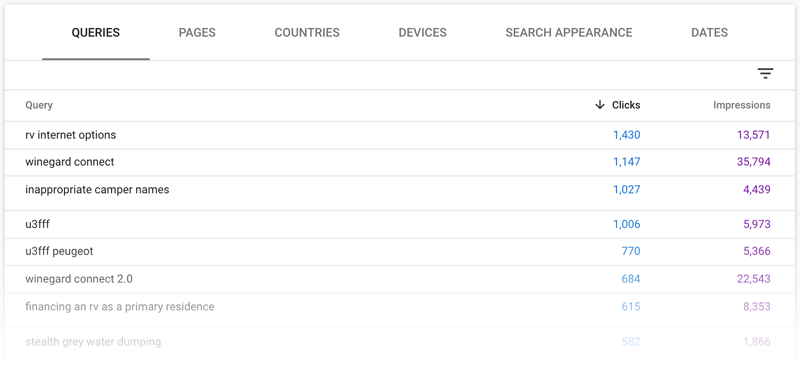 My Winegard Connect product reviews were also popular among RVing search results. And it's crazy to think that one of our very first blog posts still tops the charts for our RVing search queries, more than 13 years later. That silly RV name survey – the short post from 2007, with the widget that doesn't even work any more – is a leading result when searching for "inappropriate camper names". Wondering what that u3fff bit is all about? So are many people searching for how to clear ODB2 scanner u3fff code, apparently. Good thing they found my review with the answer!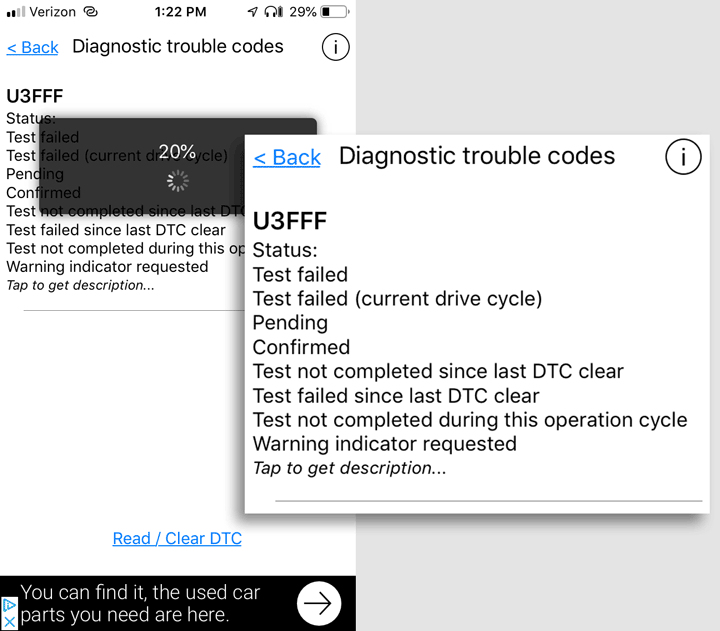 Our other top ten RV blog posts of 2020, were also not written in 2020. Rene's call with Dave Ramsey, about "financing an rv as a primary residence", was rather popular. She wrote that in 2012. It was also one of the the only two posts by Rene to make the top of these lists. Sorry babe!
Finally, yeah, stealth grey water dumping is still a pretty popular topic. Perhaps that why Rene's post about the subject has more than 65 comments – with more likely coming now. 😮
So, which of our Live Work Dream blog posts were most popular in 2020? As I mentioned, according to our RV blog statistics, some of our most popular evergreen content still remains the most popular. Here's a snapshot of our top RV blog posts of 2020.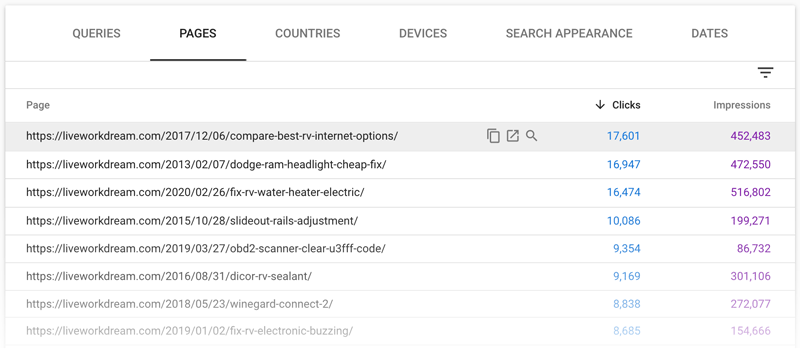 With so many new nomads searching for internet options, my mobile internet round-up received the most hits in 2020. My post about How To Fix Dodge Ram Low Beam Headlight Problem came in a close second. 😐 Dammit if that issue hasn't reared its ugly head again, years later, even after finally replacing the TIPM in our truck!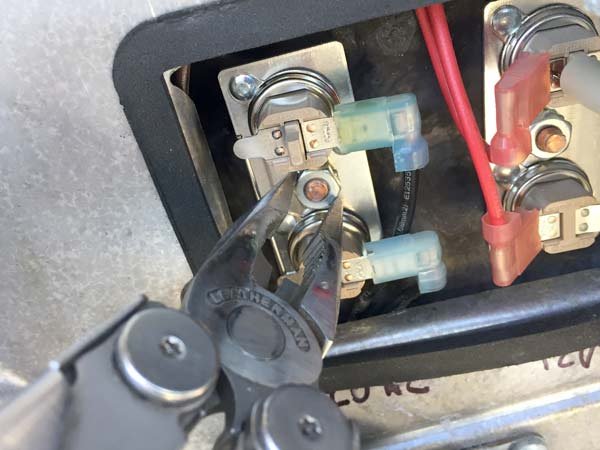 More leading RV maintenance blog posts, according to our 2020 RV blog statistics:
The only post we actually wrote in 2020 to make this list was my February post about How to Troubleshoot & Fix RV Water Heater Electrical Problems. With 14 comments there, I'm always happy to help answer any technical questions I can. And thankfully, we have some much more technical readers who also often chime in to help others. My detailed steps for how to adjust RV slideout gears proved helpful to many RVers, now with 30 comments and counting.
That brings us to more Winegard reviews, and an old 2016 post about why to use Divor RV sealant. Coincidentally, one of my last posts of 2020 was about How to Fix RV Delamination, with more praise for Dicor – a must have for every RVers toolbox. There are no coincidences, that post will hopefully find its way to the top of our RV blog statistics for years to come.
Rounding our our top blog posts for 2020, was my detailed tutorial about how to How to Remove Old Vinyl RV Graphics and Ghost Letters. That was preceded by How to Fix RV Electronic Buzzing Noise.
If you're an avid Live Work Dream reader, did you have any favorite RV blog posts from 2020? If not, subscribe here to see what you're missing!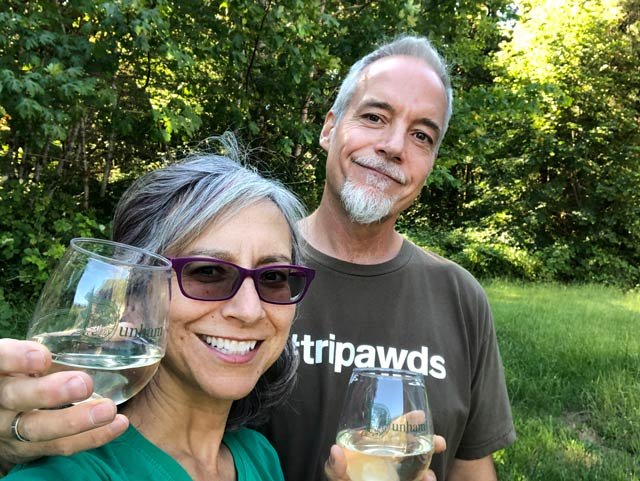 What type of RV blog content do you want to read? Let us know with a comment. Once I'm up to it again, I hope to get back into the swing of writing more in depth product reviews and RV maintenance tutorials to top our future RV blog statistics.