An inexpensive OBD-II scanner is a must-have addition to any full-time RVers toolbox. That dreaded ding of the MIL (malfunction indicator lamp), or check engine light, may be one of those good fears we all face, but there are plenty of OBD2 scanners under $40 that can provide peace of mind by diagnosing and clearing many DTCs (diagnostic trouble codes) in most vehicles. There is one code, however, which you will have a hard time clearing with a cheap scanner and app.
What is U3FFF Engine Code and how to clear it?
A quick consult with the Google suggests that U codes are for faulty communication between different modules of your vehicle. The U3FFF code might also indicate a faulty scanner, or display simply because the type of scanner or app being used is unable to read the code. (Read on for my related notes about a few different apps.) To accurately diagnose these codes requires a high quality automotive scan tool, and technician trained to use it.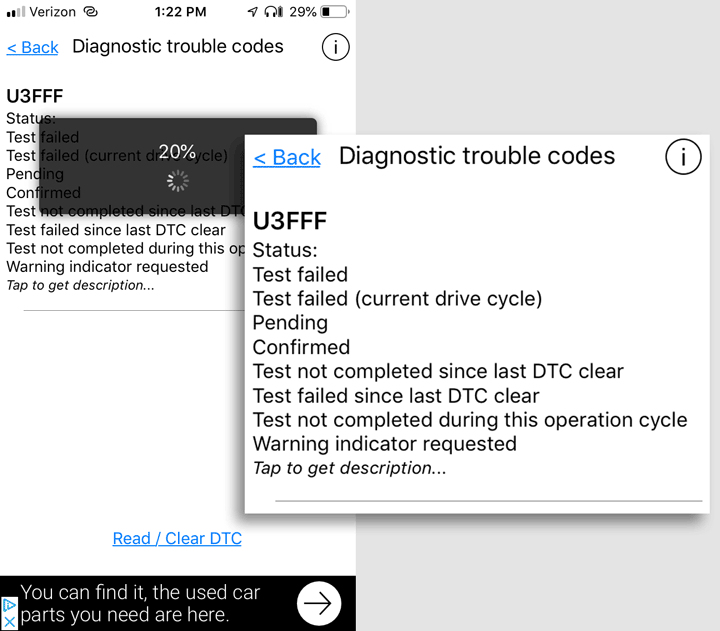 I'll explain the reason why I believe we got that code in my next post about a recent nagging issue with our Dodge Ram 2500. For now, suffice it to say: you will not determine the cause of any U codes – let alone clear them – with your cheap bluetooth OBD scanner.
Foseal OBD-II Scanner and App Review
If you've read any of my RVing product reviews here or our many RV maintenance posts, you know I know you get what you pay for. I will also admit that I cheaped out when buying our first OBD-II scanner years ago. After our Air Bag light came on last month, I found out that one no longer worked. It was cheap, literally.
I didn't care to spend hundreds of dollars on a professional grade tool I rarely ever use, and preferably never use. I also prefer app-based control to read and clear simple codes. So I read many reviews and spent a little extra money on the Foseal OBD2 Scanner with Bluetooth for Android & iOS. Just a bit though, all scanners in this class range from less than $10 to closer to $40. I paid the latter.
These scanners require an app to use them, and communicate with your mobile device either by wifi or Bluetooth. There are many free OBD-II scanner apps available, and a whole website dedicated to comparing them. Apparently the Bluetooth scanners are more reliable than those that use wifi, like the one I had that died.
The Foseal documentation indicates this scanner is compatible with various free apps. I already had our truck set up in the popular Dash Command app which worked with our old scanner, when that worked. I could not, however, get Dash Command to connect to the Foseal scanner.
The recommended Auto Doctor OBD2 app supports wifi and Bluetooth OBD2 scanners, but it also would not connect to the Foseal scanner. I do not know if these connection issues were related to the apps, or the scanner, but I was able to quickly connect to the Foseal scanner using the inCarDoc app with my iPhone via Bluetooth.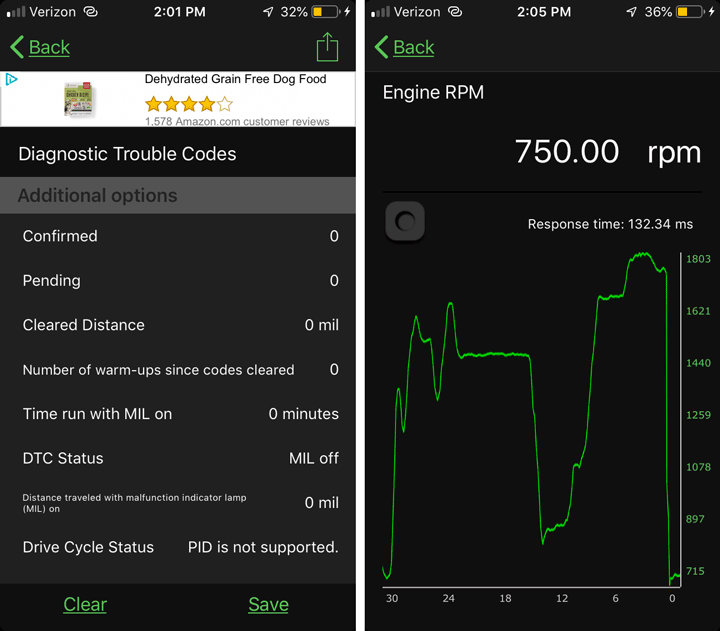 Connecting inCarDoc via Bluetooth is automatic, no pairing on the device is necessary. The app and Foseal scanner work together to provide a wealth of information about your vehicle. Honestly, I have only ever been concerned about reading and clearing MIL codes when it comes to using any OBD2 scanner, so I was happy to see that we had no Diagnostic Trouble Codes listed.
Read more Foseal OBD2 scanner reviews on Amazon.
Compare more Bluetooth OBD2 scanner pricing and reviews.
But what about that U3FFF code?
I used the Car Scanner app to get the first screenshot above displaying the U3FFF code. This app offers various scanning modes which allow for much more in depth – and much slower – diagnostics including extended and non-standard addresses. That code did not show in the other apps I used for simple scanning because U3FFF is not a Diagnostic Trouble Code.
More about why I believe we got that code, and the rabbit hole it sent me down resulting in our latest shop visit in my next post. I promise.