While continuing efforts to promote our Be More Dog book, Rene and I had the pleasure of being guests on the Rootless Living Podcast. We recently spoke with Demian Ross, publisher of the new Rootless Living Magazine for Episode 21.
"I love that the motivation was your dog. I really do."
—Demian Ross, Rootless Living (Episode 21)
Rootless Living for 13 Years
Rene and I have been living the "rootless" life for nearly 13 years now. And we were happy to hear about the new magazine and podcast. So we were excited to share our story with listeners. Among other things, we discuss why we hit the road with Jerry in 2007, the Tripawds community he inspired, our various workamping jobs, and how we work from anywhere to keep up our rootless living lifestyle nearly 13 years later.
"I think you might be our longest full-time travelers, with a launch date of 2007." —DR
Listen to Rootless Living Episode #21: Jim & Rene (LiveWorkDream.com)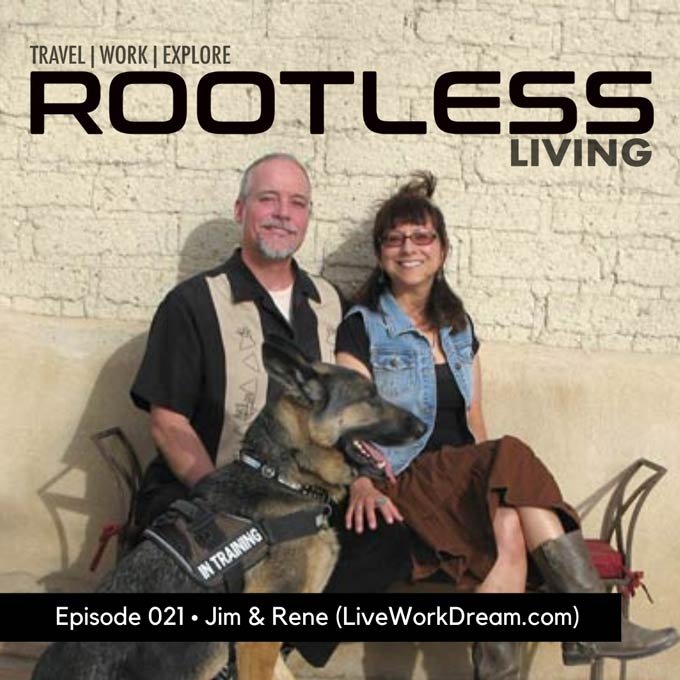 From the Rootless Living Podcast Episode Description:
On this episode Demian chats with Jim and Rene the duo behind LiveWorkDream.com and Tripawds.com
This episode covers a lot from being full-time travelers since 2007, to starting a running a business/community on the road to a really unique and interesting story of why they decided to go full-time.
"In 2019 you published a book, it's called Be More Dog: Learning to Live in the Now…it sounds like it's gonna bring in everything we've already talked about…why you guys did the lifestyle, the lifestyle itself…
There really is a little bit for everyone in this episode as Jim and Rene really brought up some amazing discussion points. Hopefully you will look them up and recommend them if you know anyone with a 3 legged dog.
You can find Jim & Rene at LiveWorkDream.com or their community for three legged dogs at TriPawds.com or their book BE MORE DOG here
Listen to Rootless Living Episode #21: Jim & Rene (LiveWorkDream.com)
Many thanks to Rootless Living!
We had a blast sharing our story with Demian, and we wish him the best success for Rootless Living magazine! Check it out for more inspiring stories of the location independent lifestyle.