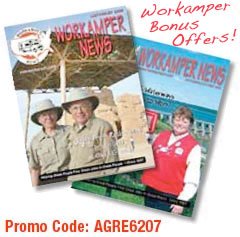 What are Workampers, and How Do You Find Workamping Jobs?
Ever wonder what workamping is all about? As Workamper Concierge members, we'd love to help you learn more about it.
Ask ten Workampers to define workamping and you are likely to hear ten different definitions. Technically speaking, however, "workamping" is the contraction of "work" and "camping" to describe a working arrangement for RVers which usually involves a place to camp as compensation for services rendered. Many workamping jobs also pay a salary.
What Do Workampers Do?
The most common forms of workamping include RV park services/maintenance and campground hosting. Contractual arrangements are usually made between employers and RVing couples who often split duties ranging from office management, reservations, cleaning and laundry to pool maintenance, mowing, construction and repairs.
Many private RV parks and resorts employ workampers to work in the office registering and checking guests in and out, or to work onsite providing groundskeeping, repair and maintenance services. Campground hosts are primarily employed by state, federal or small private campgrounds and duties may include but are not limited to reservations, site maintenance, restroom cleaning, firewood sales, or docent services.
Related Video: What Do Ranch Workampers Do All Day?
What Kind of Workamping Jobs Are There?
Many people believe if you work and you camp, you are a workamper. That would make us full-time workampers since we are always working from anywhere we park!
The truth is, there are many different kinds of workamping jobs other than the typical RV park worker or campground host. We discuss many of these opportunities in the Workamping chapter of our e-book, Income Anywhere! The following is just a small sampling of the many other available workamping jobs we have discovered.
Example Volunteer and Paid Workamping Jobs:
Animal Rescue Volunteer
Farm/Ranch Worker
Fish Hatchery Volunteer
Theme Park Worker
Oil Field Gate Guard
Sugar Beet Harvest Worker
Property Caretaker
Resort/Hospitality Seasonal help
Christmas Tree, Pumpkin or Fireworks Sales
We encourage anyone interested in workamping to think outside the park! Watch this video we produced for a better idea of the unique opportunities that exist for workampers. Here we interview a number of employers hiring at a Workamper Expo we attended in Florida.

What Kind of Workamping Have We Done?
Since then we have
workamped at a hot springs resort
in New Mexico, did some
property caretaking
in Arizona, and Rene even gave the
Amazon Camperforce workamping job
a try at the Fernely, Nevada warehouse.
Our favorite job, by far, has been the summers we have spent at Vickers Ranch, where we've done everything from working hay fields, managing the office, mending fences and cleaning cabins to laundry—lots of laundry!
About the only workamping jobs we have not tried, are your typical RV park or campground host gigs. We have also not done the Sugar Beet Harvest or any gate guarding, which we hear can be a lot of work but quite lucrative in a short time. Now that our own remote home based business endeavors keep us busy, we are a bit more selective of the workamping jobs we do.
How Do You Find Workamping Jobs?
Visit our Facebook Workampers Group. We also list many ways to find workamping jobs in our e-book. The following are just a few of our favorite resources, some are free, others require a subscription.
What Is The Best Workamping Resource?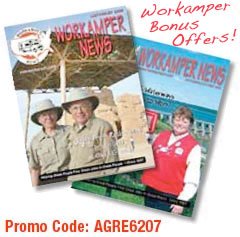 We have found all our best workamping jobs in Workamper News! We find the small subscription fee for our premium membership well worth the price for the vast resources they offer. More than just a job listing, Workamper News publishes a print publication, offers daily Hotline Job email updates, hosts informative webinars, and much more. The free resources are great places to check, but you definitely get what you pay for.
As Workamper Concierge members, we are happy to offer you the Promo Code AGRE6207 to discover the benefits of premium membership. Read complete details here then sign up now with Workamper Promo Code AGRE6207 to two additional months free and any other currently available extra promotional benefits to Gold, Diamond and Platinum level members!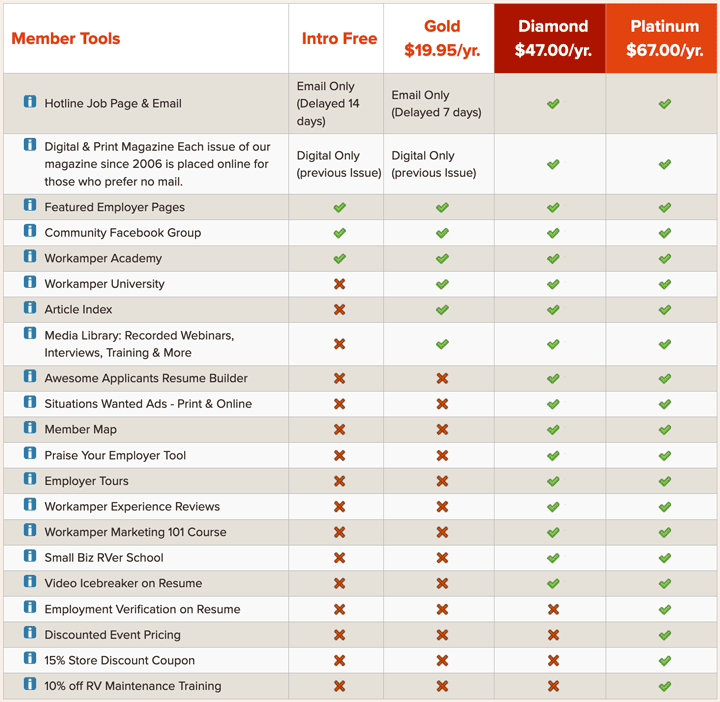 Just investigating this lifestyle for the first time? Hoping to Workamp in the future? Start here to learn about the Workamping lifestyle, develop your dream and then set it into motion! Free membership provides access to past issues of the online Magazine, Workamper Academy, private Facebook Group and the daily Hotline Jobs page and emails (Delayed 14 days). Free Membership!
Already an RVer? Want to find Workamping opportunities, research the lifestyle, and get connected with others in the community? A Workamper News Gold membership is the a great place to start. Gold Membership provides access to the extensive Workamping Article Index with articles on every aspect of the Workamping and RVing lifestyle. Gold members can also search the Media Library, with years of recorded webinars, interviews, training & more. Get Gold with Promo Code: AGRE6207
Diamond level membership is the best value for anyone serious about workamping. Benefits to help you research and find future opportunities include receipt of daily Hotline Jobs as they are published, and the ability to build an online resume viewed by all the best employers. Place a Situation Wanted ad, read employer or workamper experience reviews, network with other Workampers, and much more. Get Diamond with Promo Code: AGRE6207

Enter Promo Code AGRE6207 at checkout for 2 Free Months of Workamper News!
For the serious workamper, WKN Platinum membership offers all of the above, plus Verified Work History on your resume. Add this shining star to your resume for and also get: Discounted Event Pricing, and discount coupons for the Workamper News Store and National RV Training Academy course. Get Platinum with Promo Code: AGRE6207
Workamping at Amazon
The Amazon Camperforce program hires temporary staff to help during peak seasons at their regional distribution warehouses throughout the country. Assignments usually begin in early Fall and last through December 23rd. Amazon has facilities located in Campbellsville, KY, Coffeyville, KS, Fernley, NV, or Murfreesboro, TN.
Compensation normally includes hourly pay, a paid completion bonus, referral bonuses, and paid campsites at a nearby RV park. The work environment is fast-paced, energetic, and demanding. It can be a quick way to make some decent money, but it may not be for everyone. Read all about Rene's time workamping in Fernley, NV for more information about her experience working for Amazon.
Beyond Workamping
For more information about workamping and the various other ways we support our nomadic lifestyle, download our e-book,
Income Anywhere!
How To Make Money On The Road
We discovered shortly after hitting the road that the best way earn a reliable income as full-time RVers is to develop multiple revenue streams.
In our e-book, we provide complete details about how we do it—from workamping, crafting, and writing, to niche blogging, e-publishing, product marketing and more. Read our free sample chapter or use our download coupon today!