Okay, this should be our last post from the 2019 Rocky Mountain Overland Rally. I promise. We've shared plenty of photos including some pretty cool overlander rigs and a bunch of sweet truck campers and adventure tents. And I keep mentioning all the nifty products we saw. So here is a quick roundup of the best overlanding products that caught our eye at RMOR 2019.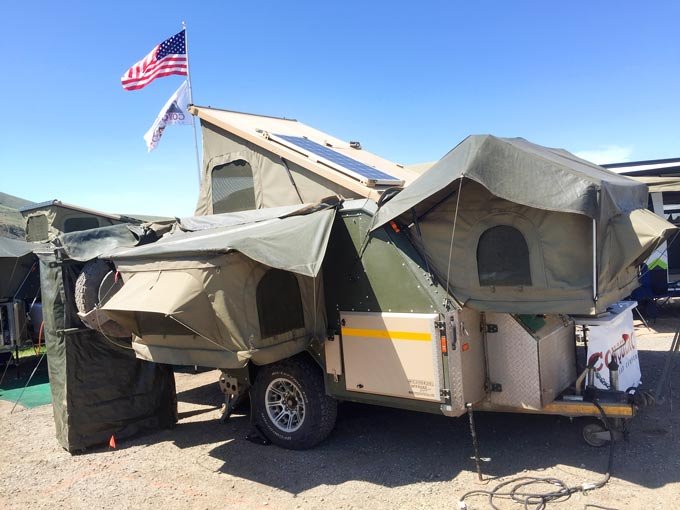 The overlander rigs and truck tents were clearly the most impressive products on display. I'd have to say the Conqueror Off-Road Campers were my favorite. Their Commando Trailers redefine roughin' it!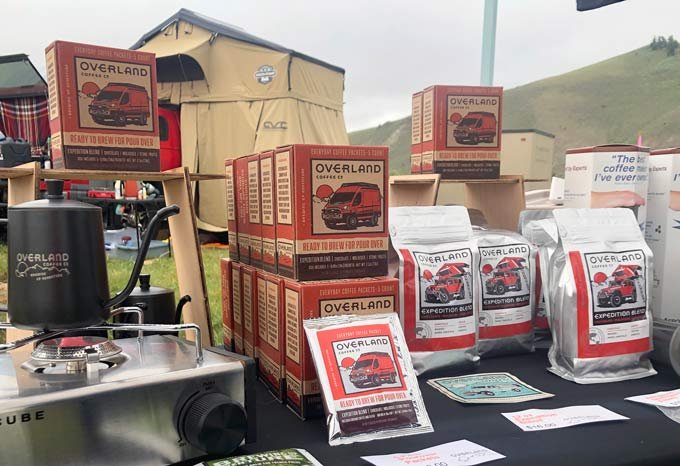 I already mentioned the new everyday coffee packets we tried in my detailed Overland Coffee Review. Good stuff there.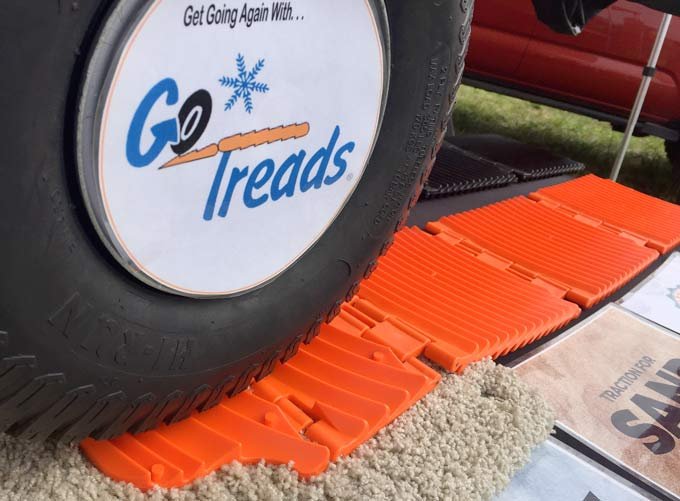 The next item worth mentioning is Go Treads. I've often seen big bulky emergency traction boards strapped to the backs of Jeeps and other off-road vehicles and thought those could come in handy – like for that time we got stuck in Luckenbach. But these things are ingenious.
Go Treads fold up into a convenient carrying size, and are designed so the first tread feeds under the tire. The arge 46 inch by 9 inch tread contours to the terrain and the curved, self centering gripping surface ensures your tires will stay on the tracks to help you get out of trouble.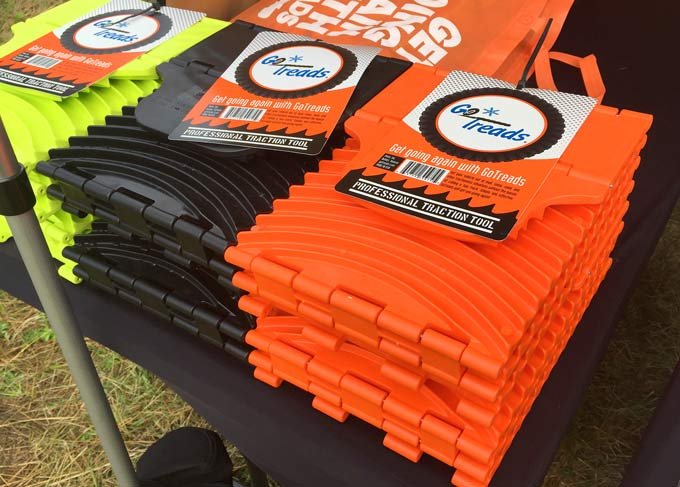 Best yet – especially for RVers – the folded Go Treads are sturdy enough to be used as leveling blocks. Save on Go Treads at Amazon, or visit the Go Treads website for more information and demonstration videos.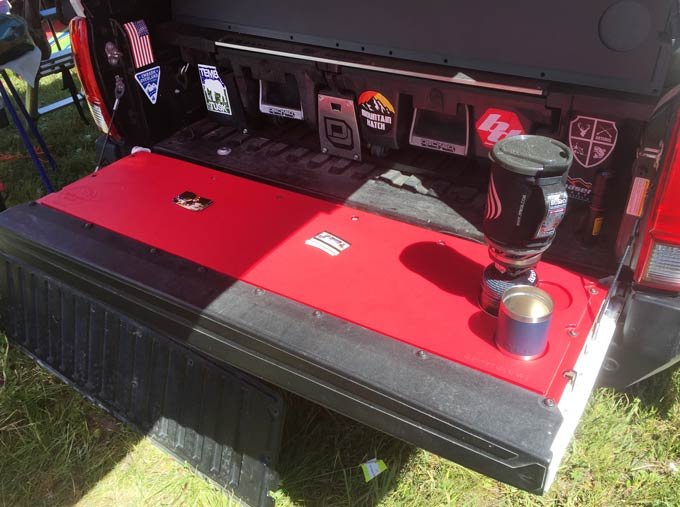 Speaking of durable plastics, Mountain Hatch makes sturdy food-grade plastic tailgate inserts that serve as a clean cutting board and kitchen preparation surface for any truck tailgate.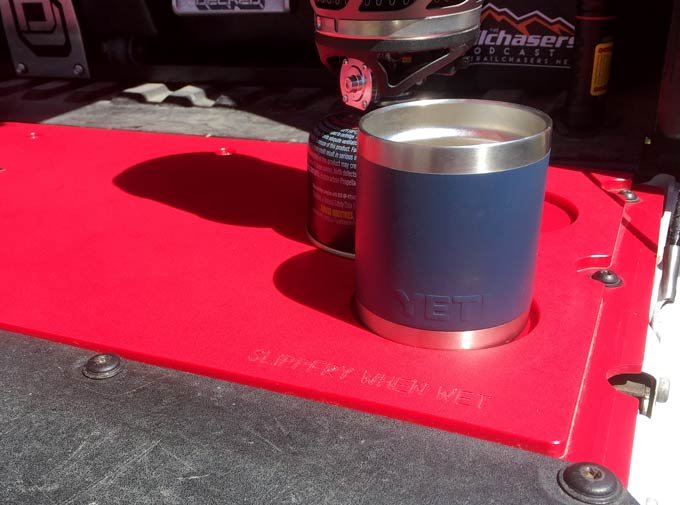 The Mountain Hatch is made in the USA, can be custom fit with special orders, and the company minimizes wast by making small cutting boards from leftover material. And, their website states that they "are also proud of our service men and women who serve and protect our country every day."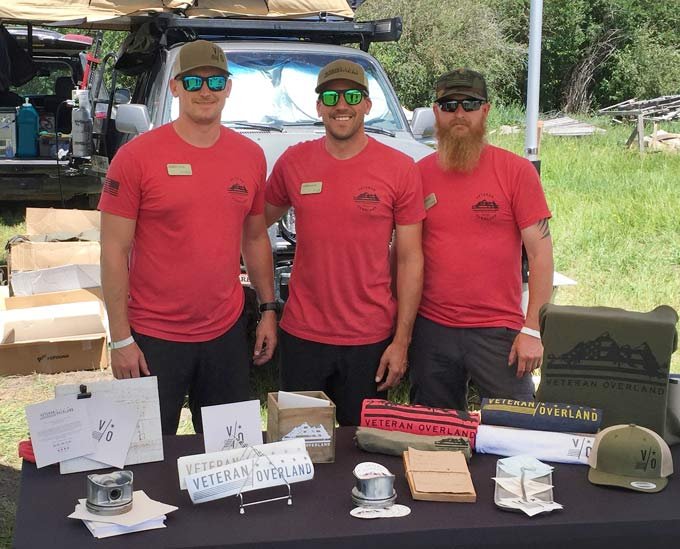 Speaking of our our military veterans, I spent some time learning about Veteran Overland. I am no veteran, but I do manage an active online niche community at Tripawds, so I totally respect what these guys are doing. While they do offer apparel, stickers, patches and other V/O gifts to support their efforts, the primary Veteran Overland product is community membership for private discussion forums, special events, and product discounts.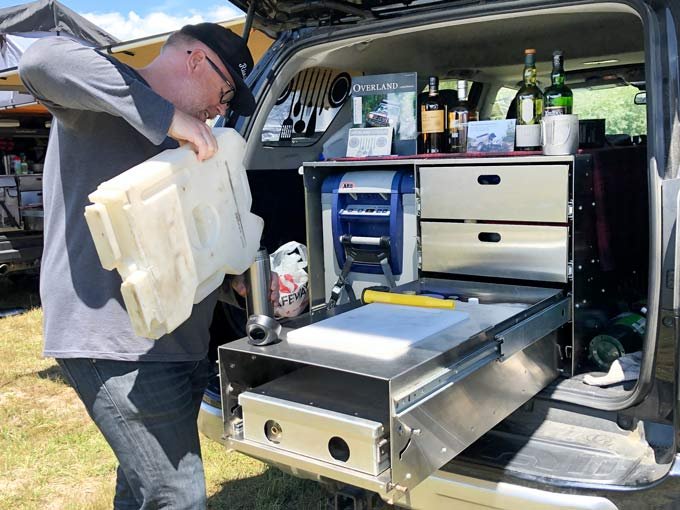 Some of the most impressive product design I saw, went into the Overland Kitchen. The man behind this new mobile adventure kitchen was an aeronautical engineer, and his expertise shines through in these food grade stainless steel cabinets and drawers.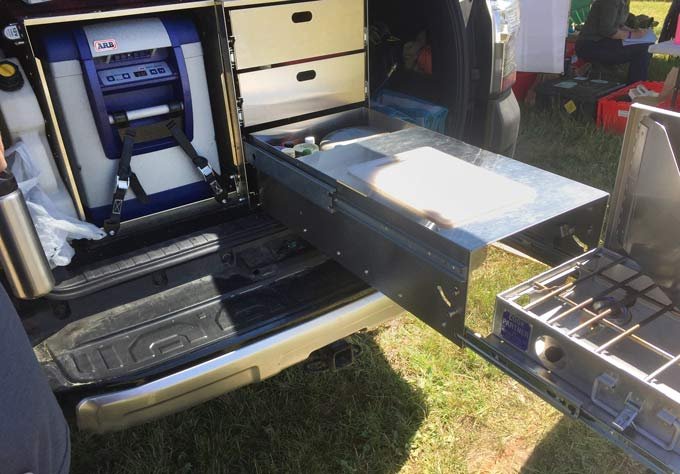 Manufacturing from steel – much stronger than aluminum – allows for the use of less material, making the Overland Kitchen actually lighter than many similar products on the market.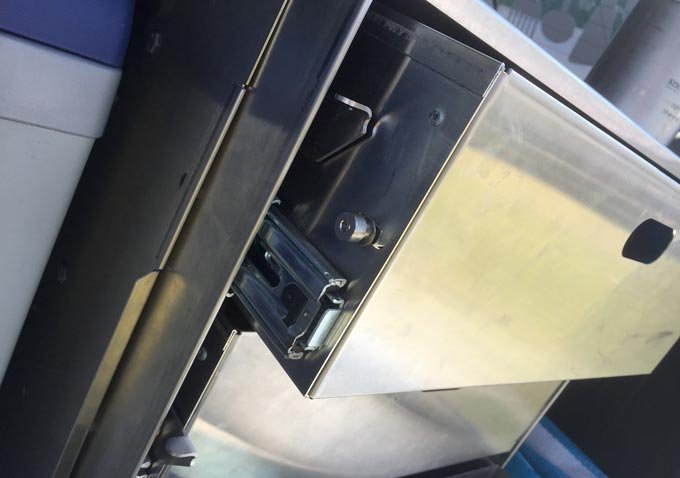 The stove-top drawer implements a drawer slide rated to 300+ pounds, latches are custom designed to keep all drawers from opening in transit. Most of the fabrication is riveted for durability, utilizing holes the same size as any bolted components for easy repair.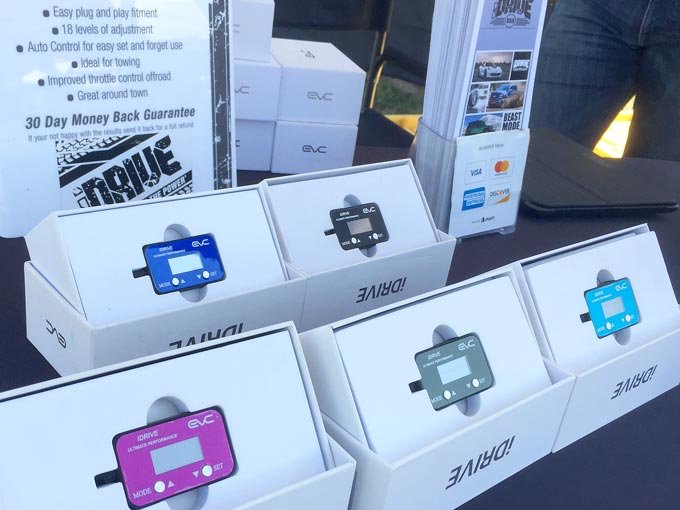 Finally, being a Mac guy, I had to ask about the iDRIVE. No, this isn't some new Bluetooth gadget. The iDRIVE is a throttle response controller that eliminates acceleration delays that are common on many modern vehicles.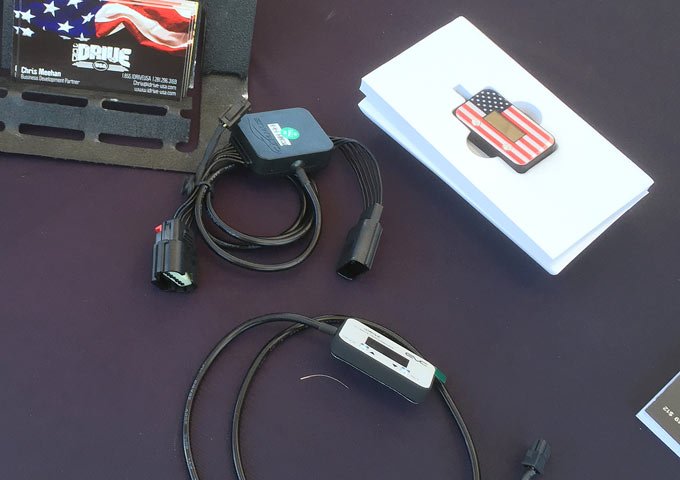 This system basically hijacks the signal from your accelerator pedal, and boosts responsiveness electronically. When asked what truck I drive, I told them we have a 2006 Dodge Ram. "I can't help you there," was their answer. But if you have one of the many 10 to 15 year old vehicle models they support, visit the iDRIVE website for more information.
Finally, if budget is no concern, check out the Rambo Electric Bikes! These bad boys (and gals) look like they could go anywhere if trail riding is your thing, with 4.8″ Maxxis tires, 11 different gear settings, and a powerful 1000W motor.
More from 2019 Rocky Mountain Overland Rally
Best Overlander Rigs at 2019 Rocky Mountain Overland Rally
Overlander Truck Campers and Tent Toppers
Overland Coffee Expedition Blend Review
Exploring the Overlanding Nomad Life at #RMOR