After last year's Alaska misadventures, we swore that our next trip to the North Country will be in a small RV, something that can handle off-road travel (aka, an "overlanding" vehicle). But before we get too deep into that crazy idea, we wanted to explore the overlanding nomad life in more detail. Last weekend at the Rocky Mountain Overland Rally in Gunnison, Colorado, we got our chance.
Getting a Reality Check on the Overlanding Nomad Life
Ever since our backpacking days, our outdoor adventures were always a little more difficult than most people's. Jim and I always seemed to get ourselves into some kind of predicament that tested our outdoor skills and smarts.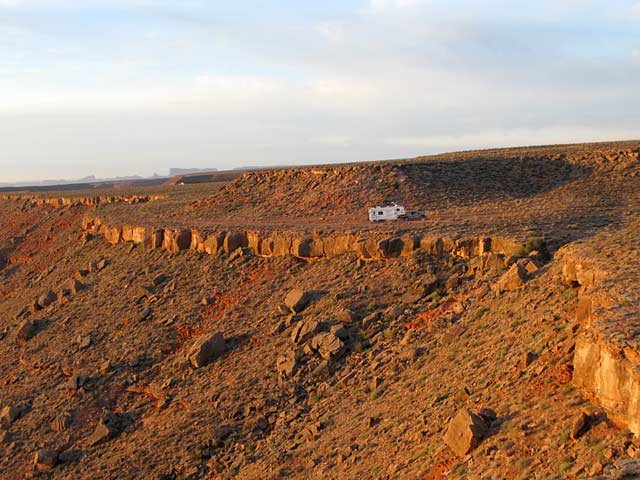 And even today as full-time RVers, we often end up hauling our Arctic Fox into tough terrain that smarter more cautious RVers dare not tread.
But the more we see how these roads beat up our home, the less inclined we are to go on the unpaved road less traveled.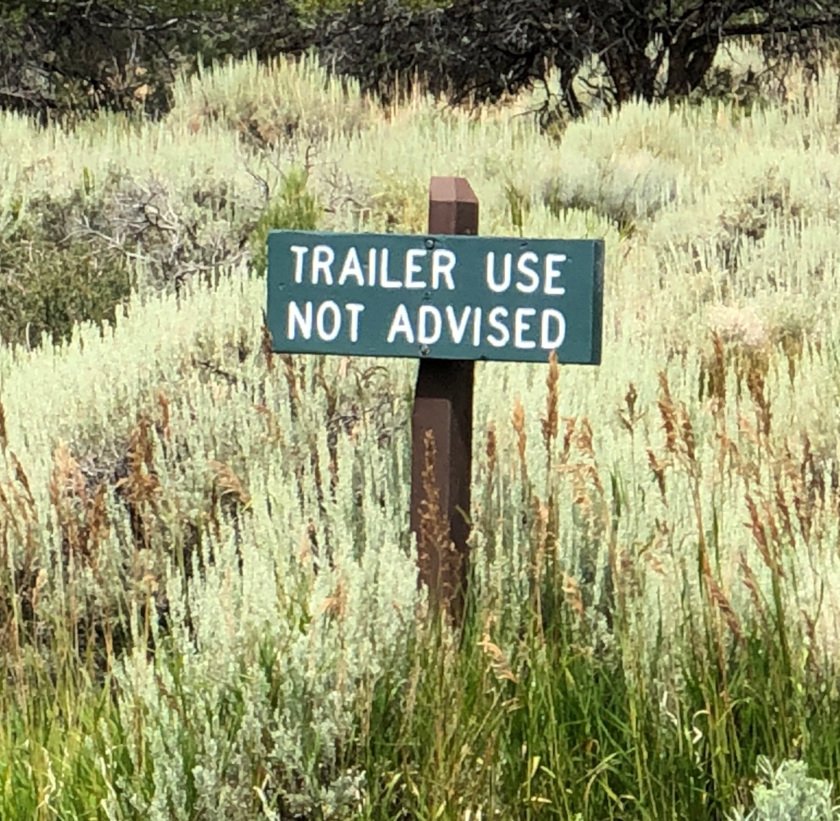 So when we noticed that many travelers on the Alaska Highway were going up there in overland rigs, the light bulb moment occurred. An overland rig seemed like a way smarter idea to get off the beaten path in Alaska.
What is Overlanding?
According to Wikipedia, the definition of overlanding is:
Overlanding is self-reliant overland travel to remote destinations where the journey is the principal goal. Typically, but not exclusively, it is accomplished with mechanized off-road capable transport (from bicycles to trucks) where the principal form of lodging is camping, often lasting for extended lengths of time (months to years) and spanning international boundaries.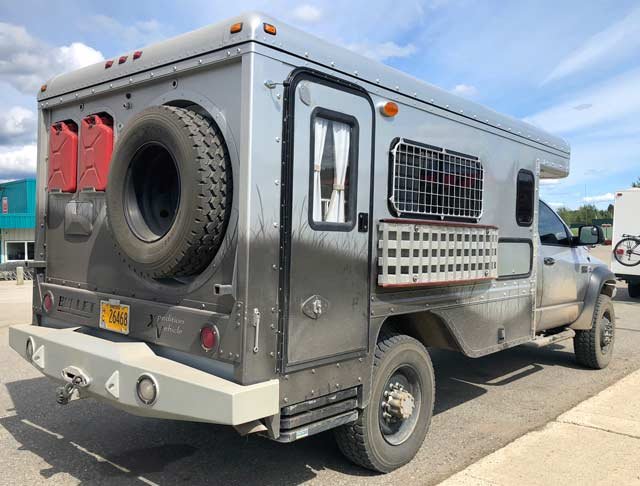 Since our fantasy about the off-road nomad life began, we've wondered:
How can we build our ultimate Alaska overland rig?
What does an overland, off-road RV cost? Can we afford it?
What would be the best overland rig for us?
What do we need to know before getting way, way out there?
Can we do this while we still work?
Exploring the Overlanding Lifestyle at #RMOR
The best place to get answers is at an event like the Rocky Mountain Overland Rally (#RMOR). This show is packed with everything about the overlanding lifestyle and gear. Most importantly, you can learn techniques and skills that make it more fun and can save your ass if you find yourself broken down on a lonely road somewhere.
(Full disclosure: we received complementary RMOR press passes in order to cover the event)
Our full-timing friend Larry told us about RMOR, and I'm so glad he did. Larry and his wife Nancy have been full-time RVers for over 18 years. They got deep into the off-road overlanding lifestyle several years ago, which Larry dubbed "Geezer Backpacking."
By 2010, we were in a 40-foot diesel pusher, which limited us to pavement or well-maintained gravel roads. We missed the ability to sleep in remote wilderness areas. As we aged, sleeping on the ground, even with an air mattress, became less comfortable. We decided that we needed a camper in addition to our home-on-wheels to fulfill our souls' desire to sleep in the backcountry and have the adventure and experiences the wilderness offers. — "Wild on Wheels," Escapees Magazine article by Larry Chiuppi.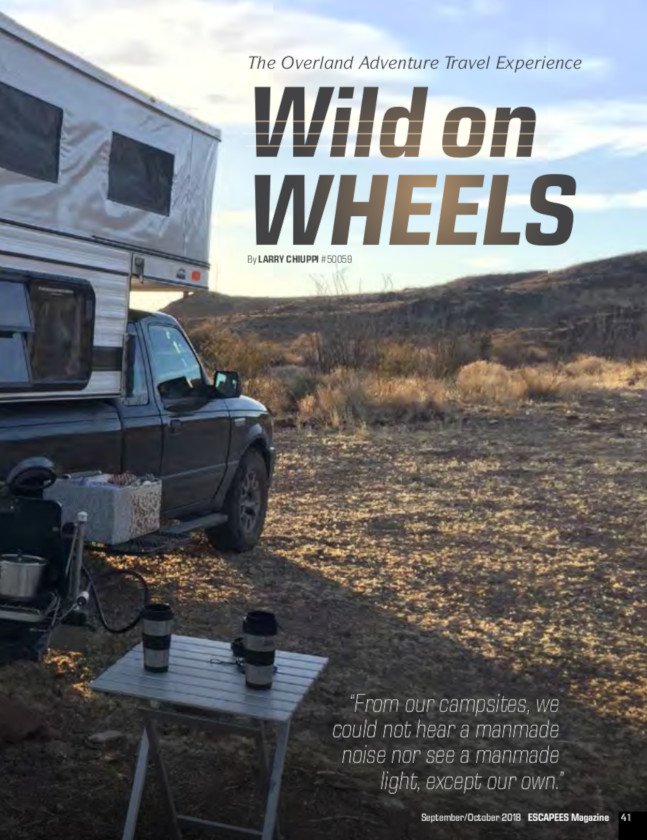 Since geezer backpacking got our attention, I've learned that many other RVers are also into the overlanding nomad lifestyle, like Lauri and Jase of @wanderwasi, who we met at RMOR. These folks are hauling the best of both worlds, a comfy Airstream and an overland excursion van. I figured, why not us?
The Overland Experts Help Us Make a Plan
We kicked things off with a RMOR session called "Overland Building Planning," by Mario Donovan of AT Overland. They build rigs ranging from custom off-road towable trailers to truck bed campers with rooftop tents, and all the accessories needed for overlanding with a motorized vehicle.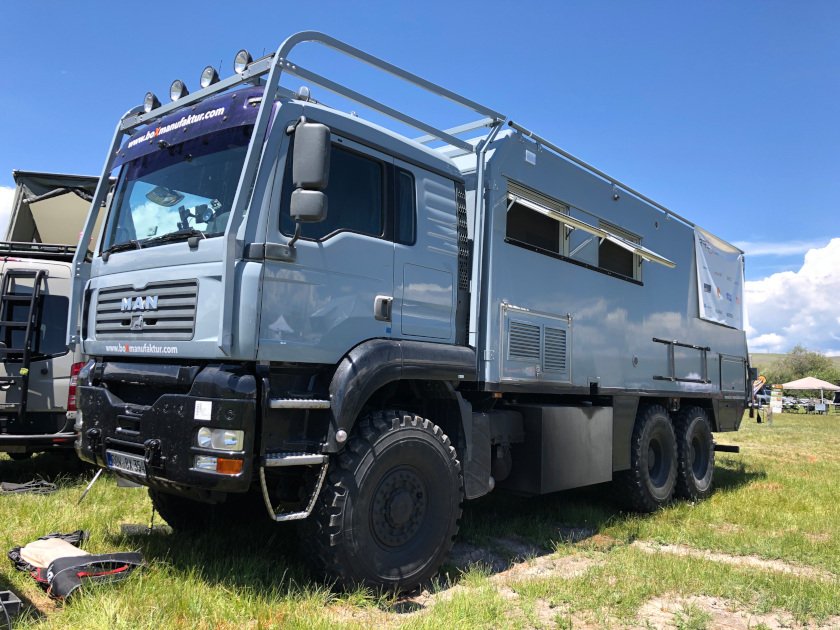 Mario had tons of great nuggets of information to share. Building your perfect overland vehicle takes time and planning, especially if you actually have a budget in mind. I will share what we learned from Donovan in my next blog post, "Overland Vehicle Planning Questions."
Until then, check out one of the many crazy rigs we fell in love with. I can see doing something like this with our Dodge.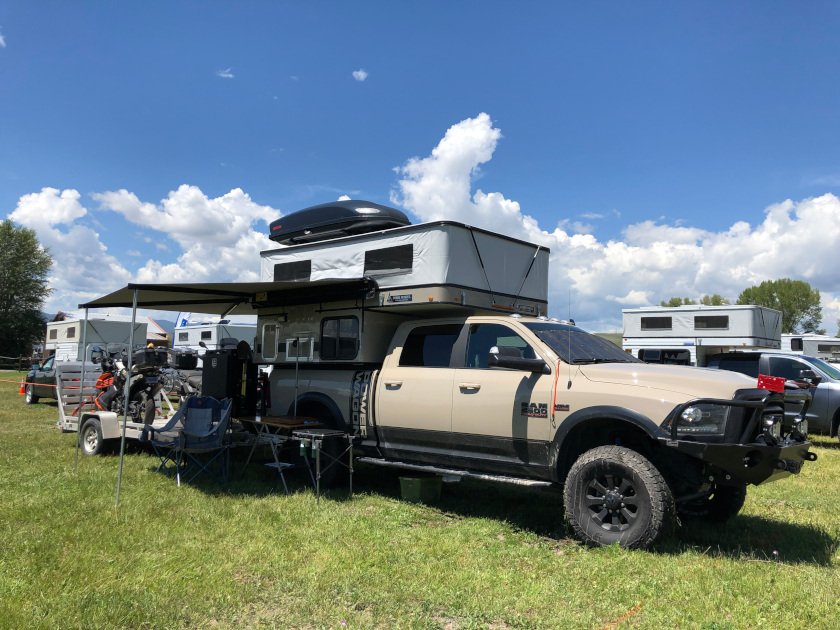 A Special Shout Out to Larry, Harvey and Nancy
On their way to RMOR, Larry and his long-time traveling buddy Larry did some unintentional overlanding near Las Vegas, New Mexico. Larry's rig "Elmo," the truck bed camper rig pictured in the above Escapees magazine article, was destroyed in a rollover accident that could have killed Larry and Harvey. It did not, thankfully. The two guys headed to RMOR anyways, while Nancy held down the fort at the park in Houston. Talk about intrepid travelers! Jim and I are so glad they're OK.
More from 2019 Rocky Mountain Overland Rally
Best Overlanding Products from RMOR 2019
Best Overlander Rigs at 2019 Rocky Mountain Overland Rally
Overlander Truck Campers and Tent Toppers
Overland Coffee Expedition Blend Review
Exploring the Overlanding Nomad Life at #RMOR