We thought bad roads were behind us after the Alcan Ate Our Trailer. But the lure of off-the-beaten path boondocking is often greater than our desire to avoid ruts, bumps and dirt. The only problem with that is those roads are hard on tires. After we found this great boondocking campsite between the Grand Tetons and Yellowstone, it was time to order new RV tires from SimpleTire.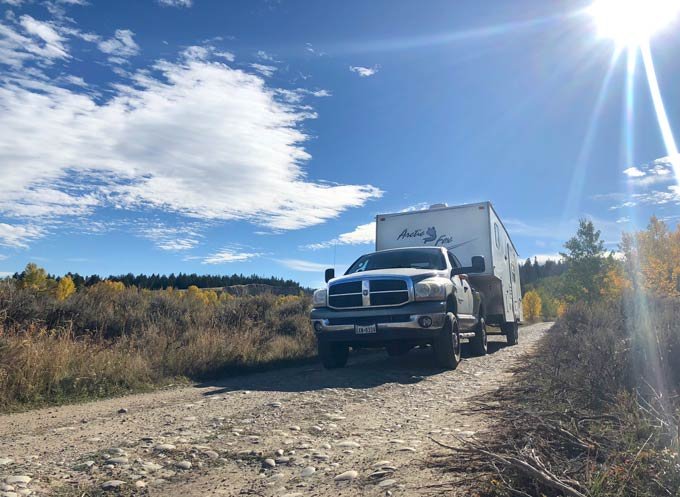 Ever since our Stewart-Cassiar Highway flat tire trip from hell, the mismatched tires we were riding on made us uneasy. We had one Carlisle 10-ply trailer tire and our three older Maxxis had seen better days. Since we had such a great experience ordering new truck tires online from SimpleTire, when the company offered to compensate us in exchange for telling you about our second transaction with their website, well, of course we said yes. Now we would know if SimpleTire is always as good as we thought.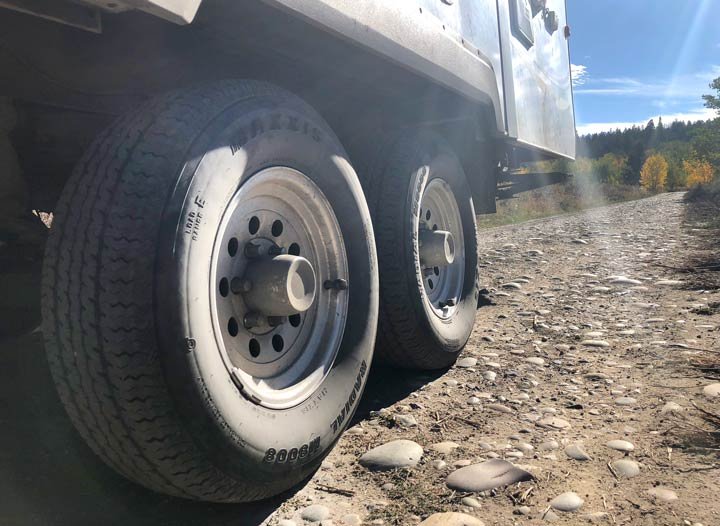 Bad Boondocking Roads Lead to New RV Tires. Whew!
After returning to the U.S. we kept telling ourselves that all we wanted was easy camping for a while. But when we discovered that every RV campsite in Yellowstone was booked through mid-October, we consulted our Escapees Days End Directory and found a great spot in view of the Tetons. Unfortunately, it was a grueling 20 minute off-road RVing drive to get there.
We dodged low-hanging branches and bounced over endless rocky roads while questioning our decision the whole time. But once we found the spot, it was amazing to discover that we had no other neighbors for at least a half mile and those folks were tenters so we didn't have to listen to someone's generator.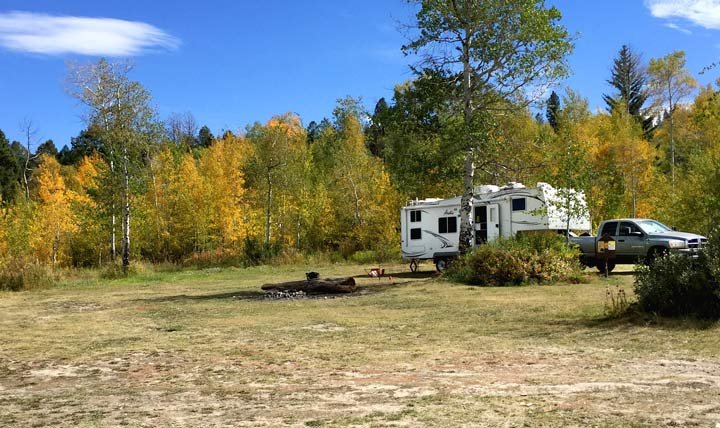 The weather was chilly but not awful. 4×4 trails led to endless wilderness. At night, pure silence. We even had decent cellular service. Was the drive to get to this spot worth the ordeal? You decide.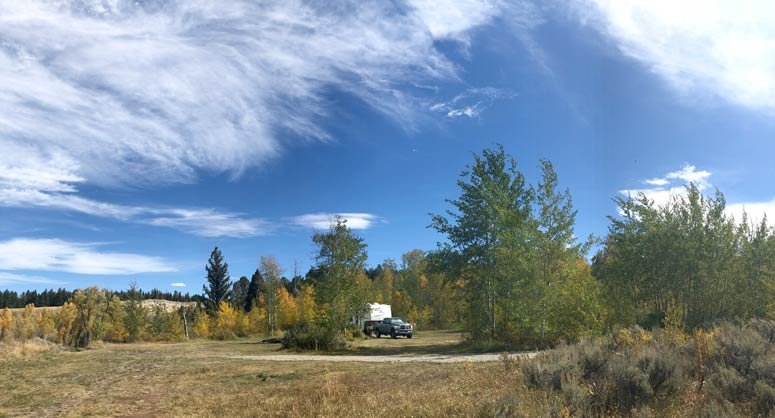 The scenery reminded us of our last few days with Jerry in the area. Everything was just as it was then, with fall colors exploding and the chilly air letting know it was time to head south. Before leaving, we scattered some of his ashes, knowing in our hearts how much he would have loved that spot.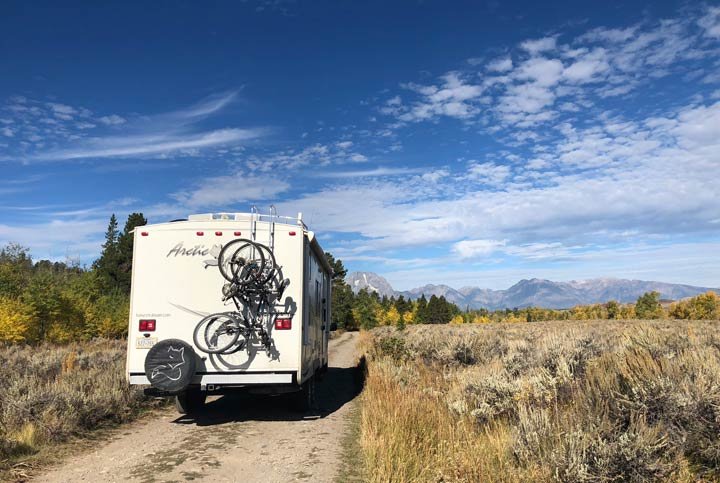 The Ultimate Full-time RVer's Convenience: Ordering New RV Trailer Tires Online
Cold weather was just around the corner, and it was time to head to Fort Collins. But before leaving, we took a few minutes to order RV trailer tires online with SimpleTire. The company makes it so easy to pick and choose the right tires for RVs.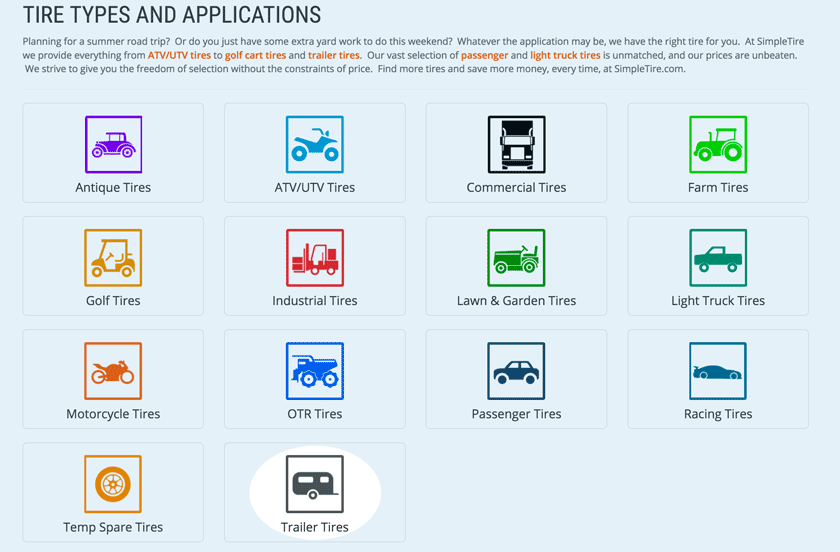 Since we wanted to stick with Maxxis 10-ply tires, we didn't need to research trailer tires in the SimpleTire Buying Guide or the 1400+ RV trailer tire makes and models available.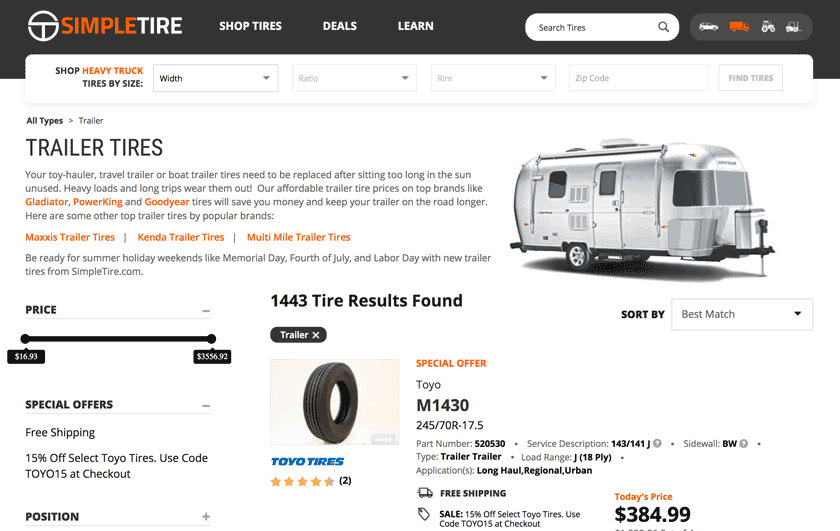 We found the exact make and model of RV trailer tires that we wanted, at an unbeatable price.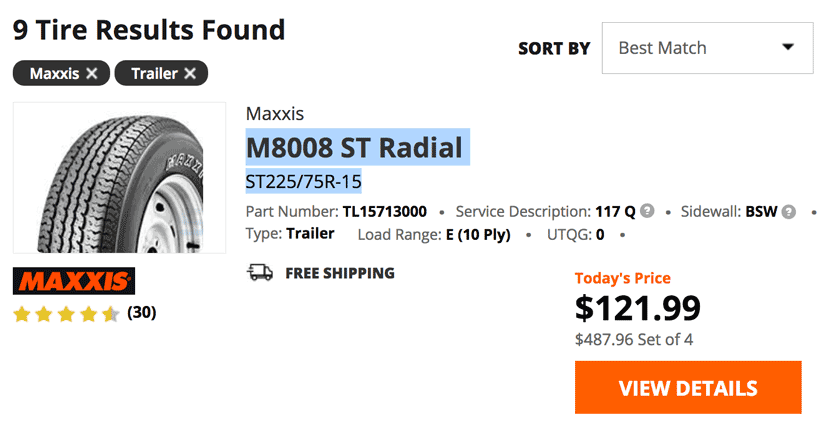 SimpleTire puts all the buying power into the hands of the customer. It's quicker and easier than calling around to different RV tire shops and pricing things out. You can even get free shipping on new tires, even if you don't choose one of their installation partners.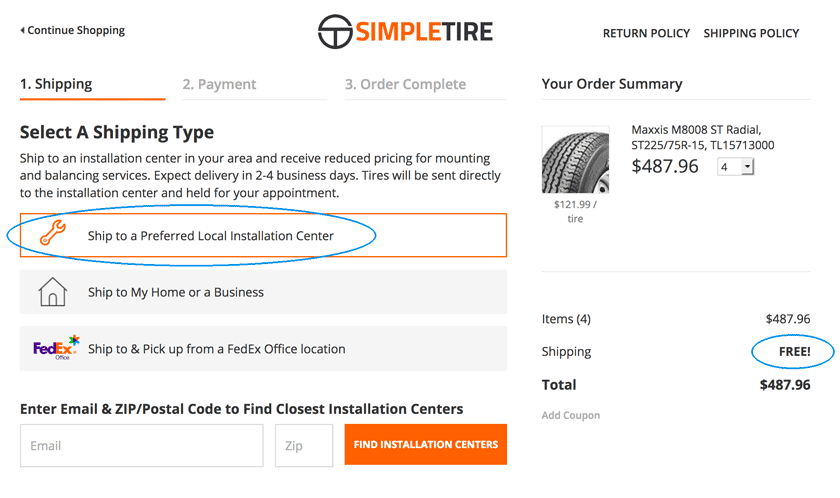 It's the best online tire buying method on the planet. Period. We'll never go old-school again.
Once we chose our new RV tires, we picked a tire installation time and date that worked for our schedule.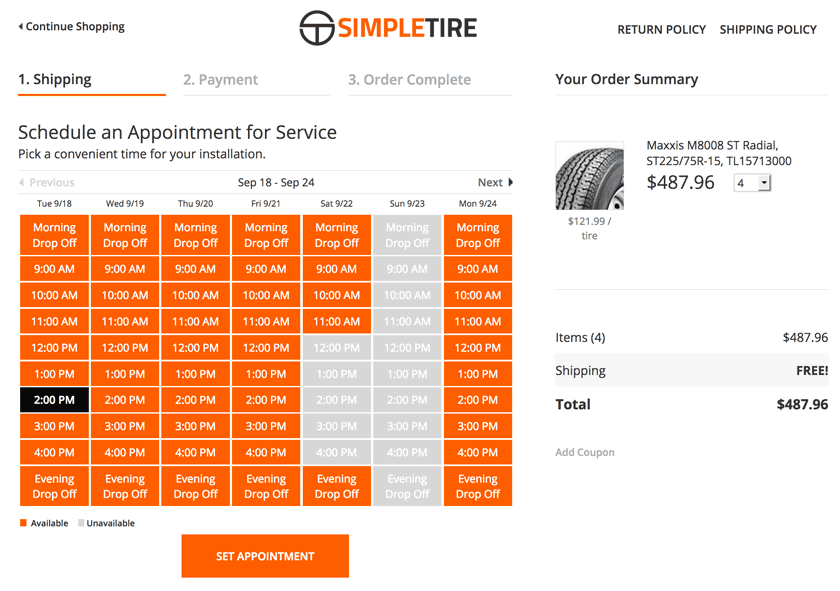 SimpleTire has a large choice of tire installation partners in Fort Collins, so we made an installation appointment with the shop that had biggest driveway we could see on Google Earth: Houska Tire and Oil. It was the right choice for several more reasons.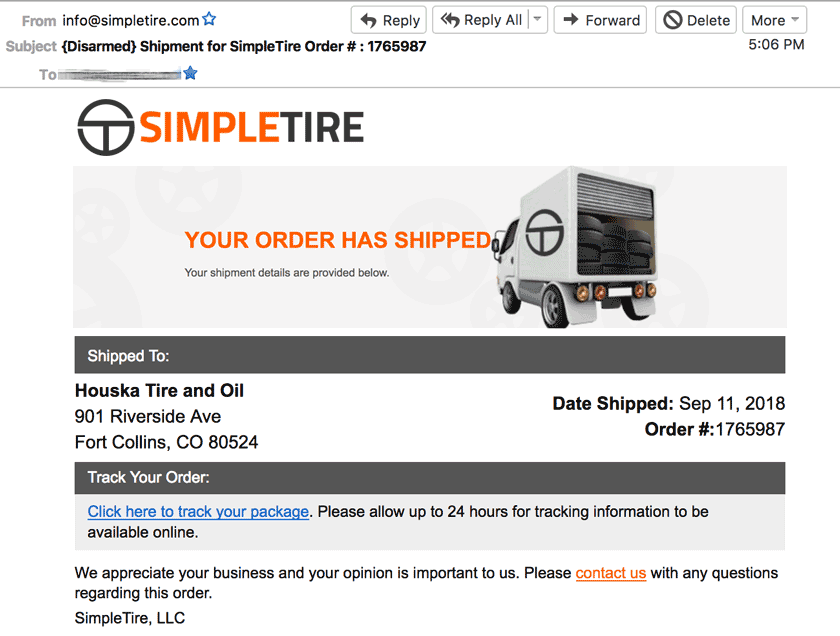 Houska not only works with SimpleTire to install new RV trailer tires, but they also have an excellent reputation on Yelp and Google for the repair work they do on passenger cars, trucks and commercial fleet vehicles.
Once our order was in process, SimpleTire tracked the tires the whole way. Less than three days later, we received word that our new RV tires had been delivered at Houska. It was time to leave that great boondocking spot.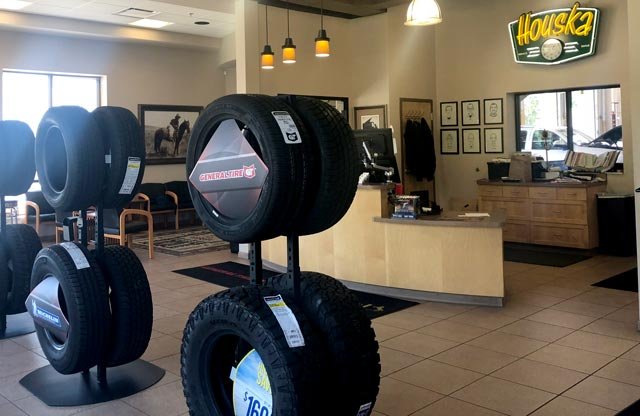 Rolling back into civilization was a bit of a shock, but worth it knowing that our new Maxxis RV trailer tires were waiting and ready for installation.
Houska's service technicians put that new Carlisle trailer tire on as our spare. They inspected our trailer brakes and re-packed our trailer wheel bearings at a moment's request. Everything went as perfectly as possible.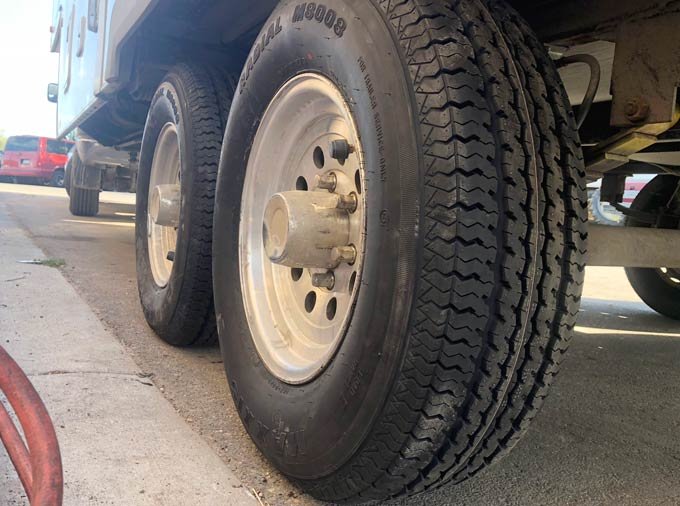 When the job was finished, Jim made sure each TPMS tire sensor monitor was put back on the appropriately programmed wheel. They were. Houska's tech's were on it.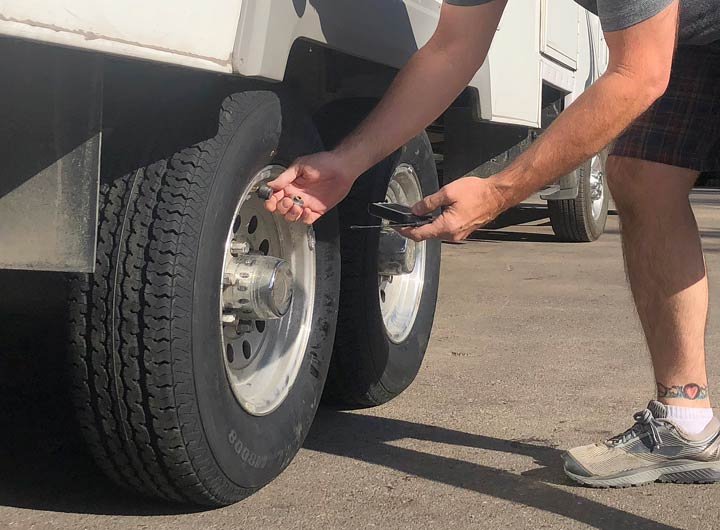 We were out of the shop in a couple of hours, with pretty new Maxxis trailer tires on our wheels. At the end of the day we checked into our first full-hookup campsite in over a month, the Lakeside Fort Collins KOA. Ironically, it was the one year anniversary of the day we closed the deal on Jerry's Acres, when we once again shedding the chains of property ownership.
While we were in Fort Collins, we also dropped some change on getting the truck serviced at Diesel Services of Northern Colorado. With a clean Cummins engine bill of health and four new RV tires on the rig, we felt ready to head south.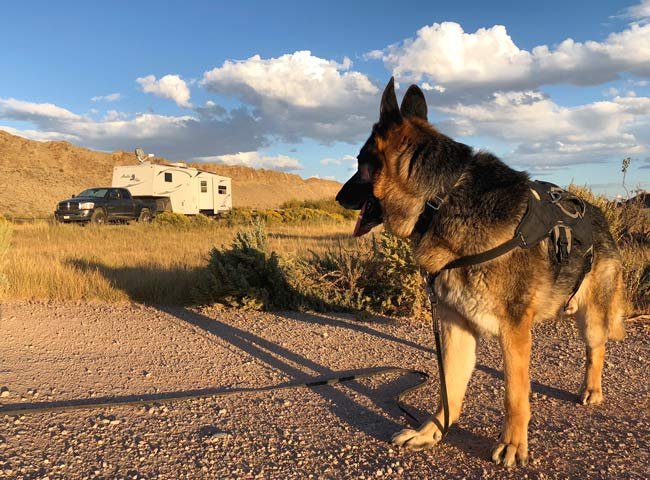 It's good to know we've done all we can to ensure that we'll get from Point A to Point B, safely and without incident. Thank you SimpleTire, for helping RVers like us hit the road with more peace of mind. We'll definitely order our next new RV and truck tires from you in the future.