The past few weeks since we left the ranch have been a whirlwind of miles and emotions. We have lots of tales to tell, but our hearts and minds have been occupied with saying goodbye to our baby, our cancer hero who taught us the meaning of the word courage.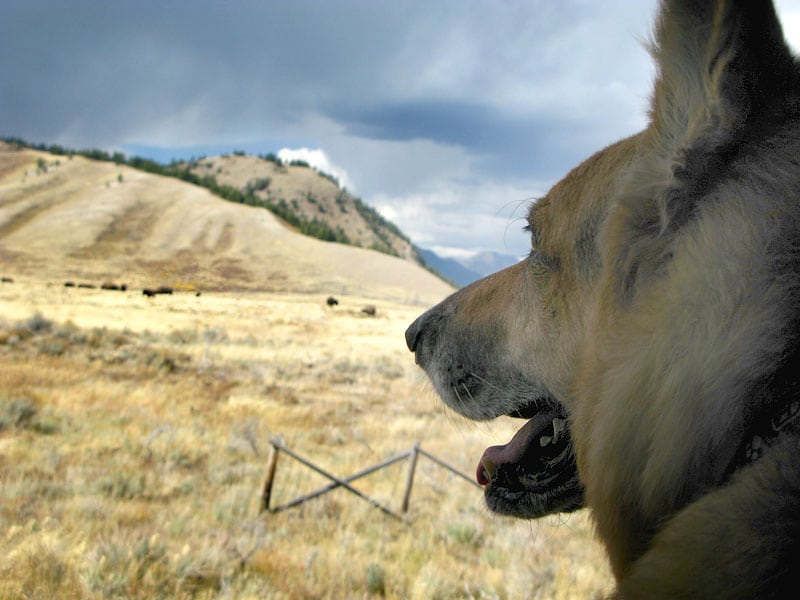 For the last several weeks, we've been unconsciously walking a fine line between helping him stay comfortable, and trying to keep him going because of our own selfish, human need to avoid the inevitable.
Everyone said he would tell us when he was ready to say goodbye, and last Friday morning, his eyes said it all. But acknowledging his wishes, and moving forward with our duty to release him from the pain of cancer, was one of the hardest things we've ever had to do.
Maybe Jerry waited for us to land someplace spectacular before he was ready to move on. He might have sensed that our jangled nerves were getting calmed by the soothing landscape of Yellowstone. It could've been the spirits of ancient prairie animals whispering his name. But most likely, he heard St. Francis calling him home.
We couldn't have been in a more beautiful place, or have found better people to give us the strength we needed. Thanks to Calpurnia, another cancer survivor and tripawd extraordinaire, we were connected with a compassionate vet in the tiny town of Ennis, just north of the park. Dr. Cashman completely understood our situation, and with grace and sympathy, she walked us through the process of helping Jerry cross over.
There on the lawn outside her home office, we laid down on his Barney blanket with his favorite toys by his side. As billowy clouds moved across that big Montana sky, we stroked his fur and said our goodbyes, and watched Jerry peacefully go on to his next journey.
Today, we feel like a ship lost at sea, without a captain. But Jim and I are doing our best to get our bearings. For it's because of Jerry that we began this road trip, and it is in his honor that we will continue.
In the ten years we were together as a family, Jerry taught us so much. But his greatest lesson of all, was teaching us to live life to the fullest, and enjoy every second without regrets. Life is just too damn short to do anything else.