We've stayed at some run down KOA Kampgrounds over the years, but Two Guns takes the cake!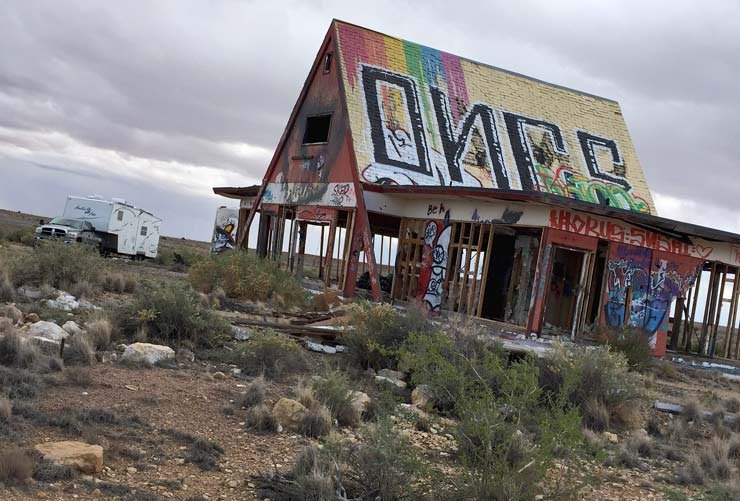 We've also spent the night at some pretty kreepy overnight stops. The abandoned KOA Kampground at Two Guns along I-40 in Arizona is one of my new favorites.
For starters: It's Free! But honestly, these types of places make for some of my most memorable stops.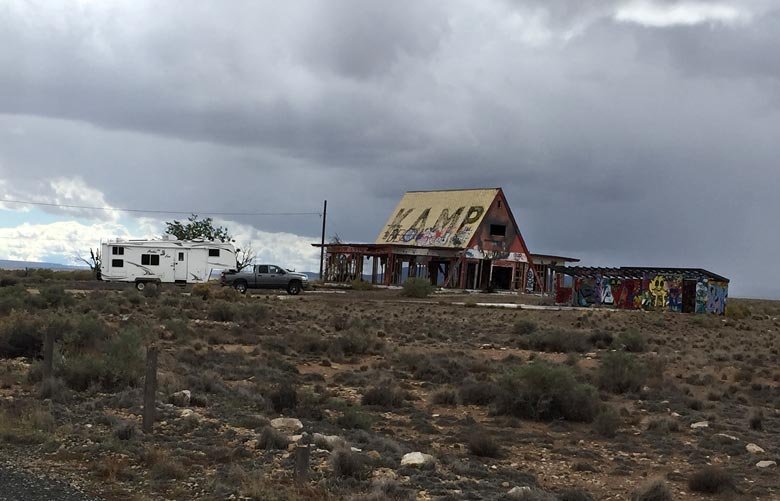 There is something about calling a place like this home because I want to, rather than because I need to. It fills me with gratitude for lifestyle we have made for ourselves – and for the work we do to make it possible.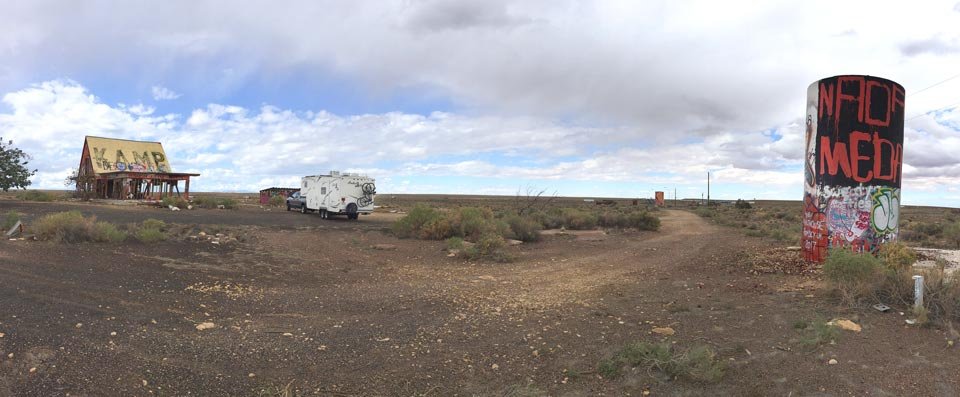 There is also something about walking amidst the ruins of an old campground, that makes me wonder what happened. And, I wander around wondering what those living the default life would think, and why…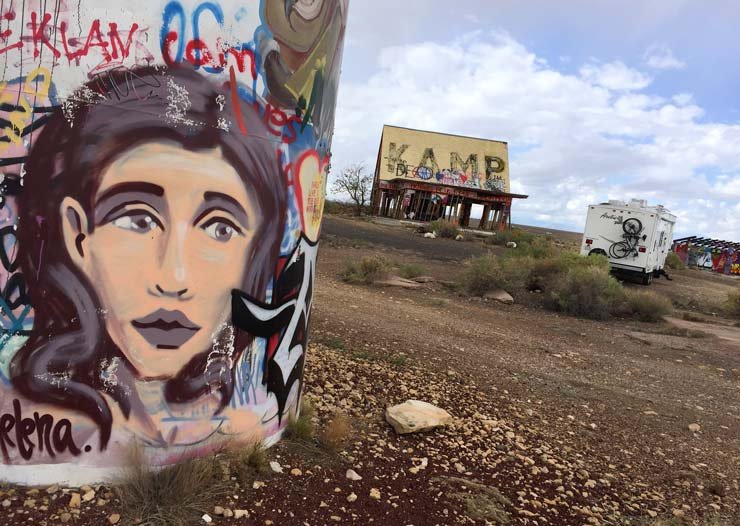 What Happened to the 2 Guns KOA Kampground?
I don't know. This place clearly fell into disrepair long ago, and has been neglected for quite some time. Perhaps it has something to do with the Apache Death Cave nearby, and whatever spirits haunt the long deserted roadside attraction and gas station turned dumping ground.
We chose not to disturb those spirits by looking for the cave where they were all killed. Instead we enjoyed the modern day ruins created by some amazing graffiti artists and common taggers alike.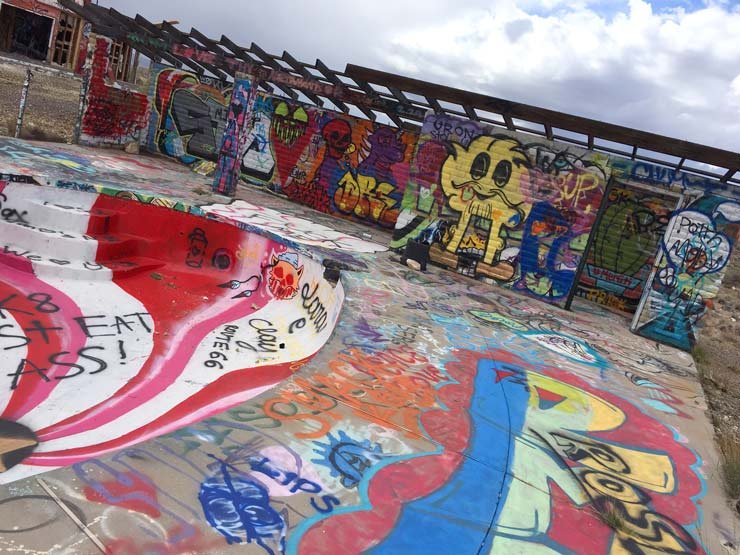 What Happens at Two Guns…
Stays at Two Guns!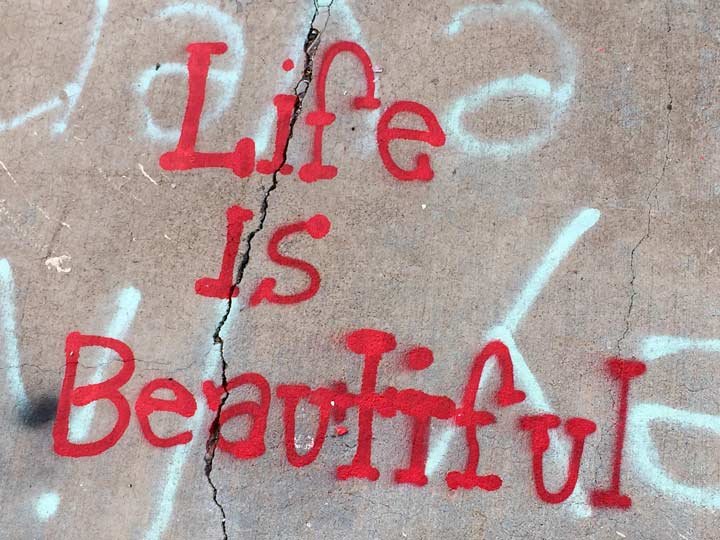 Clearly a lot has happened at the 2 Guns Kampground since it has closed.
If the graffiti is any indication, plenty of people have spent a lot of time in around the pool and decorating the old water towers which still retain some of the original artwork of days gone by.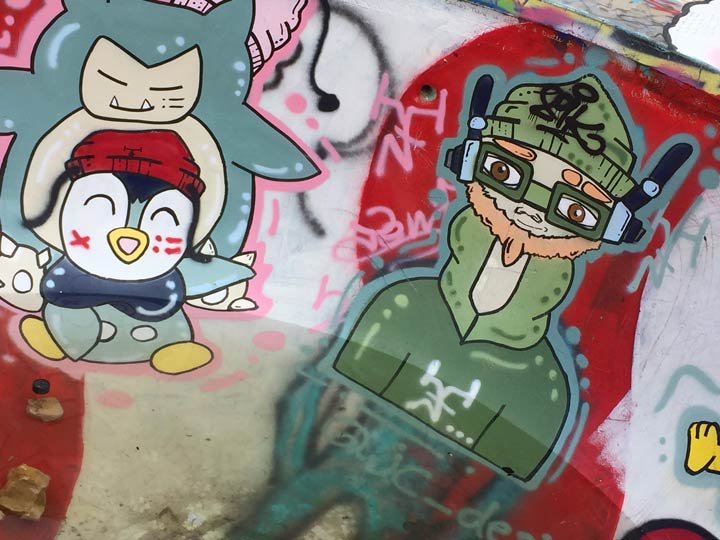 Another thing that perplexes me, is how some street artists destroy the work of others by tagging over a clearly superior piece, just to leave their mark.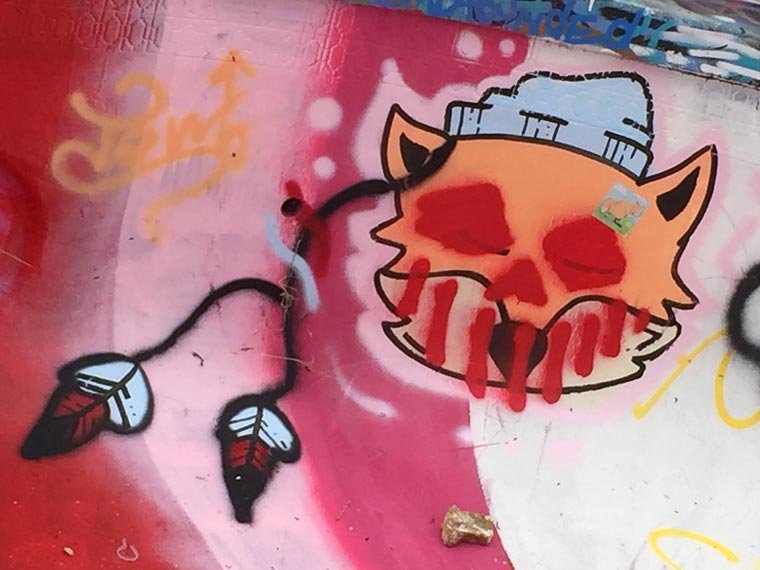 If the amount of trash is any indication, plenty of people have clearly spent time at this decrepit old KOA. The fact that it was all bagged up and neatly stacked at some point indicates that there are at least some people who still care.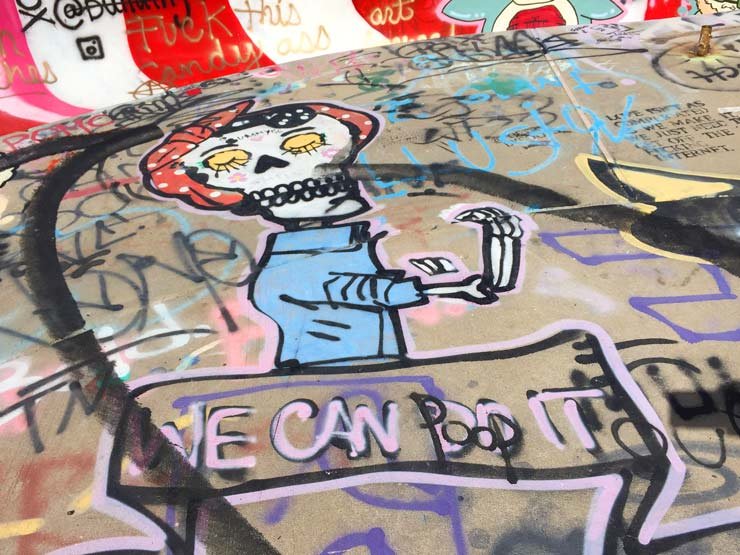 Maybe these are the same people who removed all the walls from the building, to make it a slightly less hospitable homeless encampment. That would be a bit hard to do for the still standing cement pool house which created another perfect canvas.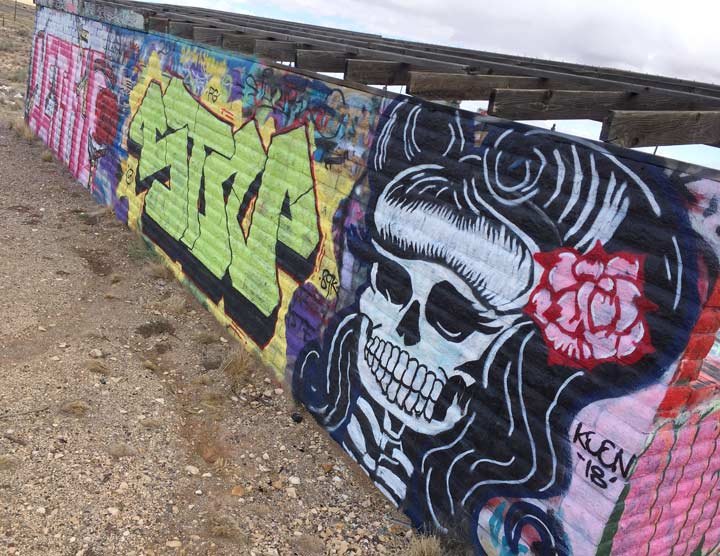 The weather was inhospitable during our short stay, but that didn't keep the tourists away. We were surprised the see the steady stream of photographers and Lookie Lous dropping by all day.
The place is reminiscent of The Slabs, with less trash, and and eerily empty feeling, once all the onlookers left. Home Sweet Home…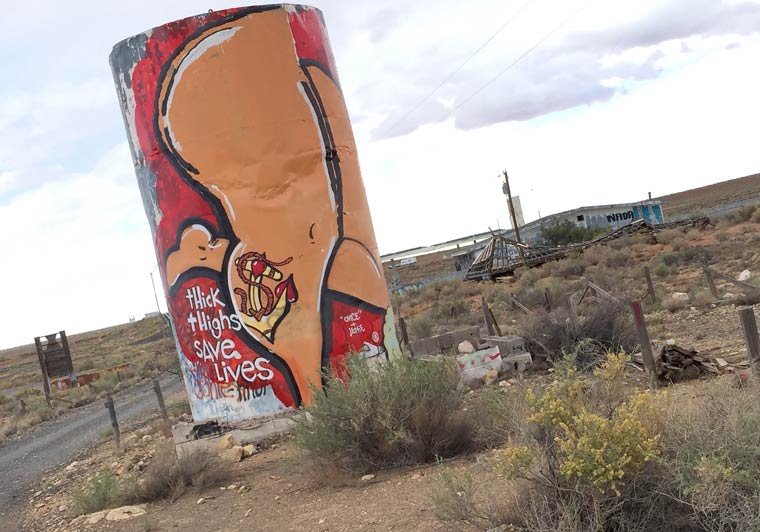 If only I knew what the "Nada Meda" presence was all about. Fears of it being some Mexican Mafia led me to search for a translation, which according to the Google literally means "Hope Honey" in Croation. Or, more likely, the colloquial "Nothing Much" in Spanish.*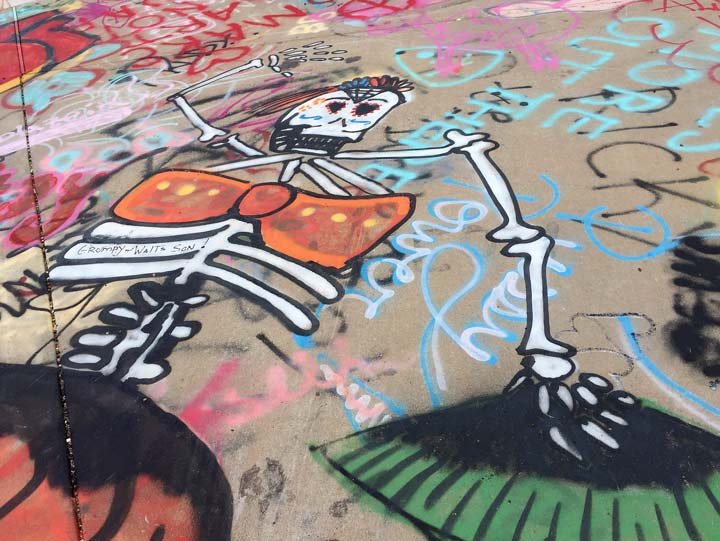 Yup, nothing much here at 2 Guns…according to most people. But I see beauty in the chaos, created by some incredible talent, and some seriously disturbed souls.
But in case you haven't noticed, I'm not exactly like most people.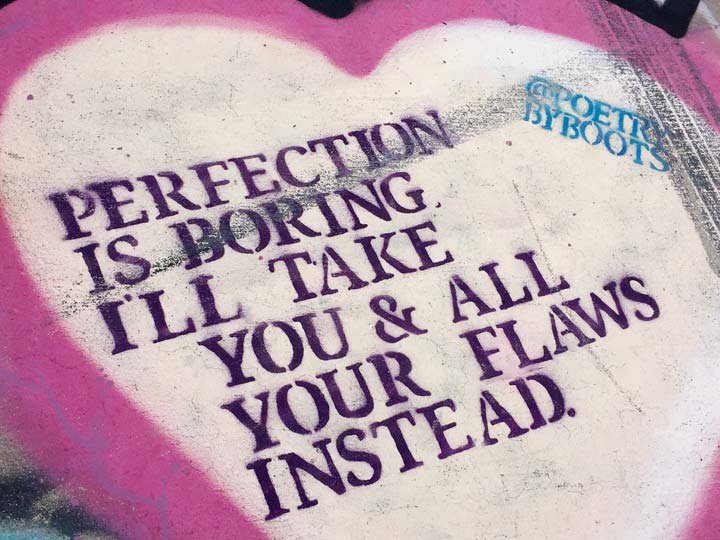 Personally, I'm glad we found this hidden treasure along that lonely stretch of I-40, just west of the big Meteor Crater. For more photos from our stay Two Guns KOA, check out the Live Work Dream Galleries.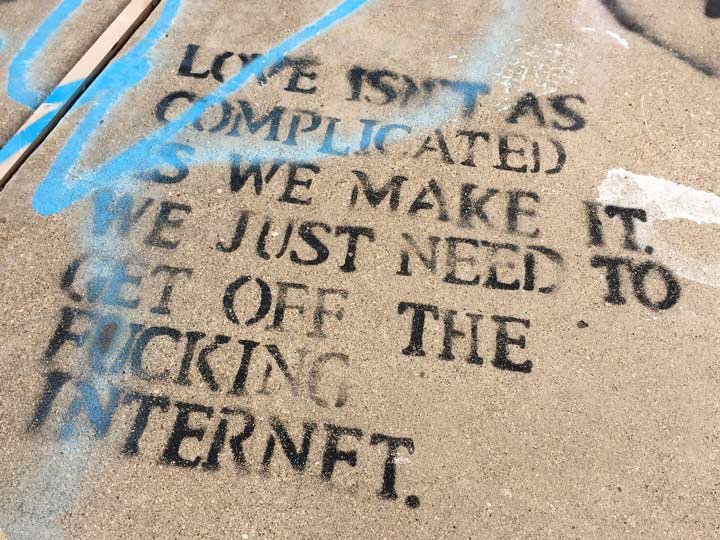 *Nada Meda Mucho (Nothing Much)