Every national park site has a unique reason for existing. Until this month, we didn't know why Lava Beds RV camping is so special. We passed on it for many years. Only recently did we discover why it's a bucket list experience for anyone who loves the outdoors.
The Best National Park Destination without Crowds
I'm California born and raised. And I have known about Lava Beds National Monument since I was young. But have I ever visited? Nope. The remote Lava Beds location doesn't lend itself to a casual visit. It's perched up in the lonely high desert terrain where Oregon, California, and Nevada butt against one another. You have to really want to add Lava Beds RV camping to your itinerary.
Visiting really only makes sense if you build your trip around exploring the Volcanic Legacy Scenic Byway. This road ferries travelers up to Crater Lake National Park, and south to Lassen National Park. Otherwise, it's a real pain in the butt to get there.
It takes effort to get there. But Lava Beds RV Camping is worth it.
This monument is the 214th most visited park out of 388 national park locations. Lava Beds is not overrun with tour buses and probably never will be. A ranger told me that on the park's busiest day is summer (Independence Day weekend) only about 500 people a day enter the visitor center. The rest of this year-round destination only sees about 250 people on a busy day.
At Lava Beds, you are not surrounded by hordes of kids whining to their parents about not going to Disneyland. It's not near an airport or even a major interstate. This destination feels as if park visitors are there because it's on their bucket list too. And not because it's cheaper than a day with Mickey Mouse.
Best Reasons Why You Need to Visit Lava Beds National Monument
The Caves at Lava Beds.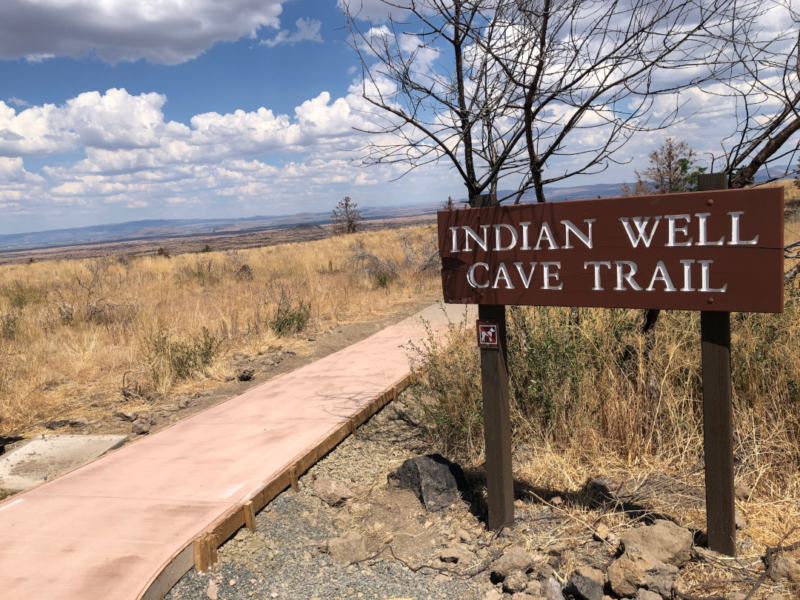 This is an otherworldly landscape. It was created when the Medicine Lake shield volcano spewed hot molten goo on the valley floor some half-million years ago. The lava cooled and left behind over 800 caves known as "lava tubes."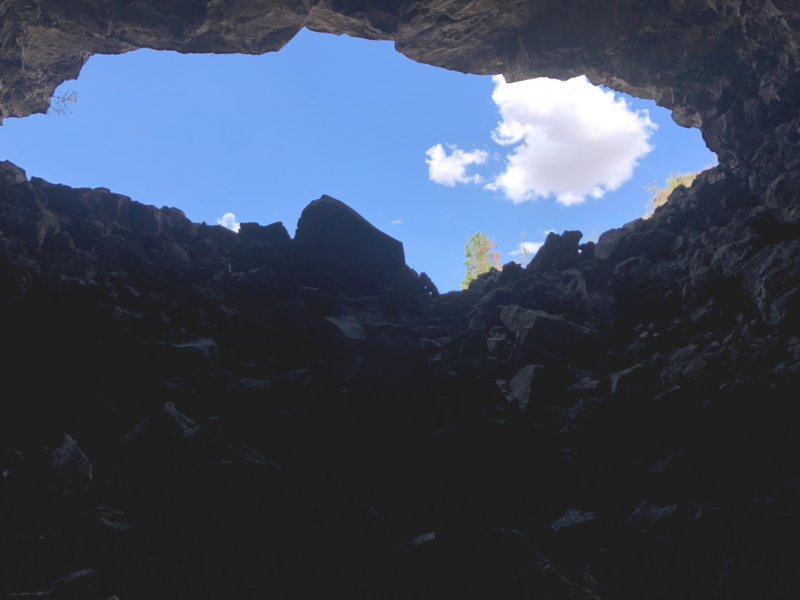 About 24 caves at Lava Beds are open to the public at any given time.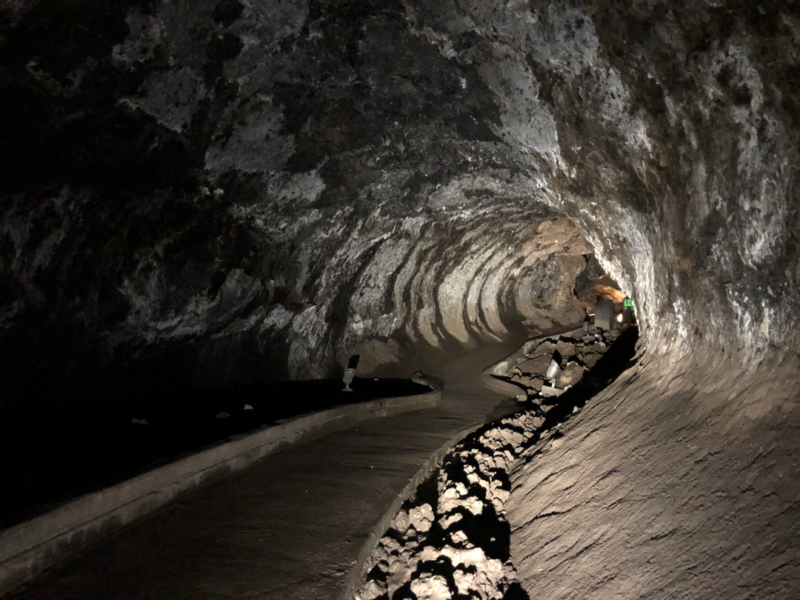 You don't need to be a spelunker to go deep into the earth underneath Lava Beds. On any day of the week you can walk, climb, or crawl in them to get an up-close experience with underground geology.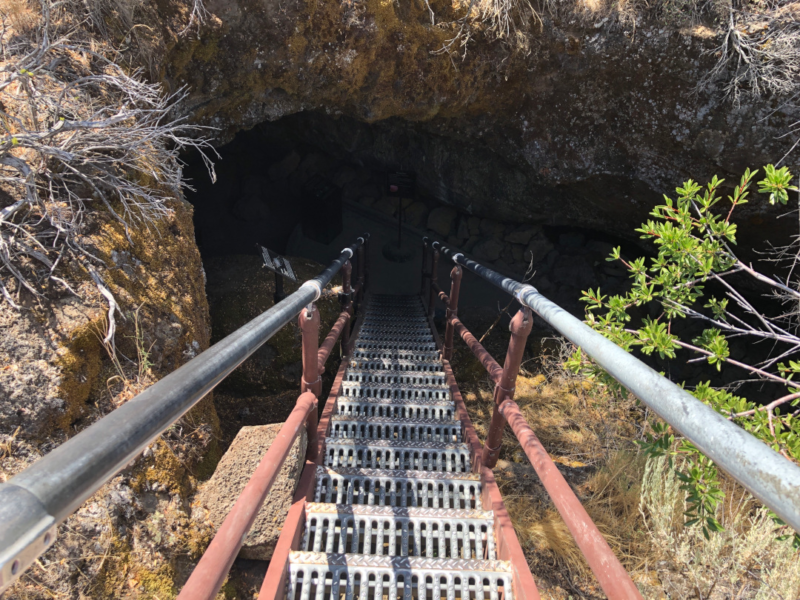 Choose from easy beginner level caves to challenging ones. If you're brave, you can explore where only experts go in on hands and knees. The authenticity and element of danger is palpable in the caves at Lava Beds. Unlike the tourist-friendly caves at Carlsbad Caverns, few modifications have been made to idiot-proof these giant gopher holes.
Take Caving Tips Seriously: The Lava Beds Caving page explains what gear you'll need, and technical details for each cave. Don't take these equipment suggestions lightly. They aren't kidding when they say "Don't rely on your cellphone as a flashlight." You've never been suffocated by darkness the way you are inside these caves. Always stop at the visitor center to get the lay of the land.
The Rock Art at Lava Beds (Pictographs and Petroglyphs).
Another must-see thing to do is explore Lava Beds rock art. Don't miss Petroglyph Point. It's a long cliff wall of 5,000 hand-carved scenes of daily living. Created about 6,000 years ago, the images were drawn and carved by California's American Indian people. This is one of the state's biggest collections of native art.
When the valley floor was a huge prehistoric lake, people canoed out to the wall and carved their scenes into the cliffside. When you visit Petroglyph Point, check out the entire wall. Don't just stand there at the first interpretive display. The images get more complex and detailed as you travel away from the parking area.
Dark Skies at Lava Beds
Inky black night sky has eluded us for a long time. What a treat to arrive at Lava Beds and finally experience a night sky uncluttered by urban light pollution. We found it hard to believe that you're still in California. The array of constellations you can see from there is mind-blowing.
You'll probably be surrounded by other campers who came to experience Lava Beds' terrestrial and celestial environment, too. And since you'll be boondocking inside the park, your stargazing probably won't be interrupted by ginormous RVs with outdoor entertainment centers blasting music and movies.
Lava Beds RV Camping at Indian Well Campground
Speaking of other campers, do you travel in a small to medium sized RV? If so, you're likely to find a spot at the first-come, first-served campground at Lava Beds. Located almost dead center in the middle of the monument, it's an ideal base camp location to scout out the area.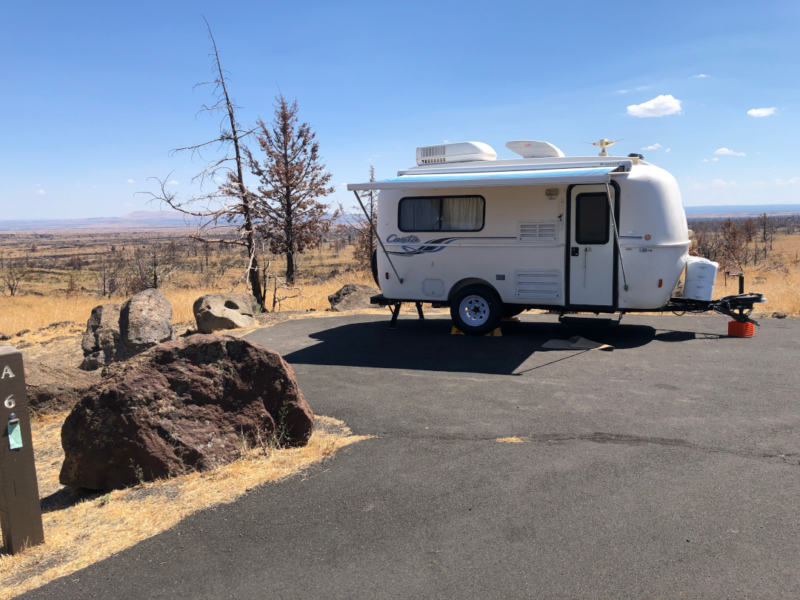 Hiking trails, caves, and other landmarks are within easy walking distance for most people. According to the visitor center staff, the campground only fills to capacity on long holiday weekends. Otherwise, Lava Beds RV camping is as easy as it gets for a national park site.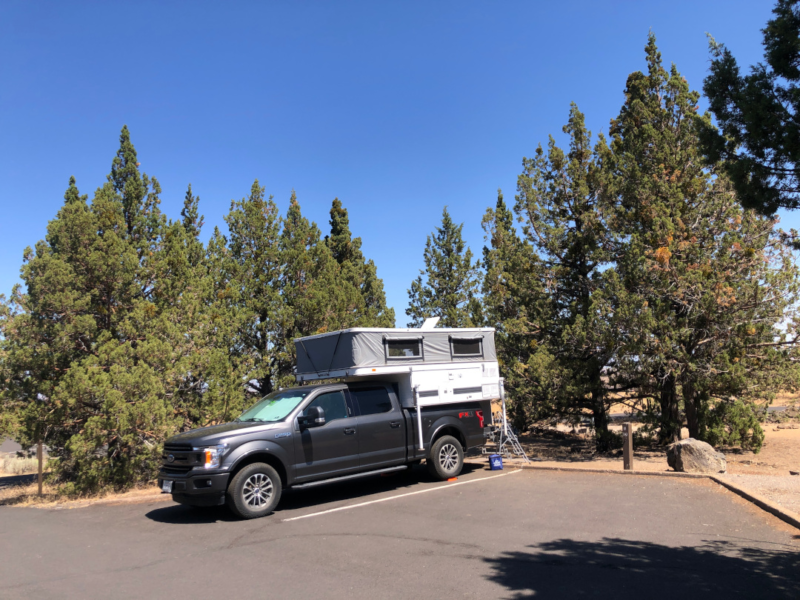 Can't find a campsite inside Lava Beds? Try the Tulelake Butte Valley Fairgrounds. It's on the north end of the monument with basic, full-hookup accommodations. Two RV parks on the south side in Tionesta also have full-hookups. We opted out of boondocking in the park, it was just too hot.
Pro Tip for Camping at Lava Beds: If your rig is too large to squeeze into one spot, you're welcome to take two. A park ranger verified this. Just pay for both campsites during your stay. Only a few parallel parking campsites allow you to do this, but it's totally allowed.
There are so many things to do at Lava Beds (and around it).
The history and culture at Lava Beds should be on your agenda too.
This region is one of the longest continually occupied areas in North America. I don't remember learning about it in school. And I knew nothing about the Modoc and Klamath tribes who were here first.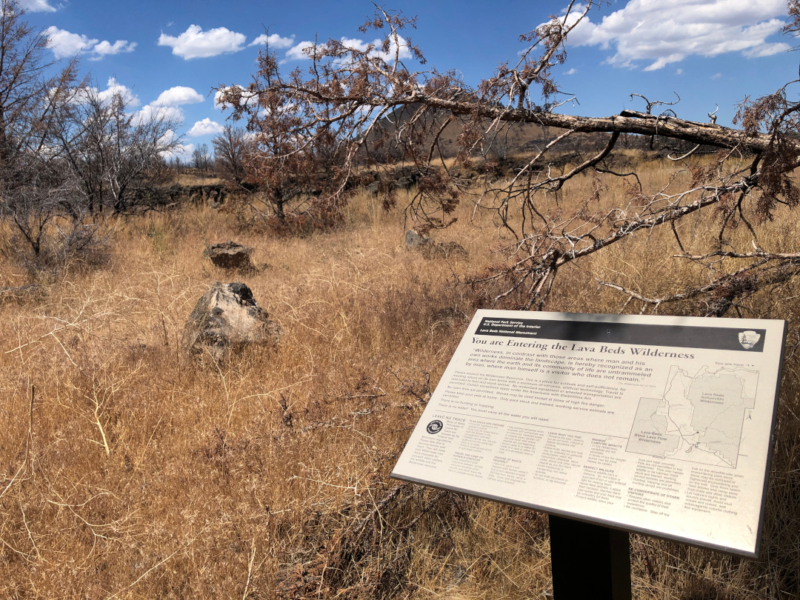 Nor was I aware of the brutal Modoc war that decimated the tribe in California. Once you learn about historic events like Captain Jack's Stronghold, you won't view the landscape the same way. You'll also understand how weak and wussy the human race has become since those days!
The Downside of Lava Beds: It is NOT ADA-friendly: The rugged nature of Lava Beds doesn't lend itself to easy access for anyone with mobility impairment. It's disappointing. Over 30 years after the ADA was made law, the park service still hasn't created accessible paths into at least some of the caves or other attractions like Petroglyph Point. Maybe if this nation cared enough to urge congress to allocate more funds to the park service they could do it.

People with mobility issues can still have a nice Lava Beds experience. Plenty of drive-up interpretive displays and awesome views exist. However, if you have difficulty walking, it's challenging to get an up-close experience.
This national monument is located on the east side of Lava Beds. It was the largest concentration camp of Japanese Americans held captive during World War II in 1942. Later, it was used as a POW jail between 1944 and 1946.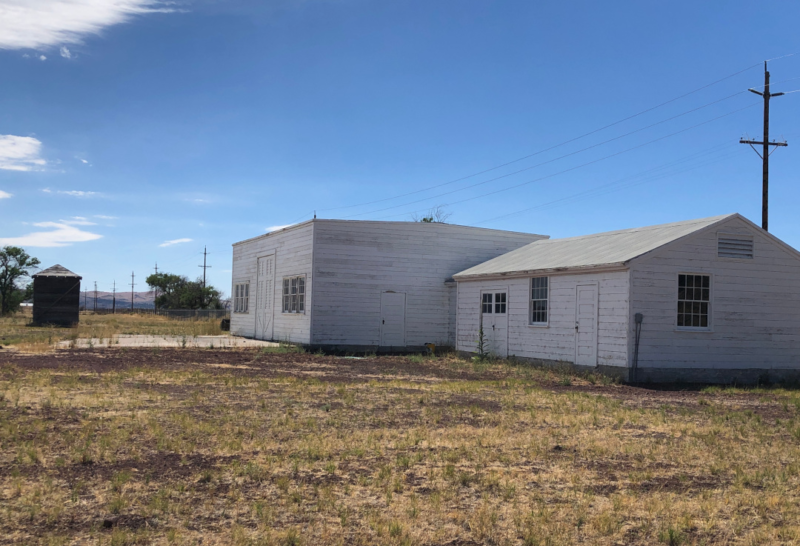 Want to explore the entire monument in depth? Call two weeks ahead to arrange a tour of the building interiors. Otherwise, you're stuck looking at the outside of them.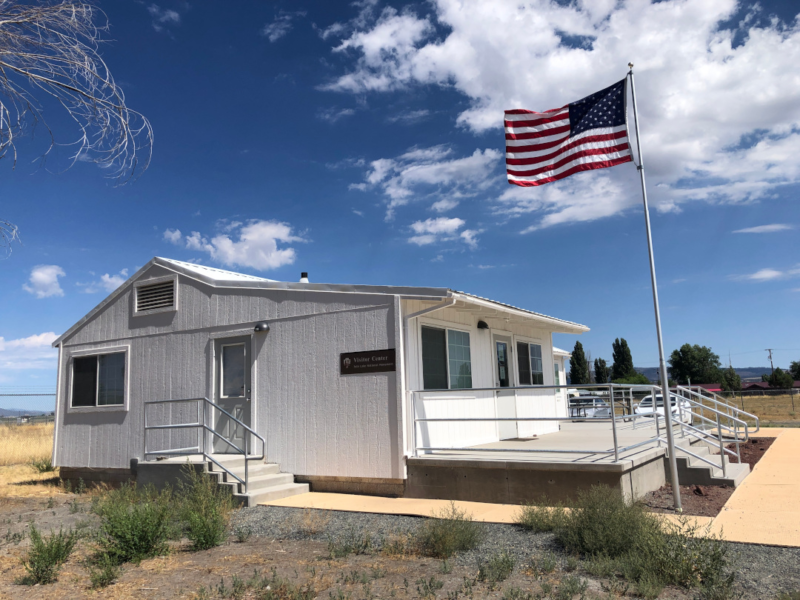 Standing on that ground, and seeing visitor center artifacts of the "relocation" effort of innocent civilians was chilling. It's a strong reminder that yes folks, this did, and can happen in our country.
Don't miss Lava Beds RV camping.
We stayed over a week to check out all that the monument offers. You should too! Remember it when traveling along the Eastern Oregon and California borders. And don't rush your visit. Stay a while to get the full experience. You won't be disappointed.
IMPORTANT: Bring food and supplies. The closest town is Tulelake, but you're not going to find much other than iceburg lettuce. Thankfully there is a small gas station with diesel in town, but that's about it. Stock up before you come.