Just when you think you've got it all figured out, pandemic pandemonium pummels us over the head and turns life upside down. What a fantastic reminder that the situation is the boss (again), and always will be.
There's Gotta Be an Upside, Right?
This panedmic a reminder to live in the Now (or Be More Dog as Jim and I like to say). There's no denying that although we can plan all we want for places we want to go and create lists of things we want to do, the future is only an illusion.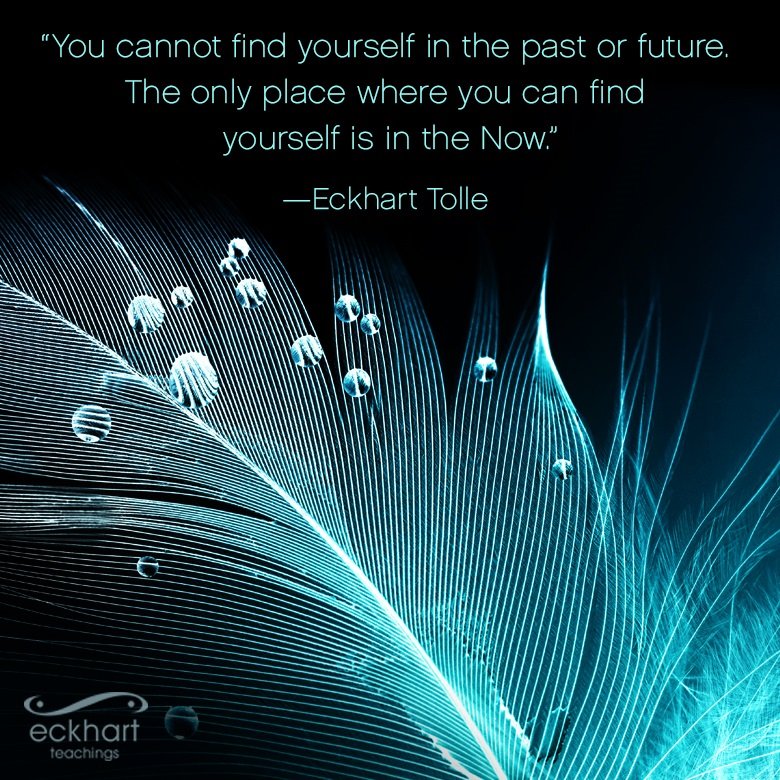 Like everyone around the world, our springtime plans are on hold. So much for the May 3rd Colorado Marathon, or seeing our friends in Fort Collins. We have no idea where we will end up after we leave Fountain of Youth on April 1st. Right now, we are truly going wherever the wind takes us.
Jim wants to get away from cities and people, and ride this out in the hinterlands, maybe in that cold but sweet camping spot near Rawlins, Wyoming.
But I just checked the weather and nixed that idea for a while. We may be headed to Silver City, New Mexico instead. I'm not real sure. If you have any ideas for free camping in a relatively warm place, away from people, let me know.
Wanted: Community Spirit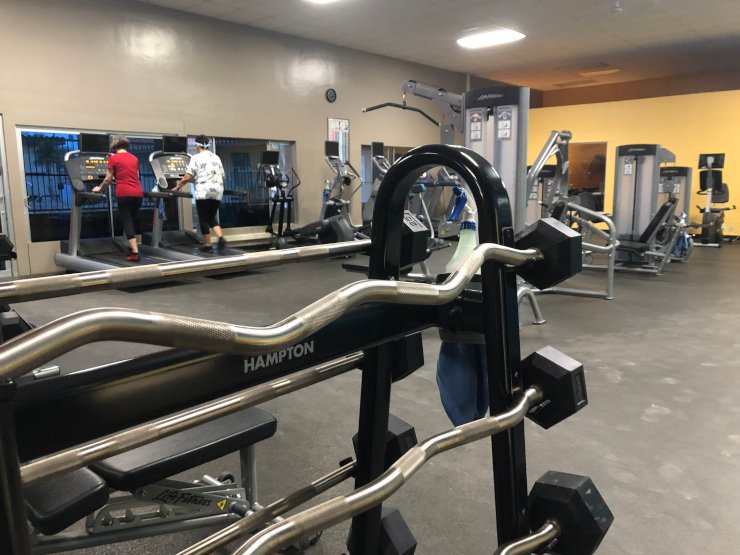 A few days ago when the shit started hitting the fan I had a pie-in-the-sky idea to get a small group of friendly, like-minded RVers together. We would circle the wagons on BLM land and create a true support community. It would be close enough to a city so that we could get services and supplies, but not too close to get into the ruckus. And if someone were to get sick, another RVer can go out and do the shopping for them, walk the dogs, etc.
But when I put my community-building idea out there to a small group of Xscapers/Escapees acquaintances on Facebooger, the concept was met with crickets. I don't get it. Sounded like a good plan to me.
Denial is NOT just a River in Egypt. It's here at FOY.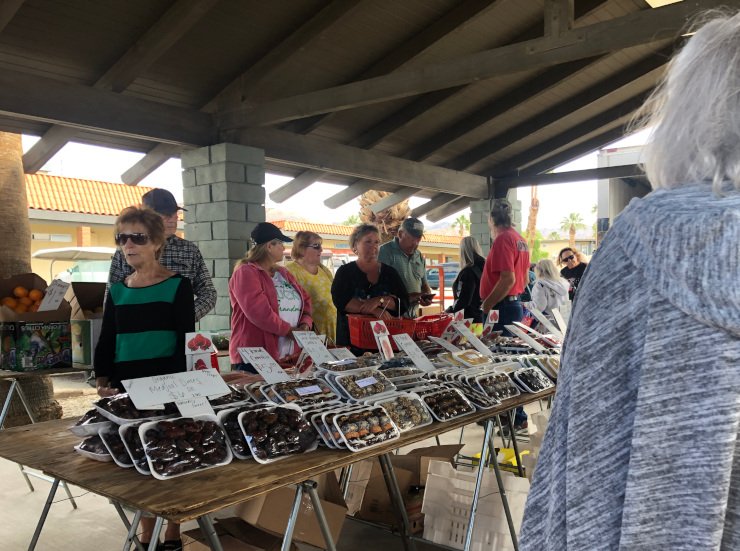 Are people in denial that this is getting more serious by the minute? Absolutely. We are in a bubble out here, isolated from any real city and not part of the panic happening 40 miles down the road. As an example, today at the FOY produce market, people were crammed in line just, like always.
Only me, a woman in front and a woman behind me were giving each other a few feet of breathing room. I used a tissue to hold the food basket, and had a plastic bag over my hand. Only one other customer was doing the same.
Then, when I looked around, I couldn't believe what I saw. A customer waiting to pay was eating strawberries from the basket she was holding. She repeatedly put hands to mouth, then continued grabbing more produce to put in her basket. I almost screamed at her "YOU IDIOT!" but just stood there in shock.
The nonchalant behavior of most people is stunning, considering that FOY is filled with the most vulnerable virus targets (the over 70 crowd).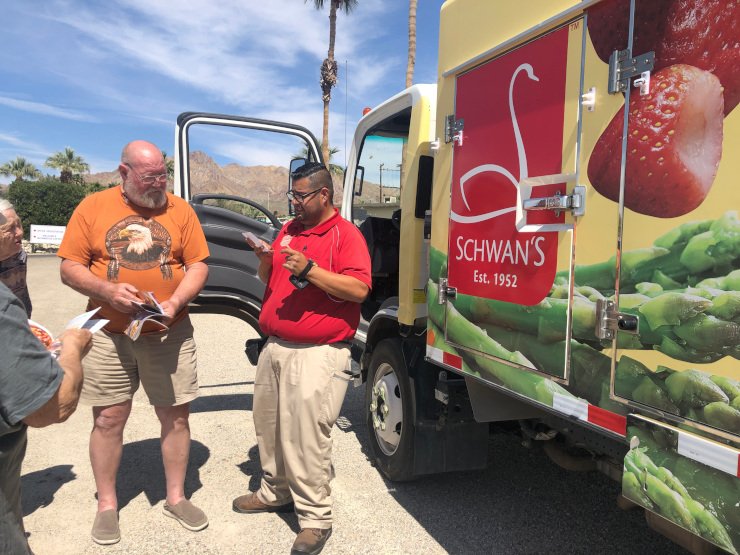 About the only "real world" vibe infiltrating FOY is the toilet paper hoarding. The park's little convenience store had a stock of it come in today at 11 am and it was gone by 4. We missed out. Guess we'll use old socks or something.
We'll Go It Alone I Guess
I won't deny that Jim and I are being a little careless too. We're soaking in the hot tubs but trying to keep a distance from people (there's no proof the virus can survive in chlorinated water). I also used the gym this morning. There was only one other person working out, but my intuition kept telling me it was a bad idea. I may not go back. If we get the virus I know we will survive but it's the people I would give it to that worries me.
Meanwhile, I'm a bit sad that Jim and I will be holed up somewhere on our own. I would rather be close to people we can count on right now, than in prepper mode. It's a shame that my family lives in Los Angeles, and doesn't have RV parking. We would be with them in a heartbeat.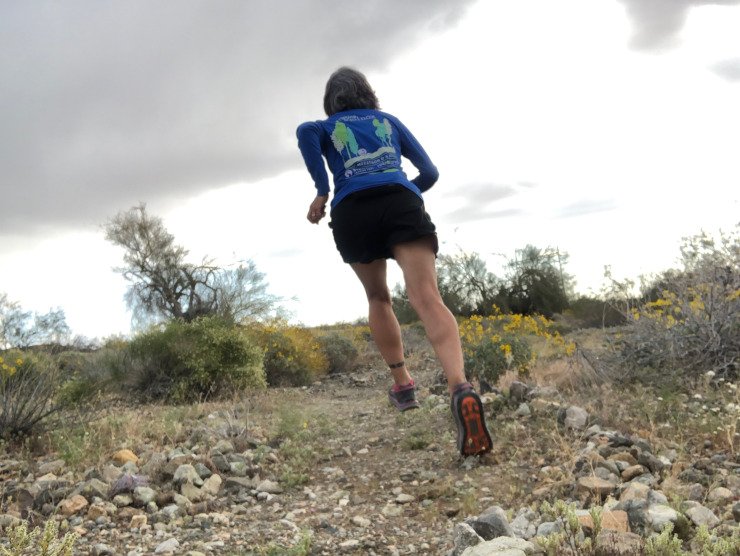 As for Jim's family, his brother has RV parking but it's in Santa Rosa, California, and we don't want to dive into that germy hotbed right now. So we really have nowhere in particular to go, other than somewhere we might be able to outrun this virus.
Life is upside down as we know it, but my heart tells me there will be good things that come out of it eventually.
Maybe people will see that the Great American pursuit of things and money isn't as important as community, and having good health.
Maybe people will come together and help one another through this crisis and beyond.
Maybe everyone will decide that yes, universal healthcare is a right.
Maybe once things blow over, people will put more value on living in the Now.
We can always hope, right?
In the meantime, wherever we land it's likely we will be there a while, working as always and trying to keep a good attitude. I'll start by doing my best to remember to laugh out loud on purpose, and listen to funny tunes like this:
Related Reading: