This post is in response to the question Stephanie asked when launching the Life On Wheels Blog Carnival…
"Are you interested in reading and seeing what a fulltime travelers typical daily life looks like?"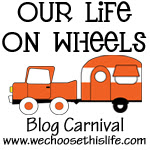 We full-timers don't exactly lead "typical" lives so it should be interesting to read everybody's posts. And for us, it is a rare event if any two days are ever the same. So below I present two different scenarios based on the average days we might enjoy depending upon whether we are on the road, or workamping at the time — like we are currently doing again for the fine folks at Vickers Ranch.
Fulltime RVing: Our "Typical" Day in the Life
Wake up and try to remember exactly where it is you are.
Realize you're boondocking in a truck stop so take short shower to conserve water.
Walk and feed the beast Wyatt.
Check on our websites.
Process orders for helpful dog gear, and our handcrafted dog themed jewelry.
Ask navigator where we're headed today.
Drive.
Discover some interesting roadside attraction nearby and take unexpected detour.
Moderate the Tripawds Discussion Forums.
Respond to inquiry about how we support our RV lifestyle.
Drive.
Discover the local price of diesel.
Drive.
Try to find a free place to camp for the night.
Resort to finding a cheap RV park.
Educate potential new partner about the best profit sharing business model we have found.
Welcome new Tripawds bloggers to the largest online community for three legged dogs and their people.
Research helpful home based business tips to share on our Team Agreda Facebook page.
Try to fall asleep with neighbor's exterior RV light glaring in our window.
Workamping: Our Not So "Typical" Day on the Job
Wake up stiff and sore from previous day's manual labor.
Let Wyatt run free through horse pasture.
Check in on our discussion forums and websites.
Thank customer who downloaded our home based business e-book.
See if "Old Blue" the work Jeep we are loaned will start again.
Make quick round of guest cabins to check for trash cans attacked by bears.
Grab any freebies guests leave behind – the perks they don't tell you about in Workamper News!
Check in at office to discover all the projects on the to do list.
Make multiple runs to upper ranch with dump truck full of debris from blown down trees.
Round up a few donkeys who escaped the pasture.
Wonder what impact the water shortage will have on this year's hay season.
Enjoy lunch under the Cotton Woods.
Coach new business builder on our company's products and compensation plan.
Paint a 70 year old log cabin.
Replace toilet that cracked when another cabin sank over the winter.
Look forward to fishing in the lakes again.
Dig up Daisies from rocky ground to transplant near rec hall.
Enjoy a laugh with a great boss who brings the beer at the end of a hard day.
Have dinner outside with deer wandering about.
Dump long overdue images from our camera and update the Tripawds Three Legged Dog Galleries and LiveWorkDream Road Trip Photos.
Wish we had a bit more time to write about all our adventures.
Fall asleep remembering why we don't want to be resort owners.
Share Your Typical Day in The Life!
Leave a brief comment describing your typical day on the road, or join the Life On Wheels Blog Carnival to share how your life is not so typical.