Yes you read that right. Our 2010 Arctic Fox 27-5B Arctic Fox fifth wheel (including hitch) is officially for sale for $19,000 (negotiable). Now you can live and work from anywhere in the ultimate nomadic home office.
UPDATE! Now considering trade-in offers for travel trailer under 25′ in good shape.
Located in Fort Collins, CO
Why sell our one-of-a-kind RV home office?
You might recall we are headed back to Alaska in August. Instead of winterizing our fifth wheel and have it sit empty for nearly a year, we want to see it go to a good home. No, we aren't going off the road and quitting full-time RVing. Far from it. We are making huge changes in our road tripping lifestyle, which we hope to tell you about soon. Spoiler Alert: It means downsizing, in a big way!
Meanwhile, we want our Arctic Fox 27-5B to go to someone who wants to live and work on the road like we've been doing since 2007.
This 2010 four-season fifth wheel is in great shape. After all, it's our home on wheels and we take great care of the roof over our head. We've maintained it well and added many modifications to make it the ultimate nomadic home office. Want to know more? Check out the details and video tour below, or contact us now to schedule a showing.
Not Your Average Fifth Wheel
For starters, it's a 4-season rig built by Northwood Manufacturing. They have a well-deserved reputation for building long-lasting, all-season fifth wheels like our Arctic Fox 27-5B. And, we've added many upgrades and modifications to improve comfort and safety.
This unit is a rare find. Northwood only manufactured bunkhouses for a couple of years. In 2014 we managed to snag one of the only fifth wheel bunkbed models Northwood made. Jim remodeled the bunkhouse into a studio workstation with sturdy workbench. Later he created his office workstation with a custom desktop milled from a tree he felled while workamping at Vickers Ranch.
With our robust solar power and satellite internet, we've been very happy and comfortable working from anywhere at our two RV desks. In addition, we've added Titan electric/hydraulic trailer brakes. Combined with the Superglide auto-sliding fifth wheel hitch, you get peace of mind on the road with a safe, easy ride wherever you go. And, we're including all the extras so it's ready to go – whenever you are!
We know whoever gets it will be just as happy living and working while full-time RVing.
Take a Tour of the 2010 Arctic Fox 27-5B Fifth Wheel for Sale
Contact us today for complete details or to schedule a showing.
We are asking $19k, including the Pull-rite Superglide hitch, hydraulic disc brakes, satellite dish controller, wifi router, cellular signal booster, wireless entry, RVQ Gas BBQ, bike rack, and many other goodies.
Customized Arctic Fox 27-5B Nomadic Home Office
27′ Fifth Wheel with Custom Mods & Upgrades:
Titan Hydraulic Disc Brakes & BrakeRite Actuator from Performance Trailer Braking
PullRite Superglide 3300 Auto-sliding Fifth Wheel Hitch
Lifted Suspension with New Springs (2018)
Winfield Adjustable Landing Leg Extensions & Stabilizers
Satellite Internet/TV Ready

Auto-deploy Satellite Dish Mount
RF Mogul ACU-1 Dish Controller
Wifi Router with VoIP Switch
Tripp-Lite Surge Supressor
Mount your Dishy or Get Dish TV!
Includes weBoost Cell Signal Booster

Custom 500 Watt Solar Power System

(5) Renogy 100w solar panel with tilt mounts
(4) Trojan T105-Plus 6v Batteries
ProWatt SW2000 Pure Sine Wave Inverter
Solar Boost SB3000 MPPT Charge Controller
Blue Sky IPN Remote Controller Panel
Many Extras Included:
RVQ Portable BBQ with Mount/Stand & RV Gas Connect
Tire Covers
Ergonomic Office Chair & Workbench Stool
Progressive Industries 30A RV Surge Protector
50A/30A & 30A/20A Power Adapters
Mr Buddy Certified Safe Indoor Propane Heater
Electric Toaster
Fifth Wheel Kingpin Security Lock
Sirius XM antenna and Radio Mount
10′ weBoost Antenna Extension with Cable
All Freshwater and Sewer Hoses
Freshwater Filters: Inline & Under-sink
Wheel Chocks
Expanding Tire Locking Chock & Wrench
Leveling Blocks
Spare Appliance Parts, Light Bulbs, & More!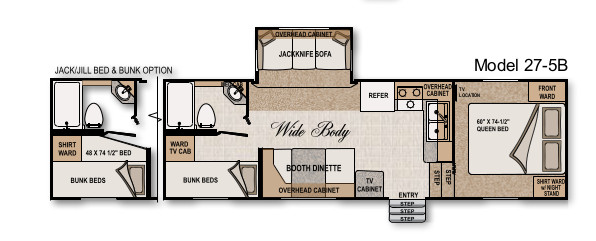 If you're interested in checking it out, contact us today!
Interested? Contact Jim & Rene!
Did you see all the features and inclusions above? Still got questions? Let's talk!