The 2020 pandemic and last year's fuel cost explosion should have taught me not to make travel plans too far in advance. But if we want to spend winter in Alaska next season, planning needs to start now. And so it is.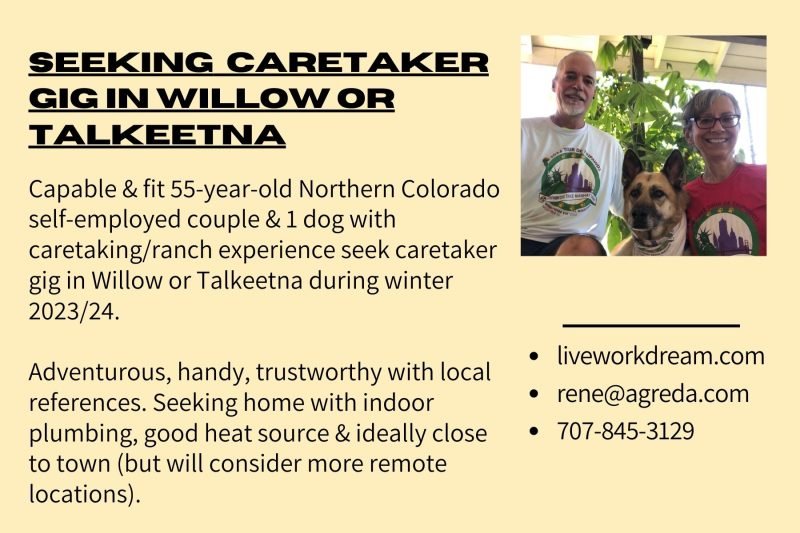 In August we are leaving for the North Country. But it's not going to be anything like our summer 2018 RV journey to Alaska. This time we are not taking the fifth wheel, just the Dodge. We will either have a caretaking gig arranged, so we can save on rent. Or we will bite the bullet and pay for a rental for the season. Either way, we are going no matter what.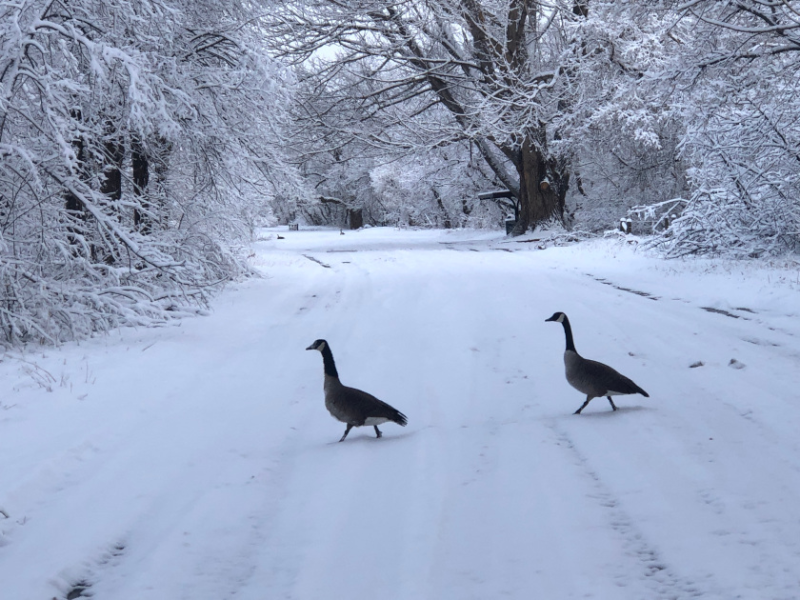 It's all because of a three-legged dog. Again.
The last time I wanted us to do anything this wacky, it was all because of Jerry. We ended up full-time RVing for fifteen years and counting. I think that idea turned out pretty well. Today, I'm confident that winter in Alaska will be just as awesome.
The idea to do a reverse snowbird migration north to Alaska was put into my brain more than a decade ago. Once again, a three-legged dog is the source of my inspiration.
In 2008, our Jerry met Calpurnia, a musher dog from Colorado. Her mom joined our Tripawds community, worried about Calpurnia's upcoming amputation and wondering if a three-legged Husky could be happy. It didn't take long to find out.
Calpurnia's people live in Colorado, and they rescue retired, older racing dogs from professional and amateur teams. Each winter they migrate north with their team to their cabin in Alaska. The dogs enjoy doing what they love best into old age, but on shorter fun runs. The pack spends all winter blissed out on snowy days and northern lights nights. They head south when the Iditarod is over and snow is melting.
Enlightenment always comes wrapped in fur
We knew nothing about sled dog culture until we spent more time with Calpurnia's pack. Like many people, Jim and I once believed PETA propaganda and lies about sled dog racing being cruel. But once we got to know Calpurnia's people, and then went camping with dog mushers, we separated fact from fictional PETA lies.
What we learned is that 99.9% of dog mushers are a dedicated group of dog crazy people who live for their dogs. They treat their animals better than 99.9% of modern pet parents.
All it took for us was a dryland mushing run (racing on dirt, with the team pulling us on an ATV in neutral gear) to see how much joy these dogs get out of running with the pack! Here's the first run we did, so long ago.
The Odaroloc sled dog team's Alaska adventures are always fun to read about on their blog. From the comfort of our warm, sunny RV spot here at Fountain of Youth, we watch them spend winter in subzero temperatures and think "Better them than us. They're nuts!"
Not anymore.
A few weeks ago we met an older man who was from the Yukon. We told him how much we loved that region, how we were thinking of heading north for winter.
"Do it while you're young," he said. "Alaska is for young people."
That conversation cemented the idea in my mind. See, I've always admired our friends ability to make the most of winter in Alaska. At the same time I wondered what it was like to experience such incredible scenery that so few people get to enjoy.
I am done wondering. I do not want to spend the rest of my life wondering if we could ever be tough or brave enough to spend winter in the rural north. We have always wanted to see the Northern Lights and the Iditarod too. I'm done using work and our business endeavors as an excuse to postpone adventures like this. The years are moving too fast and now is the time to get moving.
Is winter in Alaska really crazy? Or is comfort overrated? Yes and Yes!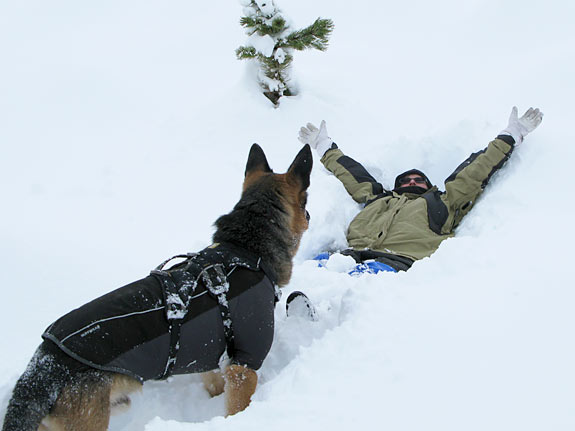 Much to my surprise, when I presented the idea of winter in Alaska to Jim, he agreed to give it a try.
The idea of living a more adventurous life is tugging at my soul. Our full-time RVing adventures are too tame now, but more boondocking and roaming is not what I'm after. And unlike so many full-time RVers who buy boats when they get bored with wheels, living in a floating house is not on our agenda.
Being too comfortable with full-timing is getting old. And we aren't getting any younger.
My partner in adventure often says "Comfort is overrated." Well, now he gets to walk the talk for real. There will undoubtedly be harsh challenges. Spending our first real winter in an extremely cold climate will push us to the outer limits of our comfort zones. If there is ever a time to remember that the situation is the boss, winter in Alaska will be it.
Do you know anyone in the towns of Willow or Talkeetna (aka the Mat-Su Valley) who need a winter caretaker next season? If so, please send them our way.