I hinted at a rather nagging issue that has bugged us since taking our Dodge Ram 2500 to a favorite shop back in southern California. Okay, I did more than hint. This is that promise I'm keeping. First, a short story.
A Good Shop is Hard to Find on the Road
As full-time RVers, it's often hard to find a good, reputable, and cheap mechanic – pick any two, you rarely get all three. After this latest experience, I'm hoping Rene will agree to never take our truck back to a certain shop for anything other than an oil change. If that.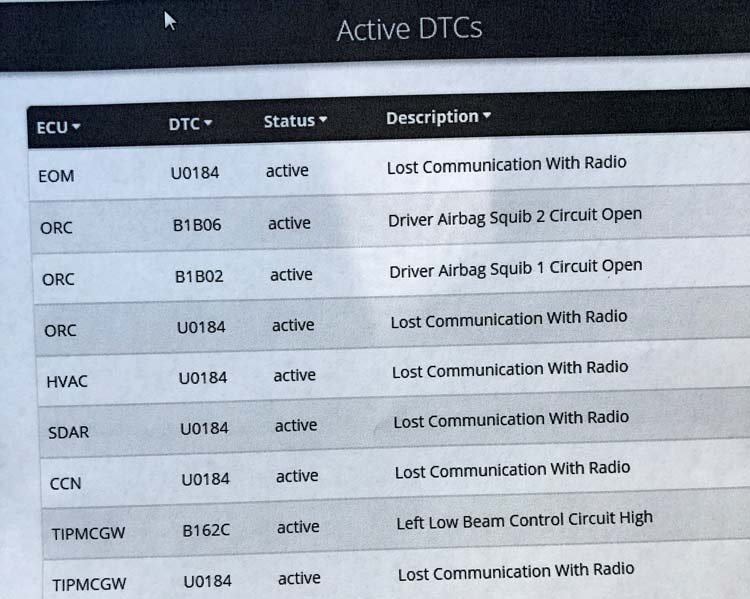 After Rene picked up our truck from that certain cheap and reputable shop, the air bag light came on, and stayed on, every time we turned the key. The long-time family friend assured us the issue was unrelated to any of the work they did – which entailed removing and replacing the steering wheel – even going so far as to even say the air bag warning was a recall issue. So we went to a Dodge dealer for a closer look, where they printed out the Diagnostic Trouble Codes I was unable to scan with our cheap OBD2 Scanner…remember that U3FFF code I was talking about?
To make this short story just a bit longer, we first had that first U code diagnosed at another favorite shop in Colorado a couple years ago, when we had the TIPM replaced. They told us the "Lost Communication With Radio" warning was related to a common issue with aftermarket radios installed in Dodge vehicles. We were going to have them look at that again when we got back to Colorado. We won't bother, now that we've found another good shop in Kerrville, Texas. Because something happened on the way from California to Texas that urged us to take care of those other codes immediately.
Oh, by the way, it was the air bag that lost communication originally, so I thought for sure all of this was related. And it was the low beam control circuit issue that eventually resulted in replacing the TIPM, so I thought we were screwed. Neither is indeed the case.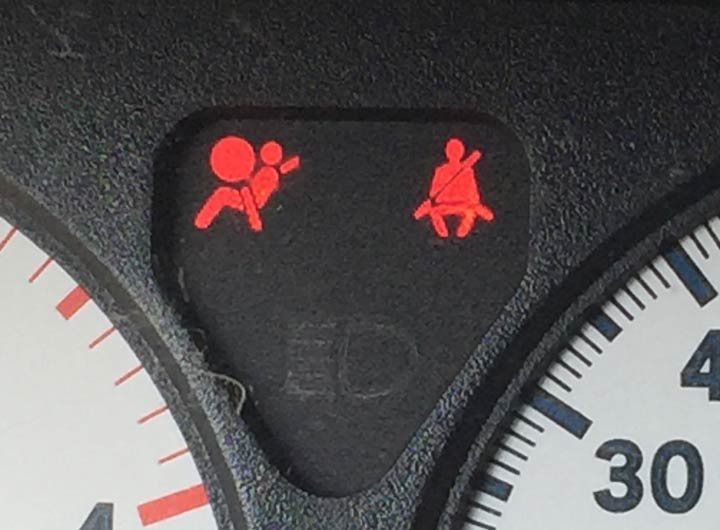 Why Replace the Squib? AKA: Clock Spring
After that air bag light came on, and with no MIL codes showing up via the OBD-II scanner, we made the choice to have the truck looked at once we got to Texas. Just over a hundred or so miles short of our destination, I realized we had no cruise control. Within minutes the hazard lights flashed, all on their own. "What the?"
I barely finished whispering those words when that same ghost honked the. "Was that you!?" Rene started to freak out.
"No, ha ha!" I was pretty freaked out myself. Enough to not even stop for fuel. I didn't want to stop anywhere in the middle of nowhere in case whatever was going on might keep us from going on.
What Does the Clock Spring Do?
We lost cruise control. The horn honked itself, but wouldn't honk when I tried. The hazard lights were acting up. And the air bag light was on. A faulty squib was the cause for all of the above. The Clock Spring (aka: Squib) provides electrical connections for various circuits within the steering wheel while allowing the wheel to turn.
"The British call it a Squib. We call it a clock spring." I showed all those codes to the guy at the first shop I visited. He said the Squib codes were likely unrelated to the U codes. Great. He also said the closest part was five days away, and that he couldn't do anything about the "Lost Communication" issue without putting the stock radio back in. Next…
Referrals are gold when is comes to mechanics, so we asked some fellow RVer friends who had spent a lot of time in the area. My next stop was A1 Transmission Specialists in Kerrville Texas. No this wasn't a transmission issue, but they listed automotive electric services as a specialty, where the guy at the first shop told me: "I'm no Ace…I have no way of troubleshooting that," when I asked to speak with their Ace electrical guy.
Anyway, the guys at A1 know their stuff. And they had me out of there before lunch with answers to all my questions and concerns. You see, I had this theory about that Squib – once I understood what it was and what it does.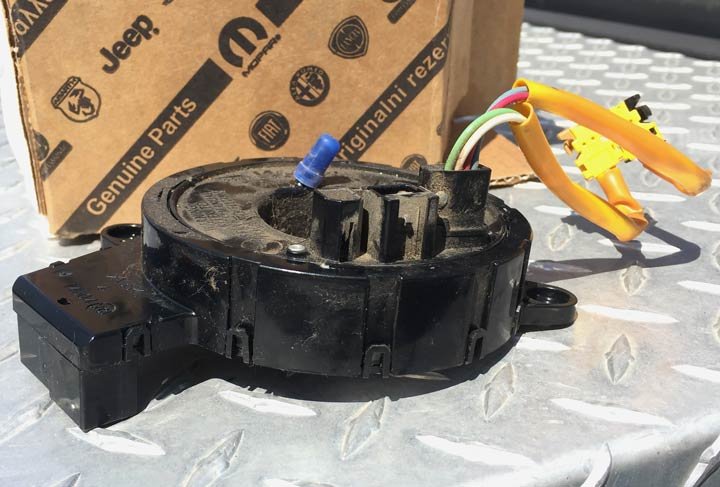 You see that blue pin on top of the clock spring there? It should not be bent like that. I suspect that at some point, a certain mechanic at a certain shop which may have removed our steering wheel might have forced the wheel back in place bending that pin – perhaps ignoring the two big warnings to "REFER TO SERVICE MANUAL PRIOR TO FITTING." They are written in English after all.
All what questions and concerns?
We got a new Squib, and that took care of the air bag light. So the air bag was losing commincation in the clock spring. Yeah, we still have a U code for it losing communication with the radio, but that's only because we don't have the original Dodge installed radio. "You can't clear that code, and it doesn't matter." The A1 mechanic reassured me that we still have functioning air bags. The system simply isn't communicating with the radio that used to be there.
And that dreaded low beam issue? I'm a firm believer that there are no coincidences, but that was a coincidence, and this A1 mechanic was an Ace. He found a broken wire coming out of the TIPM, and after a quick solder job we were on our way with working headlights. We also completed our Texas state vehicle inspection since A1 does that too, and there's no way we would have passed with an air bag light and no left low beam!
Epilogue
Had I known what those Squib codes were all about, or believed its replacement would fix what I thought was a much bigger can of worms, I may have attempted to do the job myself with help from what looks like an excellent instructional video of how to replace the Dodge Ram clock spring…
Honestly, I haven't watched the whole thing. And hopefully I never need to!