In my last Friday Photos post, I shared lots of street photos from our Los Algodones Dentist visit and promised pics from some of the sweet boondocking spots we found along our way while driving from Southern California to the Texas Hill Country in just a few days. Consider that promise kept…
First stop was Quechan Casino. And yeah, I know, they charge ya ten bucks. We noticed the free spot just down the road the next morning on our way to Mexico.
That evening we found the Peart Road trailhead just outside Casa Grande, Arizona. We may have stayed longer if it wasn't for the price we paid for free camping at that location, or if we weren't in such a hurry to get to Texas.
The site was way sloped, and right next to the highway, with a rather roundabout approach from the West, but had access to miles of sweet looking trails.
Our next stop was my favorite from this four day, four-state run. That is, except for the wind! But that is New Mexico for you. This old quarry pit was less than a half mile from pavement on a well graded road. We had lots of space, all to ourselves, with enough ranch roads to get a 15+ mile run in the next morning.
The next stop at an an abandoned gas station next to the freeway in Kent, Texas will always remain memorable, but I like creepy spots like this and that Kreepy 2-Guns KOA.
Spending the night in spots like this remind me of how grateful I am for living this lifestyle we love, because we choose to, and not because we have to.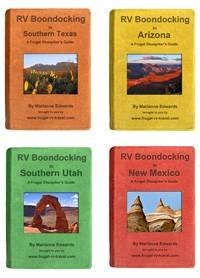 So…where do we find all these free boondocking spots?
To be honest, I don't. Rene does. I just drive. The Day's End Directory we discovered when we joined Escapees is one of her go-to resources.
FreeCampsites.net is another, and the The Frugal Shunpiker's Guides frequently come through to help us find free and cheap camping throughout the Southwest. Read our review of these cheap RV boondocking guides for more information about we Camp for Free with Frugal Boondocking Guides.
UPDATE: The Frugal Shunpiker's Guides are no longer available.