I've always been tempted to check out an Algodones dentist, if only for a cleaning. Almost everyone I know who's done the "medical tourism" thing in the border towns enthusiastically gives the experience and the savings a big thumbs up. A few weeks ago, I convinced Jim to give it a try.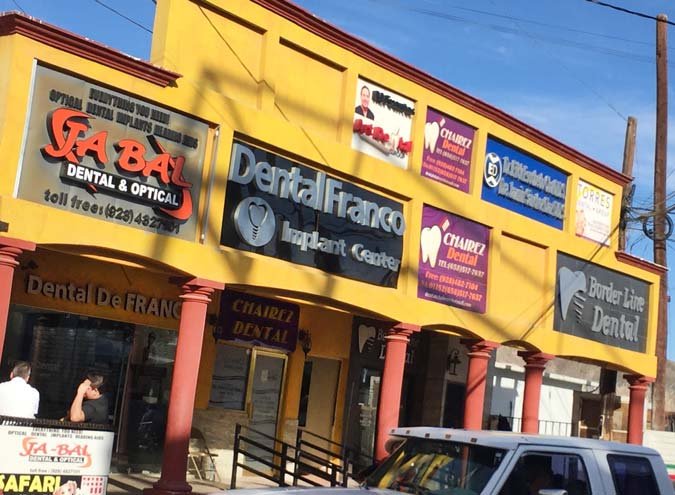 But wait, before I get started, I need to confess something. I already have the greatest dentist. And he happens to be my brother in law who owns Fountaingrove Dental in Santa Rosa, CA. Unfortunately we missed our regular dental exam and cleaning last fall. And when I couldn't find a Southern California dental cleaning for less than $150 each, a $30 Algodones dentist visit felt like a no-brainer.
For the record, even if Dr. Nelson wasn't related to me, I would still pick him as a dentist. He does beautiful work and his team's patient care is outstanding. And I can't recall him putting down Mexico dental care when we've discussed the subject. Many Mexican dentists are even educated in the U.S. and learn the same techniques as American ones. But as Jim and I discovered last week, there are important differences in how they deliver those techniques.
Impressions of Our Algodones Dentist Experience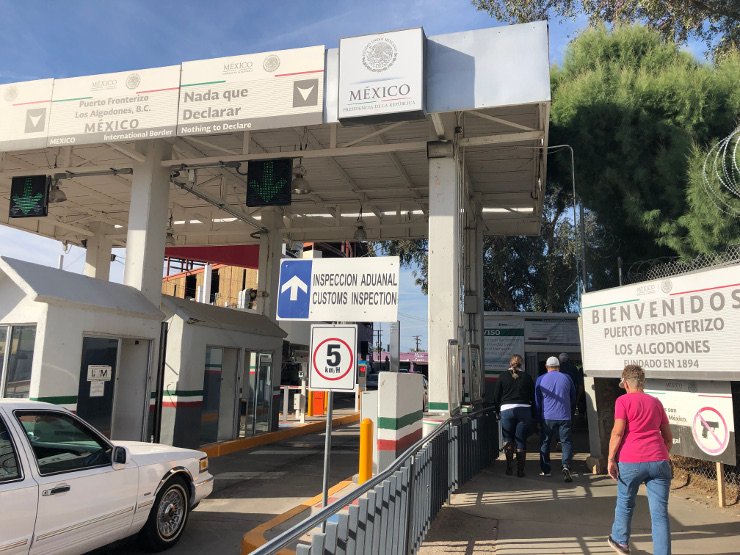 Plenty of RVers have been shared great tourist information for Algodones dentists, so I won't duplicate efforts. Our full-timing friend Cinn wrote a helpful post that helped us plan our visit, "Day Trip to Mexico — for a Dentist."
Finally, last Thursday, Jim and I formed our own opinions about dental care in Mexico. Those of you who have visited border dentists will have to confirm if your experience was similar to ours.
Our appointment was with Dr. Dennis Cochran, a woman with a combination dental and optical practice, a common setup in Algodones. We found her through a friend, who was happy with work she did for him.
When we arrived, we could see that her practice looked as modern as any U.S. clinic. But after getting into the chair, we discovered that it's more than just the cost that sets U.S. dental practices apart from their border town colleagues.
A Quick and Dirty Cleaning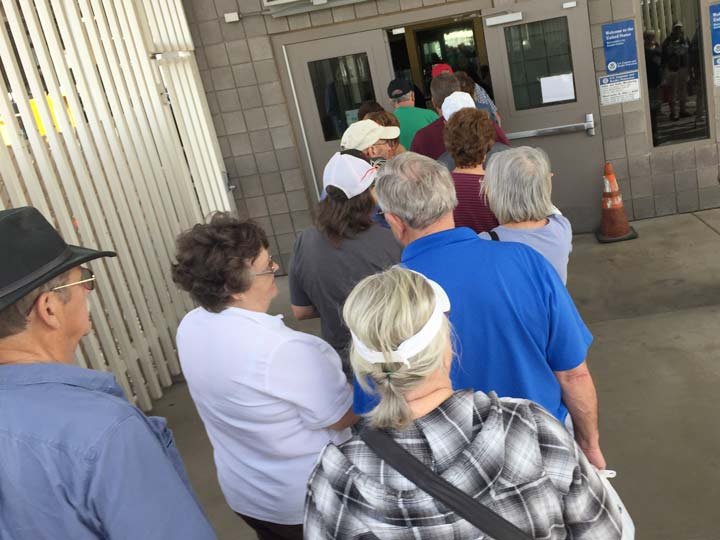 The dentist jumped right in for the cleaning, after checking us in at the front desk. We discovered that Mexican dentists do everything, including the work of a dental hygienist. She was nice and spoke perfect English, but the differences between getting teeth cleaned by a Jane-of-all-trades dentist versus a career hygienist were immediately obvious. For example:
She completely skipped the usual periodontal exam that includes the gum pocket check.
We weren't given utility glasses to cover our eyes from overspray.
She used an ultrasonic scaler instead of hand tools, which in my opinion didn't seem to provide as thorough a cleaning.
The polishing procedure was the same, but she wasn't as meticulous as a career hygienist. "Sorry for the shower!" she said while handing us a tissue to mop up water splashing on our face during the procedure.
She allowed staff and delivery people to come into the area and interrupt her work with us.
When she finished, she did a hasty "exam" with a digital camera pointer tool that projected images onto a giant monitor. And she didn't wear any kind of magnifier glasses while doing it.
What? No X-Rays?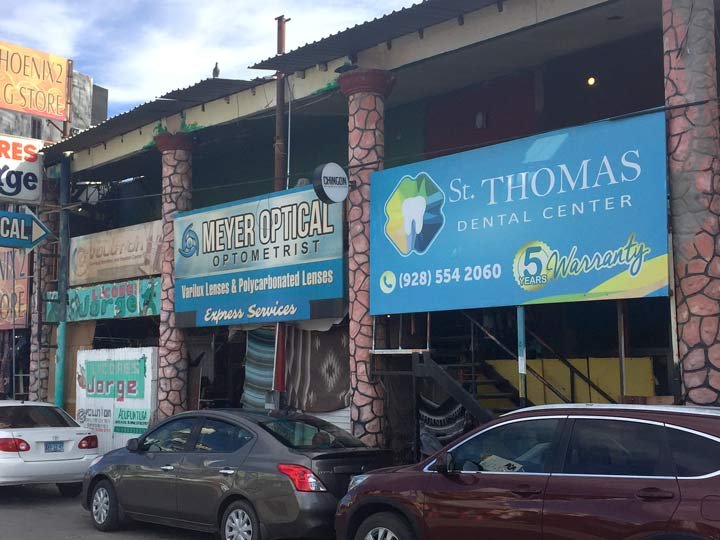 As she pointed the camera at my teeth, the dentist claimed I had ten cavities that needed fillings. She diagnosed this without doing a single x-ray.
I almost laughed out loud! I just saw Jim's brother less than a year ago. If I had any tooth decay, he would have seen it. When I seem him again, I'm positive he will laugh out loud too.
Curious what those ten fillings would cost, I asked her for an estimate. She gave me a hand-written figure on her business card: $300, without specifying the type of fillings. I said "Thanks!" and left. Yeah, Dr. Nelson would have charged far more for that kind of job, there's no denying it.
Jim had a similar experience with the dentist. We agreed that overall, the 15-minute cleanings felt rushed, a bit sloppy and just a way to get customers in the door for more expensive procedures that may or may not be necessary.
Were the cleanings acceptable? For the money, yes. The procedure cost us just $50 for the both of us. It will get us by until we see Jim's brother in six months. But the job was not even close to the best cleaning ever.
Why Mexico Dentist Care is Like a Cheap Haircut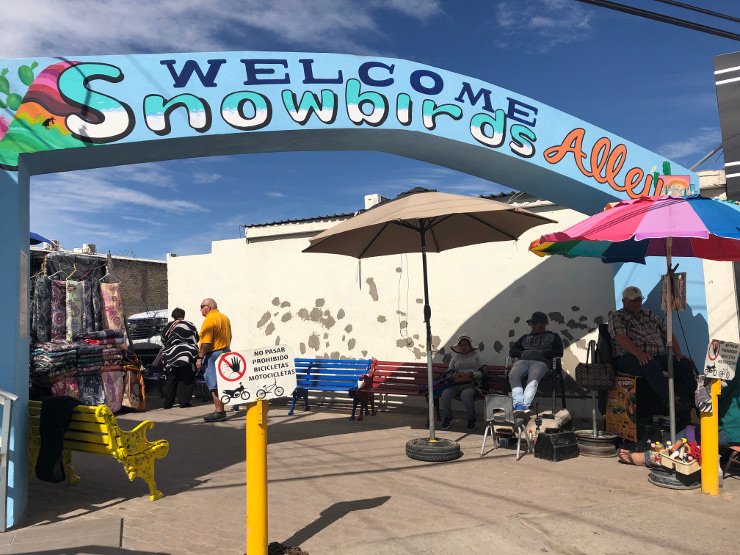 Would we rely on Mexican dental care for everything, even if we didn't have a dentist in the family? Not unless we were completely cash strapped and in need of emergency care. Border town dentists may have the technical aptitude for procedures, but after seeing how this one cut corners and rushed us through her clinic, I would not go to Algodones for anything other than a cleaning.
Maybe other Algodones dentist practices are better than the one we visited, but I'm not sure. The entire town feels like a dental mill, cranking patients in and out to keep the money coming in.
Skipping the complete periodontal exam and diagnosing without x-rays indicates to me that Mexican dental care is not on par with what you get from a good dentist in the US or Canada. And the key word is "good." Once you've had an excellent dentist for many years, it's easy to spot the differences in patient care between mediocre ones and excellent ones. The same thing can be said about physicians, auto mechanics and even hair stylists.
Hair Grows Back. Teeth Do Not.
Overall, the border town "medical tourism" experience left us feeling like the times we had our hair cut at cheap walk-in salons. Technically, the SuperCuts hair stylist got the job done. But the end result was nothing like splurging at a better salon with more experienced stylists.
And yeah, you can get by with cheap haircuts, but don't ever forget: hair grows back — teeth do not.
But Eye Care in Mexico is Another Story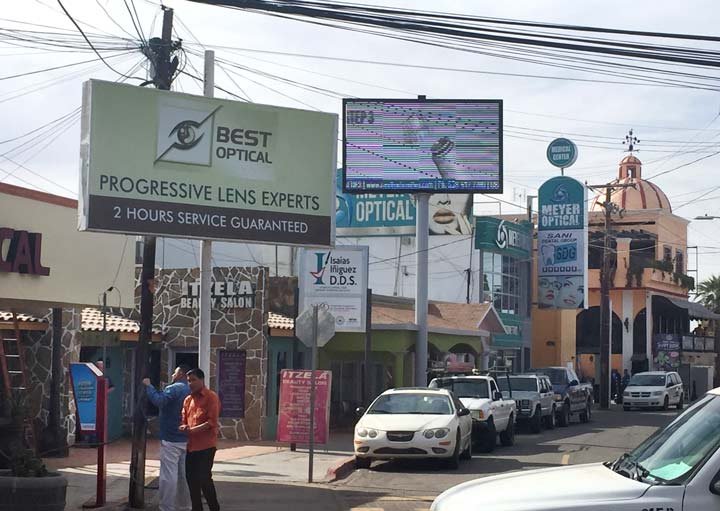 Oh and while teeth are one thing, eye care in Algodones is another. Opticians are on every corner in Algodones and I wouldn't hesitate to take advantage of this service. Exams are always "free" and included in the price of glasses, which cost at least half, sometimes less, than what they do in the U.S. (a great article by consumer reporter David Lazarus details the disgusting eye ware price gouging in America). And although the latest styles aren't hanging on the shelves in Mexico, we saw classic frame selections and reasonable prices for single vision and progressive lenses.
So there. You may be thinking Jim and I are just snobs because we have a dentist in the family, but let me just say one thing. Even if we didn't, we still would have noticed the big difference in the delivery of care between U.S. practitioners and Mexico dentists. There is just no comparison.