There are likely certain RVers out there who may be intimidated by attempting to do their own RV plumbing repairs. That is understandable, however, considering the urgency of fixing any water leak in your RV – and the going shop rate at most service centers – if that describes you, you'll be happy to read this.
What is the easiest RV repair?
I would argue that replacing the kitchen or bathroom sink in your RV is one of the absolute easiest repair jobs you may ever need to do. And if you live and work on the road full-time, you will need to do it – considering the quality of most standard RV plumbing fixtures. In most cases, the job will not even require any tools.
The hardest part of replacing your sink may be squeezing in tight spaces to reach the plumbing up inside your cabinet.
How to Replace RV Bathroom Faucet in 3 Easy Steps
As soon as you notice any sign of leaking water, investigate immediately. Once we discovered the cheap plastic faucet in our bathroom was slowly seeping at the base, I confirmed there was moisture below and quickly purchased a high quality replacement RV faucet. Do yourself a favor, spend a little extra and get yourself a brass faucet fixture.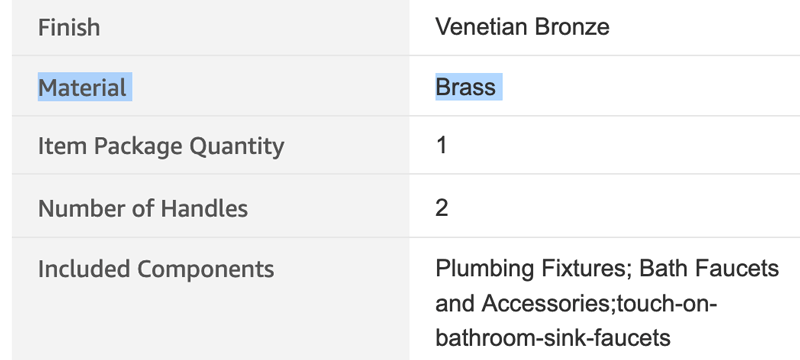 Most inexpensive cheap RV faucets are just that, cheap. They have a faux metal finish, and all plastic interior components. I was happy to find a stylish brushed copper fixture constructed with brass fittings.
TIP: Most RV bathroom faucets are two-hole, four-inch OC (On Center) fixtures that can be replaced with the same size residential faucets.
NOTE: Before starting any RV plumbing job, turn off your water supply at the source! Shut off your hose o water pump and release pressure in the lines by opening both faucet handles.
1. Remove old faucet.
Most RVs have flexible Pex plumbing with affixed threaded connectors. Unscrew the connector from the end of both hot and cold fittings under the mounted faucet. Have a towel ready to absorb any remaining water in the lines.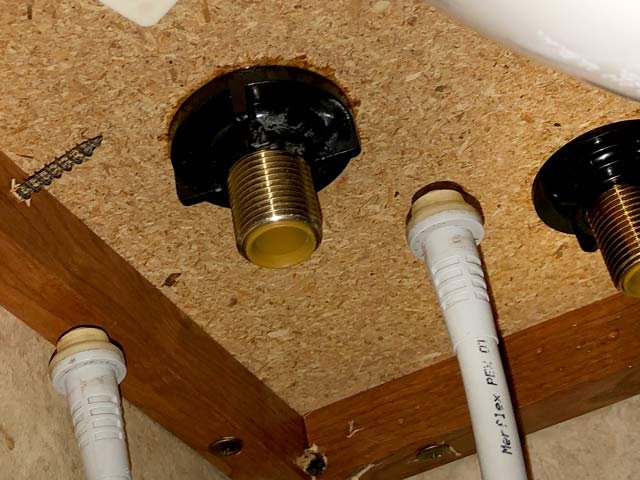 Once loosened, the connector will slide back along the Pex tubing. Most RV plumbing connections are, or should be, hand tight. If necessary, use a wrench or channel lock pliers to loosen connections, but never over-tighten plastic fittings.
Remove the plastic retaining nuts from the threaded faucet water supply pipes which hold the fixture in place.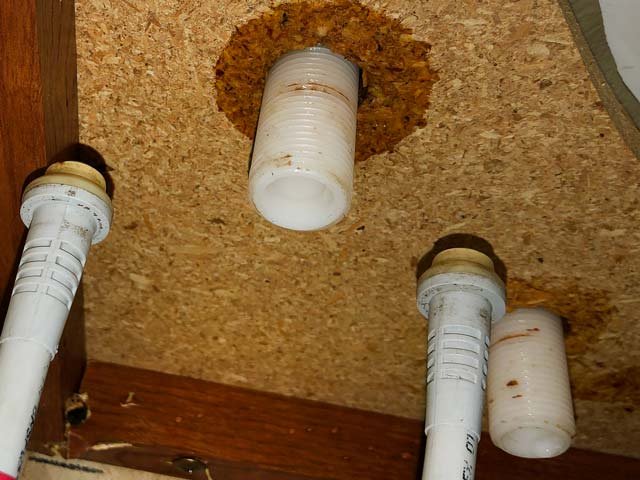 The faucet can then easily be lifted out from above.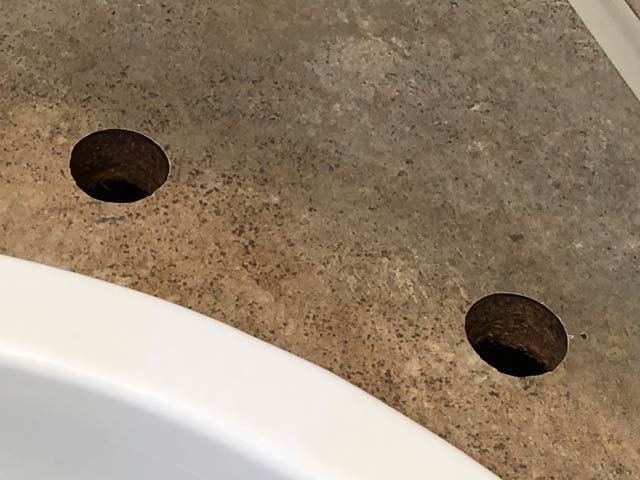 2. Install new faucet.
Inspect for any water damage, clean the surface and insert the new faucet into the holes after removing the retaining caps, if attached.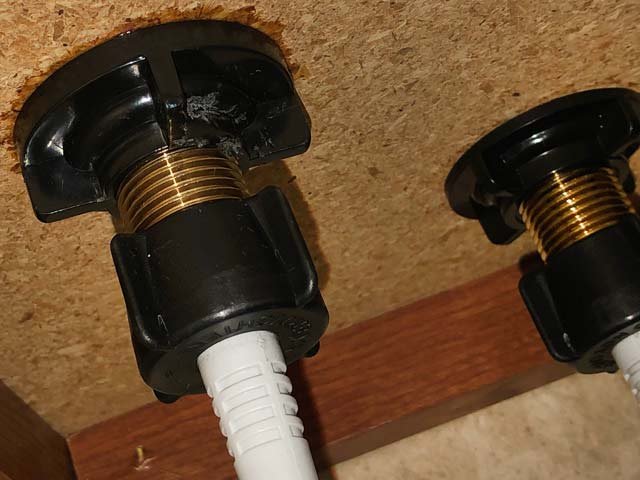 Secure the fixture in place by tightening the retaining nuts. Insert the water supply lines to their corresponding sides. You remember which one was hot, right?
Slide the Pex connectors up and tighten them onto the fixture, seating the supply lines firmly in place.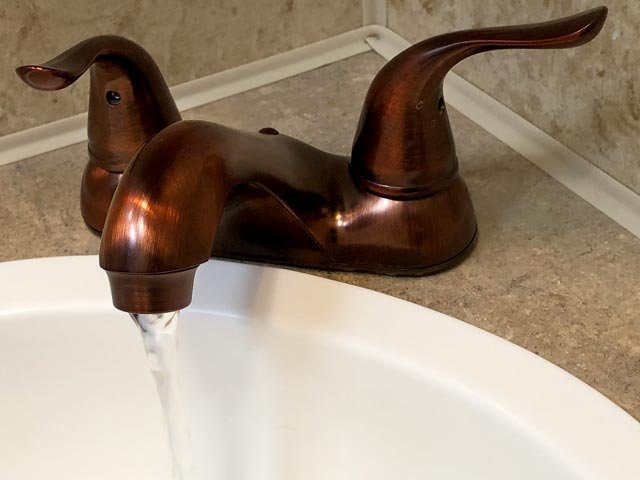 OPTIONAL: To ensure an effective seal of the plumbing connections wrap Teflon Pipe Thread Seal Tape around the threads of both brass fixture fittings prior to tightening the Pex retainer nuts. For ease of use, apply tape before mounting faucet into place. I also applied a thin layer of Plumber's Putty Tape under the faucet fixture to prevent splashed water from seeping under the fixture. (Thanks to Larry for suggesting this addition.)
3. Check for leaks!
At this point, it may help to have someone turn on the water supply for you while you inspect your work carefully – like I should have done…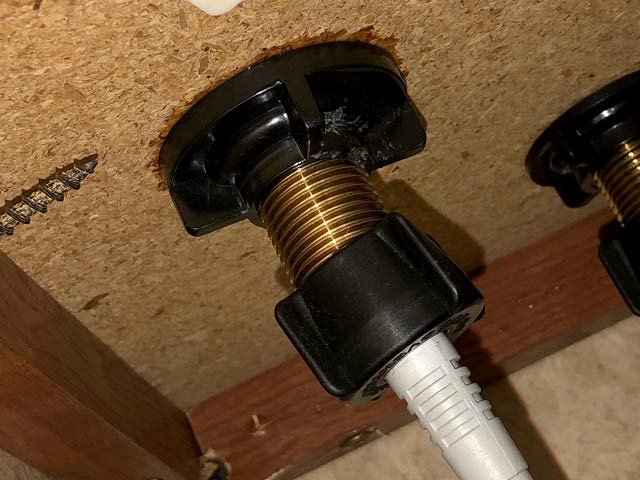 Check your work!
Do yourself another favor, and double check your connections before turning the water back on. If the connectors are not seated properly, panic may ensue.
Also See:
Can you think of any easier RV repairs?