It felt like the longest month ever. But I'm pleased to say we made it through our 2019 Dryuary Challenge!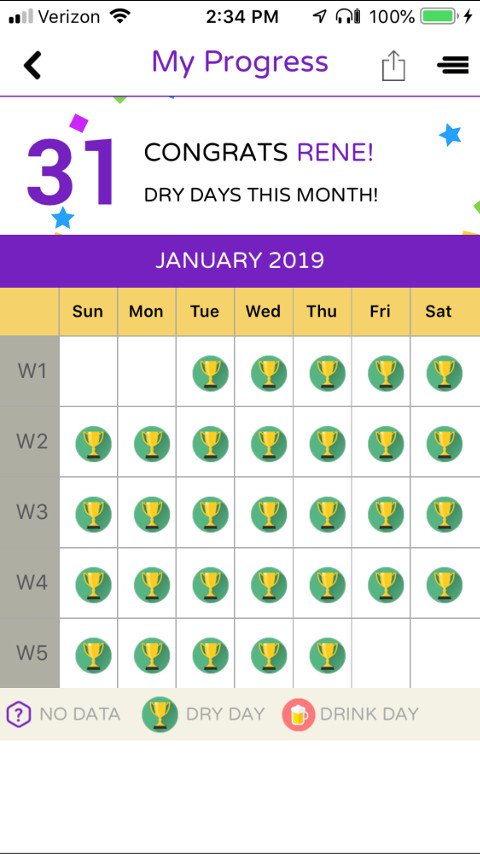 Surrendering to a booze-free existence wasn't easy, for me anyways. A few curveballs and some added stressful situations got tossed into my life for good measure. The Universe just wanted to see if my sober coping mechanisms were up to par, I suppose. For the most part they were. But on a few occasions I almost gave in. It's so easy to reach for the bottle and fool myself into thinking it's the best way to deal with life's challenges.
But nope. I had to reach deep within and find another way. Our marathon training helped. So did meditation. Between the two, I made it through the hardest 31 days I can recall in a while.
My Dryuary Challenge Lessons Learned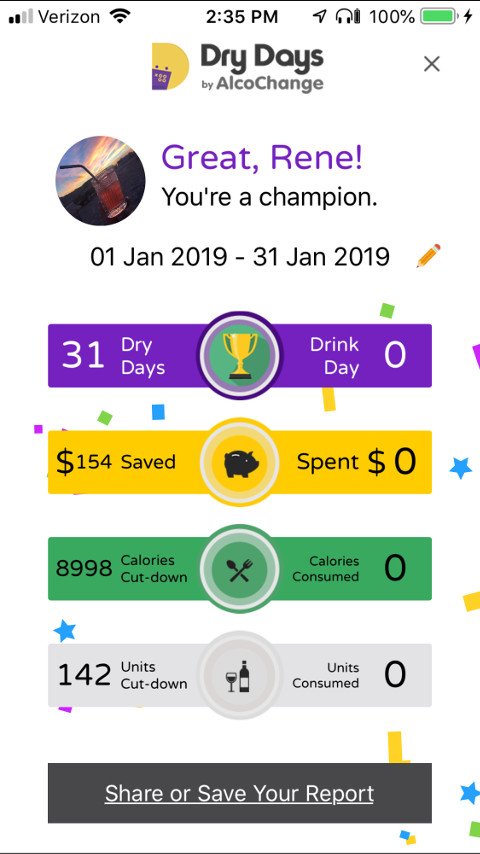 My alcohol-free life was boring as hell. But some good lessons and realizations came from it:
Last Friday night, that vodka cranberry cocktail tasted like heaven. I only had two, but the next day, I woke up and felt the effects of what I would consider a lightweight kind of evening. I wasn't hung over, but felt sluggish and my gut was a bit off. Clearly my body knew I poured a toxin into my system. The connection between optimum health and alcohol's effects on it became very, very clear.
Another bonus: I dropped five pounds! I'm sure the marathon training had something do with it, but the Dry Days app says I saved nearly 9,000 calories by avoiding alcoholic drinks.
The app says I also saved $154, if I were the kind of drinker who actually went out to imbibe.
Jim and I had fewer memorable bickering sessions.
And my early morning training runs got better. I became faster, and more alert first thing in the morning.
What's Next in our Drinking Days?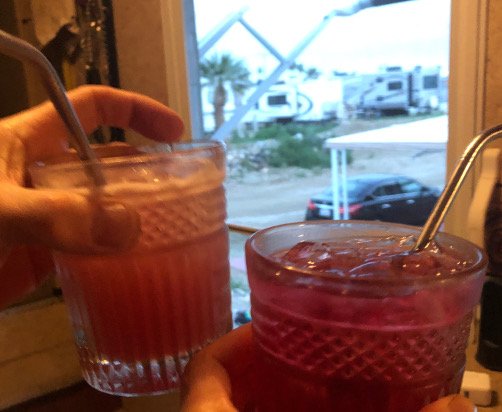 I can't speak for Jim, but I know that as long as I'm in training for the marathon, I'm going to take a more conservative approach to the bottle.
I'll limit booze to Friday and Saturday nights and drink with caution, since my long training runs are usually on weekends (when you set out on a 15 mile run without a toilet anywhere in sight, a happy GI system is mandatory).
Something else occurred to me: if I run two marathons every year, I will pretty much always be in training and using caution with the bottle. I think I'm going to give that a try.
Leaving alcohol out of the picture was overall a very positive thing for me personally. Jim may or may not agree, he'll have to comment below.
The good angel on my left shoulder says I should stay on the wagon, at least during training.
But the bad one? Well that little devil is really hard to ignore but I'll give it my best shot.