People are boycotting Amazon everywhere, but this protest is not ideal for us. Prime works well with the nomadic life, there's no better way to time our packages to our meanderings. Ironically, the Great Satan is also our Tripawds Gear Shop's biggest competitor. Each time I buy on Amazon, I realize I'm supporting an empire that's slowly killing small businesses like my own. But today I learned just how in the Amazon age, nomadic entrepreneurs like us can fight back.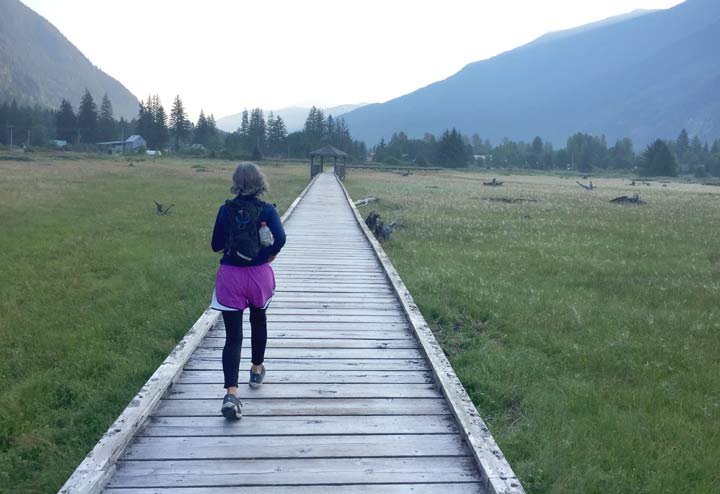 Freemove Creates a Zombie Loyalist for Life
Just over a year ago I ordered the Freemove 2L Hydration Bladder and Cleaning Kit for my hydration pack (yeah, we are Amazon affiliates too, so thanks for buying from this link!). I chose this replacement bladder based on excellent user reviews on Amazon.
Then the other day a seal on the bag separated, pouring water out everywhere while Jim was on a run. Not a pretty scene. Irritated, I wrote to Freemove via the Amazon messaging system and explained how their "no leak hydration pack" leaked:
…Is there any chance you can send me a free replacement unit?
Within 30 minutes I received a reply from David at Freemove:
Thanks for contacting us. I˙m very sorry to hear about the problems you had with the bladder you purchased from us.

Since we are committed to our customers, we take your satisfaction very seriously, therefore I'm sending you this coupon code: XXXXX with 99% discount for your new purchase of our 2L Hydration Bladder with very useful portable Cooler Bag for the bladder. Unfortunately, Amazon doesn't allow creating a 100% off coupon codes.

Once again accept my apologies for this inconvenience and thank you for your understanding.

Kind regards,
David
FREEMOVE Customer Service
WOW! We gladly accepted the offer for a .21-cent replacement bladder.
In the Amazon Age, Nomadic Entrepreneurs Can Compete
This is exactly what Peter Shankman's book, Zombie Loyalists: Using Great Service to Create Rabid Fans is all about!

David did just what it takes to create a Zombie Loyalist. He didn't need to take this up to his boss, he didn't hem and haw over the $20 unit. He was already empowered to replace it. As we mentioned in our Shankman book review, if nomadic entrepreneurs like us want to thrive in the face of Amazon cannibalism, we need to be like David:
Be one step ahead of the crappy service so rampant in all businesses.
Create systems that enable you to make fast, helpful decisions to keep customers happy.
and finally, serve up a steaming platter of BRAINS: Bring Random Amazement Into Normal Situations.
Honestly, I wrote the letter on a whim, and fully expected Freemove to say "You've gotta be kidding? You bought this when? And you want a replacement unit? Hah!" Because that's normal treatment from businesses these days: crappy is what we've come to expect.
But instead, I received a platter of BRAINS from an excellent small business selling their wares on Amazon. And for that, I'm a Freemove Zombie Loyalist for life. It's a great lesson that I'll always remember when dealing with our own customers, and the level of service that I now expect from any vendor selling on Amazon. Even the smallest microbusinesses can learn to compete against the giant and thrive. I know ours will.