We recently had a great conversation on the top workamping podcast with host Greg Gerber for Workamper News. Greg started podcasting in 2014 and enjoys interviewing people about ways to live, work and play in their RVs. In late 2019 he started hosting the The Workamper Show. This is the only workamping podcast I know of, dedicated specifically to workamping and helping listeners discover the full-time RV lifestyle.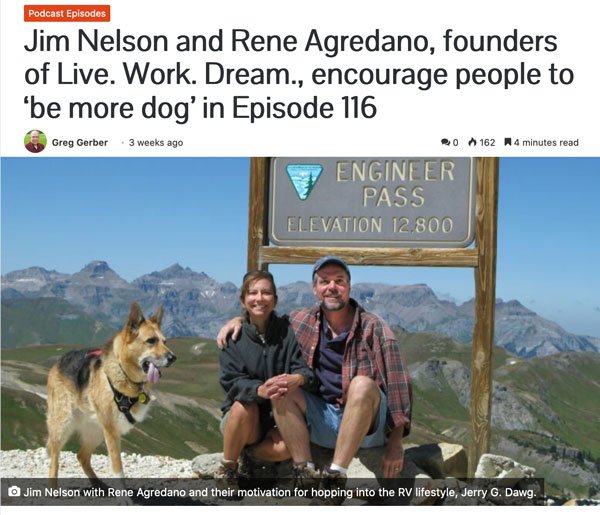 Workamping Podcast Interview with Jim & Rene @LiveWorkDream
Ask me when we hit the road 13+ years ago if there would someday be a workamping podcast, and I would have laughed. But then, there wasn't much of any podcast craze going on in 2007. Now, there is a podcast about anything, and everything. And, The Workamper Show now has more than 100+ episodes.
The Workamper Show podcast strives to build your dream of living the RV lifestyle through inspiration, motivation, and education.

Each one of our episodes will introduce you to people who are already living the RV lifestyle, or to companies and entities that provide opportunities for Workampers. You'll also learn how to hit the road the right way and make the most of every opportunity!

– The Workamper Show
Recently, Rene and I had the opportunity to share our story on episode #116, titled:
To be clear, we have not been actively workamping since the COVID-19 pandemic started affecting our travel plans. And actually, over the years we've become much more picky about the traditional workamping jobs we've accepted as our own business endeavors have grown. But we have enjoyed many different gigs over the years. And we do still subscribe to Workamper News, keeping an eye out for intriguing opportunities. I also manage the largest Facebook Workamping Group, with nearly 50,000+ members and dozens of new Workampers and Dreamers joining every day. So we know a thing or two about workamping – and how it has evolved over the years. Tune in to get the full scoop!
Show notes for this workamping podcast episode hint at our discussion:
Jim Nelson and Rene Agredano hit the road in 2007 with their furry friend, Jerry G. Dawg, a German Shepherd who they describe as the chief fun officer of their graphics design company…

…They have used Workamping as a way to save on rent, but the couple also developed multiple income streams to support their travel lifestyle.

For example, Rene works as a freelance writer for a number of RV-related publications and sells handcrafted jewelry as well. Jim is a handyman who also performs graphics work and provides tech support online. They have several blogs and produce a number of educational videos.

They have had Workamping jobs at RV resorts, an animal rescue, on a farm and even at a dude ranch in Colorado. They describe some of their favorite memories from those experiences. Jim and Rene also share some important lessons they learned…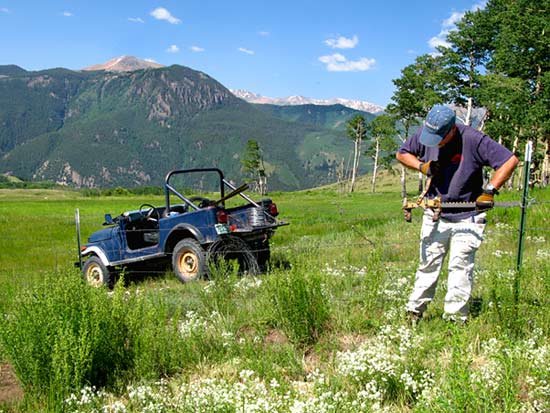 While Rene and I did share many fond memories, much of our discussion focused on life lessons we learned from our three legged co-pilot Jerry, those first two years on the road. He joined us at our first couple workamping jobs. And he left us after the first summer at our favorite ranch job. We share the whole story in our book, Be More Dog: Learning to Live in the Now.
It was an honor to share our story on this workamping podcast interview. For more tips and inspiring stories, Check out The Workamper Show – "a podcast devoted to helping you discover how to finance your RV travel dreams!" And, if you are not already a Workamper News Subscriber, get details and a promo code here.