In Rene's recent rant about our frigid experience boondocking in the cold at Rim Lake near Rawlins, Wyoming, she mentioned what a pain it was for me to start our trusty Honda EU2000i portable generator in the freezing cold.
I love that generator. It has served us well for nearly 12 years now, with no problems whatsoever. (Knock on something!) I did have a hard time pull-starting it in the freezing wind and snow, and I'm actually surprised I got it started at all a couple of those cold mornings. Yet I am not surprised, considering how well it has performed over the years.
Wireless Remote Start for Honda Generators
On such cold mornings, however, it would be rather convenient to start the portable generator from inside the rig. And that's exactly what a long time friend and avid reader recommended on Rene's post. Then he did his homework for us and found this Remote Control for Honda Generators from Generator-Line.
Always eager to check out new RV products to review, I got excited. Then I got to thinking…how on earth would this thing work with our generator? It won't.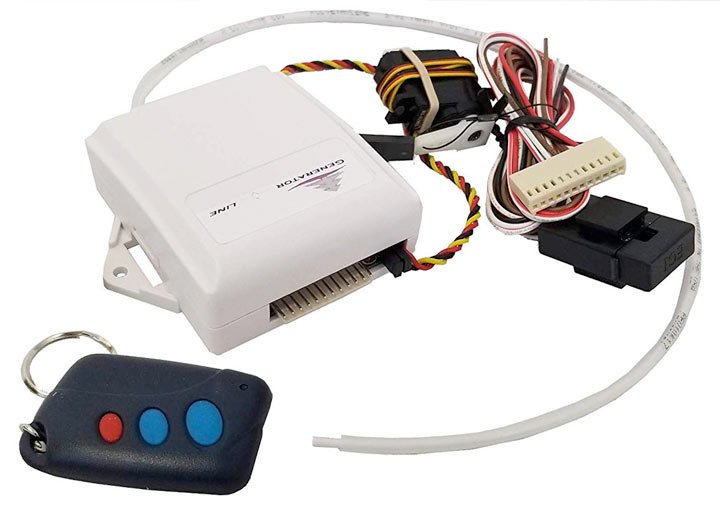 Larry's idea to rig up a starter may be the only option for remote-starting the Honda EU2000 series generators. While the 3000is Wireless Remote Start System sounds tempting, the "3000" there is the deal-killer for us. The radio frequency signal, wireless start/stop, and controllable duration auto choke function with two transmitters included sounds dandy indeed. But it is designed for use with the Honda EU3000 series portable generator – not our 2000, which only features a pull-starter cable.
If anyone reading this has ever installed the Generator-Line remote kit for starting the Honda 3000i generator, we'd appreciate any feedback in the comments. For now, I'll remain content bundling up and getting a workout when pull-starting our reliable Honda EU2000i…or packing up and heading to some warmer climate.