Sitting on the side of the Cassiar Highway with my back to the brush where Grizzlies roam, waiting for a cheap no-name 12v air compressor to top off our spare tire while holding the inflator in place made me realize one important fact. We needed a decent DC air compressor, once and for all. So I did my homework.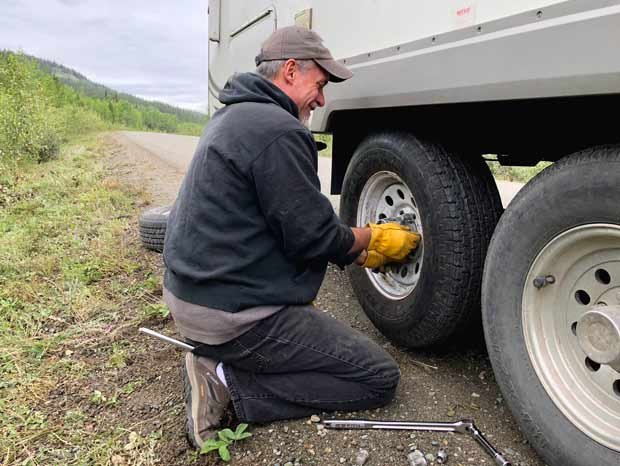 What Is the Best Portable DC Air Compressor?
It needed to have a 12v power adapter, for situations just like that one on our Alaska RVing adventure. It had to be compact to fit in our truck toolbox. And it needed to inflate truck tires up to 80 lbs., in less than a week. Even limiting my choice to 12v DC air compressors returned many results, all of them similar the cheap unit we picked up at Quartzsite one year. With budget still being a concern, I was determined to get the best for my money.
Head to Head DC Air Compressor Comparison
Focusing only on the presumably higher end products in the category – being a firm believer that you get what you pay for – I reviewed many customer reviews, and selected the Helteko Portable Air Compressor Pump. I quickly discovered this is not the best. At least not for our needs, with E-rated truck and trailer tires.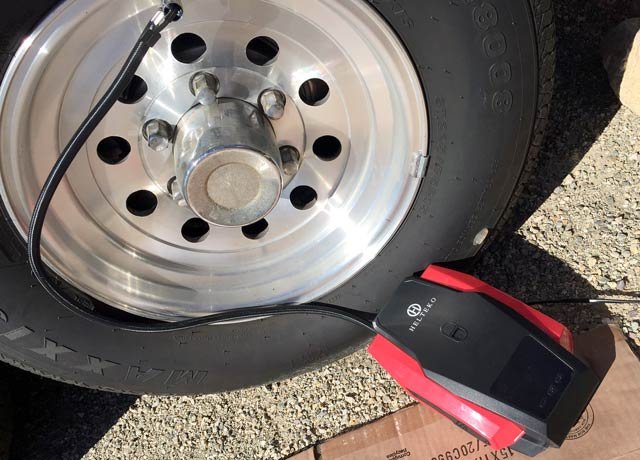 Helteko 12v DC Portable Air Compressor
The Helteko 12v Portable Air Compressor documentation specifically states not to run the unit for longer than 10 minutes. This was my first warning, but I read multiple reviews from customers with our same truck saying that it worked fine, or was fast to inflate tires. I gave it a try, and did not let it run longer than seven minutes – primarily because it started smoking at six.
PROS: Small compact size, rated to 150 psi with auto inflation shut-off limit (test results unknown), quiet. Affordable $35± price.
CONS: It died. Motor started smoking at 70± psi, after only minutes of use.
SUMMARY: For towed cars, bikes and inflatables, the Helteko may be an affordable portable 12v DC air compressor.
Read more Helteko 12v air compressor reviews.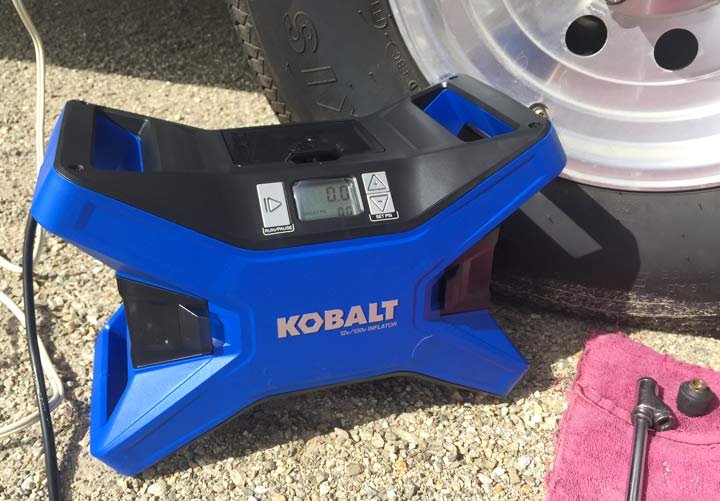 Kobalt 120v & 12v Portable Air Compressor
I spent a little extra and immediately purchased my second choice. The Kobalt AC/DC Portable Air Compressor was a noticeable improvement over the Helteko. For starters, it didn't die. I was able to top off eight tires to 80 lbs PSI without any problems. Almost.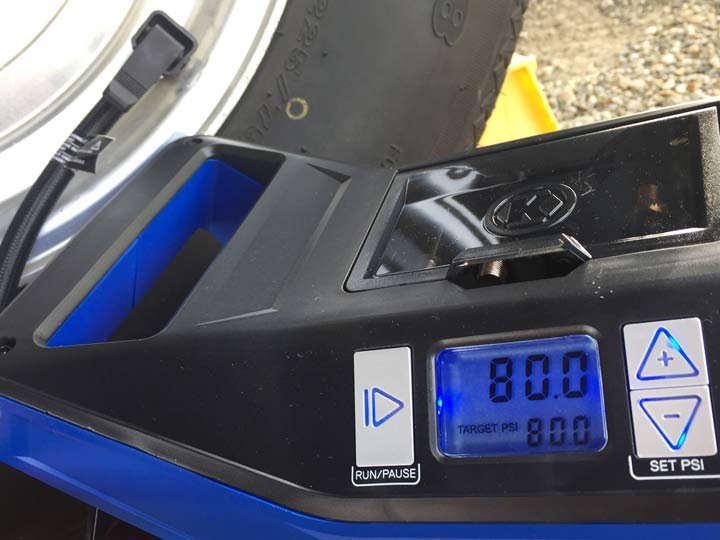 First, I noticed the Kobalt unit is sturdy built. The plastic case feels durable and compartments neatly contain the hoses, power cords and inflator attachments. The AC cord is a little short, but the DC cord allowed me to reach all four of our truck tires when plugged into the console cigar lighter.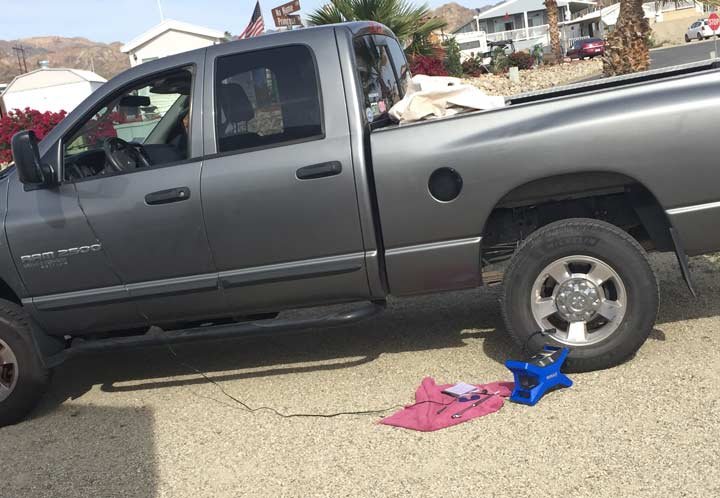 The backlit screen on the Kobalt was much easier to read in the sun than the LED readout on the Helteko. The automatic shut-off feature turned the inflator off as soon as the preset target tire pressure level was reached.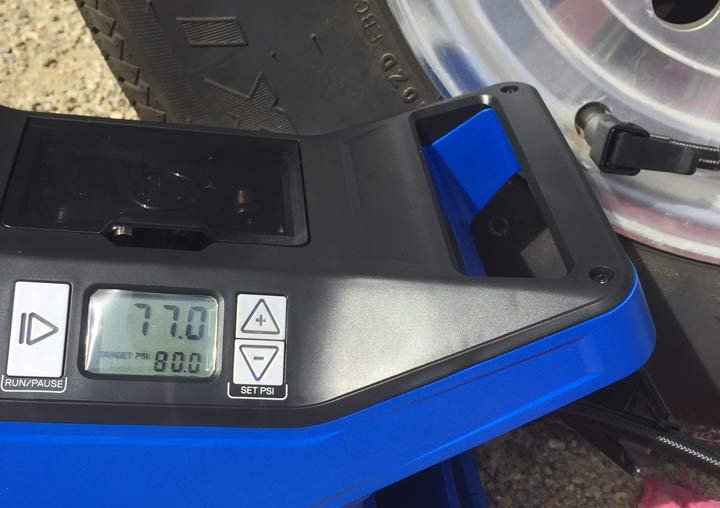 Understandably, the Kobalt inflates much faster when plugged into an AC outlet. When using 120v power, it delivered 1 PSI of inflation within 27 seconds. When plugged into the 12v DC power in the truck, it inflated 1 PSI in less than 42 seconds. This comparison was performed with tires beginning at approximately 71 PSI.
I topped off all eight of our tires to 80 PSI in less than ten minutes. The Kobalt compressor does not remember the target PSI setting once it is unplugged, but large buttons and fast scrolling allow it to be reset quickly. I tested pressure of the inflated tires, and was happy yo discover that the Kobalt PSI readings were very accurate.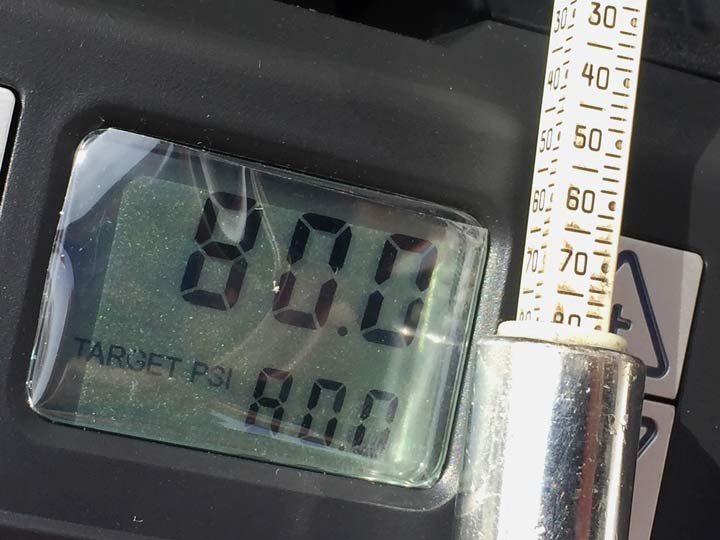 Finally, the Kobalt 120v AC / 12v DC Portable Air Compressor never felt hot to the touch, nor did it start smoking after inflating one tire. This is a good thing.
PROS: Small compact size, sturdy built, rated to 120 psi with programmable auto inflation shut-off limit, quiet, 12v DC and 120v AC power adapters, locking inflator attachment, Easy to read display, accurate pressure gauge, Cost effective $55± price.
CONS: Short AC power cord, plastic inflator attachment.
SUMMARY: The Kobalt AC/DC portable air compressor is worth the extra money, for peace of mind to inflate tires up to 100 PSI.

Read more Kobalt portable air compressor reviews.
Must Have Compressor Accessories
So you may be saying but wait, Jim. What was that you meany by, Almost? This exercise made me realize how happy I am to carry a few things that you should also consider purchasing with whatever portable 12v DC air compressor you choose.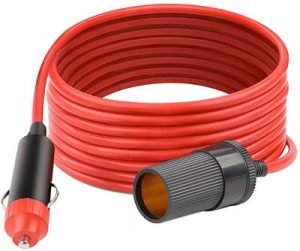 DC Extension Cord
While the Kobalt compressor has adequate cord length to reach all tires if plugged in to the dash, a 12v DC extension cord is one of those must-haves for any RVer. This extension will allow you to plug the compressor into your truck or DC outlet inside your RV. You can then reach whatever you need to inflate without driving your truck right up against your rig.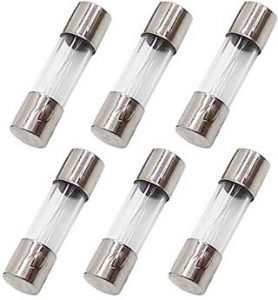 Extra Automotive Fuses
I said "almost" because the 10 amp Buss Fuse in the Kobalt compressor DC cord blew upon inflating the eighth tire. I suppose this is a good thing considering how a certain another compressor mentioned above burnt out its motor before blowing a fuse. So do yourself a favor, stock up on a supply of automotive fuses. I suggest also getting some extra 20 amp Blade Fuses (or whatever amperage you need), and knowing which fuse controls the cigar lighter or DC outlet in your truck.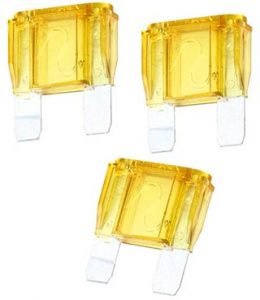 Personally I don't want to ever find myself on the side of the road with something as simple as a blown fuse keeping me from getting rolling again.
Hopefully, we will be happy with this purchase for a long time. And even more hopefully we will only have to use it when we want to, and never in those certain situations we'd rather not talk about.
Read all our RV product reviews and subscribe to be notified of future posts.