Anyone who lives in a camper, trailer or motorhome knows that learning how to manage RV moisture levels is an ongoing battle. For me as a metalsmith, I'm constantly thinking about controlling condensation to keep my metal tools and inventory from corrosion. So when Govee approached us to review their smart thermometer and hygrometer with a complimentary unit, I jumped at the chance.
UPDATED 12/21: Govee is now wifi-enabled! See Govee discount coupon below to save on the upgraded unit.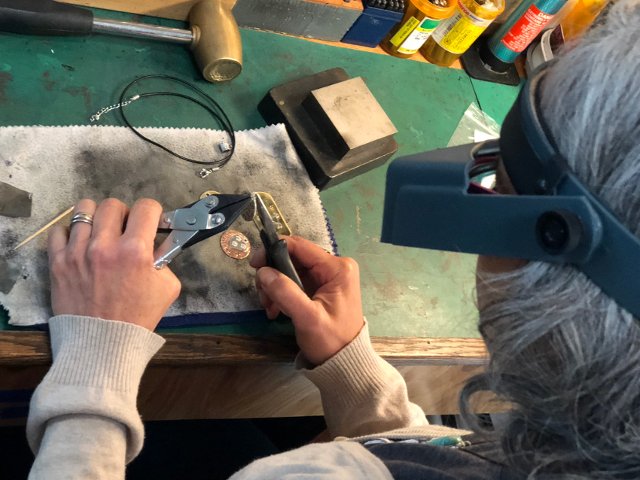 A Better Way to Prevent and Manage RV Humidity and Condensation
When we travel to wicked humid climates like the Humboldt County coast and the Texas Hill Country, we use absorbent, eco-friendly Skoy Cloths to sop up moisture and condensation. I also use anti-corrosion lubricants for tools, but that's still not enough. Knowing exactly when the inside humidity levels rise is the first and best step to take.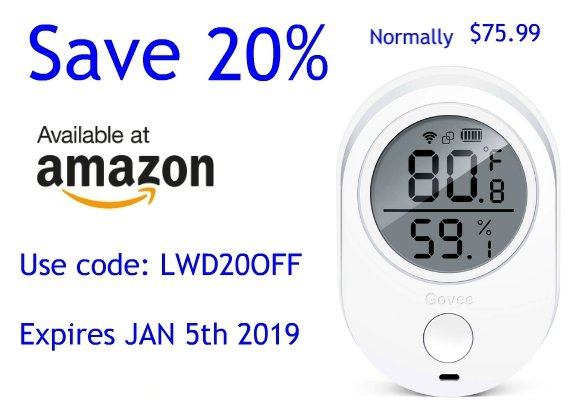 Hygrometers are useful for any RVer but especially for nomadic musicians carrying instruments, cigar buffs and metalsmiths like me. A little gadget like the Govee measures moisture in the air and tells you the current temperature. This cool device is controlled via an app on your smart Apple or Android phone, which helps you monitor the RV humidity status wherever you are. Use it in an instrument case, cigar humidor, or even your RV refrigerator.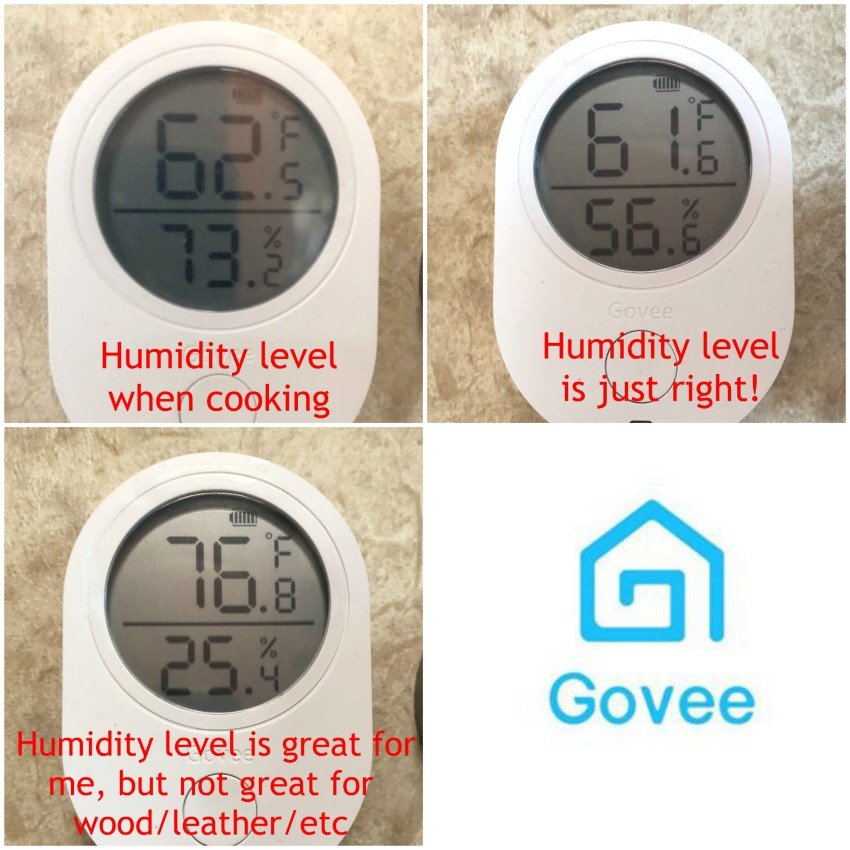 Key Govee features include:
NEW! Once the humidity monitor connects with Wifi (sorry, no 5G support yet), you can remote monitor the temperature and humidity of your home and possessions through your cellphone when you're away from home.

Swiss-made SHT30 sensing component measuring temperature ranges from -20°C to 60°C /-68°F – 140°F with accuracy ±0.3°C . Its measuring range of humidity is 0%-99% with accuracy ±3%. User calibration is available.
Can record 32000 data and upload to your cellphone via Bluetooth. Support multiple devices and share same data. Exported to CSV without any extra charge. You can also get alerts if the readings are outside your desired limits.
LCD screen shows current temperature and humidity. You can also monitor hourly, daily, monthly, and yearly records of both temperature and humidity. Batteries last more than half a year.
Idiot-Proof Govee Setup and Installation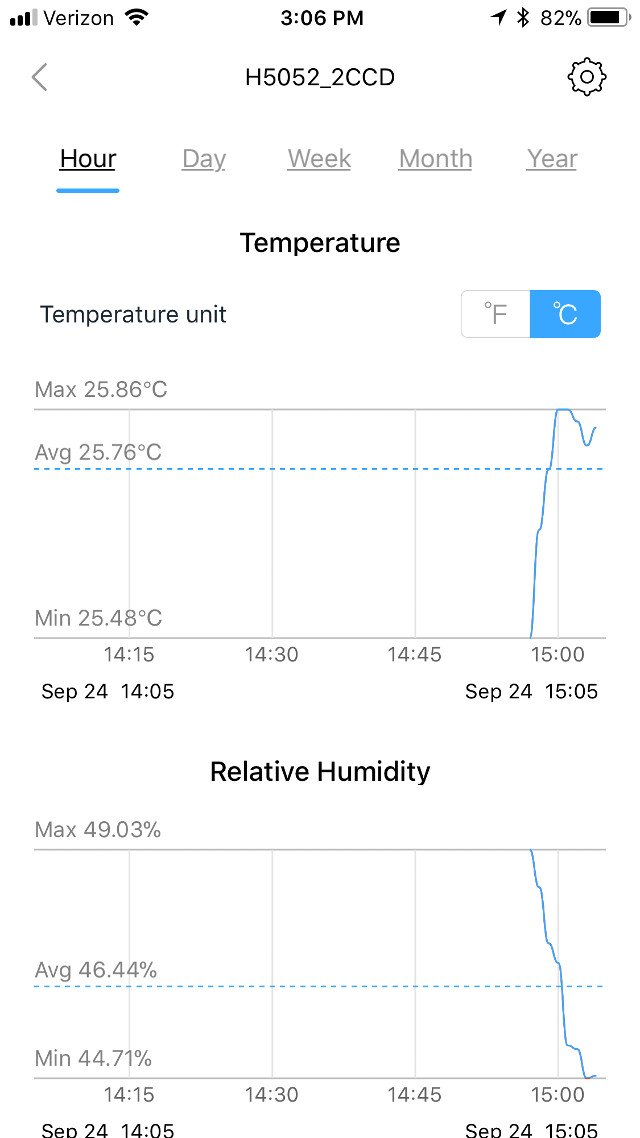 Getting the Govee up and running was easy for me, a totally non-technical person. The Quick Start Guide and short manual was idiot-proof. After putting the included batteries into the device here's all I had to do:
Download the Govee Home app, register account and match the device to the app
Follow the Quick Start Guide instructions to turn on Govee
Return to app, set temperature unit preference to Fahrenheit because I'm a metric-phobic American
Also in the app, set temperature and humidity alarms
Watch for changing humidity and temperature levels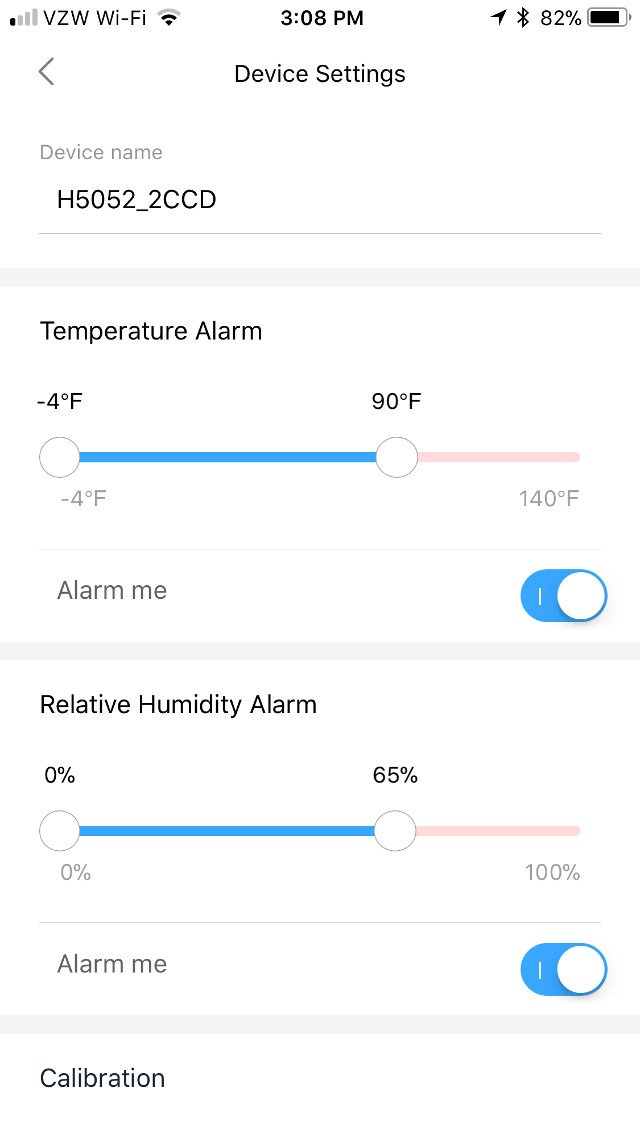 Others like TNTCigars.com have done detailed YouTube Govee reviews about the setup process, so I won't reinvent the wheel.
How to Choose the Right Humidity Levels for RV Living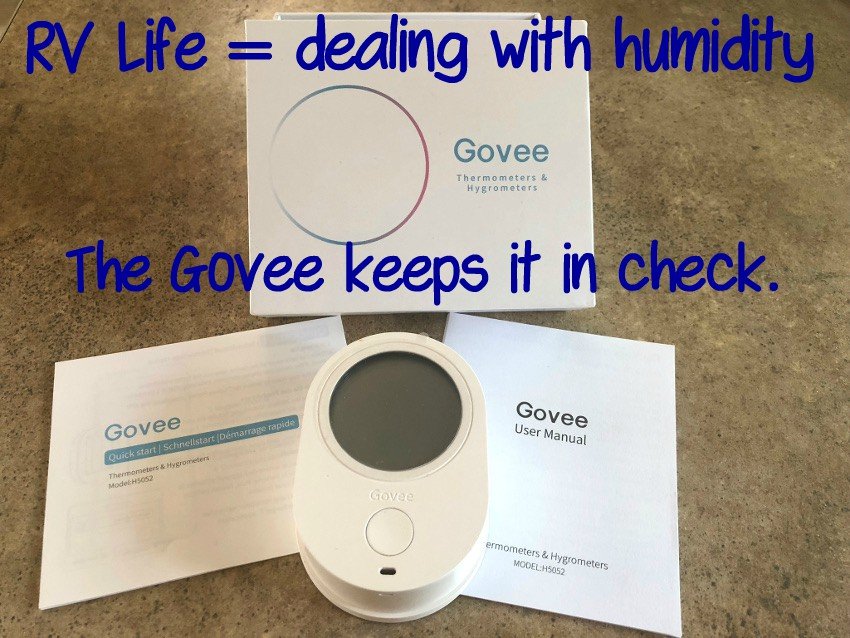 With the Govee installed on the wall in my bunkhouse workspace, I wondered:
What's the best humidity level for jewelry tools?
When does humidity cause mildew in a RV?
When does humidity create rusty tools?
Can humidity ever get too low inside the RV?
What I discovered is that humidity in itself is a moving target. And what it affects is different for everyone. For example, if you play music, too much or too little humidity can destroy your instruments. And for me as a metalsmith, excess humidity can tarnish my sheet metal and rust my tools. For RVers with respiratory challenges, humidity can be tough on the lungs. And even for the average RVer, condensation can cause foam mattress mildew.
Everyone has a different point at which RV condensation impacts daily living.
Ideal humidity levels for the average person (whether living in a RV or not). the EPA Mold Course states that:
"Indoor relative humidity (RH) should be kept below 60 percent — ideally between 30 percent and 50 percent, if possible. Low humidity may also discourage pests (such as cockroaches) and dust mites"
Ideal humidity levels for musicians with wooden instruments:
"Most experts and instrument manufacturers agree that an ideal relative humidity range of 40-50% is best for storing instruments." — How to Control the Humidity in Your Guitar & Instrument Room
And finally, ideal humidity levels for preventing rust on metal jewelry tools:
" . . . a rather good middle mass air about 40 to 50% humidity." — one metalsmith's humidity advice on the popular Ganoskin Forums
RV Humidity and Moisture Knowledge is Power
The Govee has made all the difference. Instead of panicking about humidity on my tools when moisture happens, I know exactly when to start worrying, so that I can do something about it. I do everything from crack windows to turn on ceiling fans, to adding more Damp-Rid Moisture Absorber to the area.
And now that I know just how humid my workshop really gets at times, a compact dehumidifier for small spaces is next on my shopping list.
Up until now, we've lived without a thermometer inside the rig. We always knew just how bad heat and humidity in the RV can get (or in the case of Basin and Range, how cold!). But now that we have The Govee, the temperature and humidity knowledge gives me more power to do something that will protect my tools investment so I can keep making money from my Etsy shop. Thanks, Govee!