Woah! I missed publishing our weekly Wednesday blog post! For the last year Jim and I have alternated writing a post each week. We often joked, "Who's gonna blow it first and forget to write on Wednesday?" Well, today I'm wearing the dunce cap. Doh! Whatever. Someone had to do it.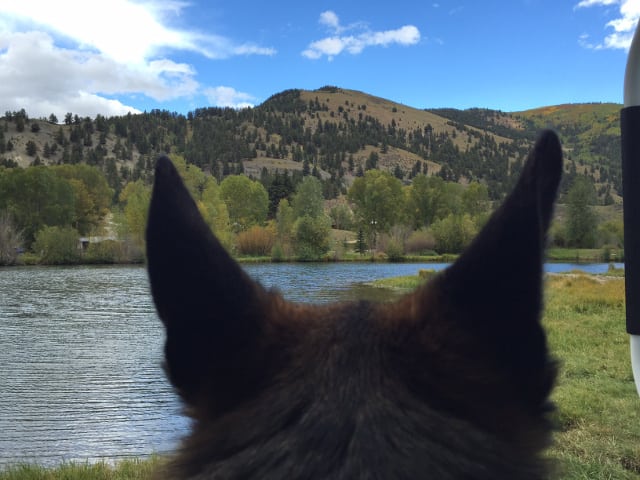 We're just now catching our breath after working long, crazy hours on our own stuff and at the ranch. Like Jim said last week, summer workamping at Vickers Ranch was awesome as usual.
Working with the Vickers family has always been fun for us, even when things got crazy. What I've always admired about them is that no matter why or how often poop hits the fan, every family member just rolls on to the next day. They never dwell on mishaps or screw-ups. I guess that's what's kept them in business for over 100 years. And not blowing each-others heads off.
Another way we kept sane all summer was by consuming mass quantities of the awesomely organic, healthy food sold at Peter and Patty's store, The High Country Market.
Even in the tiny town of Lake City, Colorado, they work endless hours to bring top quality produce to everyone. And once again they spared Jim and I the one hour drive to Gunnison to hit the big grocery store. Yes, it was more expensive to buy food in Lake City. But like I've said about our previous Lake City Eat Local Challenge, not wasting a day off just for shopping was totally worth it.
We only went to Gunnison twice all summer, and it was only for health issues we had to deal with, not because we wanted to. That health issue taught me loads about full-timing with a medical condition and sucky health insurance for full-time RVers. I'll share my findings in a future post.
Now that we've left the ranch, it's time for us to regroup and figure out: where to next? There's always dozens of To Do lists on the business side, but our winter full-time RVing itinerary is wide open.
We're currently in Northern California, bouncing around for a bit between Sacramento and Shasta. We'll catch up with friends then go find some peace and quiet off Highway 395. And by the end of October it's on to another epic Las Vegas Halloween for Jim's annual birthday bash.
So far it looks like we'll spend winter in Southern California and Arizona. But who knows, with this full-timing lifestyle, anything is possible. It all depends on which way the wind blows.
Where is the wind taking your RV this winter? Hope to see you out there!
Save