There's currently a winter storm pounding the Northeast with snow, freezing rain and record low temperatures. That's too bad. That's also why you'll find us in some Southwest desert come this time of year.
Before we fled Colorado to fly south this winter though, we got hammered with a fair dumping of our own.
How to Protect RV Hookups in Winter Weather
Here's a quick trick I tried to help protect exposed RV electrical utility hookups from damage caused by severe winter weather. It worked great during those Rocky Mountain floods of 2013!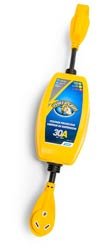 You don't need some costly gadget to keep your RV electrical cord connections from getting wet! Prevent sensitive electronics and costly surge guards in a few simple steps.
Cut an old auto tire inner tube in half.
Slide cord through tube.
Plug in.
Secure end of tube around outlet box.
This is a simple, cheap and effective way to create a weather-tight seal around the end of your cord. Doing so will help prevent potential damage to your RV electrical system caused by wet or frozen connections.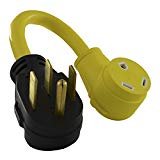 I cut the tube long enough to cover the 50-30 amp RV plug adapter we use at Jerry's Acres.
I then used Zip-ties to create a good seal around the utility box.
With a large enough tube, this should also work well with many inline RV surge protectors too!