I know, everyone usually talks about how to winterize an RV. But for snowbirds like us, fortunate enough to have a home in the mountains where we spend the summer months, preparing your rig for the season is different.
For starters, it's more important to keep the critters out than worry about keeping the water heater from freezing.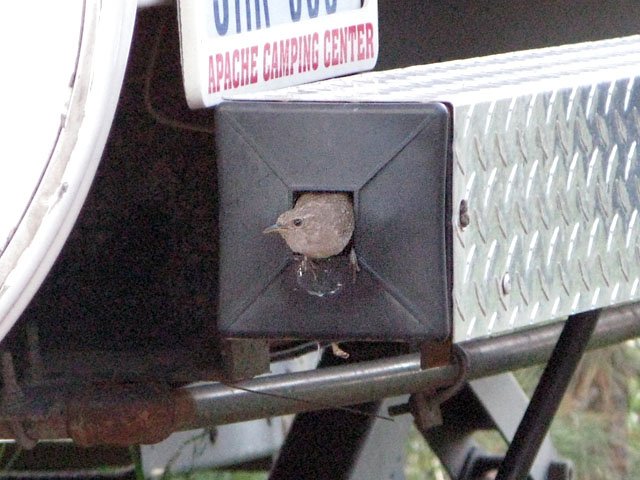 To summarize, the summerization of our rig entailed little more than:
Plugging in, to keep the batteries charged.
Emptying grey/black tanks and rinsing  them well.
Removing all food items.
Cleaning out fridge and turning it off.
Covering the wheels to shade tires from sun.
After driving around for about a week I looked at the dust gathering on our hitch and decided it wise to summerize that too. After all we weren't headed anywhere for a few months at least. As a side note, I'd prefer to remove it, but Rene has a point or two. It is heavy. And should we need to evacuate in a hurry, being able to quickly take our second home with us would be a good thing. But there i go digressing.
I love our hitch, enough to take good care of it. To prepare it for not being used, I took the following steps to tuck it in for the summer:
Cleaned off all dust, grime and grease.
Re-greased the slide tubes, both the top and inside of shafts.
Released tension from catch spring.*
Covered with plastic. (I used an old vinyl BBQ cover Rene had made since we have a shed now!)†
*NOTE TO SELF: Remember this before hitching up in the fall!
†UPDATE: Do not use plastic to cover your hitch! It will not breathe and could promote rust. After scraping the plastic cover that baked onto our hitch over the summer we now use a sheet when covering the hitch for extended period of time. Consider protecting the investment in your hitch with an official PullRite Superglide Hitch Cover.
It dawns on me now, that I never shared just how much I really do love our Pullrite Superglide fifth wheel hitch. And no, that's not even an affiliate link! One of the biggest determining factors for me when it comes to complete product satisfaction is customer service. Pulliam gets an "A" in my book.
To make an already long story short… After a couple years on the road, we noticed out hitch had a lot of play in it and didn't sit level. The top plate slanted so René often had to hold flat as I backed it into the trailer kingpin. This got old quick. Then I noticed what looked like piece of a small leaf spring in our truck bed one day.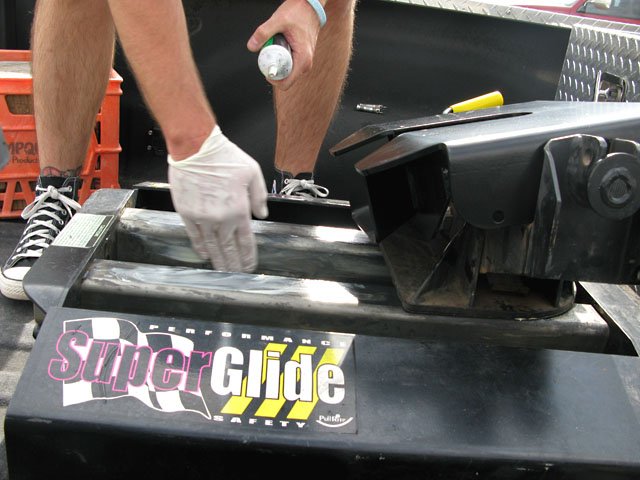 While searching for our Colorado property last year, we paid a visit to RV America in Loveland. Upon looking at our hitch, the parts manager was very concerned and suggested we call the local Pullrite sales rep.
To make an even longer story a little bit shorter… he agreed to meet us at the shop and have a look.
One look was all it took. Though it could have been serviced, he offered to replace the complete top portion of our hitch. Not just the receiver plate, but the whole rocker arm assembly too. No charge. Better yet, the kind folks at RV America agreed to install it free of charge. We left with a brand new hitch and a better understanding about how to disassemble it should the need arise in the future.
Upon inspection of our Superglide's way tubes, the Pullrite rep asked about how and when I grease them. After explaining, he commended me for the good job, commenting on how they were in good shape for what we've put them through. I fully intend to keep it up so this love affair with our hitch lasts a long, long time.
NOTE: We use white lithium grease to lubricate the way tubes on our Superglide hitch, but Pullrite also recommends a graphite spray which we will be trying next season. Buying a can was the least we could do after getting a virtually new hitch from RV America!