René recently cut out another quote and taped it inside our bathroom cabinet door:
"At its core, adventure is the willingness to commit to an uncertain outcome with and open heart and an open mind."
I don't know where she got that one or who said it, but her timing is impeccable as it certainly applies to our latest adventure.
Had we known of the uncertain outcome that awaited us at By The River RV Park in Ingram, Texas, alongside the lazy Guadalupe River, we might have left after our first night. But who would have thought this pretty park could be covered in water within the next 24 hours? And after nearly three years on the road, we've come to expect the unexpected. Without such an outlook, panic may have set in even earlier than it did the other night.
No, that first photo is not a picture of the park. It's just where we ended up spending the night, along with all the other rigs from the park, which is a very good thing considering how events of the evening unfolded …
Earlier in the day, we had walked across a spillway path over to an island on the river across from the park. It's where they allow tent campers – of which there were none, fortunately – and the path was clear of water. We later took the short drive to nearby Hunt, TX to see Stonehenge II – noticing along the way various river crossings that would clearly become impassable with the slightest rise of the river. A sign of things to come. Later that night, three people would be washed downstream after trying to cross the river there. One has yet to be found, another spent most of the evening up a tree crying for help.
Upon returning to the park, I noticed only an inch or so of water covering the path we had walked. That would soon change.
At about 10:00 p.m., the park manager showed up only suggesting that we "may want to hitch up and be prepared to leave" – a high water advisory was in effect until midnight. I figured we had plenty of time and decided to dump our sewer, not knowing where we might be in the morning. While doing so, I walked over to the river bank and noticed it was much closer.
The water was about 8′ higher than it was, and only about 5′ lower than our site. I poked my head in the trailer and told Rene, "Uhh… we might just want to leave now and beat the rush. Come check this out!"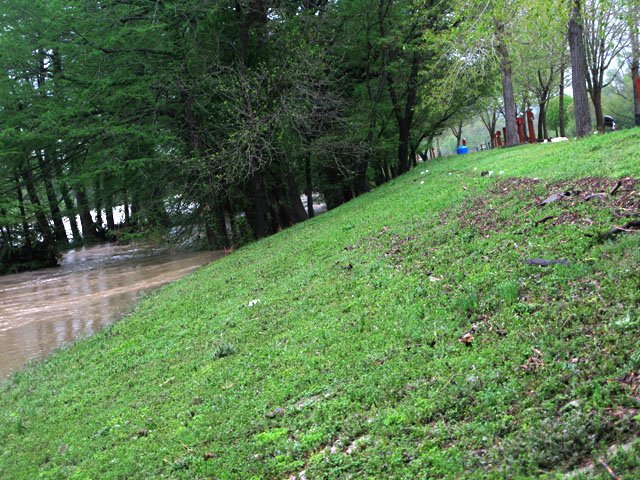 Our pace hastened, we disconnected our power and water, and proceeded to get going. That's when we heard the sirens, saw the fire truck and noticed emergency personnel suggesting we hurry up because, "This end of the park floods first."
Gee, thanks for letting us know now, I thought.
A look over their shoulder showed the water about another two feet higher. Everything was fine, it was pretty exciting, but that was it. Then we couldn't hitch up.
This is when it started to get scary. Multiple attempts to connect the trailer resulted only in a frightening clunk. Apparently I had bent something while trying to hook up in such a hurry. Fearing the damage was permanent and we would be forced to leave the trailer, Renee scrambled to determine which belongings we absolutely needed to grab and I remembered something I learned when getting SCUBA certified: Panic = Death.
Each time I jumped out to adjust the legs of the trailer up or down, there were more volunteers trying to help. One wearing a safety vest and helmet, diligently tried to calm down René. Another tried to assist me by holding our hitch plate level. Clunk. I panicked and tried to force the hook up.
That's how I pushed the trailer legs off their blocks, causing the fifth wheel kingpin box to slam down on top of our truck bed rails. Doing my best to remain calm, it was clearly time to poop my pants. But no time for that. I wasn't leaving without our home. The water was another foot higher. I raised the trailer, pulled out from under it and started dismantling our hitch. I think that's when René really started freaking out.
I quickly confirmed the hitch was still functional and put it back together. One last attempt after adjusting the trailer height again – with the park manager holding the hitch, and me holding my breath – we connected, but it didn't feel like it. I knew something was wrong. The manager insisted he heard it click, and he must have. I was clearly out of my mind and the water was another foot hgher.
Side Note: Old time RVers throughout our travels have more than once made the same comment one fireman did as we waited for our trailer's legs to retract: "Are those things moving?" he said. The Arctic Fox may indeed have the slowest retracting legs in the RV industry. But this time it seemed to take an eternity. With water lapping at our site, we were on our way, just in time.
We joined dozens of other RVs up the hill in a church parking lot for the night, hoping the trailer wouldn't fall off, wondering if we would be able to unhitch. As more continued to show up, one frantic woman asked if I had a fifth wheel. She said someone needed help getting their trailer out because they had no way to pull it. My heart shrank as I had to say no. Our Pullrite Superglide requires a kingpin adapter to function without damaging the hitch and/or trailer.
Walking down to survey the damage the next morning, I noticed our site had clearly been under at least a couple feet of water. All the RVs and trailers did get out, some with their sewer hoses draped over their bike racks. Others who left theirs behind. With only our end of the park truly getting flooded, we feel very fortunate to have our home with us. We moved on to a park down the road a in Bourne called Top Of The Hill RV Resort, thinking we might need to be there a while waiting for hitch parks. But upon further investigation, the damage done was nothing a few whacks from a hammer couldn't fix.
Epilogue: As we were leaving the morning after, I noticed a trailer tire was low. Pulling away in hopes that we would find a service station soon, we immediately pulled into a tire shop right across the road. We had not one, but two punctured tires.
I guess when it rains, it really does pour. Especially in Texas. After all the excitement, I did little math and calculated that the river was rising a foot every five minutes. That may not sound all that fast, but consider the gentle slope of the terrain and it's easy to imagine that flood approaching like an incoming tide – we don't need to, we were there!