If you're asking yourself, "is Amazon Camperforce Discontinued," you are probably correct! likewise, I had a gut feeling about this ever since we published our What Is Amazon CamperForce post a few months ago. I published that detailed overview of the Amazon Camperforce program as part of a sponsored content agreement. As a result, in exchange the Camperforce newsletter included mention of our ultimate workamping guide and full-time RVing handbook, Income Anywhere! This agreement was supposed to last all season. Then I got ghosted.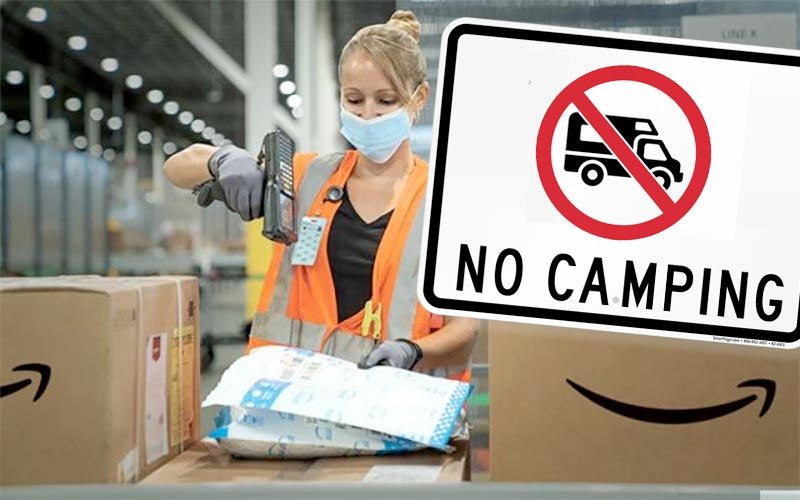 Workmapers are starting to ask the Amazon Camperforce Discontinued question more often. Subsequently, after I stopped hearing from my Camperforce contact, I decided to look into it. Rumor has it, the Amazon Camperforce program has been discontinued indeed. Why?
Why Was Amazon Camperforce Discontinued
Amazon Camperforce discontinued the program some time during the 2022 season. The Camperforce pages are no longer found on the Amazon Hiring website. That doesn't mean these warehouse fulfillment jobs and seasonal work are no longer available. You will just need to find and RV park and coordinate your own accommodations. An industry insider said, "the writing was on the wall" when they switched to the CampPay system. I totally agree.
Amazon Camperforce discontinued coordinating RV campsite accommodations for workers last year. That's when I first noticed problems with the program. Well, other than those problems Rene ranted about in her Amazon Camperforce tirades posts long ago, that is. With the CampPay system, I noticed many members of the Workampers Facebook group starting to complain. They were posting about trouble finding a place to stay. And I'm not surprised, what with the challenges we faced finding long-term RV parking on the west coast.

Get Your Own RV Site & Work at Amazon
Coordinating campgrounds for Amazon Camperforce seasonal workers likely became a logistical nightmare. You'd think a master of logistics like Amazon could handle this. But it probably affected their bottom line. The risk wasn't worth the reward. As a result, I recently confirmed with our friend at Workamper News that Amazon Camperforce discontinued their program and stopped all advertising.
But Amazon is always hiring. So the answer is simple. Apply at Amazon and find an RV park nearby. However, finding long-term availability these days may not be so simple.
Warehouse Jobs for Workampers with Amazon Camperforce Discontinued
With Amazon Camperforce discontinued, what workamping opportunities are available for seasonal work and warehouse jobs? Of course, Amazon cancelled their workamper program, shortly after we launched our Best Workamping Guide! <sigh> Good thing we included other options for seasonal workamping and warehouse fulfillment jobs.
Amazon Camperforce Discontinued
This is just a very small sampling of the many workamping job sites we list in our #1 New Release rated full-time RVing handbook, Income Anywhere! For hundreds of free resources grab your favorite format below. And subscribe to Workamper News for more opportunities and jobs delivered directly to your inbox!