Rene and I are thrilled for the launch of our new and improved workamping guide and full-time RVing handbook, Income Anywhere! In this expanded Fourth Edition of our first fulltime RV lifestyle book, we share more workamping tips, and added numerous gig economy resources. We've added tips for downsizing and proven advice for hitting the road debt free. For the remote employment section we researched the most popular job networks, creative marketplaces, and distributed workforce employers.
To help you create additional income streams, we found all the best apps for working side gigs. And with 15+ years experience we offer more proven tips for finding your niche and starting your own remote home based business.
If you dream of the nomadic lifestyle but wonder how you might afford it, we've done your homework for you with this updated edition now available in your favorite format. Purchase the paperback or get Income Anywhere! for Kindle in seconds from Amazon.

Workamping Guide?
Why download our updated workamping guide Income Anywhere! when there are others out their sharing info about the benefits of full-time RVing? Because we speak from 15+ years of experience. And we're still loving life on the road thanks to our focus and determination.
We learned early on that the best way to support our nomadic lifestyle was growing multiple revenue streams and letting workamping guide us toward saving on rent while pursuing our purpose.
We've overhauled more than just the workamping guide section for this edition of Income Anywhere! Revised and written after we both had and hid from COVID-19 while full-time RVing, this is now the best resource available for post-pandemic full-time RV travel. Not yet retired? Neither are we! Workampers, vandwellers, and all digital nomads benefit from this comprehensive guide we've put together for…
How to Full-time RV and Support your Nomadic Lifestyle
That's the subtitle for our fourth edition of the workamping guide we first wrote in 2011, Income Anywhere! That was more than a decade ago, and 5 years after we first hit the road. (We only planned and budgeted for a year off. And we tell that story in the book.) Rene and I also ran our own remote home based business for ten years prior to that. So we have plenty of experience and numerous stories to share about how we developed multiple revenue streams that still keep on the road today.
I would recommend this book to anyone who wants realistic ways to earn income while traveling.
We discovered workamping early on as a way to save on rent while exploring new areas and learning new talents. This was long before the gig economy took off. So we also learned that true independence only comes from working for yourself – wherever you camp.
With so many apps out their for making an income anywhere now, we did our best to find them all. We've included all those, and added a comprehensive section about joining the talent marketplace. Whatever it is you do, you know more about something than I do. It doesn't matter if you're a crafter, nurse, mechanic, guitar player, "handyman", developer, graphic designer, or admin assistant. There's an app for that.
And, if you dream of running your own business from the road, but don't know where to begin – we show you how you can do that too. Passion and purpose are just the beginning.
Why? Because the definition of workamping has changed since we first hit the road 15+ years ago.
They don't just write about it; they live it too. This guide won't steer you wrong
JODY ANDERSON DUQUETTE
EXECUTIVE DIRECTOR, WORKAMPER NEWS
Get your favorite format of our workamping guide, Income Anywhere!
Thank you for your patience, and support!
Rene and I completely overhauled this 4th edition of our first workamping guide to help the increasing number of full-time RVers and nomads learn how to earn an Income Anywhere! It took a long time, because we scoured the internet for all the best workamping, remote employment and gig economy resources.
I would recommend this book to anyone who wants realistic ways to earn income while traveling.
If the first review and our Hot Release ranking are any indication, the response so far appears to prove this update was well worth the wait.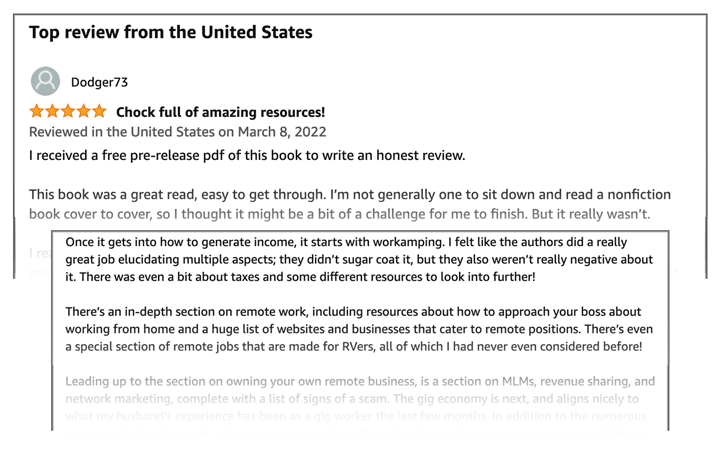 I would recommend this book to anyone who wants realistic ways to earn income while traveling.
Stay tuned for more details and excerpts from the book. Or get yours now in the Live Work Dream Shop or on Amazon.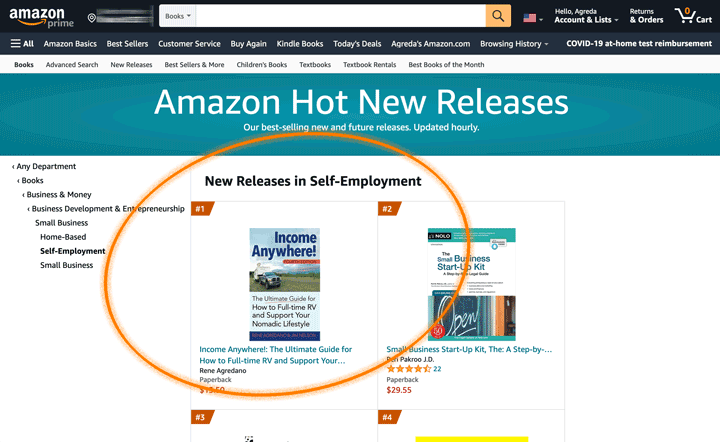 We look forward to hearing your feedback too! The first 10 readers who sends us a link to their Amazon review along with proof of purchase will receive a free copy of our Be More Dog e-book.