Amazon CamperForce promotes workamping at Amazon as, "seasonal warehouse jobs that keep your adventure going."
Full-time RVing is an adventure indeed. And, earning income on the road is necessary to keep that adventure going. The Amazon CamperForce program is an excellent way to make money while saving on RV site rent.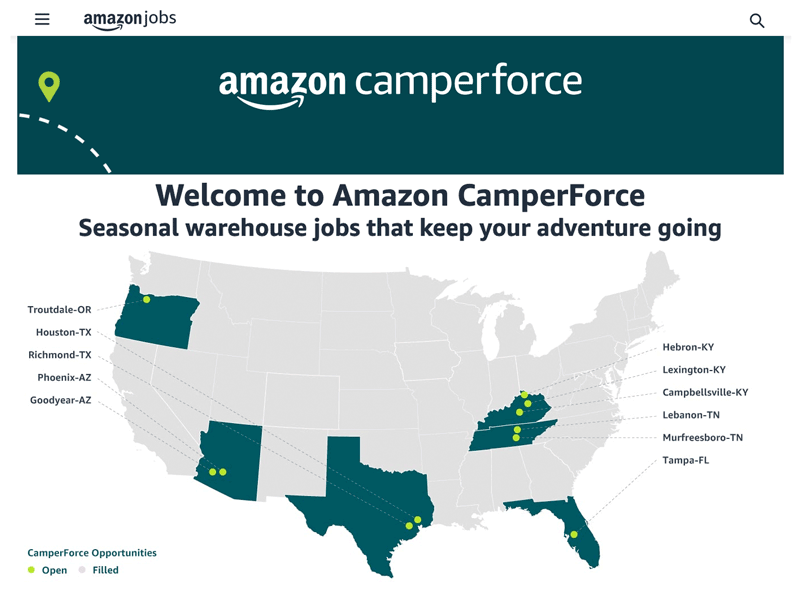 A lot has changed with Amazon CamperForce since Rene worked at the Fernley location back in 2009. For starters, workamping at Amazon was not yet called the CamperForce program. And the Fernley location is no longer in operation. Well, the warehouse is still there, but it is not an Amazon distribution center anymore.
Workamping at Amazon?
The Amazon CamperForce program provides seasonal jobs for RVers at Amazon warehouse locations across the United States. Duties, wages, and hours vary depending upon the specific needs at each center. The Camperforce program hires Workampers to pick, pack, and ship customer orders during peak seasons. Amazon pays a competitive wage for all hours worked. You'll also receive "CampPay" to cover the expense of RV site rent at a nearby campground. Consequently, to join the Amazon CamperForce team, apply here. Then reserve your own campground spot, and show up for work. It's that simple.
Amazon's CamperForce program provides seasonal warehouse jobs that keep your adventure going on the road! Join an enthusiastic team of like-minded travelers and adventurers at Amazon CamperForce. It provides great seasonal jobs at a growing number of state-of-the-art Amazon warehouse locations across the US. You could pick, pack, and ship customer orders in a highly technological and safe work environment. All it takes is applying, reserving your own campground spot, showing up, and making history. Now accepting applications for fall jobs!

— Amazon.com/CamperForce
Now Hiring!
Find positions at various locations during the summer season. These assignments can start in early May and run through the end of July. Fall peak season assignments begin as early as September and can run through February, depending upon location. Visit the CamperForce website for current opportunities and complete details.
Workamping at Amazon helps RVers put money in the bank, and save on site rent!

– Rene, 2009 CamperForce Associate
Amazon CamperForce Questions & Answers
Can you make money workamping at Amazon?
Full-time and part-time jobs are available for workamping at Amazon distribution centers around the country. As of June, 2022 the CamperForce program pays hourly wages up to $18.50, depending on location. You must work a minimum of 4 "sorts" per week. And you'll be regularly scheduled 4 hours for each sort. Depending on volume, however, hours may be flexed up or down up to 1 hour.
The maximum number of sorts you can be regularly scheduled is 6 per week. However, depending on volume, your scheduled sort(s) may vary by up to 1 hour. The maximum number of hours per week is 30. In addition, you may have the opportunity for Voluntary Extra Time throughout the busiest seasons.
CampPay covers your campground cost.
CamperForce associates receive between $120 – $270 weekly based on location to go towards their campground expenses. The CampPay stipend is paid in addition to wages earned on each paycheck. This amount is itemized and taxed at the same election amount that you have listed on your W-4.
Residing in an RV (of any type) at an area campground for the duration of the assignment is a requirement of the CamperForce program. You are paid CampPay directly, not the campground. And, you may choose the nearby campground where you would like to stay. You're not required to advise CamperForce of your campground arrangements.
I liked it. It is fast paced, and I did packing, sorting bins from a conveyor belt, and something else…

– Angela
Does Amazon pay a bonus?
Both part-time and full-time CamperForce associates are eligible for to receive an Assignment Completion Bonus. You must complete your entire assignment. As a result, you'll then receive $0.50 for each hour worked in a week up to 40 hours, and $1.00 for hours worked in a week over 40 hours. If you do not complete your entire assignment, up until the last required shift, you forfeit your completion bonus.
Employees can also receive a $125 referral bonus. The new applicants must list the current associate's full name on their application. However, they can not be a previous CamperForce associate. In addition, they must complete at least 30 days of their assignment.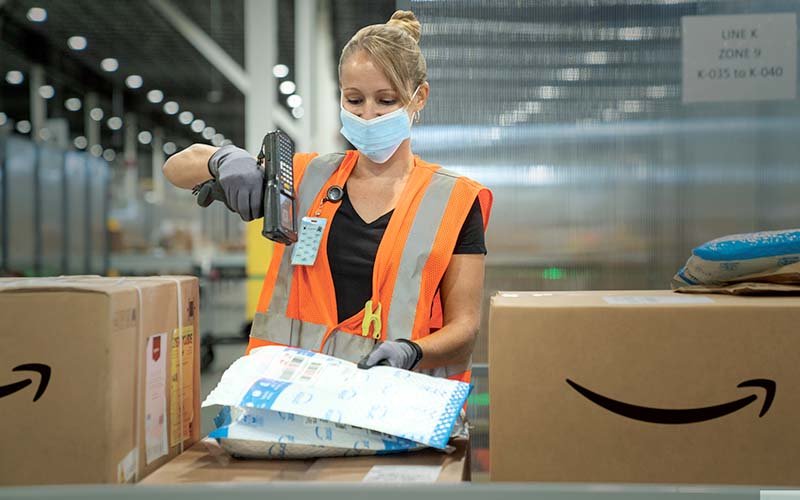 Amazon CamperForce Assignment Details
Each individual CamperForce associate must complete their own application from start to finish. As a result, if you have a traveling partner that wishes to work for Amazon CamperForce, they must submit their own application
In addition, associates cannot transfer from one assignment to another. Therefore, once you complete your application, you are committing to that particular assignment. As a result, if you choose to leave mid-assignment, you will not be able to work another CamperForce assignment during the season.
Got more questions? Get complete details about assignments and available opportunities on the CamperForce website.
Loved it. Worked as a Packer. Then became a smart pack machine operator…I recommend it always. But if you are a slow moving person, don't work there. It's for fast paced people. Easy, repetitive.

– Tamara
Finally, when you apply for an Amazon CamperForce job, be prepared for the job you are assigned. You cannot select your preferred assignment. And the physical challenges of each position vary greatly. To clarify, as a picker, you may put in quite few miles each day running around the warehouse. As a packer, you'll be on your feet for hours at a time. Regardless, the fulfillment center is a fast paced environment.
Most importantly, workamping at Amazon is an exciting opportunity for Workampers who need or want to make good money in a short time while saving on rent. Learn more here.
Amazon is one of a growing number of companies hiring seasonal workampers. We discuss more in our Amazon #1 New Release rated workamping guide and full-time RVing handbook, Income Anywhere!