We accomplished our goal to get #1 New Release ranking on Amazon again with launch of the fourth edition of our workamping guide and full-time RVing handbook, Income Anywhere! This doesn't happen on its own. There are specific steps self-published authors can take to have their books to get #1 New Release on Amazon.
The best methods to get #1 New Release on Amazon include planning ahead, selecting the best categories for your book, and good timing. Determining your launch schedule, soliciting reviews, and persistent promotion help Amazon algorithms rank your new release higher. This gets your book seen by more Amazon shoppers. As a result, more sales improve your ranking even more.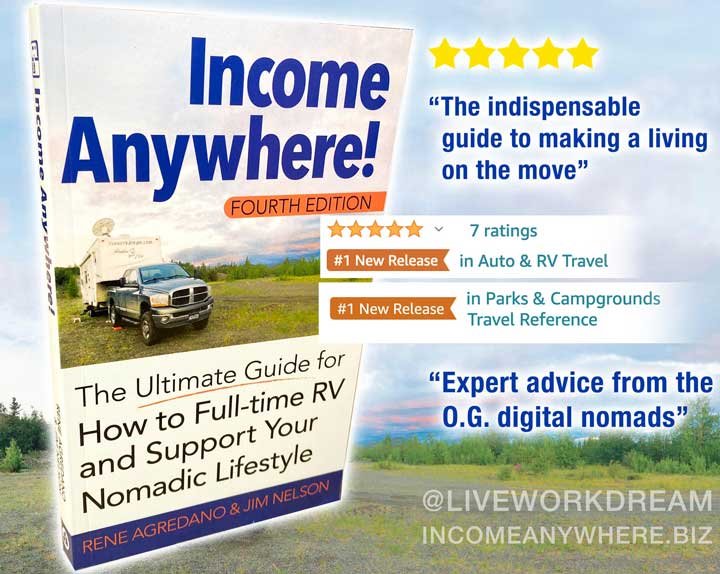 Writing a book is hard work. So are editing, design, and production. Once you have your final paperback and e-book files prepared and your KDP account ready for release, then your real work begins. Marketing your book can be more challenging than all the writing you did. Adding the Amazon #1 New Release badges to your messaging helps your book stand out and identifies you as an authority. But nobody is going to send you that badge, and first you have to earn it.
Plan Ahead to Get #1 New Release Ranking
Once you've determined your launch schedule, proper planning will get your marketing efforts off to a good start. One thing to consider is that you cannot set up a Amazon pre-sale for paperback books. Setting up a pre-sale for your Kindle e-book can help generate buzz, and provide a place to point people in advance of your book launch date. Kindle Direct Publishing guidelines state it can take up to 72 hours for a book to be available once you hit the Publish button.
I've found this has never taken longer than 48 hour, and the book may even be available within hours. So plan accordingly and publish your paperback a day or so before the publication date you set for your e-book. This will ensure both editions are available on the launch day for your new release.
NOTE: We created a pre-release sale in our own LiveWorkDream Bookstore to offer both versions prior to our Amazon release date. Once the book was live, however, we drove all traffic to purchase on Amazon to help improve our new release ranking.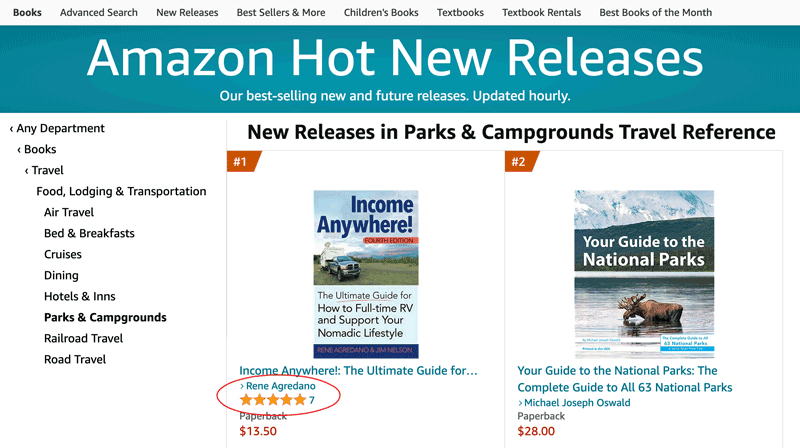 The following are a few more lesser knows self-publishing secrets to help your book get #1 New Release ranking.
How to Get Advance Reviews for Your New Release
When publishing on Amazon, one of the best factors to help rank new releases higher is the number of reviews posted as soon as the book is available for purchase. You can get your book reviewed on publication day by developing an Advance Review Copy strategy and schedule. Curating a list of potential readers and sending out ARC letters can ensure your book receives reviews during its first week on Amazon, when it matters most.

Reach out to colleagues, friends, and family to start building your list of advance reviewers. You will be sending these people a free copy of your book, so make sure you have your final PDF ready for publication. Grow your list by soliciting reviewers on LinkedIn or niche Facebook groups you belong to. Then draft your series of ARC letters and send these emails at key points during your book launch schedule.
4-5+ Weeks Prior to Launch: Send individual personalized letters announcing your new book. Provide a summary, and ask about reviewing the book in exchange for a free copy.
3 Weeks Before Release Date: Send selected reviewers the final PDF of your publication ready book.
1 Week Before Launch: Send a reminder about how excited you are for the upcoming book release. Mention how grateful you are for their help with your launch by posting a review.
On Release Day: Email them early on your launch day. The night before your book launch, schedule an email to go out to your ARC list at 6:00 am Eastern Time the following morning. The purpose of this email is to remind everyone to leave a review, with specific instructions about how to do so. Be sure to include the link to your book page on Amazon.
One Week Later: Follow up with another reminder and review instructions.
Be grateful and play by the rules.
Be sure to thank all of your ARC readers. Ask them to leave a rating and honest review. Do not entice them to leave a 5-star rating or incentivize them with any sort of monetary reward. Amazon algorithms are also very smart, and they don't treat fake reviews well. That's why it's also very important to include clear instructions similar to the following:
Don't forget that Amazon requires you to include something like "I was given a free copy to read" or "The author gifted me with a copy" or "I received an advanced copy from the author."
Don't expect everyone to leave a review. Only about 75% of the ARC readers we sent free copies to posted a review. All those that did, however, gave a 5-star rating for Income Anywhere. And, we had at least one reviewer also buy the book on Amazon so his review appeared from a Verified Purchase.
Income Anywhere is the indispensable guide to making a living on the move…Whatever your adventure looks like, this book is the essential companion.
Inspiring. Actionable. Valuable.
bradyo, Amazon Review (Verified Purchase)
Crafting an Advance Review Copy strategy can help self-publishers increase the ranking of their new release in their selected book categories. Planning much farther ahead may allow you to send paperback copies for review to publications and websites. Scheduling published reviews on popular sites or guest appearances on podcasts to coincide with the launch of your book may require long term planning up to a year in advance.

Optimize Amazon Book Categories to Get #1 New Release
In your KDP account, you will only find two fields for entering your book categories. Selecting the right categories is important. But few self-published authors know that there is a way to get your book listed in up to 10 categories, for each version (Kindle & Paperback), on each marketplace (.com, .ca, .uk, etc). I'll skip all the details because Kindlepreneur provides this excellent resource for selecting the best Amazon book categories.
Kindlepreneur: Secret Method to Choosing the Best Amazon Categories
That post includes step be step instructions for Identifying the best categories, with instructions for how to add more than two for your book. There is even a calculator for help determining how many books must be sold to earn #1 Best Seller ranking.
For Income Anywhere! we chose the most relative subjects as our primary categories when preparing the book for release on Amazon: Auto & RV Travel and Self Employment.
Amazon Category Request Example
Once our book was available on Amazon, we followed the Kindlepreneur instructions to get it listed in more categories. We sent the following request to Amazon for each book version on multiple marketplaces:
Please update our paperback book listing with the additional categories listed below. Do not remove or replace any existing categories. Thank you!
TITLE: Income Anywhere!
ISBN: 1733468935
Format: Paperback
Categories To Be Added:
1733468935, .com, Paperback > Books > Travel > Food, Lodging & Transportation > Road Travel Reference
1733468935, .com, Paperback > Books > Travel > Food, Lodging & Transportation > Parks & Campgrounds Travel Reference
1733468935, .com, Paperback > Books > Business & Money > Business Development & Entrepreneurship > Small Business > Home-Based
1733468935, .com, Paperback > Books > Business & Money > Business Development & Entrepreneurship > Small Business > Self-Employment
1733468935, .com, Paperback > Books > Business & Money > Business Development & Entrepreneurship > Entrepreneurship
1733468935, .com, Paperback > Books > Business & Money > Job Hunting & Careers
I was surprised at how quickly Amazon added our requested categories! We heard back almost immediately with no questions asked. I credit this to following this specific formatting with my request.
How? Your must have your ISBN or ASIN numbers, and the book must be available for sale or pre-sale (Kindle). Do your category research and know the specific strings as I've shown above. Then log into your KDP account and visit the Help/Contact Page for Author Central. Select "Amazon Book Page" under "How We Can Help". Then select "Update Amazon Categories". See the Kindlepreneur article for complete details.
Time Launch to Get #1 New Release Badges
Once your book is live on Amazon, promote it everywhere to spread the word. We announced our book pre-sale in the LiveWorkDream blog, then published an announcement post. For each new post, our blog subscribers received email notifications. Our IFTTT applets automatically shared them to our Twitter followers and Instagram feed. I then proceeded to share the news about our new book on LinkedIn and in the Workampers Facebook Group. I updated our Amazon author pages and my Goodreads Author Profile.
Nobody is going to notify you when you get #1 New Release ranking for your book. And they won't last long either. So timing is key. After all your efforts, it is important take screenshots of any high rankings you earn for use in your marketing materials. This requires constant monitoring of your book page and checking your rankings daily.
Once you get #1 New Release badges displayed on your Amazon book page, take multiple shots of your screen with various different views. Use shift+cmd 5 in MacOS to capture specific areas of your screen. On Windoze machines, tap the Windows+PrtScn keys to copy your screenshot to the clipboard. Paste that into the MS Paint app or use other methods to capture screenshots in Windows.
Pro Tip:
Zoom in your Browser window (cmd+) to enlarge the #1 New Release badge to fill your screen. Capture the large close up view so the badge appears clear at any size in all your book memes and marketing materials.
This is full of information to successfully full time in our RV…A must have for anyone researching the RV life!
Well written and full of information
Kelley Z, Amazon Review
Content is Key!
Above all, you must publish high quality content for your book to ever get #1 New Release on Amazon. The strategy to target fringe categories where your book might rank higher is one thing. But we selected primary book categories most relative to our subject matter. We've ranked as high as #3 in Self Employment so far. That's impressive considering the number and caliber of self employment books out there. And, the competition for new releases among the Auto & RV Travel category and Parks & Campgrounds Travel Reference books is tough. Our ultimate workamping guide had a slim chance to get #1 New Release in either. Yet, we were thrilled to see those badges show up. And glad we grabbed them.
This only goes to prove that readers and Amazon reviewers appreciate quality content and high production value. Self publishers who produce good books and write great descriptions are well on their way toward a successful book launch. Planning ahead and persistent promotion are then required to get the job done.
This post isn't just bragging about our book ranking or how to get #1 New Release for your book. It is another example of long form niche blogging for evergreen content with e-commerce product promotion and affiliate marketing. We cover all these topics in great detail throughout the Self Employment chapter of our full-time RVing guide and digital nomad handbook, Income Anywhere!
Not an Author? No Worries!
That chapter provides more than self publishing tips, with many resources about finding your niche, becoming a coach, starting a podcast, growing your audience, and much more. The Workamping Chapter provides numerous links for finding lesser known workamping opportunities beyond the typical campground jobs. We titled another chapter Making Money because we share numerous other proven methods and apps to generate income in the gig economy. And we start with a Hitting The Road chapter where we share our story and ideas about downsizing, selecting an RV, transitioning to the nomadic lifestyle, and doing it all debt-free.