tldr; The exhibit with study drawings for Abstract Thought is a Warm Puppy is one of my most favorite items on display at the Charles M. Schulz Museum. And, I finally found out where the full work is featured. But no, I won't be sharing the whole thing here. Just a few highlights and personal feedback.
As I drove away from the recent panel discussion celebrating 100 Years of Charles Schulz, I realized I neglected to get a photo with Patrick McDonnell and his amazing wife Karen. It's been about twelve years since I met Patrick and asked him to write the foreword for our Be More Dog book. We had a wonderful chat before the event, and Karen gave me a personal tour of the museum. And afterwards, I got to meet another comic creator hero of mine, Stephan Pastis. I told him how I was a huge Pearls Before Swine fan, and that long ago I gave Rene a Zeba Zeba Eata t-shirt. But there I go again, digressing already…
My point here is that I shared so many photos in my last post with some favorite artifacts from the Charles M. Schulz Museum collection. Yet, I had no photos with a few of my favorite artists. I also neglected to include one of my most favorite artifacts from the museum. One exhibit features the works of other comics creators paying tribute to Sparky (aka: Charles Schulz). In addition Patrick's and Stephan's strips, the one that caught my attention the most includes a few study drawings for Abstract Thought is a Warm Puppy.
What Is Abstract Thought is a Warm Puppy?
What exactly is abstract thought for that matter? The title in question here is Abstract Thought is a Warm Puppy. The items on display are study drawings by Art Spiegelman. I am a huge Maus fan, but I had never heard of that. So, I asked a museum docent. She had no idea either. "You may want to Google it," she said…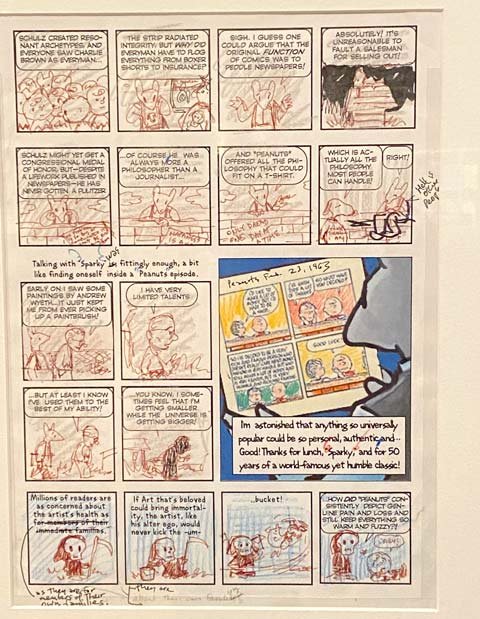 With a few quick searches, I discovered that Abstract Thought is a Warm Puppy was first published in the New Yorker. This three-page color spread featured a 44-panel strip for the magazine's COMIX 101 series. This work appeared in the print edition on February 14, 2000. With his words and thought-provoking artwork, Spiegelman provides insight on the retirement of "Peanuts" cartoonist Charles Schulz. Alas, I have no New Yorker subscription. But I was determined to view the whole piece. As a result, with a few more image searches, I found all three pages. As a professional graphic designer myself, I'm not sharing those full images. There is a bit of copyright concern here. But it is mostly out of respect for the creator.
However, I am happy to share the photos I took at the museum. After all, I asked and was granted permission. I especially enjoyed seeing the exhibit of study drawings on display for this work in progress. It provides a peek behind the scenes at Spiegelman's process. The piece itself dives deep into the deep meaning underlying Sparky's simplicity and grace of design.
Peanuts was about nothing, years before Jerry Seinfeld was born.
Art Spiegelman
Abstract Thought is a Warm Puppy
The Funnies Need Not Always Be Funny
I'm sure there are many out there who may not appreciate graphic works like Maus, and Spiegleman's In The Shadow of No Towers. For some, the "funny papers" have to be funny. But for many of us, they have much deeper meaning. That's why I love Patrick's work with MUTTS so much. Guardians of Being is an all time favorite, and Be More Dog readers know that has something to do with a certain strip about Now.
With Abstract Thought is a Warm Puppy, Spiegelman admits how much of an influence Sparky had on his own work. An influence he wasn't always aware of. He also illustrates how much Schulz changed the postwar newspaper strip. He defines the essence of Peanuts, "slowly paced timing and highly defined characters…" through the creation of a, "spare little strip that didn't need to be followed daily."
This is what it's all about, to get feelings of depth and roundness, and the pen line is the best pen line you can make. That's what it's all about.
Charles M. Schulz
The Simplicity of Snoopy and Pals
The underlying punchline of many a Peanuts strip is, it is what it is. Good Grief! Getting the gag often depends upon deeper thinking. Or, a deeper connection with the subject matter that touches you personally. Take this single panel that struck me close to my heart. On it's surface, the regular reader may grin at Snoopy's feedback. As a graphic artist, I'm touched by the memory of so many clients who have asked to, "make it big, and make it red".
As for Spiegelman, he gets it. As did every comics creator on the Centennial Celebration panel I attended. They all had stories of how Sparky personally touched them, and influenced their work. They all mentioned how every comics creator felt the same influence. I would argue the same for all Peanuts fans as well.
Abstract Thought is a Warm Puppy is titled in reference to one of Sparky's most acclaimed works, Happiness is a Warm Puppy.