I had the honor of celebrating 100 years of Charles Schulz with some of my favorite comic strip creators. Readers of our Be More Dog book understand our love of MUTTS, and the connection we have with its creator Patrick McDonnell. That's why I was thrilled to learn about the panel discussion Patrick recently participated in celebrating the 100 years of Charles Schulz. The event was held at the Charles M. Schulz Museum in Rohnert Park, California. Though I grew up in Petaluma, I had never been to the museum! Many thanks to Karen O'Connell for the personal tour. 🙂
Patrick and his wife Karen and I were supposed to connect at a similar event a couple years, but a little pandemic was just shutting things down. So I was excited to chat with them before the main event this time. Al Roker was scheduled to moderate the discussion, but had to cancel. Museum Curator Benjamin L. Clark filled in flawlessly.
In addition to Patrick McDonnell, other artists included some of the cartoonists whose work I've always enjoyed. Stephan Pastis (Pearls Before Swine), Robb Armstrong (JumpStart), and Cathy Guisewite (Cathy), joined Patrick in telling tales about how they were all influenced by Schulz. One common thread was ow "Sparky" was clearly a kind, genuine, and generous human being to everyone he met. (For those unaware, Charles M. Schulz was known as sparky since childhood. He earned his nickname after Spark Plug, from the Barney Google comic strip.)
The Art and Life of the Peanuts Creator in 100 Objects
As if the presentation wasn't enough, my ticket price included a copy of the new book Celebrating 100 Years of Charles Schulz. This incredible hardbound edition beautifully depicts the life and times of "Sparky" and his Peanuts creation. The framework of the book is the Art and Life of the Peanuts Creator in 100 Objects. Renowned artists comment on these 100 carefully curated objects from the museum's collection of original artwork and artifacts. I was hoping to get the book signed by everyone on the panel. But to my surprise, it was already autographed by all four artists, Clark – the book's creator – and Jean Schulz.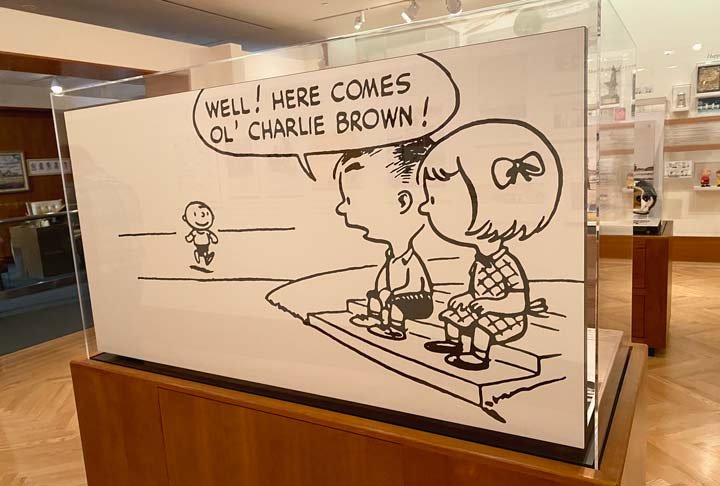 Celebrating 100 Years of Charles Schulz is like a bound edition of the museum. Within it's pages you'll find treasures from the massive collection you can browse in person. I could have spent hours learning how Li'l Folks Became Peanuts – a name Schulz did not care for that was given to the strip by his syndicate. (A similar story to Armstrong's Jumpstart which he originally titled Cherry Top. The syndicate found that title to be a sexual reference. Though it is really a nickname for a police car.)
The book is a must for any Peanuts fan. It dives deep into the history and evolution of Sparky's career. It does so with the help of renowned comics creators and other celebrities who comment on their favorite artifacts from the collection. Of course, the book features highlights from Sparky's early work. And the item Patrick McDonnell chose to share was this early strip from 1950. I was exited to see his tribute to this same strip hanging in the museum
Comics Creators Pay Tribute to Sparky
One gallery of the museum is dedicated to how others have been influenced by Sparky's work. The exhibit clearly illustrates how any successful comic artist has been touched by Peanuts. If not personally mentored by Schulz himself in some way.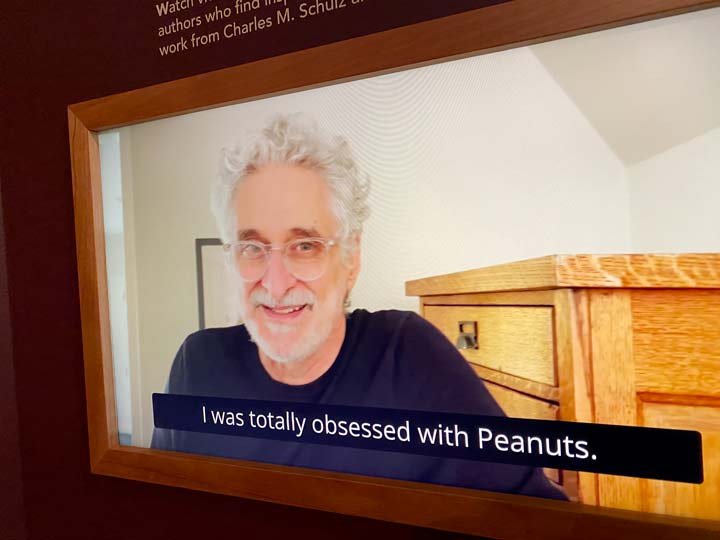 Every person on the panel had a story to tell about their relationship with Sparky. And more can be heard in a looping video at the museum. Fun Fact: Did you know Franklin was the only Peanuts character without a last name? Until, that is, Sparky called Robb Armstrong one day to ask permission to use his.
How I Celebrate 100 Years of Charles Schulz
There is no way I could share all the photos from my visit to the museum celebrating 100 years of Charles Schulz. More can be found in our Live Work Dream Galleries. Check the Attractions and Art Scenes collections. However, these artists share their thoughts on 100 objects in the new Charles M. Schulz Centennial Book. So, I'll share a few of the artifacts on display that really stood out for me at the museum.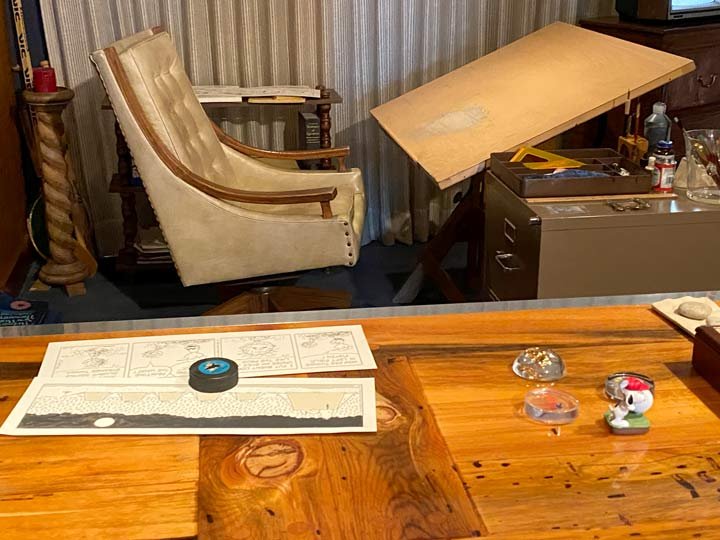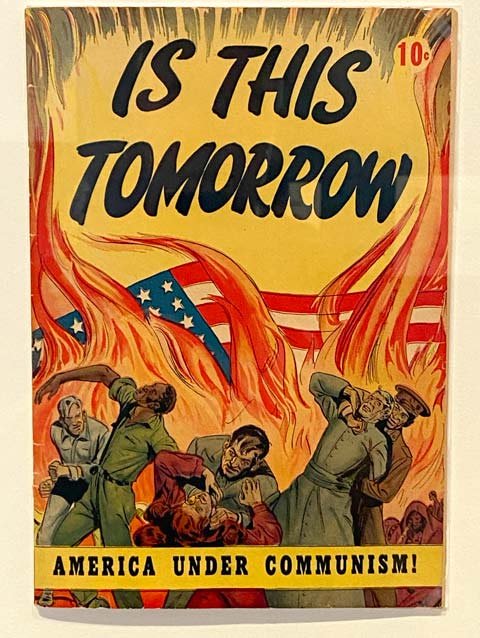 As a graphic artist, seeing where Sparky created Peanuts for 50+ years was truly touching. The Charles M. Schulz Museum meticulously recreated his studio with the finest detail. From his books and record collection to the polyester curtains from my childhood. The impression on his drawing board from creating every Peanuts Strip is, well…impressive. I also enjoyed learning the history of Sparky's career. Some of his first work was lettering for a series of catholic comic books.
Spike was always a favorite Peanuts character of mine. That was my nickname in college. When I asked to see any strips on display depicting Snoopy's cousin, the docent showed me the very first drawing Sparky ever had published. It was a sketch Schulz drew of his own dog, named Spike. He submitted it to Ripley's Believe It Or Not when he was 14 years old, on New Year's Eve of 1936. The drawing was published in early 1937, depicting Spike's strange and unsavory snacks.
Other favorites created by Sparky include an original illustration of Snoopy which I believed was used as the basis for a mural in the Schulz home. And, far too many strips to mention. Those who met Wyatt will understand why I include the one above.
More Favorite Artifacts from the Charles M. Schulz Museum
One of the most striking objects I found in the museum is the mural that can't be missed upon entry. It appears to be a black and white scene of Lucy ready to pull the football away from Chuck. Good Grief! This is actually a tile mural created from individual Peanuts comic strips printed on ceramic tile. The Peanuts Tile Mural is one of the museum's permanent exhibitions. It was created by Japanese artist Yoshiteru Otani. Measuring slightly larger than 17 x 22 feet, the mural covers the south wall of the entry hall.
Only ten years of Peanuts is depicted with 3,588 Peanuts daily comic strip images printed on individual 2 x 8 inch ceramic tiles. Otani was at the event, but I missed the chance to meet him and get a photo in front of his masterpiece. But then I discovered this genius adaptation of his work…in the Men's room!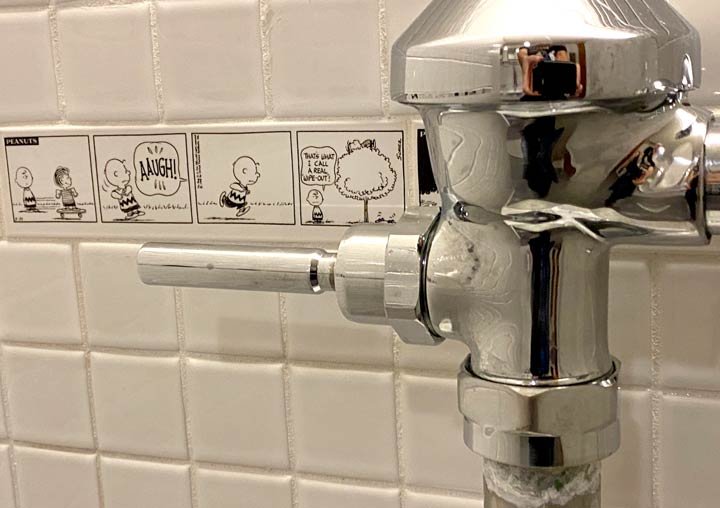 The Christo Connection
Finally, there was one more object that I thought an amazing way to celebrate 100 years of Charles Schulz. Having grown up in Sonoma County, I've always been a fan of work by the artist Christo. That is where he installed the Running Fence. I recognized the Wrapped Snoopy House as their work immediately.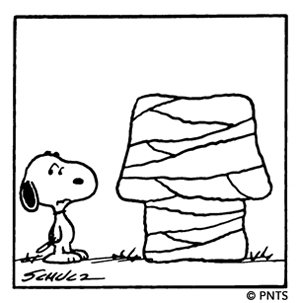 The installation includes photos and narrative about the Running Fence, and the relationship between Charles and Jean with Christo and Jeanne-Claude. In 1978, Sparky created a comic honoring Christo's work. The strip has Snoopy wondering what the artist's next masterpiece might be. Twenty-five years later, the artist returned the compliment by creating the the life-sized doghouse wrapped in tarpaulin, polyethylene, and ropes. He presented it to Jean Schulz in 2003, and it is now on permanent display at the Charles M. Schulz Museum for all to enjoy.
If you're a Peanuts fan, or have one on your Christmas List, I highly recommend the Charles M. Schulz Centennial celebration of his art and life. And if you're ever in Sonoma County, be sure to include a visit to his museum during your trip. there's no better way to celebrate 100 Years of Charles Schulz!
100 Years of Charles Schulz?
Oh, Good Grief! I neglected to explain this 100 years of Charles Schulz. Sparky's birthday is November 26. This year he would have turned 100 years young. That's why this fantastic book celebrates The Art and Life of the Peanuts Creator in 100 Objects.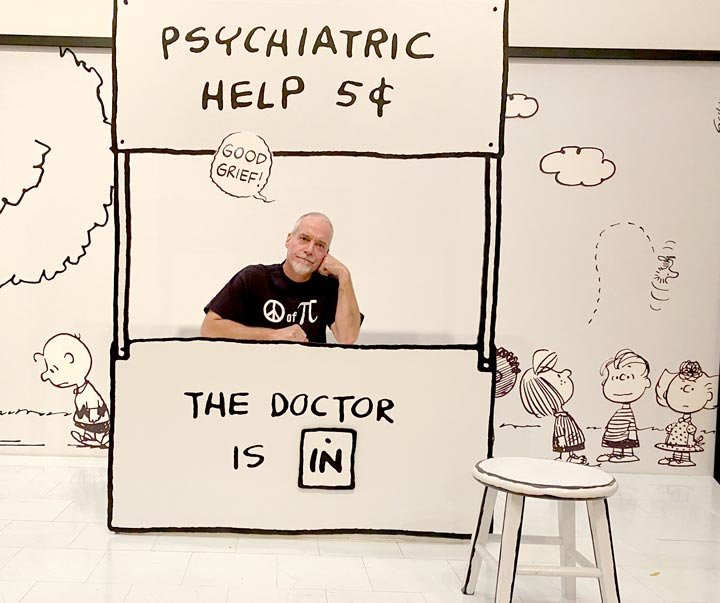 Stay tuned for some favorite strips! What's your fondest Peanuts memory?