The RV community is abuzz with talk about satellite internet. But here's why we won't buy Starlink for RVs.
We are no strangers to satellite internet for RVs. One of the first things we installed on our first Arctic Fox was a MotoSat RV DataStorm unit. The ability to earn income anywhere allows us to stay on the road for 15 years and counting.
First, we think mobile RV satellite internet is awesome
Nobody has to convince us that getting online from the middle of nowhere is terrific. Mobile satellite internet has connected us to the internet everywhere from Alaska (barely!), to the Mexico border.
Our first rooftop mounted system was not cheap. But we found it was worth the money.
The DataStorm was so essential to our nomadic lifestyle, that we invested in a second unit. In 2014, our RV DataSat 840 from MobilSat replaced the DataStorm. Again, not cheap. And while cellular broadband was getting better at the time, it still had limitations. Satellite internet data is expensive, but overall, the DataSat was once again worth the investment.
The only limitations our RV DataSat has is we need a clear view of the southern sky. And when something breaks, you need an uber geek onboard to figure it out. Thankfully, I'm married to one.
But here's 3 reasons why we won't buy Starlink for RVs
When we first heard about Starlink for RVs, the idea was intriguing. It would be nice to have a smaller system with less expensive data. But despite the pros of Starlink, we won't be buying a system. Here are three reasons why.
Have you looked up at the sky lately? Night sky pollution is about to get much, much worse as more people get Starlink systems. Light pollution and frequency intrusion are interrupting astronomy studies all over the globe.
Users say Starlink for RVs technical support is awful.
It appears that Starlink was released without regard to how to support the customer base. Most users don't have the kind of technical experience needed to troubleshoot mobile satellite internet. It's a whole different game than cellular broadband.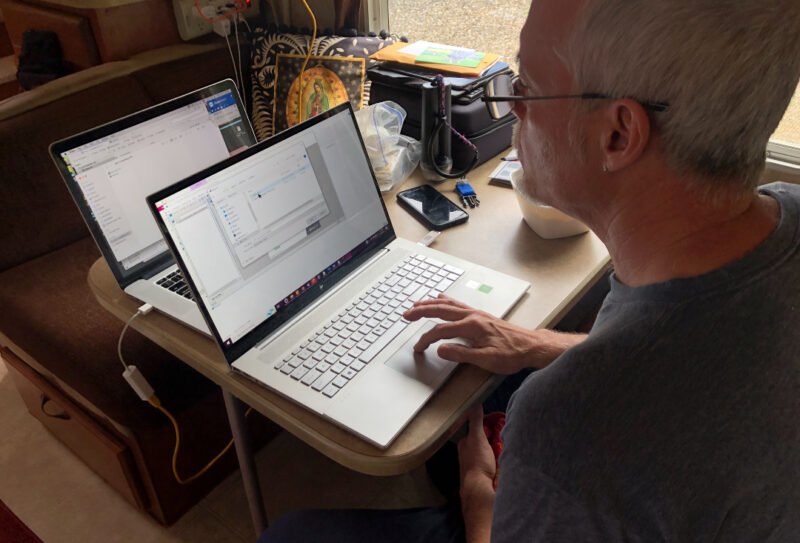 And finally, Elon Musk is an asshole.
This is my number one reason why we won't buy Starlink for RVs. Elon Musk is an embarrassment, a bad boss, a misogynistic pig, and simply put, a real asshole. RVers hot on the Starlink bandwagon are all too eager to give this prick their money.
Is being online anywhere worth the damage he is doing to the planet, and other people? I say NO!
Starlink buyers (and Tesla owners, for that matter) are turning a blind eye to the shitty, hypocritical things Musk has said and done. This man has publicly harassed, stepped on, and abused countless people in his rise to become the world's most financially wealthy person. He is not someone who will get one dime of our money, at least on purpose.
Bonus Reason Why We Won't Buy Starlink for RVs
Another reason why we won't buy Starlink for RVs is because I fear that public lands will see increased impacts from RVers. Have you heard about the number of dispersed camping areas being closed because of bad behavior? It's happening everywhere.
The inability to get online or make phone calls in remote areas is the only thing keeping idiots from overrunning public spaces.
With that boundary lifted, and now with Starlink approved for vehicles in motion, I fear for the state of public lands. You should too.
So there you have my reasons for why we won't buy Starlink for RVs. When I asked Jim his reasons, he agreed with mine, but added one caveat. It's the same one he mentioned when we debated whether or not to keep our Amazon Prime subscription.
Resistance is futile

Jim, on Starlink Internet for RVs