Are you sick of all those mushy love story posts about our life together? If so, thanks for sticking around anyways. Now that our anniversary month is almost over, let's get back to the current hot topic in our life, workamping in Oregon.
This Great Oregon Workamping Job Has One (Big) Problem
The workamper job posting seemed to check all the boxes for a great gig:
The location is Dodge Park. This cool, pretty, forested public park sits on the confluence of the Sandy and Bull Run Rivers. The City of Portland runs the property (specifically, the Portland Water Bureau).
Just a few miles away is Sandy, Oregon. It's a nifty little semi-rural tourist town on the way to Mount Hood.
We don't get paid. But the free campsite in exchange for being the eyes and ears of the park is a great deal.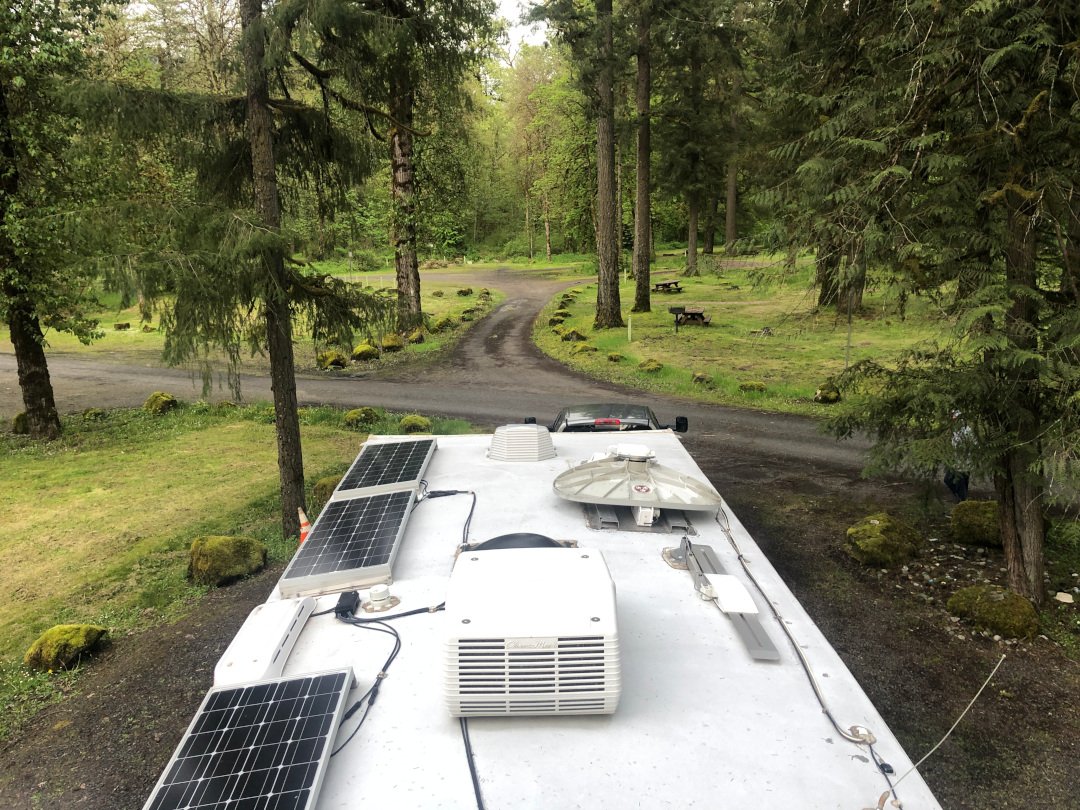 Poor Internet While Workamping in Oregon
The only problem? The internet connectivity sucks. I mean really sucks. This is the kind of place we would have left after a day or two if we weren't already committed to the gig.
When I researched the job, I saw that this area has 5G Verizon network coverage. We have Verizon service, so both of us assumed internet access would be fine. Google Earth showed us that that park has a heavy tree canopy and we knew that using our MobilSat system would not be possible. We went into this knowing we would be entirely dependent on cellular connectivity, like 99% of RVers. And we assumed the 5G coverage would give us good speeds at the park.
Well, you know what they say about assuming.
The Internet Connectivity Situation is the Boss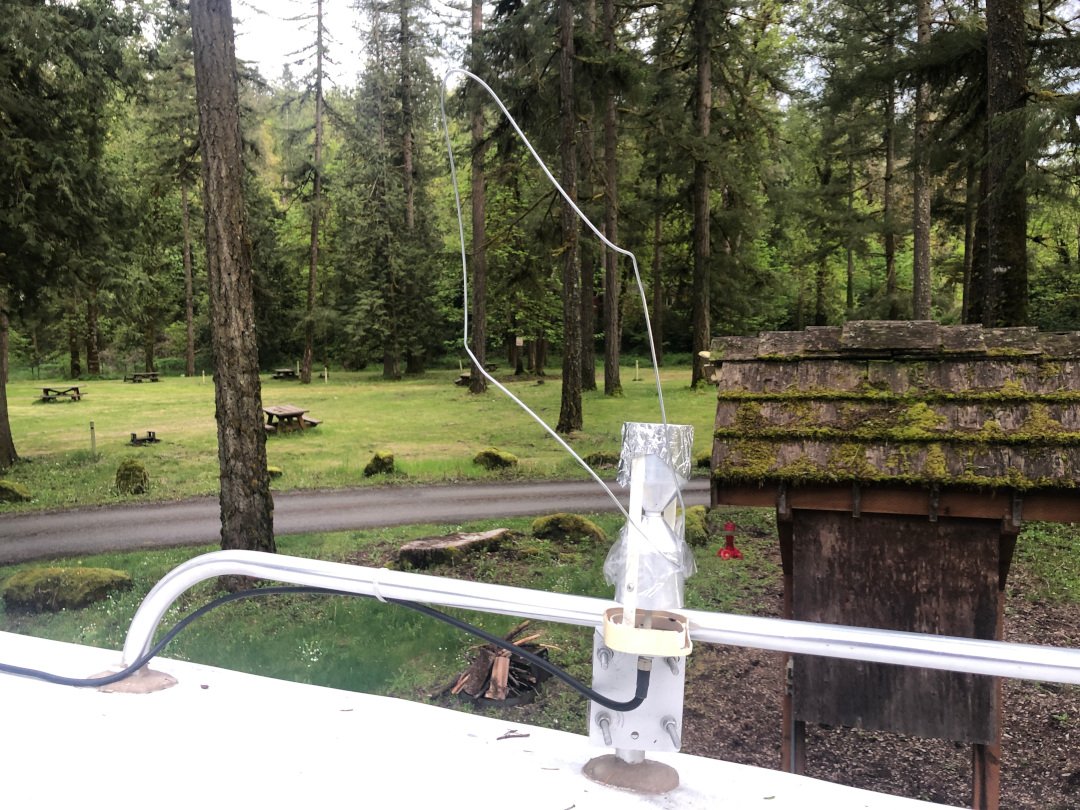 We arrived at the park on a rainy, dark day just over a week ago. Within a couple of hours, the campsite pedestal power went out. And the weak internet signal that actually reached us soon died afterward. We assumed the two were related. And there we went with assuming again.
The next day, we learned the power outage was caused by a grid situation outside the park. That was a relief. But then we discovered the 5G coverage signal doesn't reach down to our campsite on the river. And unfortunately, the housing of our weBoost WiFi antenna had recently broke when we scraped a tree branch in another spot. Desperate for any kind of real signal, I went up top and made this rig. It didn't work. Surprised?
RV Internet Access Rule #1: Never Assume Cellular Broadband Coverage Maps are True
After 15 years full-timing, you'd think we would know this about coverage maps. But that's what so great about this lifestyle, you're always learning something new!
Be warned: if you ever look at a cellular coverage map and it says you'll be covered, don't assume you will. Topography affects your signal. A one-dimensional carrier map doesn't convey how strong or weak the signal will be where you want to camp.
We don't want to be flaky workampers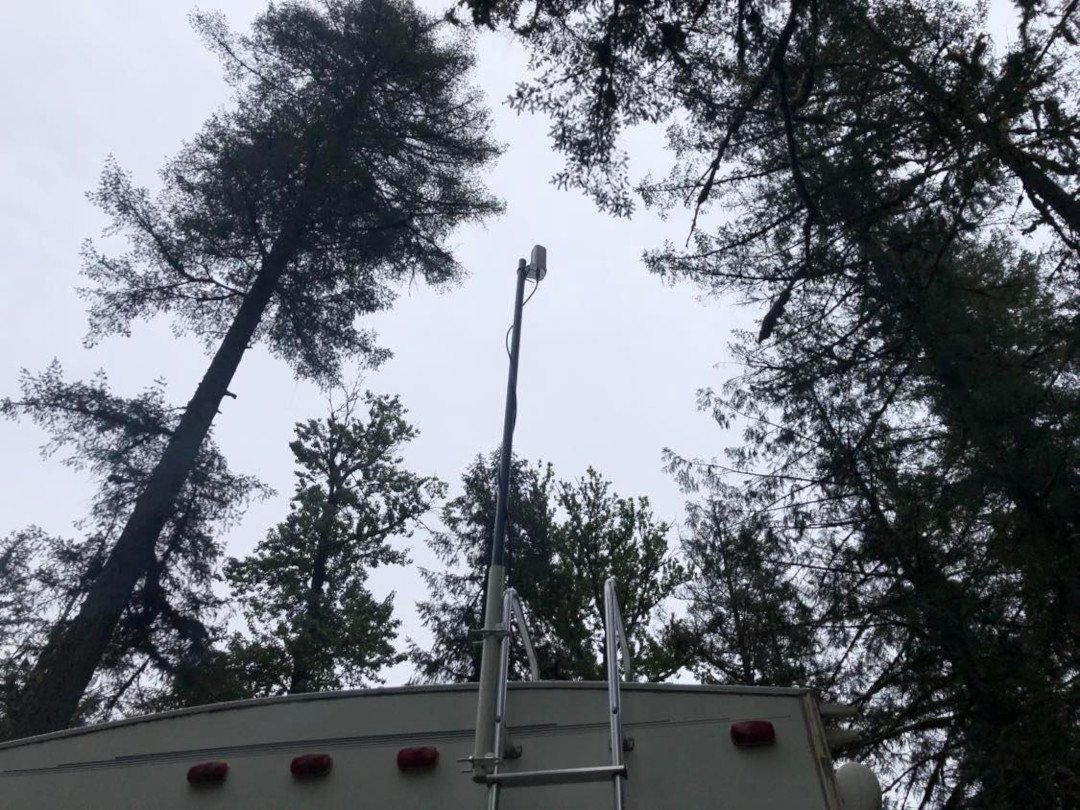 Too many workampers flee jobs or just don't show up at all when they think the grass is greener somewhere else. The workamper lack of integrity problem hurts everyone, especially employers. We don't want to be those flaky people. But our ability to manage our online endeavors is suffering because of the unpredictable cellular signal that comes and goes, randomly dropping throughout the day. It may come down to leaving but we really hope not.
Thankfully, our boss is doing everything in his power to help. He's a top dog within the city of Portland, and has his IT team looking into the internet problem. The park's service yard is just up the hill from us and they have a fabulous fiber optic connection. We've had camp out there to use it. So if the team can get that signal over to us, we are back in business.
This place is otherwise a fine place to go workamping in Oregon and spend summer in one spot. Every day we remind each other that this is another one of those "The Situation is the Boss" episodes of full-time RVing life. Both of us doing our best to keep cool and be kind to one another when we can't get online. But it's tough. You really don't know how much you depend on consistent, strong internet until you lose it.
The things we do for a free campsite!