Okay…before you say "okay boomer" let me explain what I mean by new workampers. Oh, and I'm no boomer. Rene and I have been workamping and working from the road for 15 years now. We're not the only ones observing a trend among new workampers. I've managed the Workampers Facebook Group since starting it in September, 2012. And I've seen a lot of changes to both workamping in general, as well as the attitude and expectations of new workampers over the past ten years. Increasingly so over the past few years, as more people hit the road full-time. Employers are also taking note.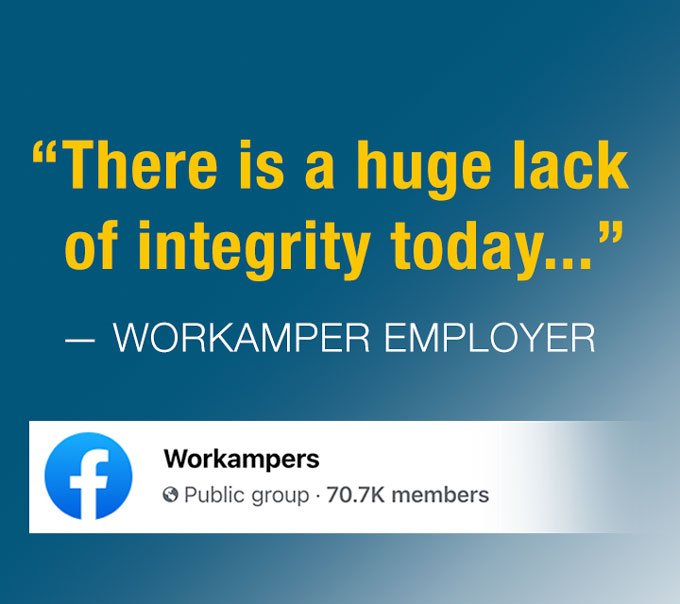 The Integrity of New Workampers
A growing lack of integrity is just one of the changes in workamper behavior I've noticed more increasingly over the past few years. That's one word for it, at least. And I didn't say it first. The word that comes to mind for me is responsibility, or the growing lack thereof. This recent post to the group sums up what is being seeing by workamper employers at parks and resorts around the country – more and more, as more nomads discover workamping. And, it inspired me to finally speak my mind on the subject here.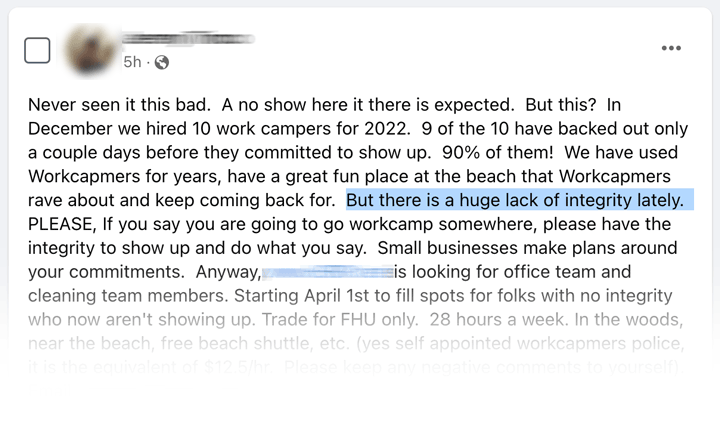 Things come up. Circumstances happen. And nobody knows why 90% of this park's new workampers failed to follow through with their commitment. However, such a drastic increase in one year over the last says something about the batch of new workampers looking for work. At least those applying for, and apparently accepting this job. To simply not show up, or to show but then not hold up your end of the bargain represents, well…a serious lack of integrity. Maintaining honor is worth picking up the phone.
Some reading deeper into this particular scenario may blame the failure to appear on the employer not offering a "fair" bargain. Yes, this job may have been asking 28 hours per week – likely per couple (14 hrs. each) – in exchange for only a full hookup site. Seems fair to me considering the amenities, but ask ten workampers and you'll get ten different opinions. Regardless, this point is moot for any workampers who accepted the job with understanding of the time commitment and compensation. New workampers need to understand that communication and integrity are key when accepting any workamping commitment.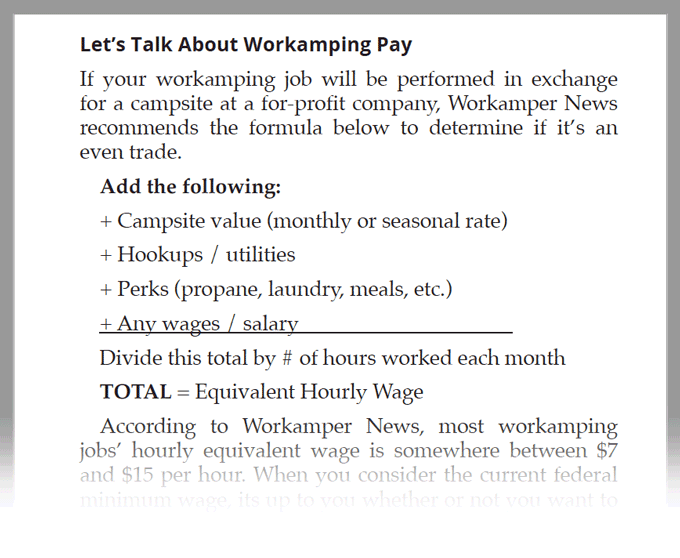 It's About More Than Integrity
I'm seeing that "fair deal" conversation come up much more often. Practically every workamping job posted to the group offering site exchange only is met with an onslaught of "unfair deal" comments. Some participants even attack others who feel it is fair. Numerous employers have reached out to us privately regarding this concern. And many have chosen to no longer post job openings. Most new workampers fail to consider the perks when calculating a campsite value. More importantly, none seem to consider what it's worth to you, personally. How bad we want to be in a certain location is a major factor in the jobs we consider.
Every workamper is different. And none have the right to chastise others for their choice. That's happening much more frequently in the Workampers group. So much that I recently updated the group description, rules, and screening questions. The behavior that caused me to do this all points back to integrity, and the lack thereof.
I attempted to find the group post that got me thinking about this so Live Work Dream readers could follow the discussion and offer their feedback. Within a couple hours it had already been deleted. The employer probably got fed up with negative comments from those…lacking integrity. I did find an open letter to workampers from another employer, posted in 2015. Considering how we've been involved with workamping for 15± years, I still consider this old post indicating a trend among new workampers.
Workamping began as a mutually beneficial agreement between employers and RVers wanting to stay somewhere free in exchange for providing some simple duties. Now, most new workampers demand pay for all hours and cry foul if the time commitment is too much. And apparently, many accepting those jobs are failing to keep up their end of the bargain – or even show up. And too many times, I've seen new workampers berate others who agree to take a job without pay. Many have compared it to indentured servitude. And anyone who calls it modern slavery gets themselves banned from the group. Workamping is not forced labor.
Will Work For Rent
Personally, Rene and I only sought out volunteer positions during our recent workamping job search. For starters, there are so many to choose from! And, jobs offering site exchange only tend to require the least time commitment. And that provides more time for us to focus on the various ways we make money on the road.
Within hours of updating our Workamper News resume, we received emails and calls from numerous employers wanting us to come work for them. Within two days, we were considering two great sounding job offers. After making the difficult decision to take the one job, we immediately called the other employer. We expressed our gratitude, and explained the situation – with honesty…and integrity.