After a summer of being hooked up in Colorado, I couldn't wait to dry camp again. Little did I know that in a few days we would go off-grid in one of the best Arizona boondocking spots we ever had the privilege of enjoying.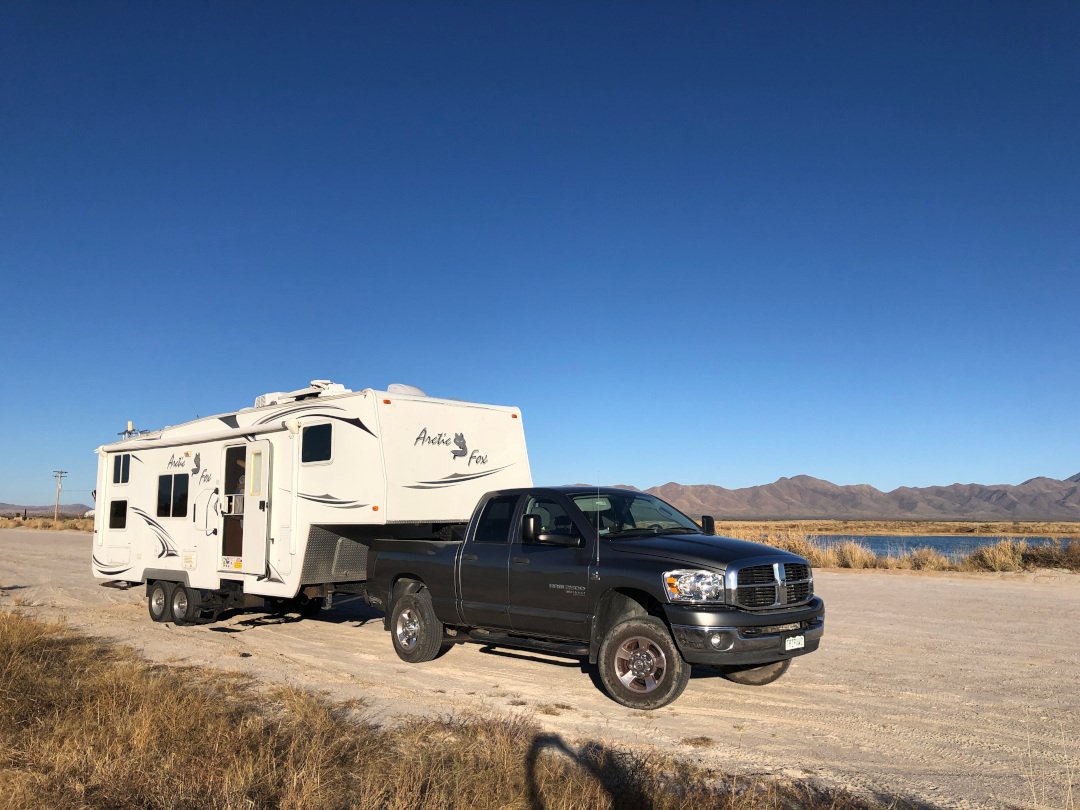 From Books to Boondocking
Back in the dark ages, my favorite hippie college professor made Even Cowgirls Get the Blues required reading for his young and impressionable English majors. I was one of them. In the book, whooping cranes play a huge role in the plot and evolution of Sissy Hankshaw, my all-time favorite shero. The story enlightened me in ways I can't even begin to get into here. I've always wanted to see whooping cranes since reading Cowgirls. But not being a big birding person, I just haven't made it a priority to see them in our travels.
However, we just had a close encounter with another flock of similarly magnificent birds, Sandhill Cranes. I just might go looking for those giant whooping cranes after all.
Birding Bliss in an Arizona Boondocking Spot
We needed a pit stop on our way to the Tucson Marathon. And after hooking up in freezing temps at Rodeo de Santa Fe, Jim and I were looking forward to some off-grid boondocking solitude. Because we subscribe to the Escapees Days End Directory, it was easy to find that ideal place–even near the interstate. I found a spot along our route that sounded perfect. And I'm happy to say it lived up to my expectations.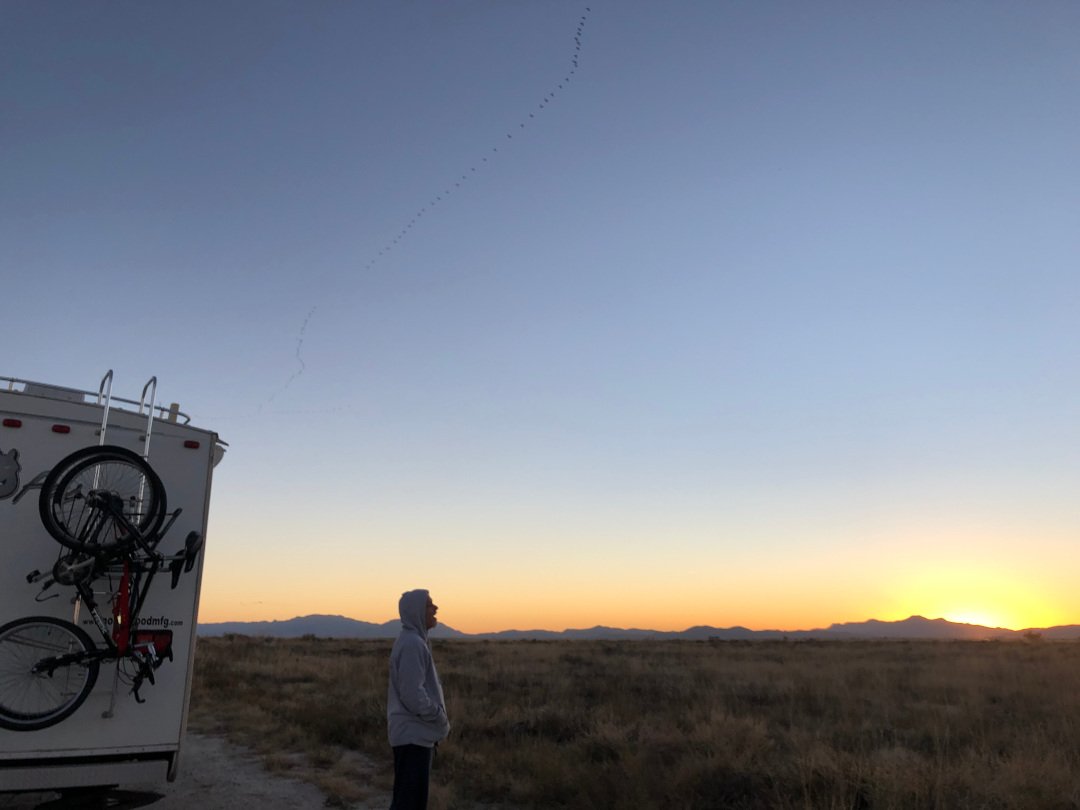 About 3pm we pulled off a dusty dirt road to camp for the night. The spot is listed in the directory, but nowhere else on the Internet. I know that's hard to believe in an era when it seems like every RVer is all too eager to share GPS coordinates and drone footage of once-secret boondocking spots. But it's true. Apparently nobody has thought to broadcast this location around the web, and it's all the nicer because of it.
We settled into the campsite, and waited for our feathered friends to arrive. At dusk, just like clockwork, hundreds if not thousands of giant Sandhill cranes made their appearance. They treated us to a chorus of sounds and sights we will never forget.
Another Reason for a Fun Fulltiming Detour
Jim and I aren't huge birding people. But we love nature, and birds have piqued our interest lately thanks to friends of ours who are huge birders. The Arizona boondocking flyover made our jaws drop in awe. The cranes brought us so close to nature after feeling so disconnected from it all year. I had no idea that birds could stir the soul like this.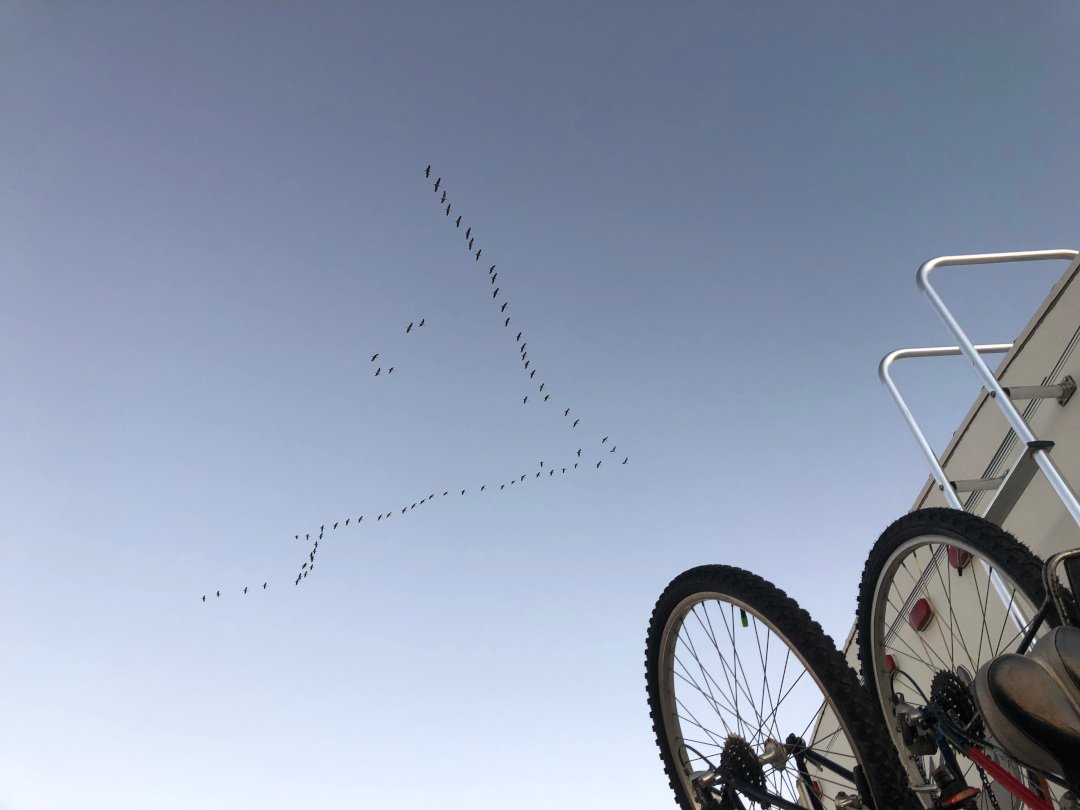 This experience is another reason for our neverending road trip. Now I'm putting a whooping cranes pilgrimage on our summer itinerary. I'm pretty sure the Days End Directory will know the best spots to see them.