Now that's a headline I never expected to write. But as the pandemic spreads like wildfire, we've slowly come to terms with the fact that this summer, we are not RVing during COVID19.
The Benefits of Staying Parked During a Pandemic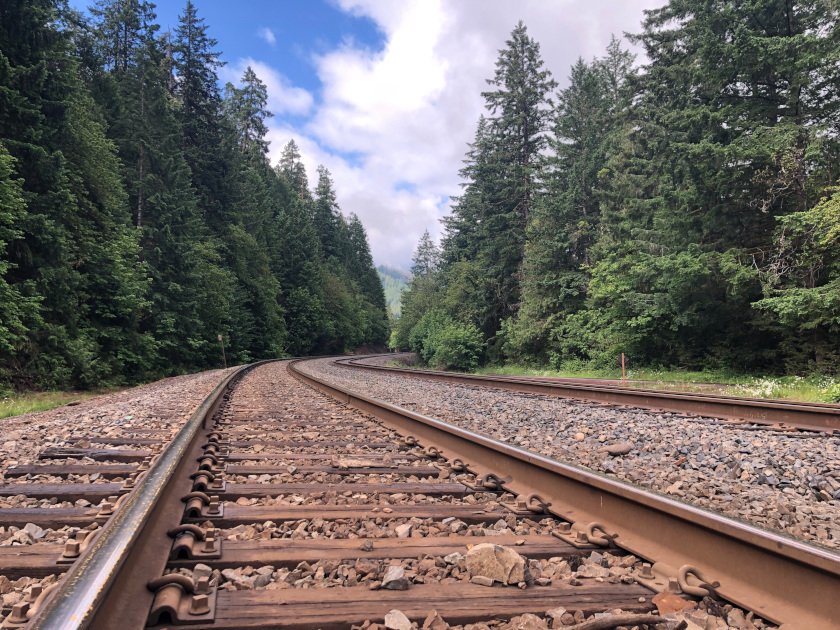 The virus is closing in. As of today, COVID has sickened three extended family members of mine in three different U.S. states. Shit's getting real. The virus is not going anywhere. And neither are we, for now.
Jim and I are fortunate to be parked in a mountain paradise with a great little pod of three awesome people. We also don't need to travel for work right now, and we are grateful for that. We are parked in the kind of place that we would have chosen before COVID, much like our many workamping summers at workamping Vickers Ranch. I have no idea how we will ever begin to repay our friends who invited us.
But wanderlust is a rude bastard that likes to linger. Recently I contracted a bad case of hitch itch when I opened up a social media app. That's when I saw that many full-time RVers are still roaming from state to state. They're filling their social media feeds with RV porn and glam shots of happy people on the move. "We're still traveling!" wrote one Millenial. "We're not going to live our lives in fear!"
And for a minute, I bought into it. I wanted to move along, to get to the Rockies, to enjoy this lifestyle as it's meant to be enjoyed. I envisioned myself convincing Jim that we should throw caution to the wind and get moving.
But then I remembered: I'm not a sheep, and neither is he. We are not conformists. We color outside the lines, take pride in going against the flow and blazing a trail for everything we do. And it's a sad state of affairs when going against the flow means doing exactly what virus experts advise: wear a mask, stay put and avoid crowds. So that's what we're doing.
I accept that this shitty situation is the boss, but I still needed some convincing that the stationary life is a good idea. So I came up with this list of ten reasons why we are not RV during COVID19:
Ten Reasons Why We are NOT RVing During COVID
1. Staying put is one of the best ways to avoid the virus.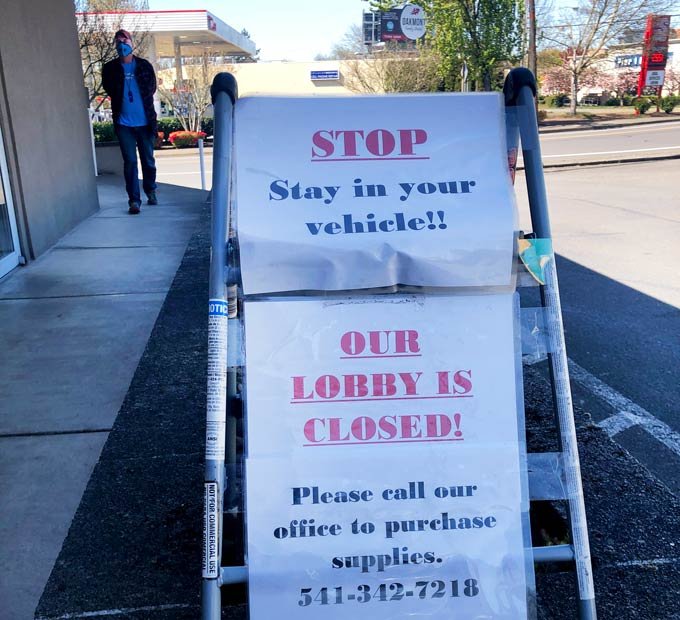 RV travel is one of the safest means of traveling, but I cringe when I think about touching gas pumps and dump stations, spending time in laundromats and other public facilities. If we got sick, we are hosed since Texas the only state where our crappy HMO health insurance is any good. As much as we love RVing across Texas, we would rather avoid that coronavirus hotspot.
2. Staying put in a state with a mask mandate feels good.
We believe it's wise to follow the recommendations of people much smarter than we are. So we wear masks in public to stay safe. Last week when the state of Oregon laid down the law and made mask wearing in public compulsory, shopping trips suddenly became less terrifying. It feels safer here.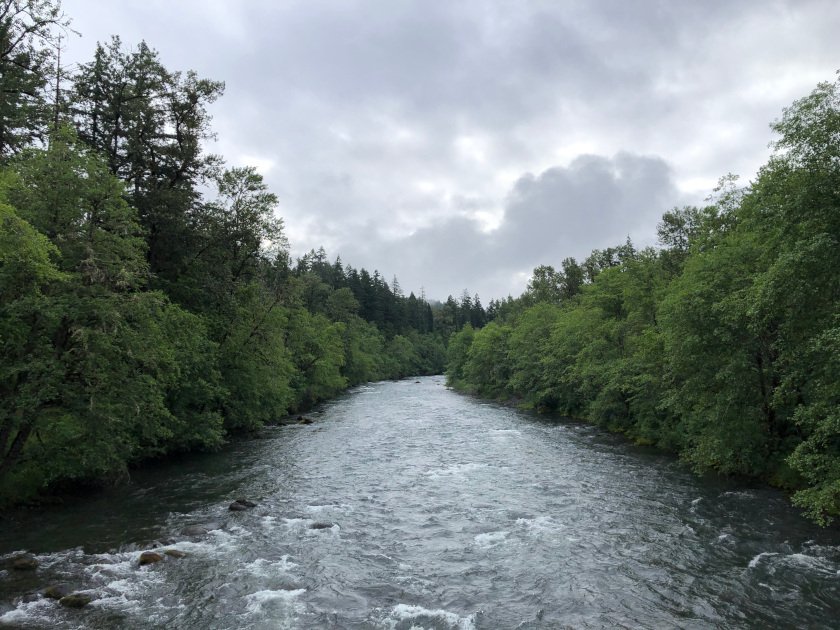 3. Staying put saves us money.
Yeah, that's a big motivator for debt-free RVers like us. Each summer we spend a nice chunk of change on fuel and rent, but not this time. That money is being put to better use in our rainy day emergency fund. We hope to not need it, but you never know right now.
4. Staying put is bringing my friend and I closer together.
When my friend of 27 years offered this parking space on her family property, we hadn't had the opportunity to spend this much time together since our '90s GenX heyday, when we shared a gritty, funky San Francisco house with three other roommates. I'm treasuring the time we get to spend together now.
5. Staying put lets Jim and I focus on work goals.
The full-time RVing routines of driving days, setting up and tearing down campsites takes a toll on our business productivity. We've always enjoyed those days off and accepted that it's a lifestyle trade-off, but sometimes found it difficult to manage when we needed to meet certain deadlines or goals. Now, we have no excuses not to hit our wish list at every opportunity.
6. Staying put keeps us in shape, physically and mentally.
If it wasn't for the endless roads and trails at our doorstep, I would go insane. Running is helping me blow off steam and take a mental vacation for one to four hours at a stretch, six days a week. Jim and I are averaging about 35-40 weekly miles. We have never been more ready to run our first DIY ultra marathon in August, the first of many to come.
7. Staying put in the Oregon mountains means a cooler summer for us.
I'm a sun worshipper and I love heat, but Jim and Wyatt do not. Our "Camp COVID" sits on a river at about 1800′ elevation, which means cooler summer temperatures for my two favorite guys. The relentlessly dreary Pacific Northwest weather bums me out, but I've come to accept the benefits: constantly overcast skies keep us cool on runs, and the forest stays healthy and green.
8. Staying put is allowing us to experience this area's subtle, but beautiful changes in plants and wildlife.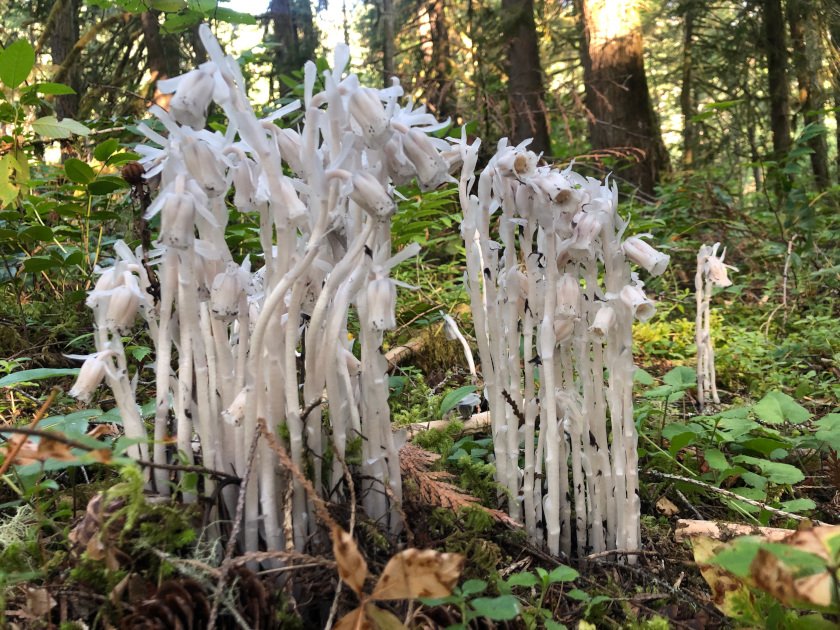 Speaking of green forests . . . we've become well-acquainted with the region's wildlife, flowers, plants, and trees. Many have bloomed and already faded into the forest floor. It's a cycle we rarely get to experience because we move around so often.
9. Staying put is kinder to the planet.
Sure, RV life is generally kinder to the planet than the impact of a sticks-and-bricks dwelling. But the fuel costs of full-time RVing impact so much more than our wallet. All that diesel exhaust we are not throwing into the environment means we are doing our part to slow down climate change.
10. Staying put means if WE don't get sick, YOU don't get sick.
We are doing everything possible to avoid COVID19. We wear masks when we go to town, and when we do, it's strictly business. We don't eat at restaurants, get haircuts in salons or linger any longer than necessary. If we do this we can stay healthy, which means YOU and everyone else stays healthy.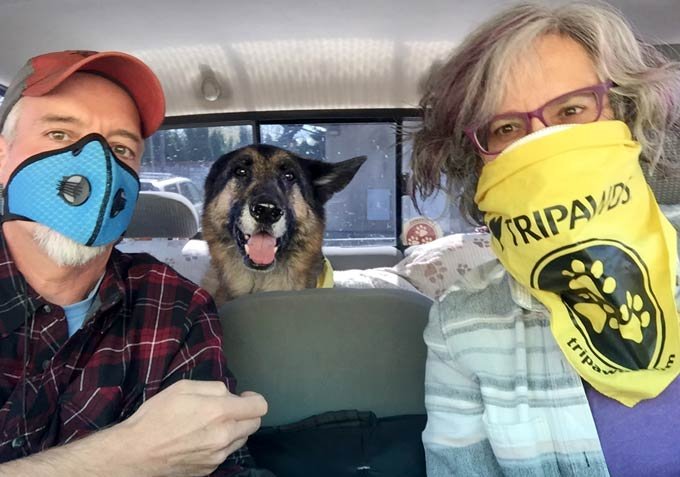 Clearly, not RVing during COVID19 has some upsides. I never thought I'd say it, but I'm glad we are staying put this summer. The costs of repeatedly roaming from state-to-state are just too high this year. I hope next summer is a totally different situation but right now, we are taking things day by day.
Wear your damn masks, people!