Is it possible to do seasonal workamping for a living? The short answer is yes – if you do your homework. The best way to learn anything is from experience. But it can be challenging for those just getting into workamping to gain that experience, without diving in head first. Thankfully, for anyone looking into seasonal workamping as a way to make a living on the road, there is a new book written by a couple with plenty of experience. Meet the Henleys.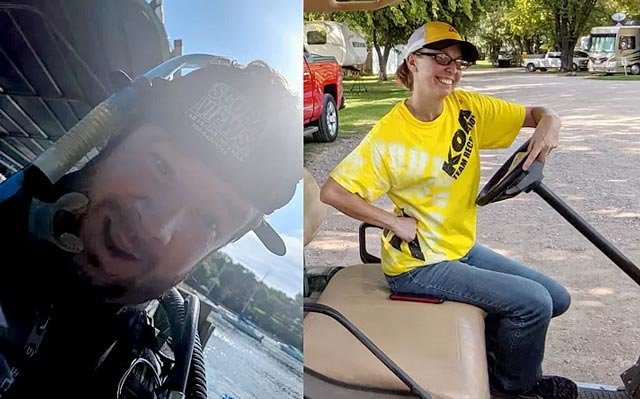 Seasonal Workamping for a Living Book Review
Levi Henley and Natalie Flores-Henley did their homework, so you don't have to. If you are considering seasonal workamping to support your nomadic lifestyle, you need their book, Seasonal Workamping for a Living: How We Did It.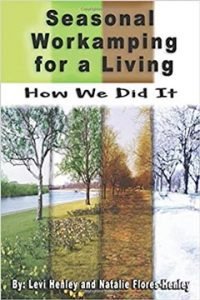 When Levi and Natalie considered writing a book to help others discover the wonderful world of workamping, they asked themselves, "What would have helped us before taking to the road and beginning our seasonal jobs?" They answer that question by telling their story of seasonal workamping, and sharing many helpful tips and resources.
Whether you are new to seasonal workamping and wondering how to get started, or a seasoned workamper looking for tips on finding your next paying gig, Levi and Natalie have a story for you. Seasonal Workamping for a Living is filled with stories about all sorts of different workamping jobs. Their personal experiences shed light on the good, the bad, and the ugly, when it comes to seasonal workamping.
Seasonal Workamping for a Living contains four main sections. In the first, Levi and Natalie share the story of their first five years as full-time RVers, including how they became seasonal workampers. Section Two: "Workamping Through the Seasons" details the various types of they've worked each season. The Henleys prove there is much more to workamping than being a campground host or working the office at an RV Park. They've enjoyed jobs from RV Parks and an Amazon warehouse, to working a Christmas tree lot and the sugar beet harvest, to findinga local job applying scuba diving skills.
"There are no set rules when looking at workamping options. It is possible to create a workamping scenario from various sources to fit your wants and needs. You don't always have to work the same job as your traveling partner, and you don't always have to look at workamper specific sites to find them."
– Seasonal Workamping for a Living
The third part of their book is filled with tips for finding, applying for, and landing your first and next workamping jobs. In the final section, the Henleys answer common questions and concerns abut workamping. They address everything from what to expect when arriving at the job site, to setting up your domicile address how workamping can affect your taxes. Through the lessons Levi and Natalie have learned as seasonal workampers, they offer important insight on budgeting, what to consider when looking for a job, and when to start your job search.
Wondering what to include in your workamper resume? (Yes, you need one if you're serious about workamping.) The Henley's provide great tips on what to include, and an example resume format. In addition, they share how to apply for a job – with tips on the best way to submit the resume, and what to include – and more importantly, when and how follow up! In Seasonal Workamping for a Living, you will learn how to prepare for the workamping job interview, with helpful pointers to make yourself stand out as the best candidate. Plus, you'll get examples of the types of questions you can expect to be asked.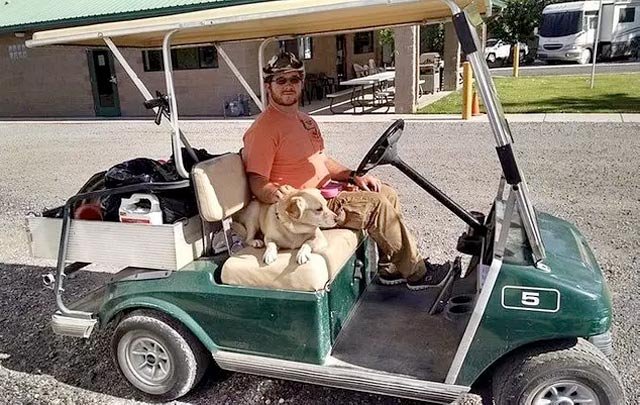 Is Workamping Right for You?
I personally don't view workamping as a career, but I do know it is a fun lifestyle. While workamping alone may not support our nomadic life, I do believe it is a great way to save on rent and explore new areas, while learning new talents and meeting all sorts of people. The Henley's clearly agree.
"We see every job not as a separate event but more as a continuous experience. What we learn from a job, we can apply to the next. Our network of fellow RVers grows, as does learning about the ever-evolving world of the nomad."
– Seasonal Workamping for a Living
For each of the experiences they share in the book, Levi and Natalie provide a good breakdown of duties, hours, and compensation for the various seasonal workamping jobs they've had. They also provide detailed reviews of these experiences, with a summary of these aspects related to each job – plus an entertaining "day in the life of…" section for a more personal view of what to expect while workamping.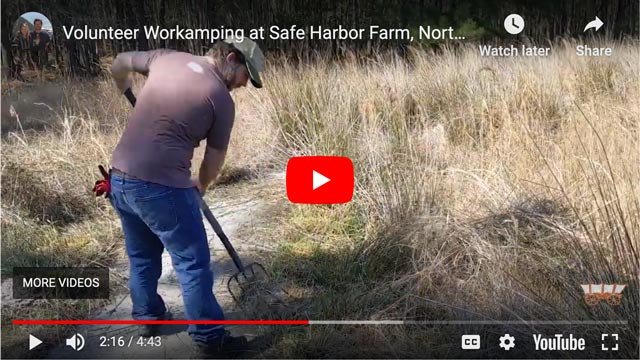 Seasonal Workamping Brought Us Together
Rene and I have become much more selective in the workamping jobs we take, as our online endeavors have grown to consume all our time. But I still manage the Workampers Facebook Group, with more than 40,000 members. That's where I connected with Natalie, after learning they were taking a workamping job at Safe Harbor Animal Rescue. That was our very first workamping job back in 2007. The Henley's shared a Safe Harbor workamping video review in their Happy Trails blog.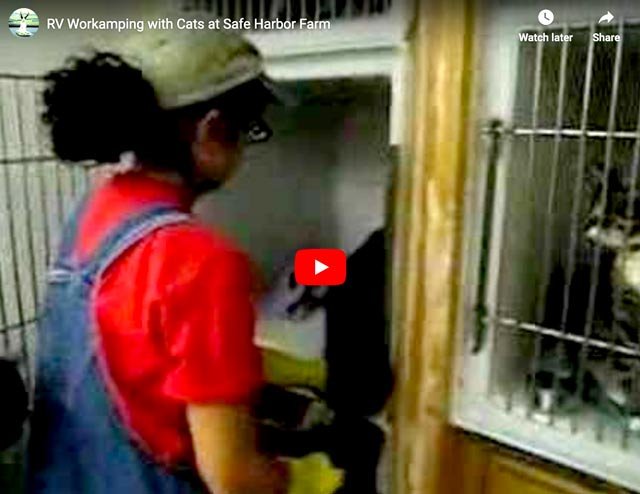 If their names ring a bell, that is because Levi and Natalie are the bloggers, authors and full-time RVing Youtubers behind Henley's Happy Trails. In addition to sharing their many seasonal workamping experiences, their website features, RV tips, campground reviews, videos from their nomadic adventures, and much more.