Work From Your Happy Place is the podcast that equips you with the tools, know how, and motivation to live your dreams, and find your happy place. Host Belinda Ellsworth holds informative and entertaining conversations about how to consistently balance your life and work. She interviews entrepreneurs who are living their best life, working from their Happy Place. That's us!
Rene and I have been living and working from our happy place – wherever we park it – for 13 years now. So we were honored when Belinda invited us to share our story on Work From Your Happy Place Episode 241.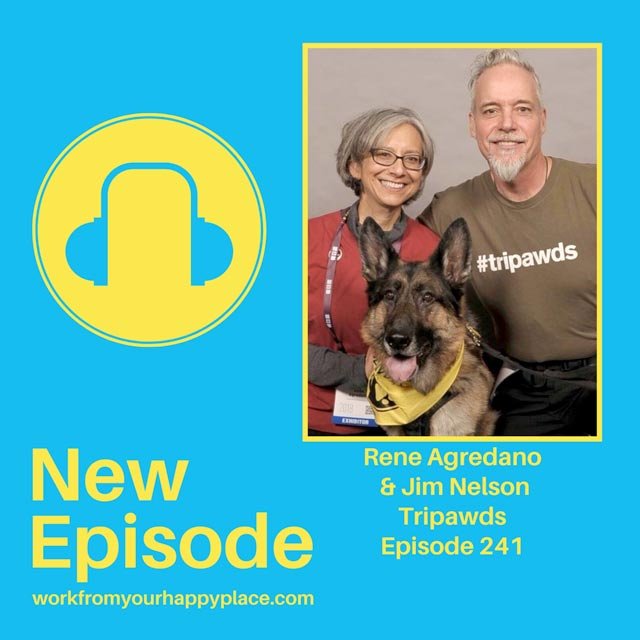 How to Work from Your Happy Place
We've been working for ourselves from home for more than 20 years now. Ever since we hit the road with Jerry, we have been doing it from our mobile Tripawds headquarters. Belinda was most intrigued about how this nomadic lifestyle was different for us, so our conversation focused on us working from the road.
"Being able to live like this gives us the ability to explore while we're still young, and healthy and strong enough to enjoy it." ~ Rene

"(Our nomadic lifestyle) allows us to enjoy our life." ~ Jim

"I think it's exciting. I think it's fun. And I think it takes a lot of courage." ~ Belinda
Our conversation on Work From Your Happy Place continued, with Belinda asking about the challenges we've faced as location independent entrepreneurs, and how we've worked through them. That long strange trip to Alaska came to mind now. Instead, on the show I discussed juggling our work and play time by mentioning how making our own hours is the best – and the worst – part about being your own boss.
"I think that's the greatest challenge for any entrepreneur…That's great for people listening to this to hear."

"These are the things that you're gonna deal with as an entrepreneur, whether you're living here, if you have a brick and mortar, whether you're living in an RV, you still gotta learn that life-work balance." ~ Belinda
Of course, all our podcast appearances include a discussion of the lessons we learned from our Chief Fun Officer Jerry which we share in our book, Be More Dog: Learning to Live in the Now. Applying those lessons – of Resilience, Acceptance, Perseverance, and more – are how we work from our Happy Place, by balancing those life-work challenges on a daily basis.
That's why we call it our Live Work Dream.
Listen to full Work From Your Happy Place episode 241 here.
Connect with Belinda Ellsworth – The Left Brain Entrepreneur: