The Mosaic Podcast is my new favorite show to listen to on long runs. So I was honored when host Daniel Bruce Levin welcomed us onto the show for an interview about our book, Be More Dog: Learning to Live in the Now. I discovered the show, when I learned about my new favorite book, The Mosaic.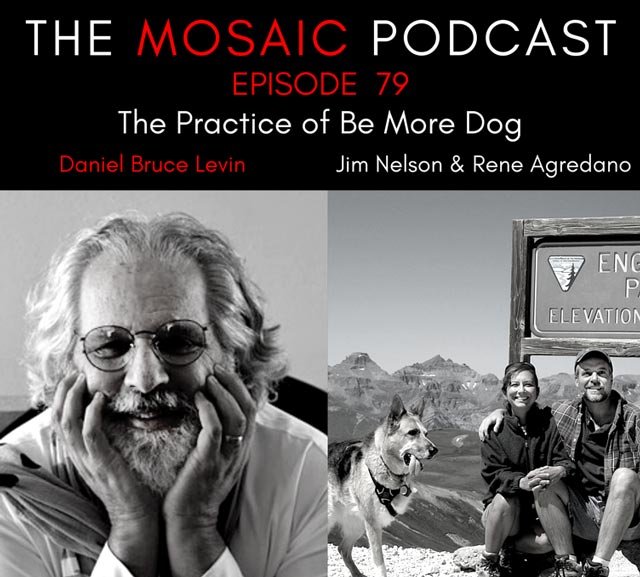 Of all our recent podcast appearances, this discussion has also been my favorite. Why? Daniel digs deep on The Mosaic Podcast. He asks questions that get to the deeper meaning behind every conversation he has. And he holds space for seriously thought-provoking conversations with some amazing guests. It is an honor and a privilege, to be included in such good company.
The Mosaic Podcast, Episode 079:
This podcast interview differed from any other we have has so far. It did not follow the usual format of us sharing our story – what we did in our previous life, why we hit the road, how we discovered our purpose, and the lessons we learned from our travels with Jerry. Instead, we got right into the heart of those lessons, and how we've applied them to challenges we've faced over our past 13+ years as full-time nomadic entrepreneurs.
Watch a video version of our talk with Daniel on The Mosaic Podcast here:
Or, listen to The Mosaic on Apple Podcasts.
My biggest honor from discovering The Mosaic Podcast, has been meeting our new dear friend Daniel.
The minute I heard these people's story, I fell in love with them…

If you do nothing else today, if this podcast does nothing more for you, I invite you to get the book, Be More Dog…there is something so transformative, something so magical, about the story of Jim and Rene, and their dog Jerry." – Daniel Bruce Levin
Daniel's introduction of us was heartwarming, and meaningful
Not only were they courageous in some of the decisions they made, not only did they leap into a world that they didn't know, but the love of their heart was just brought open by something that you would imagine for most people it would shut their heart. – DLB
As I mentioned, Daniel dives deep, and spins every conversation he has to ways the listener can take action to help themselves, and hep this world be a better place for all.
When we get bad news, when we get situations where we think are painful, what do you do? Do you allow it to open you up? Do you allow it to break you into pieces? Or, do you allow it to rip your heart open? – DLB
Those pieces are at the core of Daniel's book, The Mosaic. We are all part of that mosaic, and each of us is comprised of all the same pieces – only arranged in different order. It is together, that we become more powerful. Disassembled and scattered, we remain weak and confused.
Rather than merely walking listeners through the various parts of our Be More Dog story, he tells them to go to our website for that.
What were gonna look at is how one incident which so many people could view as a tragedy, Jim and Rene saw it as an opportunity to allow themselves to love more – to be more in the moment, to listen to the messages that they were being given.
When Daniel asked us about our purpose, Rene said: "It's to help underserved people and animals feel heard, supported , and valued." She definitely did that in her recent opinion on current events.
I told Daniel, "I believe I am here to help people Be More Dog, especially in times of distress or challenge." At first I struggled with my answer, because I didn't want to sound like I was there to sell my book. But I edited and sent him My Purpose statement, because I honestly believe I am here to help others understand the lessons Jerry taught us – about Resilience, Acceptance, Perseverance, Lovingkindness, Awareness, and Gratitude.
Daniel nailed it when summarizing his thoughts on our conversation. Once again, he encourages listens to dive deep with him.
The way we do anything, is the way we do everything. Do you have the courage, like Rene and Jim had, to take a terrible situation…and think not about themselves? Who are you thinking about today…what can you do today that can actually give honor and glory, and make another person's life happier? – DLB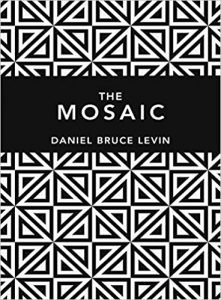 Now more than ever, we all need to not only ask ourselves these questions, but to answer them. For help doing this, I invite you to read The Mosaic by Daniel Bruce Levin and listen to listen to The Mosaic Podcast. I meant every word I said in this review I left on Amazon after reading The Mosaic:
The Mosaic – A Must Read For All
Best journey fable since The Alchemist! Perhaps better…The work Daniel is doing through the Mosaic and his podcast can help change the world. It could become a much better place if we all learn to pay attention to what is not right in front of us.
The characters we all meet on our own life journeys, become familiar as we meet each of those in this thought provoking tale. If we actually listen to what they have to say – even when they may not be explicitly saying it – we might just understand what those little voices inside are trying to tell us.