Another Way to Play podcast host Hans Struzyna chose to title his episode with Rene and me as guests, "Passion and Purpose with Jim Nelson and Rene Agredano". That's quickly becoming a common theme for many of our recent podcast appearances. And that makes sense, since finding our purpose and following our passion are messages deeply rooted in our book, Be More Dog: Learning to Live in the Now.
Another Way to Play Podcast Shares Our Transformation Story
Hans Struzyna is a top real estate agent for high performing Bay Area Professionals. And he was an Olympian on the 2016 roster for Team USA Rowing. Hans also hosts Another Way to Play – a podcast for driven people who want more from life. He has compelling conversations with thought leaders, and we were honored to join him on a recent episode.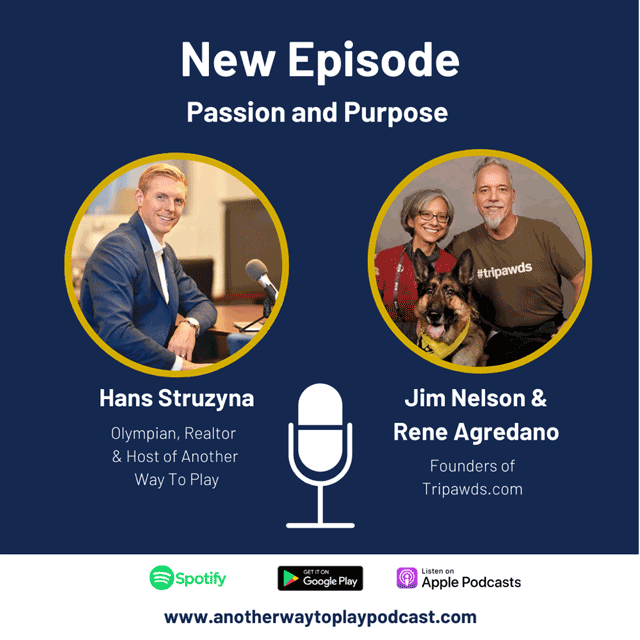 See Hans' podcast episode page for detailed notes from our in-depth discussion. Our informative chat focused on self-employment, our entrepreneurial spirit, and the career transition we undertook after our Chief Fun Officer Jerry lost a leg to cancer. That transition led us to discovering our purpose – thanks to the many lessons Jerry taught us while roaming the country together as a pack. Basically, he taught us another way to play.
"They make less money now than they once did, but they get a better sense of satisfaction out of their life." – Hans Struzyna
"There's a difference between passion and purpose" – Jim Nelson
Introducing our discussion, Hans said: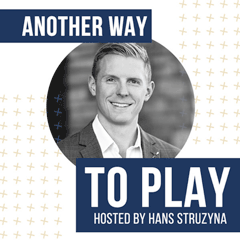 "Today I had the pleasure of speaking with the founders of Tripawds.com, Jim Nelson, and Rene Agredano. Jim and Rene are a husband/wife team who went through a painful experience when their dog, Jerry received a bone cancer diagnosis. They decided to travel and spend the last days of their dog's life seeing some beautiful places. The experience took them around the world and they created a community with other pet owners who are going through a similar thing. They sell products that specifically serve pets with three legs and encouragement for the owners through their amazing community!
Let's dive into Jim and Rene's story where unintentional events turned their passion and purpose into a full-time labor of love."
"You can chase after your passion all you want…Everybody has a purpose" – Rene Agredano