As recently reported in the Be More Dog blog, we had the pleasure of being interviewed as guests on the Nomadic Traveler Podcast. Being a show all about traveling full-time as nomads, the discussion focused on how to pay for life on the road. We kick off the show by sharing the story of how we sold our business, home, and nearly everything we owned to travel the country in an RV with our Chief Fun Officer Jerry after he lost a leg to cancer in 2006. When doctors told us Jerry had 4-6 months to live, we planned for a year off and bought a 24′ Arctic Fox fifth wheel trailer and truck. Jerry loved life on three legs for two years.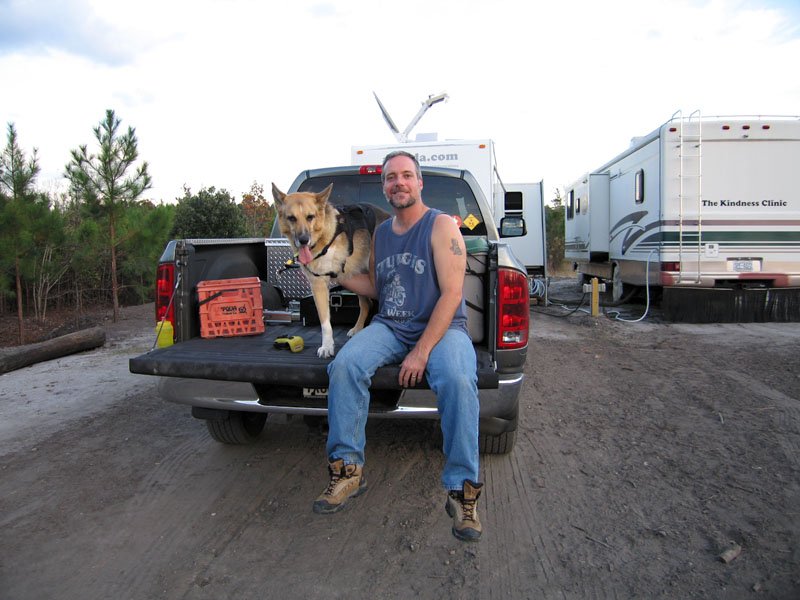 When that first year was nearly up, we realized our nomadic lifestyle was helping to keep Jerry alive – with new adventures every day. The small blog we started was slowly growing into the Tripawds community it has now become. But that alone wasn't going to keep the wheels rolling. We clearly needed to figure out how to pay for life on the road if our travels with Jerry were to continue. Before long, we determined that developing multiple revenue streams was the best way to support the nomadic travel lifestyle we had come to love.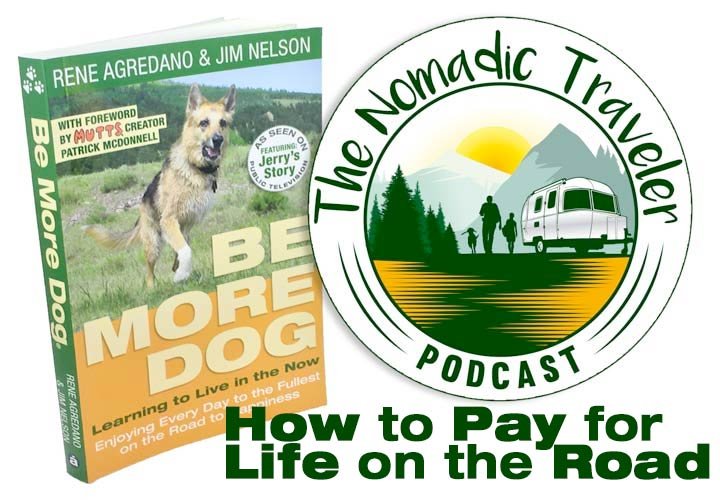 Listen to this episode of the Nomadic Traveler Podcast for our detailed discussion with hosts Jason and Nicole about how to pay for life on the road. For more information, and the backstory of how we turned Tipawds into our full-time labor of love, read chapter 16 – "Following Their Passion" – in our book Be More Dog: Learning to Live in the Now.
The Nomadic Traveler Podcast is a travel podcast about getting out of your house, off of technology and out experiencing life. That is exactly what we did those first couple years on the road with Jerry.
From the Nomadic Traveler Podcast Episode Description:
December 20, 2019
Finding a way to make money on the road is one of the hardest parts of becoming a full time traveler. Jim Nelson, author of Be More Dog and manager of the We Love Workamping Facebook Group, and his wife Rene come on the show today to tell us how they have made money living on the road full time. The couple has been on the road for the past 12 years. We learn about how Rene makes jewelry in the RV to sell online and at trade shows and how the couple has worked at several different RV parks doing maintenance and completing office work. Through an inspiring story about how their dog's illness propelled them into the full time RV life, we learn how this dream can be possible for anyone. Jim and Rene share how workamping is not just about working at a campground, but involves many different types of jobs such as: gate sitting, sugar beet harvesting, pipeline inspection, and Amazon's work camping. You won't want to miss this episode that will give you multiple ways to make money on the road and start your full time travel life.
…They had just accepted their first "workamping" job at a North Carolina animal shelter – an arrangement to exchange volunteer hours in return for free rent. Rene submitted an application to explore their latest goal of starting an old dog animal sanctuary. It was a no-risk way they could put that crazy idea to the test – or lay it to rest.
From Be More Dog: Chapter 14
What is Workamping?
While Be More Dog is primarily a story about the many lessons we learned from our Chief Fun Officer Jerry G. Dawg, it also documents our first couple years on the road with our three-legged co-pilot. During that time, we discovered "workamping" and developed various other ways to make money on the road. Still on the road today – nearly 13 years later – we have shared many posts about workamping here at Live Work Dream.
The definition of workamping has evolved over the years to encompass various ways full-time RVers and other nomadic travelers work to pay for life on the road. Traditionally, workamping started as a way for RVers to receive a free place to camp – and sometimes earn a little money – in exchange for working at an RV park, or as a remote campground host. We have never had any of those traditional RV park jobs. Throughout Be More Dog the book, we do share details from our first few workamping experiences – from a North Carolina animal rescue, and on an organic farm in Florida, and a New Mexico hot springs resort, to our all-time favorite job working at Vickers Ranch. Of course, Jerry plays an integral role with lessons to share at all these jobs.
In addition to workamping, we discuss various methods we've discovered or developed for making money from the road on this episode of the Nomadic Traveler Podcast. For the record, Rene does not sell her custom metal jewelry at trade shows. The handcrafted pet-themed metal tags, pendants and jewelry are available through the Tripawds Gifts blog, and her Tripawds Etsy Store.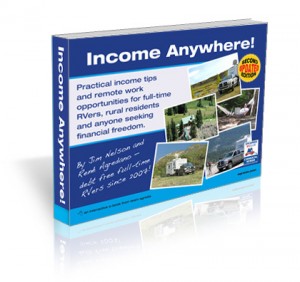 More information about the many income-generating methods we discuss on the show can be found in our e-book, Income Anywhere! This first e-book we published includes a full chapter on workamping and covers remote income methods from writing and crafting, to niche blogging, product marketing, and much more.