Yeah, we've been on the road nearly 12 years now, but we couldn't let this great interview go to waste. You see, a couple years ago we were interviewed for the MightyGoods website. Recently we were informed that all of their interview posts like ours were being removed. Apparently someone complained about usage rights of photos in another interview – not ours, and we get that. Their fix, however, was to delete all the posts, to prevent any further issues. At least they informed us, allowing us time to archive the content here. That was Mighty Good of them…
Nomadic Couple Shares Advice from 10 12+ Years on the Road
A nomadic life isn't only for young singles. You can also live an exciting nomadic lifestyle if you are a married couple.
Just check out couple Jim Nelson and Rene Agredano.
Jim and Rene have lived in their RV for more than 10 years. While living in their RV, they have managed to develop multiple location independent revenue streams and create the largest online support community for three legged pets and their people.
In this interview, Jim and Rene talk about how they became nomads. They describe the freedom that this kind of lifestyle offers, the positive and not so positive parts of having a nomadic life, tips on how to build a social life, their favorite gear, and what their dog Jerry has taught them about life!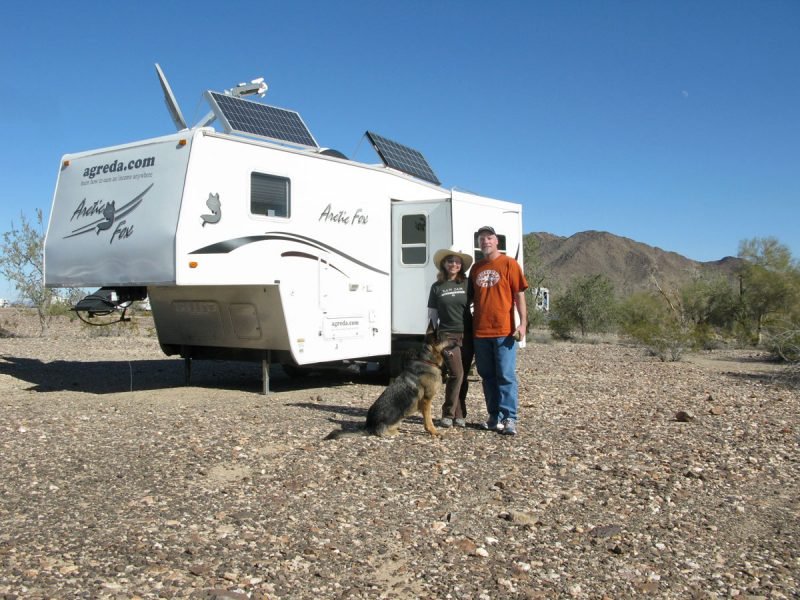 Can you tell us a bit about yourself?
We are Jim Nelson and Rene Agredano. We currently travel with our dog Wyatt Ray, an eight year old three legged German Shepherd Dog. Long story…in short, Rene and I consider ourselves location independent entrepreneurs.
After hitting the road 10 years ago, we learned shortly that the best way to support our nomadic lifestyle was to develop multiple revenue streams. So we did just that. Rene is a writer for popular RV industry publications and websites. She also makes handcrafted metal jewelry in our mobile workshop. I build websites and help clients with email marketing and social media.
Together we maintain Tripawds, the largest online support community for three legged pets and their people, and manage the Tripawds Foundation, a 501c3 public charity offering various assistance programs for amputee animals.
Rene and I met in San Francisco, CA back in 1995. She worked downtown, and I was a marketing manager working in Silicon Valley during the dot com heyday. We married in 1997 and moved to the remote Northern California town of Eureka where we spent 10 years growing the full service graphics business we started from home. We left the default life behind us on June 2, 2007 when we hit the road in our new Dodge Ram pickup truck and 24′ fifth wheel trailer to travel the country with our dog Jerry after he lost a leg to cancer and was given only a few months to live. Jerry lived two years, and we have been traveling full-time in our RV ever since.
We are currently camped out on a piece of property at 8,500′ in the Rocky Mountains about one hour north of Fort Collins, Colorado. Where are we from? Come winter we will head south, calling the deserts of West Texas, Arizona and southern California our home. Once it starts to heat up again down there, we will head North again to cooler climates.
We are passionate about what we do. Our work has become a labor of love. Rene enjoys pounding metal to create custom jewelry and art pieces. I am usually in front of my laptop tweaking our own WordPress websites, Agreda.com or helping clients with theirs. I like testing and reviewing RV gadgets and truck accessories, making modifications to our truck and trailer, and sharing details with our readers at Live Work Dream.
Whenever given the opportunity, I enjoy building things, woodworking, and fishing. We both love the outdoors and enjoy running daily, ideally along scenic mountain trails or remote dirt roads. We prefer to stay away from cities, instead enjoying the solitude and natural beauty the deserts and mountains provide.
Together we get the biggest thrill out of exploring new places—way off the well-beaten track—discovering odd attractions, sampling local food and drink, meeting genuinely interesting people, and sharing their stories.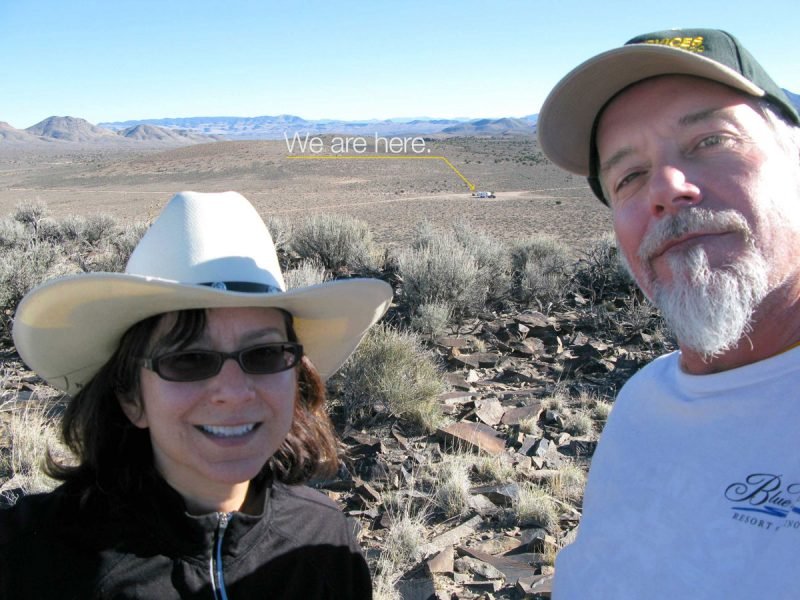 How and why did you become nomads?
Rene and I owe the lifestyle we love to Jerry, our first dog. We loved the outdoors and enjoyed many fun road trips and long hiking trips together. Working from home, Jerry was always with us and kept us sane while growing our business, we considered him our CFO (Chief Fun Officer). When he was diagnosed with terminal bone cancer at the age of eight in late 2006, we proceeded with the amputation of his leg as the best way to improve his quality of life.
When it comes to osteosarcoma, amputation will remove the pain, but it does not get rid of the cancer. So his doctors informed us Jerry may only have a few months to live. We were at a point with our business where it was time to expand the operation, or move on. So we quickly made plans to do the latter. Quite literally.
Within five months we sold our business, our home, and nearly everything we owned. We bought a new truck and 24′ Arctic Fox fifth wheel trailer. We outfitted the rig with solar power and satellite internet and planned for a one year sabbatical. We thought we would travel the country, making the most of what time we had left with Jerry. The plan was to find a new place to settle down and call home, where we could buy or start another business.
Jerry lived two years. By the time he passed, we had roamed from coast to coast, and back. We had been from Death Valley to the top of the San Juan mountains. We learned that we loved the nomadic lifestyle. Totally self-contained, and savvy entrepreneurial types, we also discovered we could work from anywhere. So we decided to just keep on keepin' on…this June (2017) marked our ten year anniversary on the road.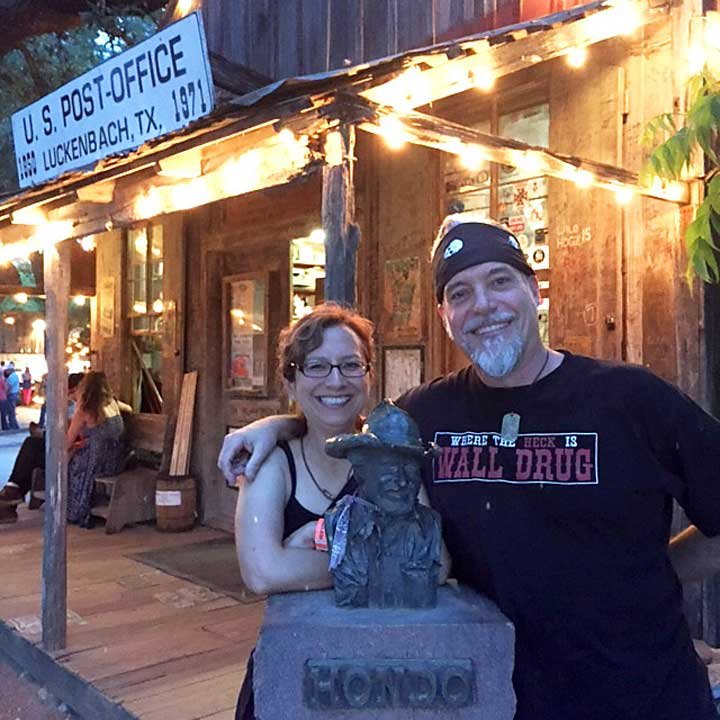 Why is having a nomadic life important for you?
Living the location independent lifestyle means one thing to me: Freedom. We are free from the burden of working mundane jobs for The Man. Neither Rene nor I can ever see us holding a typical job ever again. We are free to live and work wherever, whenever we want. No, we are by no means retired. We work everyday, likely harder than we ever did at our previous jobs. But we love what we do, the rewards are bigger than any paychecks we used to receive slaving away for someone else. By being able to change our office view as often as we please, the two of us are happier than we have ever been.
After our first trip around the country, it was important for me to see more. This country holds so many hidden treasures, there was no way we could soak it all in within one year off. Living and working, the nomadic life allows us the freedom to explore new areas and enjoy more amazing adventures. We do not measure success in life by the accumulation of wealth and acclaim. Experiences are what it's all about.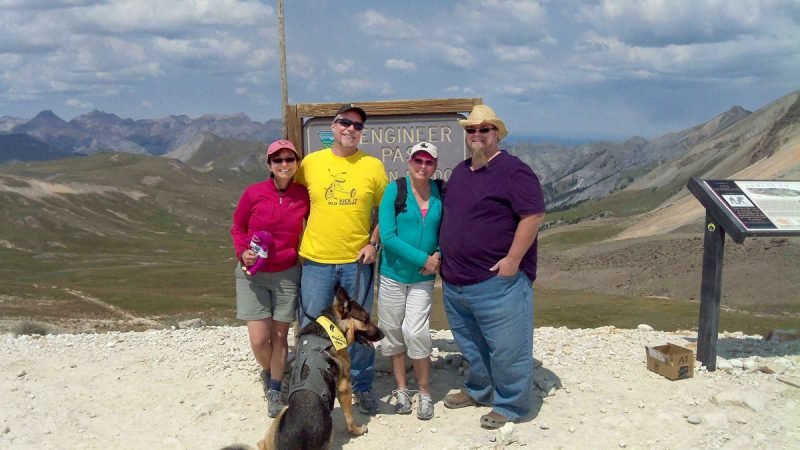 What have been the best parts of being nomads?
The best part about our nomadic lifestyle is the freedom it gives us to create and enjoy our own adventures. Jerry taught me that life is meant to be lived to the fullest. That is why I make the most of every day. And the best way to do that for me is to explore new places, meet new people and create new adventures every day. When living in a tiny home and traveling full-time, every day is an adventure. As the Saint Augustine quote inside our medicine cabinet states, "The world is a book, and those who do not travel read only a page."
In Mexico, the term for this belief is, "Pura Vida!" While the literal translation is "pure life" it means so much more. It symbolizes the raw, uninhibited qualities of simply enjoying life and being happy.
Some of our most memorable adventures have included getting way off the grid in places like Basin and Range National Monument or "The Pads" near Death Valley National Park. An almost annual pilgrimage to Luckenbach, Texas also tops our list of favorite locations. Live music plays a big part in our travels, and Luckenbach is one of our favorite venues to see favorite artists like Ray Wylie Hubbard, who we have caught up with numerous times over the years.
What have been the most difficult parts?
Rene and I are not incredibly social animals, but in today's day and age we have no problem whatsoever enjoying a social life, either online or wherever we go. There is a huge community of like minded people all over the internet who "get it" and provide support and camaraderie should we ever need it. I feel sad for those we meet who don't understand the joy this lifestyle brings, or that it is even possible.
We are the oddballs, I get that. If ever staying in RV parks—which we prefer to avoid—where there are families in rental RVs or folks on vacation, I remind myself that I am on their turf. They simply don't understand that this is where I live, and I may be working, so don't bother me. When we do get out, however, it is easy to make friends. All RVers like to strike up a conversation, to learn where others have been or what they like to do. We working-age full-timers are a different breed, and share a special bond. We have created immediate long lasting friendships with other working nomads, often connecting again somewhere, sometime down the road.
Early on in our journey, it was difficult dealing with the unexpected. The stereotypical stationary life is comprised of predictable routines that rarely vary. When your home office has wheels and your scenery constantly changes, unexpected challenges can occur often. There is a steep learning curve to discovering how to cope with these events. From navigating narrow roads and mechanical failures or connectivity issues, to severe weather situations or worse, you must learn to roll with the punches and lean through the curves in the road of life. It helps to live the Way of the Tao, as Lao Tzu taught us: Change is the only constant.
Where do you live as nomads?
Rene and I live and work together every day in less than 200 square feet of living space that includes our full kitchen, bathroom, office, workshop, and bedroom. We are fully self-contained and carry all our clothes, computers, internet access, electrical power, food, supplies, fresh water and poop with us wherever we go. We very much prefer "boondocking" off the grid on public lands in remote areas. Our favorite locations are free scenic camping areas, but we frequently visit RV parks and dump stations to empty our waste tanks, enjoy long hot showers and thoroughly clean house.
No, I can't stand up in my bedroom. And that's okay. The payoff is looking out my window upon a different view every night. A number of times I have woken up wondering exactly where we are. That may be alongside a babbling brook, deep in the woods, in the wide open desert, a noisy resort, behind a casino or crowded among other RVs in front of a Walmart. Whenever possible, we prefer dining outside on our camp chairs, though that is never in a parking lot. Sure, there are challenges to living in tight quarters. You simply learn to take turns in the kitchen, get creative storing supplies, and not listen to certain noises coming from the restroom.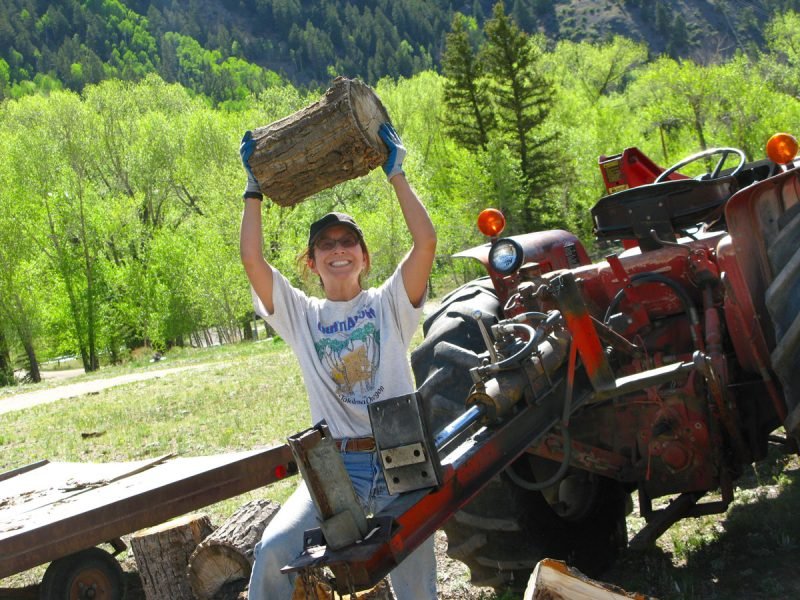 Where do you usually work?
I work at my computer. Most of the time our dinner table serves as my desk. I will change it up by sitting outside whenever I can, either (at my new workstation) in my camp chair or on occasion, swinging in my hammock. To get comfy, I'll use a laptop desk I made and sit on the couch, if Wyatt will make room for me.
In our first 24′ RV, Rene and I would switch between the couch and table. As she developed her jewelry skills, she needed a better place to hammer away than our rickety kitchen table, the campground picnic bench, or on one occasion a large rock. In 2014, we purchased a slightly larger Arctic Fox, a 27′ trailer that had bunk beds in back. I ripped those out and built a sturdy workbench with ample storage where Rene now spends most her workdays.
While we really have no typical days, most mornings consist of checking email, processing orders and managing our online community. My afternoons are usually spent working for clients while Rene will be writing or working on jewelry. Aside from our location and size constraints, I don't see much difference to how we do what we do from any other couple doing similar work from home.
One of the biggest challenges when it comes to location independent work—at least our work—is internet connectivity. Anyone who hopes to work from home while relying on RV park WiFi has not spent much time in RV parks, or doesn't need to do much online. This is why I say the best internet for RVers is redundancy. At any given time we may have four or five options for getting online. We have smart phones and a mobile hotspot when in service range, or a local WiFi network if one is available, and functioning well. When working from our favorite locations without cell service, we rely upon our satellite internet service. I get particular joy from working online and making phone calls with VoIP from the middle of nowhere, like Basin And Range Monument, Goosenecks Canyon or Black Gap Wilderness near the Mexico Border. And then, there is a certain kick from participating in a conference call while dumping our black tank or chasing off peccaries (aka: Javalina).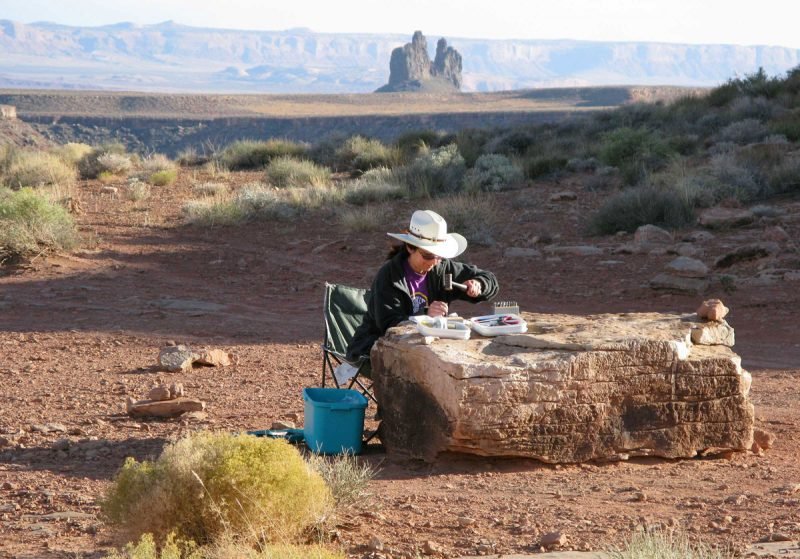 How do you build a social life as nomads?
Nomads have no problem making friends, with other nomads. There is usually an immediate connection and many stories to share. We have stayed in close contact (online) with many other RVers we have met (in person). A core group of fellow working nomads call ourselves NüRvers. We have had a few fun gatherings, with as many as a dozen rigs, but don't call it a rally. The majority of full-time RVers are older retired folks who frequent rallies, with organized events and scheduled outings. Our get-togethers tend to resemble more of a rave than a rendezvous.
If I had any advice to offer young RV nomads for getting social and making friends, it would be: Don't try so hard. When Rene and I first hit the road, we focused on loving our new lifestyle and naturally found our tribe along the way. Today it seems every week there are numerous new young couples starting a full-time RVing how to make money on the road nomadic lifestyle blog, constantly sharing posts and videos to social media. To these eager RVers I say, slow down and enjoy the ride.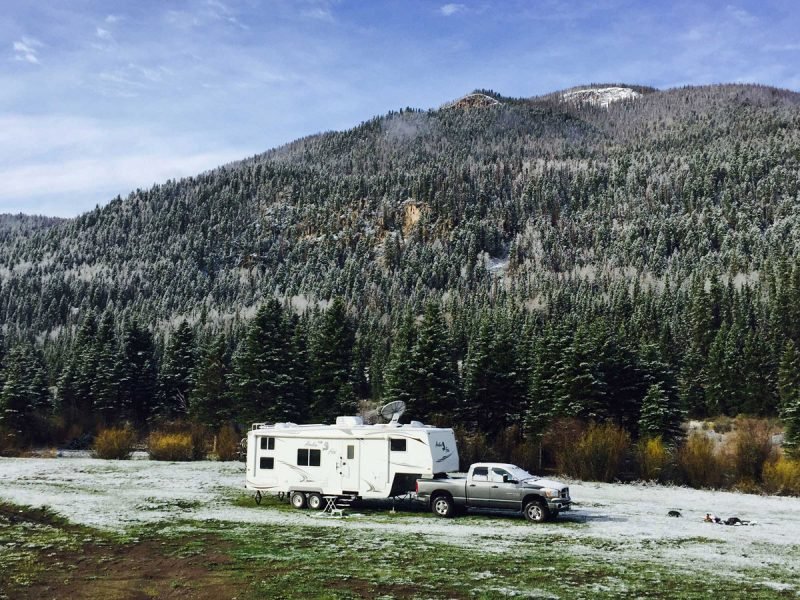 How do you finance your nomadic life?
As location independent entrepreneurs, Rene and I support our nomadic lifestyle in various ways. While operating our marketing business during our default life, we learned the hard way not to put all our eggs in one basket – when one client shut their doors, taking away about 50% of our income. We now dabble in various endeavors, online and off. After our first few years on the road, we published an e-book about how we do it to help others learn they can do the same, titled Income Anywhere! In the book, we cover the various remote methods we have developed to make a living, as well as others we have researched.
Personally, we make a living writing, developing websites, making jewelry and managing our niche online community. At seminars I have given on the subject, I tell people there is a niche for everybody. If I can grow a successful online presence all about three legged pets, anybody can do it!
Workamping is another way we have saved on rent and made money over the years. This is an arrangement where RVers can get a free site, often with amenities and/or a paycheck, in exchange for a working a certain number of hours each week. Typically these jobs entail working at an RV Park or as a campground host, but we have held various different jobs. Our favorite has been workamping on a guest ranch, nearly every summer for the past nine years. Rene will usually work in the office, making reservations, dealing with guests and doing laundry. I am a ranch hand doing everything and anything necessary, from fixing toilets and stacking hay, to fence work, construction projects and flipping burgers. Some of our best memories have been made at Vickers Ranch, in Lake City, Colorado.
There's a reason we work as hard as we do. Rent, food and fuel are our biggest expenses on the road. But choosing to live the life we do, and health care being such as it is in the United States, health insurance is up there in the top five expenses for our our nomadic lifestyle. For the first few years of our journey, we would frequently share budgeting and expense information in our blog. We stopped doing that after being chastised by certain van dwellers who suggested we lived too extravagantly. These readers did not consider (or understand) that our expenses include operational costs of maintaining our business endeavors. I see this question on social media all the time, "What's it cost?" And my reply is that if you ask 10 RVers about their budget, you will get 10 different answers. Just look at those nomads traveling with a tent, and the ones in their $300,000 coach. I have been totally comfortable camping next to and sitting around a campfire with both. This just goes to show you what some consider extravagant, others might consider impoverished.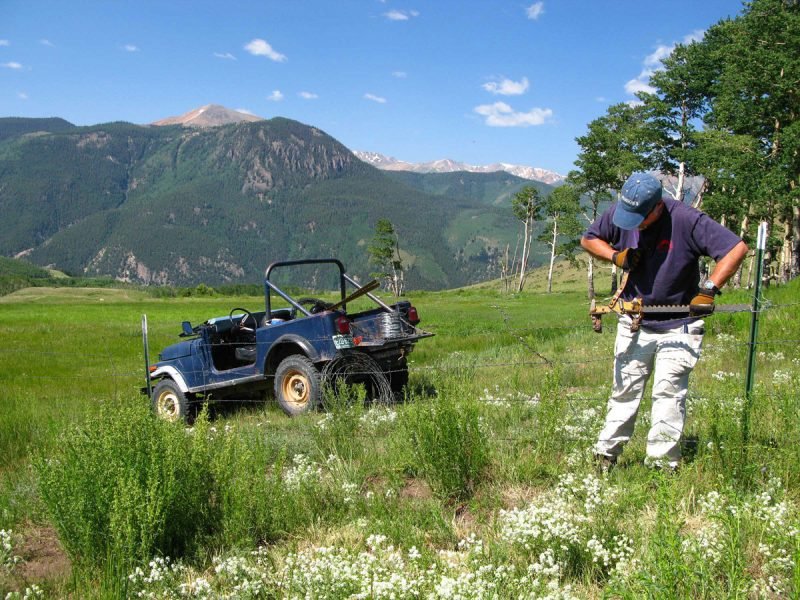 What kind of gear do you bring with you?
My most important piece of gear is my Macbook Pro. It makes me a living and keeps me connected. Most other "gear" entails modifications we have made to our truck or trailer. The best investment we made on our rig was installing Titan hydraulic disc brakes on the trailer. This required getting a Tekonsha P3 brake controller for the truck.
My favorite gear is the RVDataSat 840 satellite Internet system we installed on our roof. This dish and network hardware allow us to get online and work from anywhere. Other smart investments include our a new ATS exhaust manifold and Turbocharger, or the AirLift suspension air bags and SmartAir self-leveling system we installed on our Dodge Ram last year.
Redundant backups of our data is important to me, so an external hard drive both Rene and I can use for archives is another good piece of gear. She uses a PC, so we have a Seagate FreeAgent GoFlex drive we can share.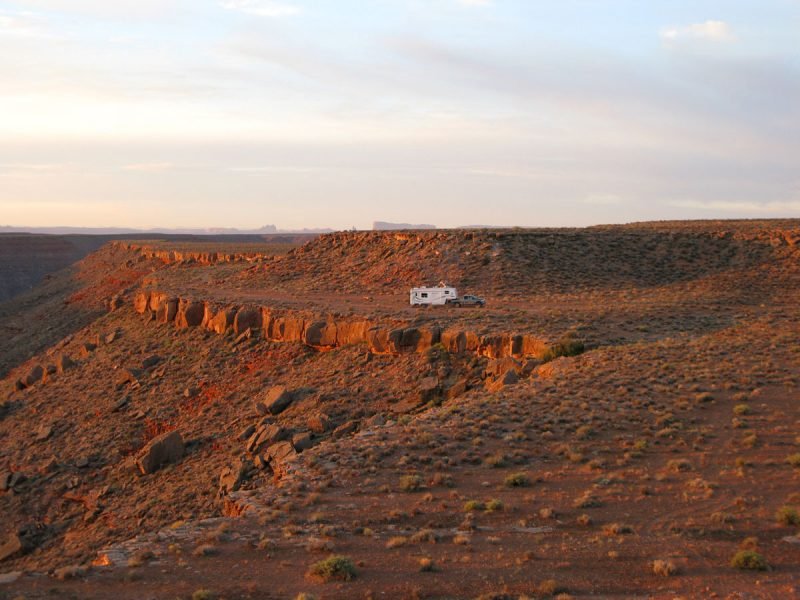 What has been your best gear purchase below $100?
When it comes to gear we want in this price range, we normally don't buy it. We've learned to get it for free. As nomadic entrepreneurs with a popular RVing blog, I usually contact manufacturers of products I want first to see if they appreciate the value of a respected product review. There are, however, a few items we have purchased and enjoy.
We are not soda drinkers, but we do like seltzer water. One of my favorite purchases, was our iSi Seltzer Water bottle. Many RVers with larger rigs like their SodaStream machines, but counter space comes at a premium in our smaller rig. So I like the ISI bottle for making fresh soda water whenever I like, and I can keep the bottle in the fridge.
Folding camping chairs are also good to have. When invited over by fellow RVers, it is customary to bring your own chair. I got mine as a gift, and I fixed up Rene's after finding it in a dumpster. They are showing their age so new camp chairs will likely be our next low-end gear purchase.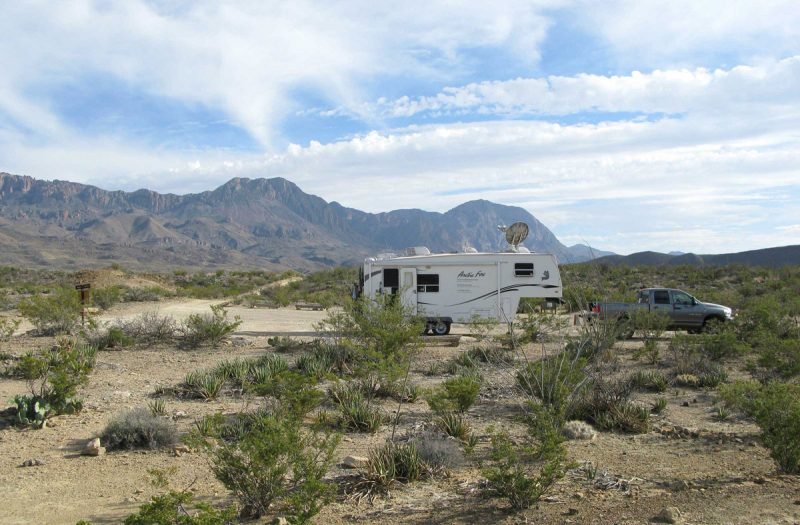 What is your best advice for new nomads?
My best advice for anyone considering a transition to the nomadic lifestyle is to do your homework. Specifically, I'm talking about full-time RVing, because that is what I know. I may live out of a backpack someday, but for now I have ten years of living in a fifth wheel trailer under my belt. This is why Rene and I wrote a three part blog series about how to plan and prepare for a life on the road.
The number one piece of advice from these posts is simple. Do it debt free. I cannot imagine traveling with the burden of mortgage payments on a motor home. Crunch the numbers all you want. Being a slave to the lender on your depreciating asset just does not make sense. That is why we recommend books by Dave Ramsey for anyone living the default life who is considering moving into an RV and traveling full-time.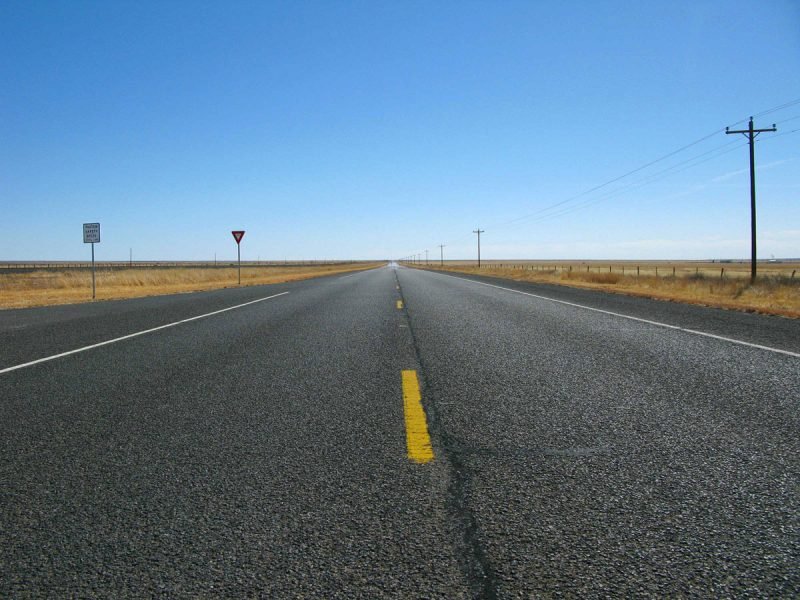 What will the future bring?
That's funny. Nobody can foresee the future. And one thing I have learned over the past decade living life on the road is that plans change. Life will throw you for a loop when you least expect it. As my mother told me long ago, hope for the best and prepare for the worst. As of now, we intend to make made the trek to Alaska next summer. In the meantime, when the weather starts turning cold, we will head south for the winter once again.
Rene and I have no plans to hang up the keys in the foreseeable future, and there are plenty of places we still need to explore in the United States. After that we may spend time roaming South America. Though in a perfect world, we would prefer to do that in an Overlander vehicle of some sort, or one of those outfitted four wheel drive vans we like to call a Scooby Van.
Eventually, you may find us parked on one of a few pieces of property we own throughout the U.S. where we can enjoy free camping during summer in the mountains and winters in the desert country of the Southwest. A personal dream is to create a container home on remote land from used cargo containers or freight train cars. Of course, these would have ample RV parking for ourselves and fellow nomads we've met along the way.
"The road goes on forever, but the party never ends…" — Robert Earl Keen
Ranked #1 New Release in Travel with Pets!
Rene and Jim share the entire story of why they hit the road, and what they learned those first couple years from their three-legged co-pilot. Get the book or download the e-book here.