A bit of manual labor is good therapy after a few years off from our favorite ranch workamping job.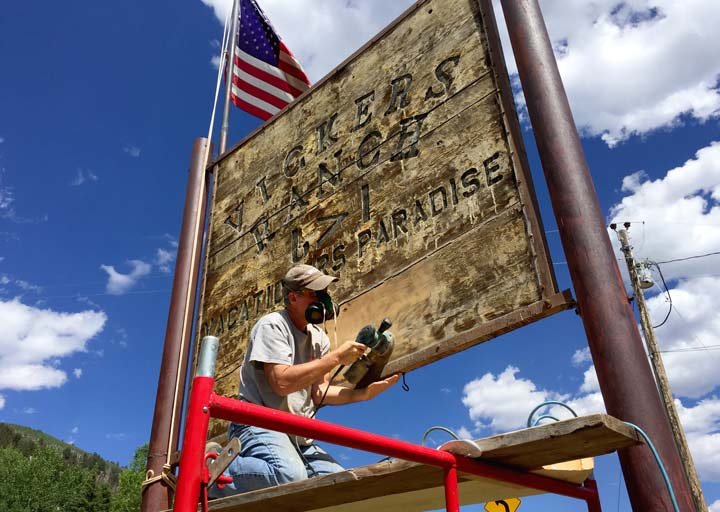 For the past few years, we've been working from home – wherever we park – and many times I've wished to be back digging a ditch, or doing whatever needs being done at Vickers Ranch.
Rene fell right back into her role at the office, and discovered the usual unexpected workamping challenges to be expected when workamping on a ranch.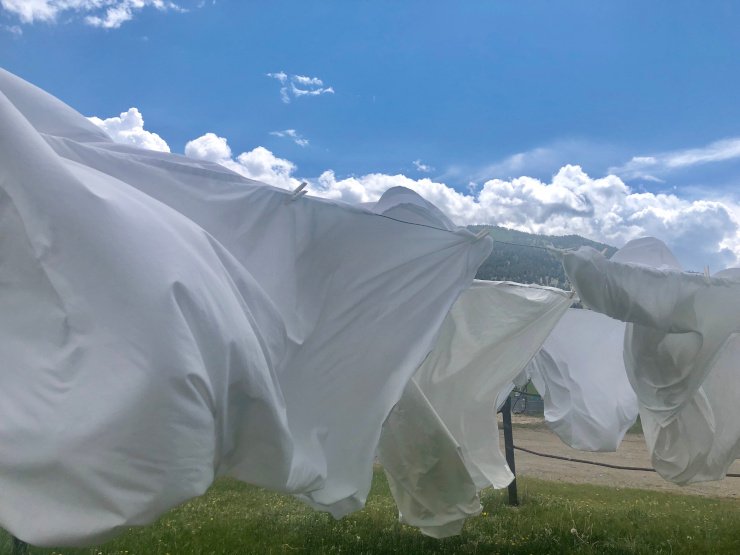 After that sad first day on the ranch, I got got right back into the swing of things by doing whatever needed to be done. But sometimes that entails replacing a toilet, after the floor needed to be rebuilt in a 80+ year old building.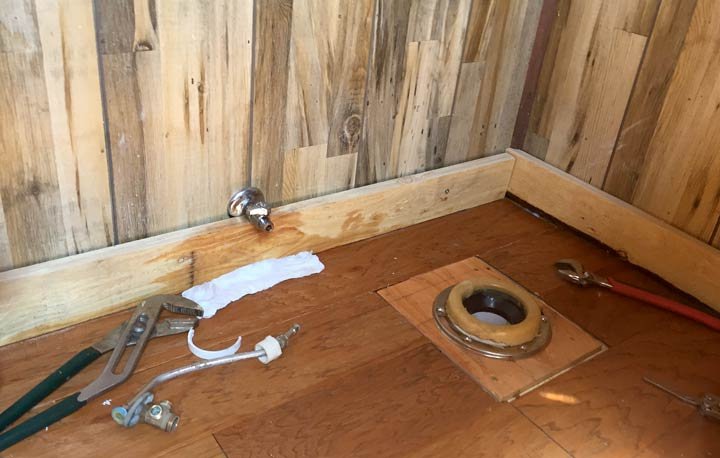 Then it started getting fun when I got to help Larry go start the old tractors left on the upper ranch for the past couple years.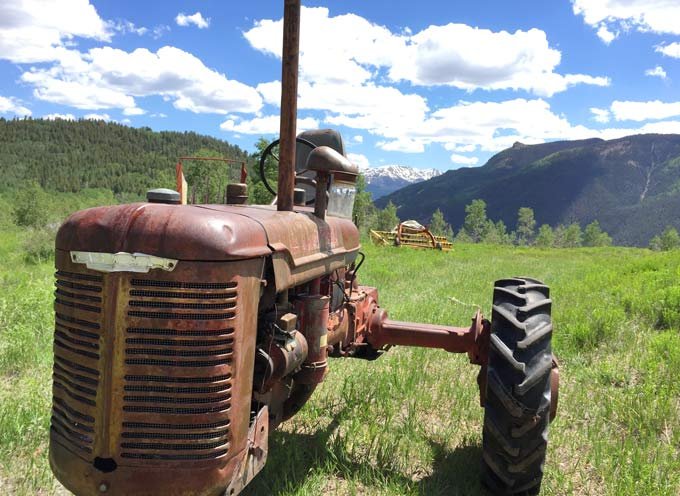 It had been a few seasons since either had seen any action in the upper ranch hayfields, so I was excited, but a bit leery about what we might expect.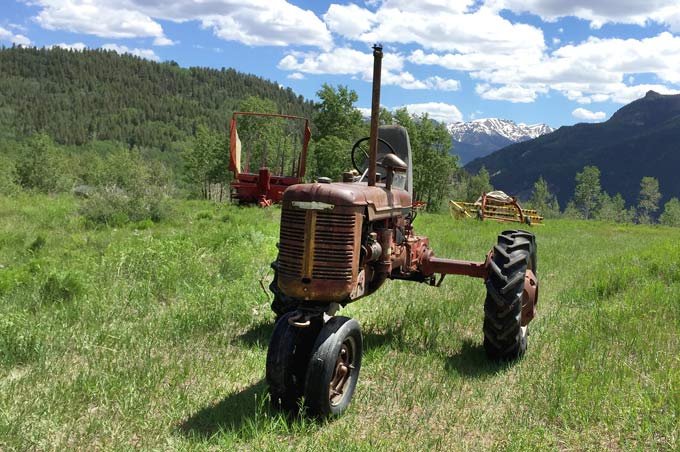 I am now certain they don't make 'em like they used to…after sitting out in the high altitude elements for at least a couple winters, both the John Deere 50 and the old Farmall started up with only a little tug.
Personally, I'm a Farmall guy – and was impressed by how this 1941 Farmall Tractor fired up immediately with only a simple pull from the Jeep.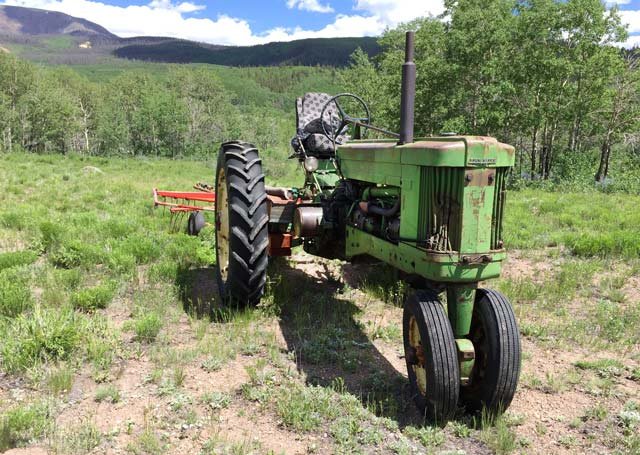 Then, the old John Deere 50 did the same, almost. It took a couple pulls. But before long, we were both headed down the hill back to the lower ranch.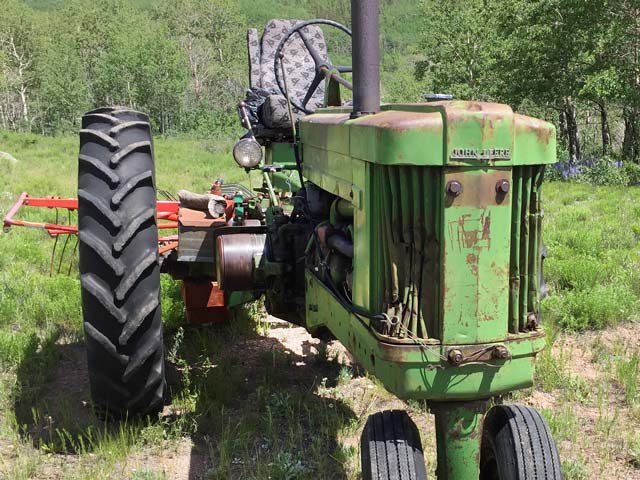 By the time we got there, it was no surprise to me that only the old Farmall was fit for the Fourth of July Parade.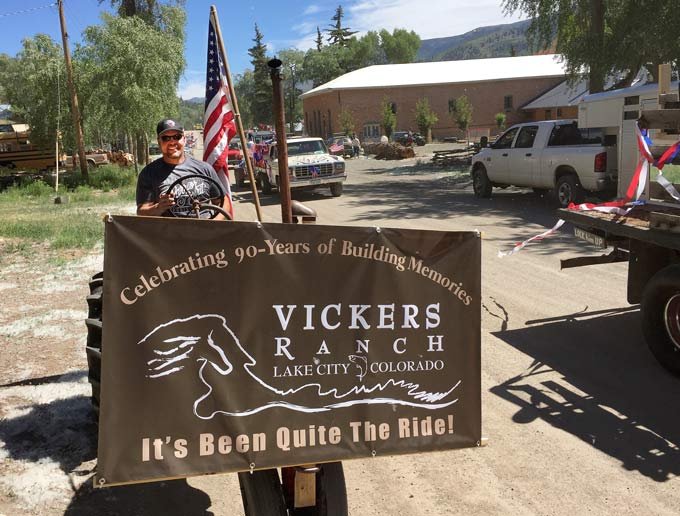 Though I have to admit, I was a bit surprised – and proud – that she made it all the way to town, and through the parade, and back to Vickers Ranch, without needing another tug, or tow back home.
After the parade, we take a little time off to enjoy the Upper Ranch in Old Red, my main ranch vehicle this year.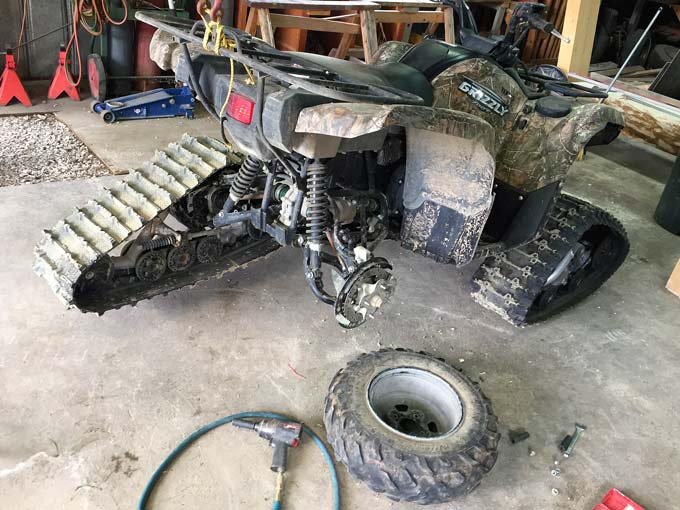 But since it is much easier to get around the lower ranch on Paul's chariot, I took it upon myself to remove the trax he had installed for winter use and replace the wheels on his Grizzly.
Then came the first big project. Ya never quite know hat you're gonna do each morning on the ranch. So when he said, "let's get the sign done today" I wasn't sure what he meant, but I knew it would take longer than a day.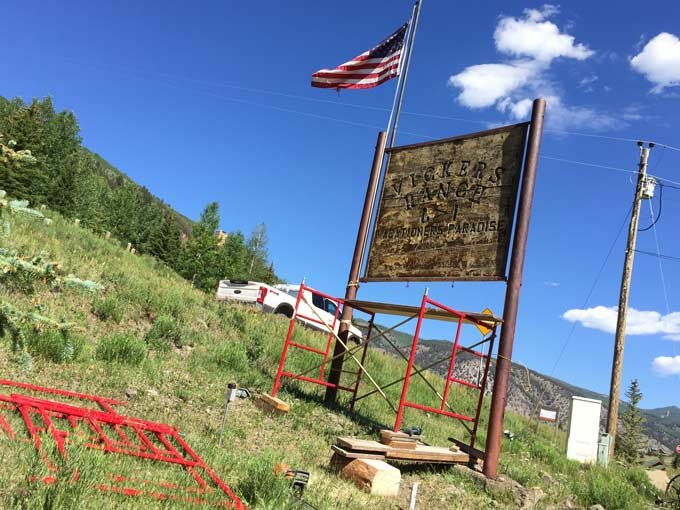 After much discussion about the terrain and approach, and building up our rather precarious scafolding, my first thoughts were, this cannot end well.
The platform ended up being more sturdy than I expected. To my surprise we actually got some scaffolding in place and relatively level by lunch.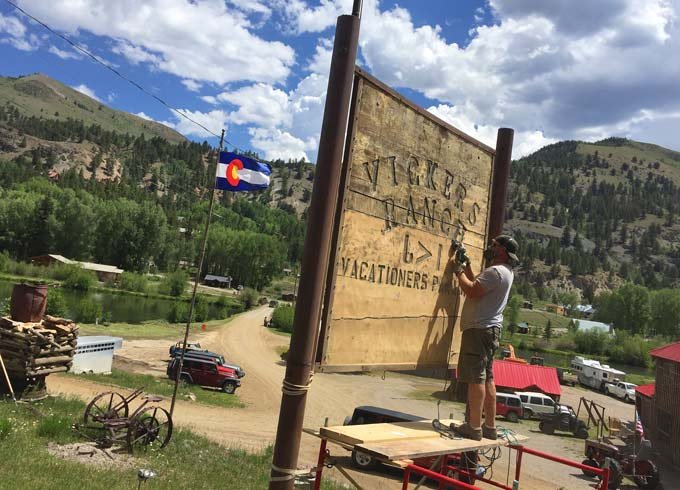 By the time the afternoon storm started with the lightning strikes, I was off the scaffolding and Paul was finishing up fr the day. Tomorrow we'll put some finishing touches up, and consider the second side.
Meanwhile, while the storm passed, I got to work inside the shop on a new desktop I plan to install in our rig – to finally create a decent workstation for myself inside the RV.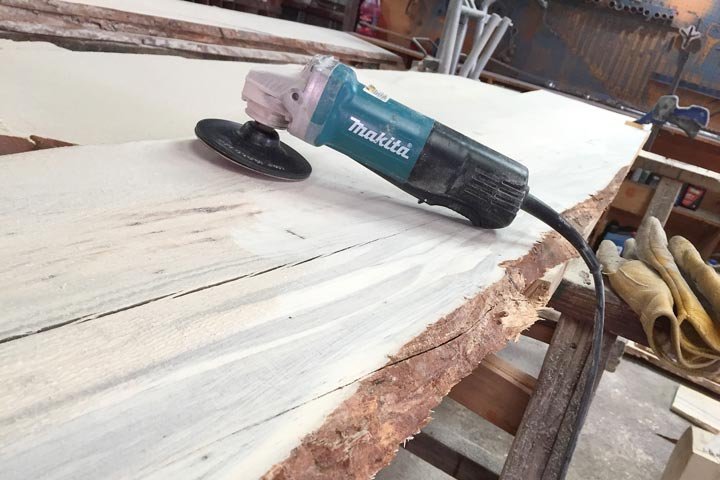 Stay tuned for details about my pending RV workspace overhaul…It's nice to be back in a place where I have the right tools for the right jobs!