Some good time destinations stand out in your mind forever. They whisper "Come back! Come back!" whenever you're within a hundred miles. The sights, sounds and smells of those beloved places are well-preserved memories. And if some day you decide to return to any of them, be warned. You may not like what you see.
Such was the case when we made a return visit to the Alley Oop Museum and Park in Iraan, Texas.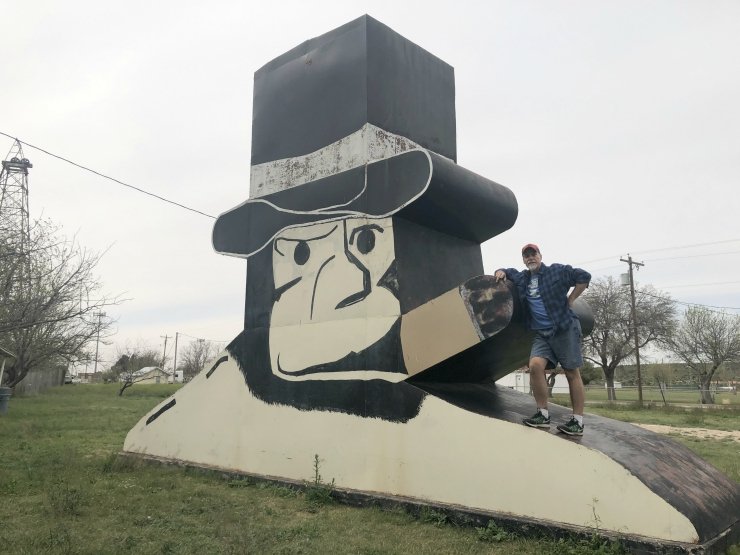 We hadn't been there since 2011, although we have passed the Iraan cut-off many times while traveling along Interstate 10 between El Paso and the Hill Country. Each time we did, I couldn't help but think about the Alley Oop comic strip and Edna "Snooks," Collett, the founder and caretaker of the Alley Oop legacy and museum. As the all-around ambassador for Iraan, Texas, she was elderly when we met her, and I just hoped that she was doing well and still running the show.
So a few weeks ago when we needed a place to park for the night after leaving Luckenbach, the Iraan landmark seemed like a perfect spot. I figured the cops wouldn't hassle us if we boondocked overnight in the parking lot, since both of Iraan's city RV parks are now filled with semi-permanent residents who work in the nearby oil fields. I also thought it would be nice to see the park, and Snooks again.
Nobody cared that we made ourselves at home next to Dinny the Dinosaur. But when we stepped inside the gated attraction, it was apparent that things had changed.
Oola, Alley Oop and Dinny were still there, a little more weather-beaten but standing tall as ever.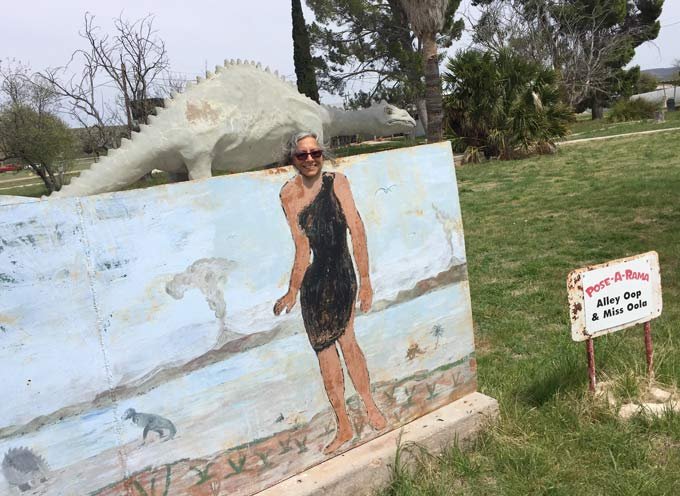 But now there was trash strewn around the park, and tall weeds growing everywhere. The museum doors were permanently locked and Clearly, nobody was looking after the quirky attraction.
According to the Houston Chronicle's Native Texan column, 92-year old Edna took a spill last year while out on an archaeological dig. As of the December 2018 article, she was still recuperating.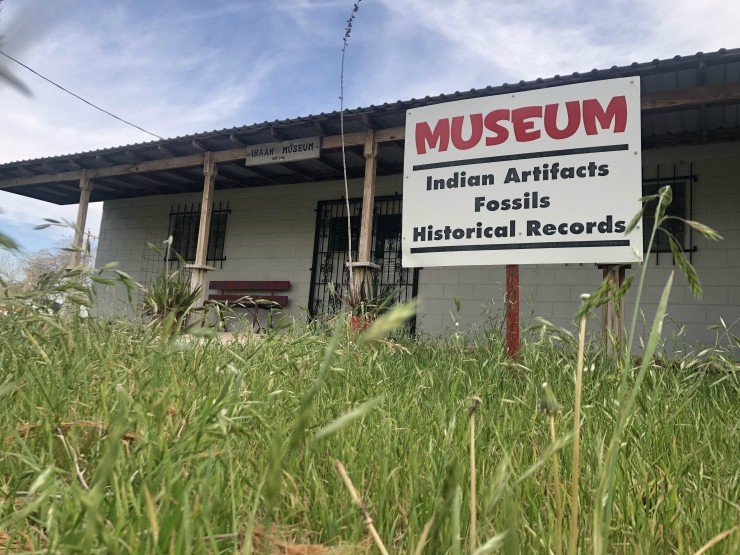 In the meantime, the Alley Oop Museum remains shut, frozen in time and longing for the kind of attention that only someone like Snooks can give.
Will it survive? Hard to say. Like the locally-discovered prehistoric fossils entombed in the surrounding Permian Basin, the Alley Oop Museum and Park in Iraan may just go the way of the dinosaur.
I'm almost certain we won't be returning anytime soon. I'd like to remember it as it was the first time we rolled through town.