The worlds we live in at Tripawds and here at Live Work Dream rarely collide when it comes to content for both blogs. Then this video about an amputee motorcyclist really struck home.
There are no coincidences. We noticed this shortly after our visit to the SEMA 2018 show, where I dropped by the Air Lift booth to see what's new and exciting. The short video involves an amputation, and shows the same SmartAIR II automatic self leveling system that I added for the LoadLifter air springs I installed on our truck.
I've been wondering how I would mention this new Air Lift product I saw at SEMA. So, I just had to share this #LifeOnAir video here. And, what did I discover at the Air Lift booth?
SmartAIR Auto-Inflation by Air Lift Just Got Smarter
The benefit of the SmartAIR air spring compressor and inflation level control system is that I have not had to manually inflate or deflate our air bags once since installing it. As I demonstrated in my SmartAIR installation video, however, without the new WirelessONE with EZ Mount, the compressor and exhaust solenoid must be mounted separately, and the units require drilling screw holes in your truck frame, and you must run a wire to a tap fuse in your fuse box for ignition-switched power.
The Second Generation WirelessONE with EZ Mount from Air Lift takes care of all that.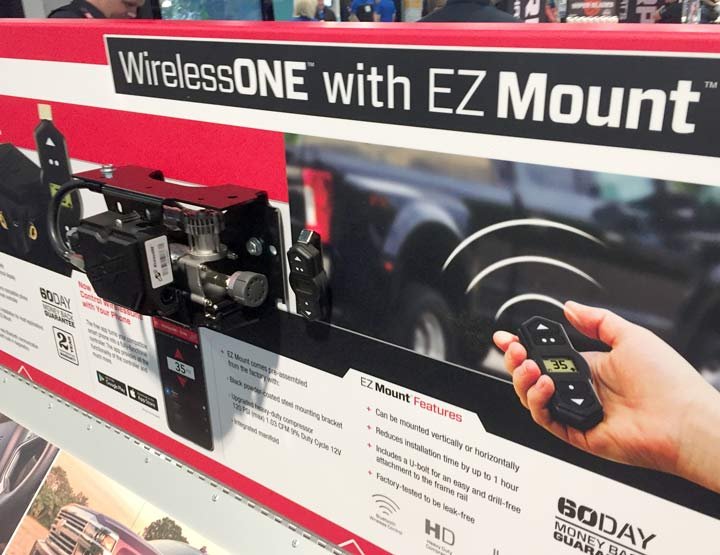 Air Lift's new WirelessOne EZ Mount system contains the air compressor and exhaust manifold all in one compact unit that can be mounted in any position. The components are pre-assembled in a powder-coated steel mounting plate which helps protect your vehicle since no frame drilling is required for attaching the unit with screws. Instead, the system easily attaches to any frame using a removable U-bolt, so no drilling is required for installation!

Mounting this self-contained compressor/exhaust system with EZ Mount greatly reduces installation time, and a fully illustrated simple to understand manual makes installation quick and easy. The Air Lift tech I met at SEMA told me that running a wire to the engine compartment is also no longer necessary with the EZ Mount system's new Battery Direct connection. You can apparently connect it to the nearest positive and negative DC sources, without the need for a tap-fuse to access switched power.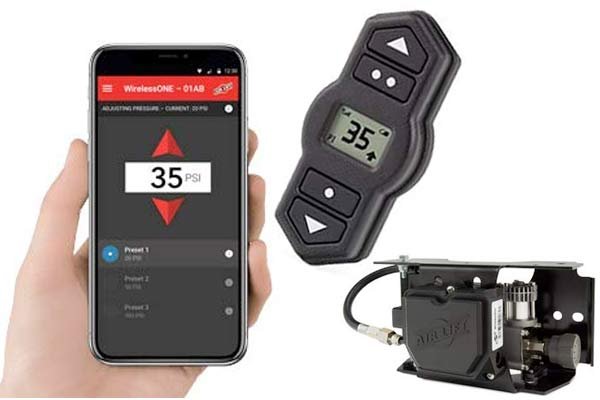 Wireless Inflation Control with Free Mobile App
With all the components of the compressor system designed into one compact easy-to-install package, this system also features the new and improved WirelessONE system. The WirelessOne remote allows you to inflate or deflate your air spring system with one touch. The easy-to-read handheld controller puts inflation control in the palm of your hands from inside or outside your truck, with three user-defined preset memory settings. Simple up and down controls inflate or deflate both air bags equally and simultaneously.
The free WirelessOne smartphone app works just like the remote and can be used with multiple WirelessOne manifolds on different vehicles. The app is available for both iOS and Android devices.
Smarter air spring inflation indeed…
Related Reviews and Videos: