Full-timing with dogs like Wyatt is a never-ending thrill ride. This boy has kept us on our toes, starting the day he hit the road with us.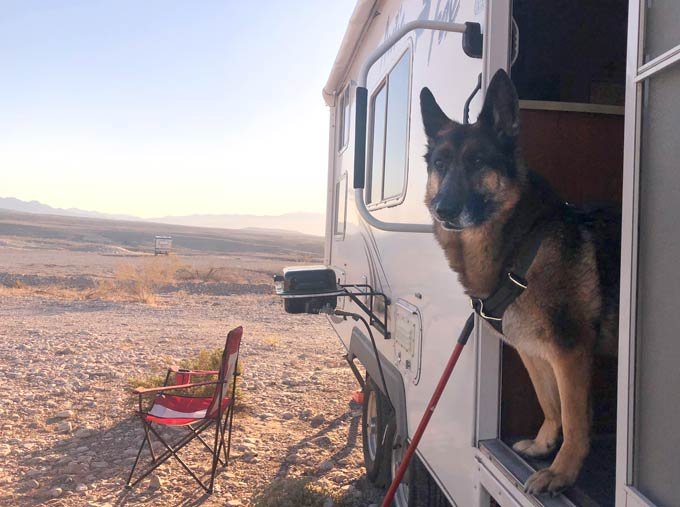 Why, Wyatt?
Wyatt Ray Dawg lost his leg to neglect at eight months old. The abuse ignited his lifelong battle with mental health challenges. One way he tries to cope is by eating inappropriate objects. Here's just a short list of non-food items he has eaten (and lived to bark about):
A road flare
Denim shorts
Socks
Sneakers
Various towels
A dog treat pouch and belt
Trash can contents
and now, a leather planner / organizer
The eating always happens when we leave him alone. If it wasn't for pet insurance, we couldn't have been able to cover the costs of his stomach obstruction removal surgeries (one topped out at $5,000!).
Even a few minutes of solo time is too much for Wyatt. So we carefully pick and choose when to do it, and try to our best to set him up for success when he stays behind. For starters, we rarely go away more than two hours. We also try to avoid leaving potential chew toys out in the open. But we're human, and sometimes we forget. So now, Wyatt wears a cage muzzle when he's alone. He can drink water while wearing the contraption, so it's completely humane.
The Reality of Full-timing with Dogs Who Live on the Edge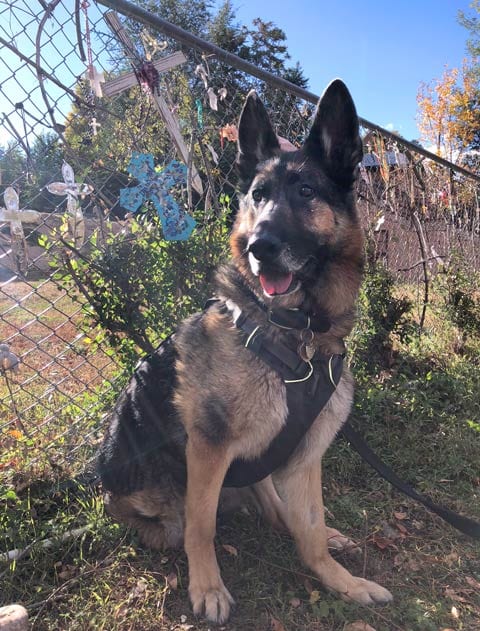 They say the Universe only throws at you what you can handle, so I guess that means Jim and I are capable of handling a lot when it comes to living with an anxious German Shepherd Dog. Combine that trait with leash reactivity, and you've got a never-ending learning experience as a pet parent.
Despite the many animal behaviorist training books, DVDs, pet psychics and German Shepherd specialists we've consulted with and spent money on over the years, Wyatt is only about 50% better than he was as a young dog. He's now 10, and although we had always hoped he would mellow out by now, the reality is, Wyatt will never be that Rin Tin Tin German Shepherd fantasy dog.
Yeah, he's a troubled soul, but he's also a dog who will defend us with his life if the situation called for it. And for that, we will stand by his side as well.