We were not only in Vegas to check out all the custom trucks and cool hot rods at SEMA 2018. We went to the SEMA Show to get a sneak peek at all the new outdoor automotive gear and and any cool products for RVers. And this one is the coolest…literally!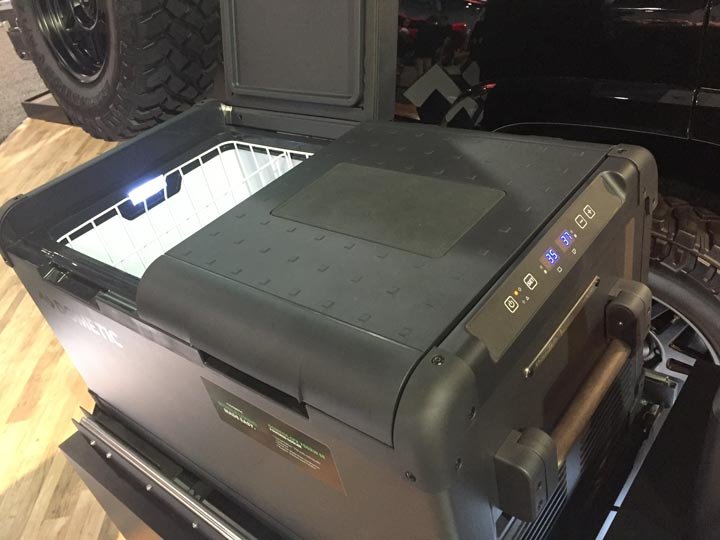 Dometic DC Coolers Great for RVers and Vandwellers
DC-powered electric coolers have come a long way. Dometic has always made the best, and now they have expanded the line of these powerful mini fridge/freezers, and reduced their power consumption!
Designed to fit all sorts of vehicles and storage compartments, the Dometic CFX Series of compact DC-powered coolers keep food and drinks well chilled or frozen anywhere out on the open road. From an ultra-compact cooler to dual-zone chests with separate compartments for cooling and freezing, wifi app enabled temperature control, and USB charging ports, this is not your dad's electric cooler.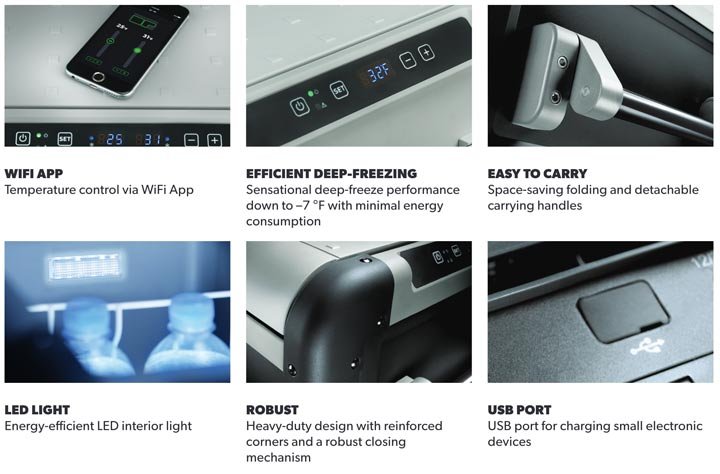 The new Dometic 12v electric coolers provide efficient deep-freeze performance down to -7 °F with minimal energy consumption using AC, DC, or direct solar power input. At an ambient temperature of 90ºF the CFX series can maintain an internal temperature of 41ºF using as low as 0.74 Amp Hours (Ah/h). The dual-zone 133 can / 85l capacity Dometic CFX 95DZW cooler freezer draws only 1.3 amps for long-lasting chill time.
Don't worry these coolers are smart too. Dometic's 3-stage Dynamic Battery Protection System automatically shuts off CFX series coolers to prevent a dead vehicle battery and improves car battery performance.
Being a marketing guy, I was impressed with how Dometic has rebranded themselves. They are no longer just an industry leader in RV appliances and accessories. The company has repositioned itself as a facilitator of outdoor adventure. Their SEMA booth display drove that point home, and the staff walked the talk. And we talked a while.
Overlanders and expedition vehicles were everywhere throughout the south hall at SEMA, including the Dometic display which featured a rugged Jeep decked out with an electric cooler on rails and all the accessories. We also, however, noticed Dometic coolers in at least a couple other booths on the SEMA showfloor.
Patriot Campers builds awesome totally self-contained small off-road trailers outfitted with everything you need for your back country adventure, including a Dometic DC cooler. The idea of making ice deep in the mountains or on the beach is no longer just a dream of outdoor enthusiasts.
The Future of Portable Power
Speaking of sneak peeks…the thing that really caught my eye in the Dometic booth, was this sleek looking lightweight power pack.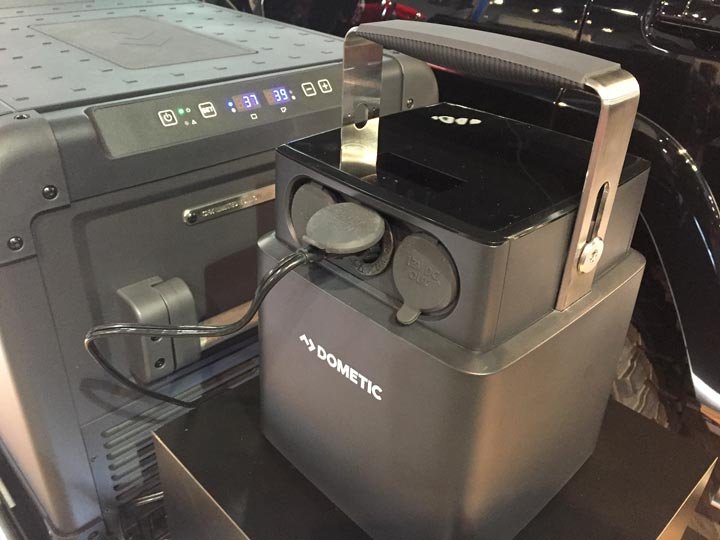 As of this writing the PLB40 Ah Lithium Iron Phosphate battery cannot even be found on the Dometic website, and it's not yet in the Domestic Amazon store. This powerful portable battery back is specifically designed for DC-powered coolers but it can also charge many other 12-volt appliances.
The new PLB40 can keep the giant dual-zone Dometic CFX40 cooler chilling your favorite treats and tasty beverages for bit longer than 40 hours on a single charge. Conventional lead acid batteries would last one fifth the time. Plug it in to a 12V outlet in your car or your RV for a full charge in less than five hours. It also has ports for charging directly from solar panels or any standard 120V AC wall outlet.
Unlike common lithium ion batteries, which can't be charged via your standard 12-volt power source, this lithium iron phosphate power pack can, and it is also more stable – with an internal system that protects against overheating, faulty current, or reverse charge, and a LCD display for battery capacity, charging status and output. With two USB ports to keep portable devices charged, this is not your dad's battery pack either…coming soon from Dometic (in early 2019).
Get your Dometic CFX DC cooler now, then save up for the PLB40 and you'll be set to enjoy cool refreshing beverages and ice cream anywhere down the road!